The Corvette seems to have emerged from its engine relocation surgery healthier than ever. Chevrolet sold more than 20,000 of the new, mid-engined iteration in 2020, in the face of a volatile economy, production delays, and excessive dealership markups. Moreover, GM says C8 buyers tend to be younger and wealthier than those who used to shop Corvettes, and many of these customers are new to Chevrolet. Waiting lists and bidding wars have become a way of life for anyone looking to park a '20 or '21 Stingray in their garage.
The buzz is no doubt good for the future of America's sports car. What most have yet to look at, however, is how it might help Corvettes built in the recent past. Although vintage Corvettes are blue chip collectibles, models built in the 1990s and 2000s tend to lag sports car competitors from Europe and Japan like the Porsche 911 and Toyota Supra. Even the Vette's crosstown rival, the Dodge Viper, has enjoyed a run up in values.
Part of the "problem" is the core of what makes Corvettes appealing: They're affordable from new. Why pay big bucks for a 10-year old Vette when a new one, essentially the same car but usually quicker, can be had for a song?
The C8 could alter all that. Sure, it's still very attainable given the performance on offer (assuming you can find a dealer willing to sell for MSRP). But it is by no means the same car. In addition to having an entirely new look, courtesy of the engine relocation, it also lacks something that is for many, part of the quintessential Corvette experience—a clutch pedal. We've seen this movie before: Porsche's decision to go PDK-only for the 2015 911 GT3 led to a spike in prices for the 2006–2012 997 GT3. The same phenomenon has lifted values of Ferrari's later stick-shift models, like the 575M and 430.
For the investment-minded (and fun-seeking) used-Corvette buyer, that means finding a stick shift. Roughly a quarter of C6s and C7s came with them. Of course, that's still a lot of cars (total production for each generation, including automatics, exceeded 200,000). That helps explain why C6 ands C7 Corvettes are generally still depreciating. Some editions, though, have already begun to tick up. Here are ones to watch:
2019 Corvette ZR1
The C7 ZR1 has had "future collectible" appeal since we first glimpsed its big wing at the 2017 Dubai Motor Show. The one-year-only model etched its name in the Corvette record books under nearly every significant category— most powerful, quickest accelerating, highest top speed, most expensive. It also marked the end of several eras: front-engine, manual transmission, even optional chrome wheels.
Last spring, there was about a two-month span where you could score a C7 ZR1 for below sticker, regardless of spec. Other than that brief lapse, the final front-engine Corvette is looking, per Hagerty data, like the rare vehicle that never depreciates. In recent months, we've seen several sell for north of $150,000.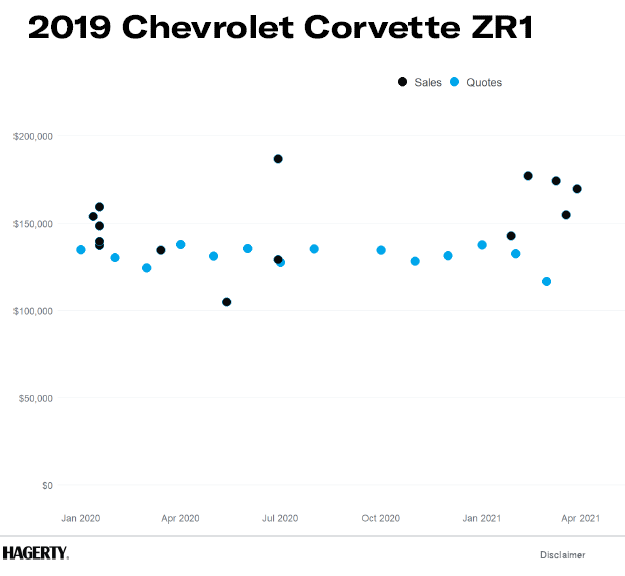 If you want one of these 755-hp monsters, the problem isn't paying for it; if you could afford one new, you can still swing one in 2021. But try finding one. The entire production run consisted of 2,953 cars spread out between 2,441 coupes and 512 drop-tops.
If you have the patience and are looking for long-term value (and driving enjoyment), we would suggest picking up an example with the 7-speed manual transmission. Just under 30 percent (884) of the ZR1's total production run was ordered with a row-your-own gearbox. If you want the ultimate in rarity, try to find one of the 140 convertibles that left Bowling Green with three pedals. Regardless of body style, the other essential option to look for is the track package that went by RPO ZTK. While "low-wing" non-ZTK cars are actually scarcer (876 to 2,077), in this instance, we say go against rarity and get the one from the posters, the big-wing version.
2017–2019 C7 Grand Sport and Z06 (Z07 package)
The Z07 performance package, fitted on 2,028 Corvette Grand Sports and 12,376 Z06s, took already capable Corvettes and turned them into supercar killers by adding bespoke Michelins, an advanced Magnetic-Ride-Control setup, an aero package turned up to 11, an electronic limited-slip differential, and uncompromising carbon-ceramic brakes. They were both offered with manual transmissions, of course, and also came in rare colors and packages, such as the yellow C7.R Z06 that paid homage to the successful Corvette racing program.
The Grand Sports, which married Z06 chassis bits to the standard Corvette's normally-aspirated 455-hp V-8, can carry high prices—we've seen mid $80,000s. Word of caution, though: They are often mis (or under) represented online; you'll have to go through pictures (the XL brakes are the biggest giveaway) and check RPO codes to ensure that the Corvette in question is a real Grand Sport.
Due to their relatively high production figures and their not-quite-top-dog status, the Z06 C7s haven't appreciated as sharply as big-brother ZR1. The Z06 also had some teething issues due to its transition to a supercharged engine, with early models showing a propensity to overheat on track. Updates for the 2017–19 model years addressed the issue. Make no mistake though: These cars are extremely capable. On the day the ZR1 stole the Ford GT's days-old record at Virginia International Raceway's 4.1 mile Grand Course West with a 2:37.3 lap, a Z06 recorded a nearly-as-blistering 2:39.77. For the sake of collectability, we would absolutely still point all who are able in the direction of the ZR1, but for your own lap sessions, it is hard to argue against a 2019 Z06 M7 Z07 at a $60k discount.
2009–2013 C6 ZR1
Full disclosure: This is the car that pushed me from a guy who likes cars into full-on obsessive. The so-called "Blue Devil" had been riding a normal wave of depreciation since it went out of production in 2013. But last year—just around the time people were waiting months on end for their C8 Corvette order to be delivered—values started leveling out. A condition #2 example of Hagerty's greatest car of the 2000s is currently worth $65,000, per Hagerty Price Guide, and you can find low-mileage versions going for much higher.
With 638-hp and a top speed above 200-mph, the C6 ZR1 remains scary fast even by 2020 standards. Then there's the PDE option. Much like the C7's Z07-spec, it's the performance package on top of the performance package. Introduced in 2012, PDE swapped the standard Michelins for Pilot Sport Cups and had a retuned the suspension; black "Cup" wheels shaved about 18 lbs. of unsprung weight and a new full-length spoiler was ever so slightly more aggressive than the standard one. All of these improvements helped a 2012 ZR1 stop the clock at the Nürburgring more than six seconds before the 2009 car (both were production car records at the time). The PDE ZR1 checks in as the rarest example of America's Sports Car on our list with just 375 (184 in 2012 and 191 in 2013) ever produced.
There were also two special editions that made their way to the top of the C6 hierarchy. The more recent of the two was 2013's 60th Anniversary package, which draped a pair of silver/blue racing stripes over Arctic White exterior paint and a special blue interior. Just 138 ZR1s left the factory like this, but up to this point, its second-hand pricing has lagged behind the other special edition from the year prior. That'd be the Centennial Edition, which celebrated the Chevrolet brand's 100th birthday with heavily metal-flaked Carbon Flash Metallic paint, matte black stripes, special "100" badging, and red interior stitching. ZR1s so equipped came with PDE-spec cup wheels with a red accent stripe around the rim. In total, 2,201 Vettes were ordered with the Centennial package; just 206 of them were ZR1s.
2006–2013 C6 Z06
These 7.0-liter, 7,000 RPM delights have not benefited from the C8 tide—values have actually ticked down in recent months. That said, there is a swath of C6 Z06s that are on the rise. Out of a production run of 27,994, the closing 907, 478, and 471 from '11, '12, and '13, respectively, have become most sought after by enthusiasts. Within that already exclusive bunch, it is the first appearance of our friend, RPO Z07, that commands top dollar. Introduced to bridge the sizable gap between Z06 and ZR1, the sixth generation's incarnation of Z07 added carbon-ceramic brakes, magnetorheological dampers, and ultra-sticky Michelins. A companion package, CFZ, brought the ZR1's carbon-fiber ground effects/aero package. This serious kit almost did its job too well, with Z07 cars lapping most tracks faster than any ZR1 without the previously mentioned PDE package and even nipping at the heels of the PDE with a 'Ring time just three-seconds slower. In 2011, 540 Z07s went down the line in Southwest Kentucky, followed by 117 in 2012, and just 83 in 2013.
We would be remiss if we didn't mention the C6's swan-song, the 2013 Corvette 427 Convertible. Although it technically isn't a Z06 (the convertible used the standard steel chassis rather than the Z06's aluminum), this run of 2,552 Vettes are the only way to hear the magnificent LS7 unmuffled by a roof.
There are several other special editions to look out for (the C6-generation was when Corvette marketers really took note of how rival Porsche milked profit out of myriad 911 variants). Keep your eyes peeled for white 2007s with a couple of metallic red fender hash marks that most casual fans would attribute to the 2010-13 Grand Sport. This combination is the calling card of the C6 with the longest name, the Ron Fellows ALMS GT1 Championship Corvette Z06. It marked the first time that white was offered on a C6 Z06. It was also the first "signature" Corvette ever offered from the factory; under the console lid of all 399 examples; you'll find the signature of the car's hall of fame namesake. Last but certainly not least, we would like to highlight the 2008 427 Limited Edition Z06 A.K.A the Wil Cooksey Z06. For the Cooksey cars, Chevrolet took a top-spec 3LZ Z06, slathered it in a non-Z06 color, Crystal Red Tintcoat, and then added a black "stinger" hood as a callback to the legendary '67 model, complete with throwback 427 badges. This tribute to the big-blocks of old was built to commemorate the career of GM's Bowling Green Assembly Plant Manager, Wil Cooksey, who served in that post from 1993-2008 after working his way up the corporate ladder within the General. Each of this special edition were signed (and numbered!) under the center armrest.
So, there you have it; the definitive list of C6 and C7 Corvettes most likely to surge on the collector's car market while the C8 continues to put time between the present and a longstanding era when Corvettes had long hoods, three-pedals, and shiny bits all-over.
---
Alex Sommers is an automotive journalist based out of Colorado. When he isn't driving his Camaro SS 1LE or teaching high school business (his day job) you can find him on vehicle marketplaces and online configurators.