Monterey Car Week always brings out the world's most beautiful, significant and valuable cars on the planet, and many of them are for sale. My favorite part, though, is the sheer variety of metal (and fiberglass, and wood) everyone gets to see. At the shows, the auctions, or even just on the street there are always things we've never seen before, things that make even seasoned car spotters go "what is that?!"
Along with all the big-money headline-makers, each Monterey auction has at least a few quirky, unusual, or downright odd vehicles on offer. Here are eight that we'll be keeping an eye on.
1991 Isdera Imperator 108i
Supercar history is full of famous badges – Ferrari, Lamborghini, Porsche, to name a few. But there have also been plenty of also-rans in the exotic car game. Vector, Venturi, or Cizeta come to mind. So does Isdera, which built this imposing Imperator – a Mercedes-powered monster with a mansion's worth of glass (look at that windshield!).
German engineering school dropout Eberhard Schulz started Isdera (Ingenieurbüro fur Styling, DEsign und Racing) in 1982 after a stint at Porsche and designing a streamlined, gullwing-doored concept car with a Mercedes engine for a company called b&b GmbH. Intended as a spiritual successor to the 300SL and called the CW311, the concept impressed the folks at Mercedes but they didn't want to build it, so Schulz went off on his own to develop it under the Isdera name.
Looking equal parts starship and sports car, the production model (called the Imperator 108i) wrapped a fiberglass body over a tubular spaceframe and 5.0-liter M117 V-8, though later versions received a hotter AMG-tuned 6.0-liter unit. Imperators were built to order, and those orders didn't exactly pour in. From 1984-93, Isdera reportedly completed just 30 units.
According to Broad Arrow, this one is believed to have been sold in England to Kiwi racer and fascinating fellow Mike Thackwell, specified in the Porsche shade of Guards Red. The last 108i to sell publicly was a silver 1991 car that brought €690,000 in Monaco two years ago, and Broad Arrow expects a similar $800,000 – $1,000,000 for this one.
1959 Frisky Convertible Special
Feeling frisky? This English three-wheeled, motorcycle-engine-powered microcar started life as a coupe called the Frisky Family Three, which was a "family car" in the same way that North Korea is a "Democratic People's Republic." But at least with its three wheels and reverse gear it could be bought and driven on a motorcycle license.
Frisky went out of business in 1961 as microcars started falling out of favor, and they never sold the Family Three as a convertible (that would have made it even less of a family car), but someone converted this one to a soft top and expects $30,000-$40,000 for their troubles.
1933 Rolls-Royce 20-/25 Van
When your Drizly order arrives, have you ever seen the Spirit of Ecstasy pulling up the driveway? Me neither, but that's sort of the idea with this delivery van. Built on the versatile Rolls-Royce 20/25 chassis, this thing is reportedly one of just two such delivery vans built by coachbuilder Vincent of Reading for a distillery called Justerini & Brooks. Never heard of Justerini & Brooks? Me neither, but the royals have. The fine wine and spirits merchant, founded in the eighteenth century, has supplied booze to every British monarch since George III in 1761. And it will take a regal budget to swing the J&B Rolls-Royce, because it has a $425,000 – $475,000 estimate. Cheers!
1977 Datsun 280Z ZZZAP Edition
What's odd about a Datsun 280Z? Not much. But this one isn't like your cousin's Z. It's a "ZZZAP Edition," and it's not just a case of more Zs, more better. It's a rare, fascinating marketing gimmick from the early days of video games.
While the car itself is nothing more than a "Special Décor Package," aka a very '70s combo of bright colors and graphics, the actual marketing tie-in was that Nissan/Datsun promoted the car with an arcade racing video game called "280 ZZZAP," in which the player drives a Z-car through a tricky road course at night. This was in 1977, 20 years before the first Gran Turismo. The cars themselves are a seriously rare sight, but we have seen this one before. Mecum sold it two years ago for $42,900, and they are estimating $50,000 – $75,000 for it this time around.
1969 Mercedes-Benz 300 SEL 2+2 Coupe by Pininfarina
This one-off Mercedes goes to show what a ton of money, a lot of determination, and unusual tastes can get you.
The story goes that a Dutch businessman was quite smitten with the 1968 300 SEL 6.3, Mercedes' brilliant high-performance V-8 sedan. He wrote to Mercedes, asking if they were planning to do a convertible version. "No," they said, and they wouldn't sell him a rolling chassis to do his own, either. How about a coupe version, he asked. "Also no," they answered.
Rather than getting soured on Benzes and going somewhere else, though, he bought a standard 300 SEL 6.3 and reached out to Sergio Pininfarina in Italy to do a 2+2 coupe body for it. Among the client's special requests were that he wanted to sit up high "like in a Rolls-Royce" and for Pininfarina to keep glass to a minimum because "we don't like to sit in an aquarium."
The result is this coachbuilt gray SEL coupe, which, according to the story pleased the determined Dutch fellow. But he ran into that all-too-common car guy problem—his wife didn't like it. So, in 1972 he put it up for sale, and it took until 1973 to find a buyer. Maybe it will have better luck in Monterey.
Is it a special and unique car? Yes. Is it Pininfarina's best work? Absolutely not, and it's very easy to look at this Mercedes and see big similarities to the 1975-86 Rolls-Royce Camargue, another car on Pininfarina's not-so-greatest hits list. But whereas an average Camargue is worth less than 50 grand, the Pininfarina-bodied Benz has a presale estimate of $400k-$600K.
1987 Citroën BX 4TC
Ask one of those AI art programs to design a car from the 1980s, and it would probably resemble this Citroën BX 4TC. Even the name sounds like a fax machine. The BX 4TC is mainly known for two things: its strange looks, and for being at the back of the pack during the Group B rallying era (1982-86).
While the big Group B teams like Audi and Peugeot enjoyed big-buck budgets, Citroën was more spendthrift, made more compromises, and arrived late to the party with its World Rally competitor. The BX 4TC looked the part, but its basic platform came from the mass-produced, family-friendly BX sedan. Nose-heavy (and just plain heavy in race car form compared to its competition) and underpowered for the WRC's special stages, it managed one sixth place finish before Citroën threw in the towel and cut its rally program.
Apparently the company was so embarrassed that it dismantled the majority of the 20 original rally cars and even bought back as many of the BX 4TC road cars as it could get its hands on to destroy them. Thankfully, plenty of owners held onto theirs—while the BX 4TC might not have found rally success, it's nonetheless a cool bit of '80s French motorsport kit. This one has been regularly enjoyed and serviced over its 53,192 km (33,052 miles). It may have been a moment that Citroën would like to forget, but the BX 4TC's Group B lineage makes it a legitimate collector car these days. One of the original rally cars sold for almost half a million dollars in 2021, and BX 4TC road cars have sold in the $50K-$100K range in recent years. This one has a presale estimate of $100K-$150K.
1992 Lancia Hyena Zagato
Always distinctive, sometimes ugly, never boring. That's not Zagato's official slogan, but it could be, because the 104-year-old Italian coachbuilder's creations are often as polarizing as they are unique. Take this Hyena, for instance. Is it pretty? Not at all, but I can't stop looking at it.
Reportedly born out of the Dutch Lancia importer's desire for a lightweight two-door Zagato coupe, it has the unmistakable signature Zagato double bubble roof and odd proportions, but plans for 500 cars proved a bit optimistic. Just two dozen were sold between 1992 and 1994.
Despite being called the Hyena, what's under those goofy aluminum panels is nothing to giggle at. The Hyena body sits on top of a rally-bred Delta HF Integrale Evolzione, so it's fast and nimble. The Zagato-fication treatment also shaved 400 pounds in weight off of the standard car. The price is no laughing matter, either. RM Sotheby's estimates $300,000 – $400,000 for it.
1986 Aston Martin V8 Zagato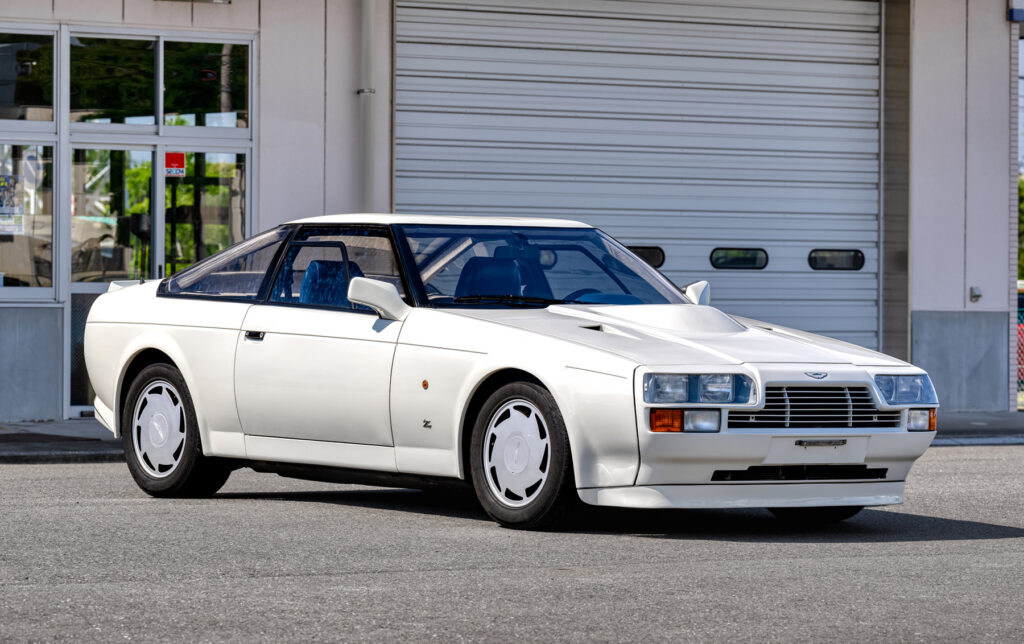 Pretty much everything about the looks of that Lancia Hyena is also applicable to this Aston. Avant Garde or ugly depending on who you ask, the Aston Martin V8 Zagato was available from 1986-90, and although it's just one of the many collaborations between those two famous firms, it's definitely the weirdest. It's an Aston Martin as rendered with an Etch A Sketch rather than pencils.
Despite the love-it-or-hate-it looks and an initial sales price of over $150,000 (in the mid-1980s), Aston sold 52 coupes and 37 convertibles with the Zagato skin, mostly in right-hand drive.
This left-hand driver sold new to Hiroshi Itsuki, a very famous singer in Japan, and has just 40,000 km (25,000 miles) on the odometer. When these rare '80s oddballs do pop up for sale, they bring prices well into six figures and are typically right in the range of this car's $300K-$400K estimate.