Welcome to "The Founding Fathers of Car Collecting," a series about the titans at the forefront of establishing and defining the culture and trends of the collector car world. Our first spotlight is on the great race car driver and (team owner) Briggs Swift Cunningham Jr.
Few people immersed themselves so significantly into the golden era of postwar motorsports and then dedicated themselves to preserving the rich history of the automobile as Briggs Swift Cunningham, Jr.  Not just surviving but thriving in one of motorsports' most dangerous periods, Cunningham became a household name in the United States and innovated his way to endurance racing success as a driver, constructor, and team owner.  Over the course of his life, Cunningham amassed an eye-opening stable of cars renowned the world over, beginning long before anyone thought of the term "collector car market."
What's more, Cunningham's approach to collecting and preserving cars was decades ahead of its time.  Driven purely by his sense of what made a compelling addition to his collection, Cunningham nonetheless assembled some of the most unique and historically relevant cars of the 20th Century.  He would often do so with an eye to preserving his cars as the purpose-built tools that they were, unlike the concours-finished examples in other leading collections.
Cunningham was fortunate to have the financial foundation for success: he was born in Cincinnati, Ohio to a family of bankers and entrepreneurs whose investments included the company that would later become Procter & Gamble. After attending Yale, he married Lucie Bedford and took up residence in Greens Farms, Connecticut, on the Long Island Sound coast where he became an expert sailor.
Characterized in a 1958 article from Life Magazine as a "muscular man of independent means with the hot wild eye of a Viking," Cunningham was an avid and talented athlete. The racing bug bit him early, but it was in 6-meter yachts, not cars, where Cunningham brought home world titles. He would later up the ante to 12-meter yachts, winning the 1958 America's Cup as part-owner and skipper in Columbia.
But, and this is a big "but," automobiles were similarly important. Even early on, Cunningham had an intuition about great cars. Miles Collier, who bought the Cunningham collection in 1986, described it as "a refined and evolved taste."
When Briggs and Lucie took their honeymoon in 1929, he purchased a Mercedes-Benz SS touring car for their European tour. At Briggs' request, delivery was arranged in Paris with champion driver Rudi Carraciola at the wheel.
Other cars followed the SS and many didn't leave. "Race cars and cars that did something good for him he ended up keeping," recalled Collier.  "It was the most stunning collection in the world, particularly [the] racing cars…You couldn't get even into the same league."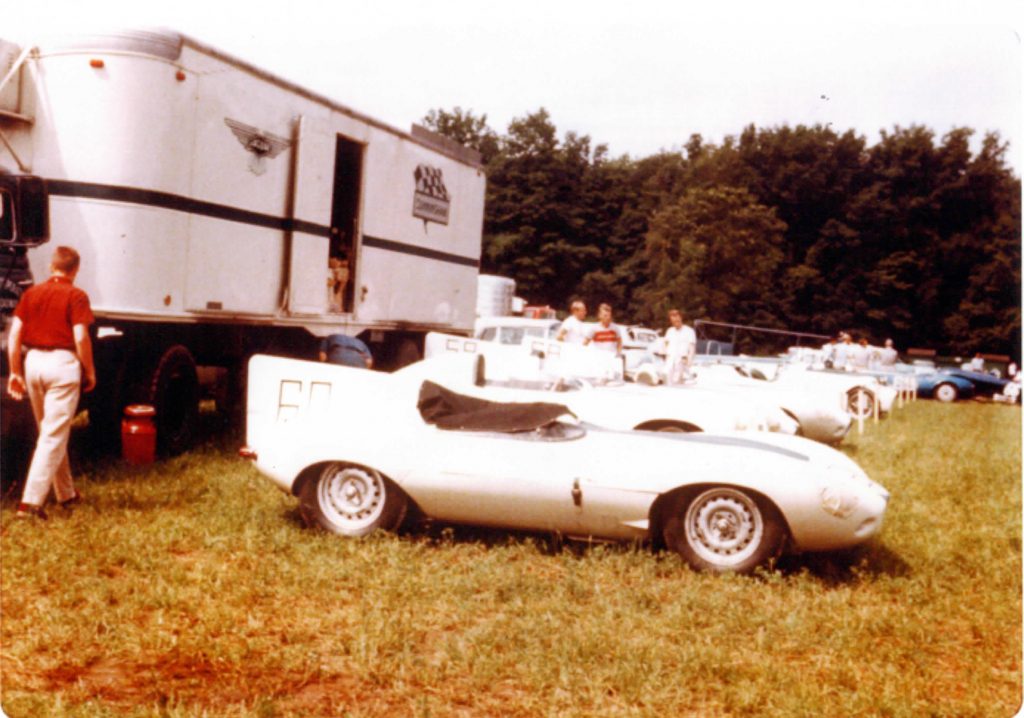 In effect, Cunningham's collecting was much like modern collectors: He bought what fascinated him as a young man. He just had greater resources and the historical accident of timing that put gems from before the First World War and during the inter-war years within his grasp.
Cunningham's voluminous auto racing history is revered by many.  Two class victories at Le Mans and three at Sebring as well as a penchant for his own creative coachwork and chassis development cemented Cunningham as a fixture in postwar endurance racing.  His contributions to the 24 Heures du Mans were recognized when the city of Le Mans made him an Honorary Citizen, while back home in the U.S. he graced the cover of the April 26, 1956 issue of Time Magazine with the subhead "Horsepower, endurance, sportsmanship."  Owing to his prowess in sailing and auto racing, America considered Cunningham a significant sports hero of the era.
Cunningham's racing innovations and cars that resonated with him on track formed the kernel of his auto collecting.  Starting with his Le Mans Cadillacs in 1950, then with Cunninghams in 1951-1955, D-Type Jaguars, Lister-Jaguars, E-Types, OSCAs, Maseratis, Coopers, Corvettes, Fiat-Abarths and finally a Porsche 904 he drove at Sebring in 1965 teamed with John Fitch, all found refuge in his collection.
Many cars in the collection are, as we might say, "cherry:" unrestored and still bearing the signs of their extended lives. Lovingly maintained and occasionally demonstrated in both the Cunningham and Collier collections, they embody what Briggs Cunningham loved, appreciated, and preserved.
The Cunningham Le Mans cars are still exhaust sooty, dented. Their paint is dull, their cockpits scuffed and their engines fuel stained. The Jaguar D-Type (XKD 507) still bears its masking tape identification applied decades ago to assist a racing scrutineer.
Those scuffs and bits of tape are a primary factor in what set Cunningham apart: "preservation," the act of keeping a car as it existed in a particular moment in time, had yet to become a stylistic decision for collectors in the 1960's as Cunningham retired his race cars to a more sedentary life. This method gained steam only relatively recently, and as such the Cunningham collection's grit and battle scars were long a stark contrast to the spotless, every-nut-and-bolt restorations in many other influential collections. Years later, the decision seems prescient, with preservation cars becoming auction block favorites of late.
There was no road map for the task when Cunningham began collecting. Clearly, sought-after marques and models fetched attention, but in the absence of a fully established collector car market, it fell upon Cunningham and his wealth of automotive knowledge to seek out the cars that spoke to him most.
Collier has perhaps the most intimate perspective on Cunningham's collection: his father and uncles raced with Cunningham in the early 1940's, and his own collection in Naples, Florida evolved from Porsches to a history of epic automobiles after purchasing Cunningham's vehicles.  He recounted that the lot comprised "many unique or nearly unique cars.  Others couldn't aspire to have something similar … [it] created a standard.  He did not operate from an intellectual standpoint.  Emotion drove his choices."
Ahead of the fledgling car collection industry curve and fueled by his instincts, Cunningham's selections nevertheless proved to showcase some of the most compelling automotive technology and style from the 20th Century.
The collection's 1913 Peugeot L3 Coupe de l'Auto is one of two surviving examples of the original implementation of a dual overhead camshaft cross-flow head engine, a design that even now, in the dusk of internal combustion engines, is the prevailing choice for high performance.
Another stellar example is the one-of-four 1919 Ballot Type 5/8LC penned by Peugeot designer Ernest Henry, which would have run away with the Indianapolis 500 but for wire wheels that weren't up to the loads brought about by the speed of the twin cam engine.
Of course, there were more. A Duesenberg Model J, a litter of Jaguars, from an XK to D-Types to lightweight XKEs, and a 2-liter Maserati Birdcage, among many others. Perhaps most spectacular was the Bugatti Type 41 "Royale" with Kellner coachwork, serial number 41141. Cunningham bought it from the Bugatti family in 1950 for about $571 and two Kelvinator refrigerators, in what must be the most opportunistic collector car acquisition in history. 41141 would later sell for £5.5 million (about $9.76 million at the time) at a Christie's auction in London at Royal Albert Hall in 1987. The collection serves as a living history of automotive style and technological evolution.
Collier puts it best: "because of the incomparable foundation his collection afforded, I have had the pleasure and the responsibility of selecting cars [to add to Cunningham's array] that bring another layer of considered collecting to what was already an extraordinary group of cars." Cunningham set a high bar to which subsequent collectors aspired for decades, and in so doing helped shape the entire industry for decades to come.