International sanctions on Russian oil, technology, banking, and luxury goods, levied in response to Russia's invasion of Ukraine, have hit one of the world's premier manufacturers sidecar motorcycles. IMZ-Ural, which managed to rebound from the brink of extinction following the breakup of the U.S.S.R. in December 1991, is now facing a new hurdle. It can't import the parts it needs to complete its bikes. And even if it could, Ural is unable to export anything to the United States, Canada, and Europe, where it has a loyal following among niche motorcycle enthusiasts.
That leaves Irbit MotorWorks of America, Ural's North American importer, in a precarious position. The Redmond, Washington, distributor has a network of 45 full dealerships in the U.S., along with an additional 28 outlets that offer service or parts, and seven full dealerships in Canada.
"Approximately 80 percent of Ural's parts are made outside of Russia, so there isn't a problem getting most of the parts we need," says one U.S. dealer representative, who asked to remain anonymous. Getting a completed sidecar motorcycle is another thing, he says. "And no one knows when that will change."
The situation, needless to say, is a delicate one. Company representatives in the United States have been careful in statements on their company blog to stress that the real victims here are the innocents in Ukraine and to call for an end to the war. Calls and emails to Irbit MotorWorks asking for comment have gone unanswered, and none of the three U.S. dealerships that Hagerty contacted were willing to be quoted on the record.
Ural's Russian website makes no mention of the predicament, but under the circumstances this is perhaps not unexpected. Any communication that has the potential to be perceived as critical of the Russian government, military, or the so-called "special military operation" in Ukraine can have dire consequences for businesses and individuals alike.
On March 31, IMZ-Ural hinted in a blog post that it may be forced to move final assembly outside of Russia, although the logistics of such a move, considering the current political climate, are far from concrete. "We are still not able to import components to the factory. [The] majority of our suppliers are holding our orders patiently until we figure out when and how we can restart the assembly. Some suppliers, however, are pulling back from shipment of components to the factory which, among other things, amplifies the need for moving the final assembly outside of Russia. We estimate approximately six months gap in supply of new motorcycles."
IMZ-Ural's Russian factory is located in Irbit, an industrial town in western Siberia's Ural Mountains—an appropriate location, since the heavy-duty sidecar motorcycles are designed for rough, rugged terrain. They are powered by a 749cc OHV air-cooled, two-cylinder, four-stroke boxer engine mated to a four-speed transmission that includes a handy reverse gear.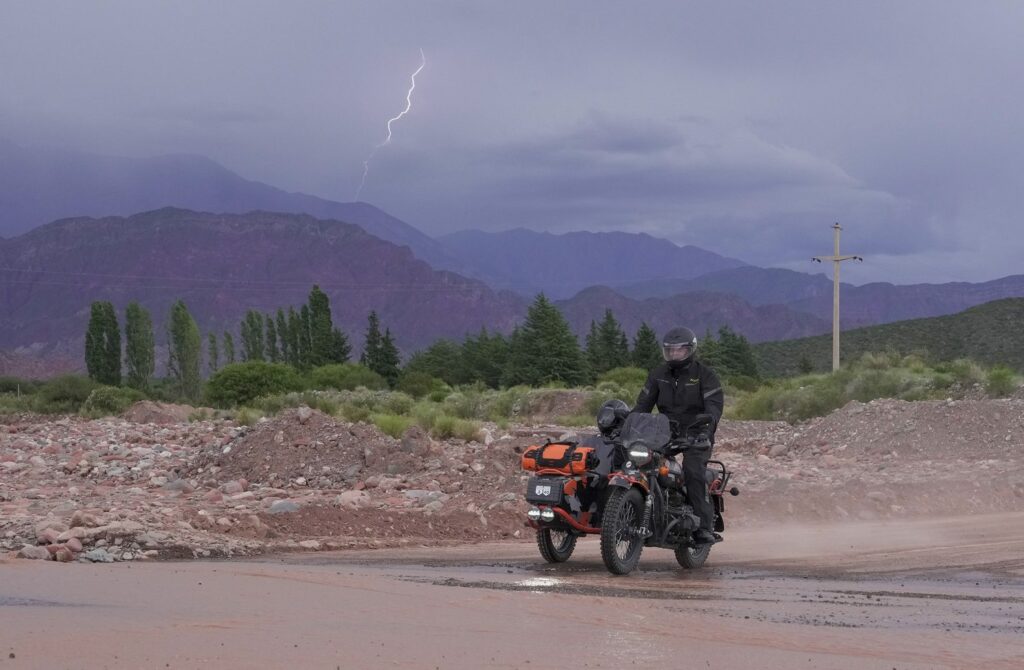 Despite Ural's tough reputation, the motorcycle's appeal to North American and European enthusiasts may be more because its uniqueness and coolness factor than its off-road capabilities.
"It's a very mechanical bike to ride, and they rattle and shake and clank more than other bikes, adding to that 'Ural experience,'" says Hagerty Senior Information Analyst James Hewitt, an avid motorcyclist and collector. "They have a cult-like following, and there really are no other options when it comes to bikes like this. You most often see people with their kids or dogs riding in the sidecar, enjoying them on the highway—not going on crazy adventures."
Perhaps that's what Ilya Khait, president and CEO of IMZ-Ural, actually had in mind when he took the reins of the Russian company two decades ago. "Ural is an invitation to share a ride; it's about sharing and doing things together," Khait told Ride Apart in 2018. "That's why there's such an attraction—the sharing aspect. Even when riding by yourself, you're never alone, because the bike draws people in."
Even before the Russian invasion of Ukraine brought sanctions, it's been a bumpy ride for Ural, which at its peak produced 130,000 bikes a year while under Soviet control. By Khait's own account, "The Ural factory used to be huge. It was a massive, self-contained, Soviet-style facility that made all of its own parts and employed 10,000 people … At one point in time it was probably one of the biggest bike manufacturers in Europe. After the well-known events of the Soviet Union, when the country went from a centrally planned economy to a market economy, the market for Ural disappeared overnight. In just a few years production went down to 6000 motorcycles a year, and when I first visited the factory (in 1999), production was down to 4000 units a year."
In 2021, Ural built fewer than 2000 sidecar motorcycles. It appears as if the company's 2022 production will be a fraction of that.
Cycle World reports that the last hope for Americans to see new Urals anytime soon may come from two containers of the Russian bikes that have been stuck in a port in Europe since late February. "If all goes well," Ural says on its blog, "those containers will arrive in New York at the end of April or early May."
In the meantime, Urals that are already in North American and European dealerships are seeing huge market adjustments as demand outstrips the waning supply. Hagerty's Hewitt says he's seen dealers add as much as $5000 to the MSRP.
"These are often 'that's cool and I've gotta have it' buys—impulse buys," he says. "So it will be interesting to see if the parts supply can be maintained, how long the supply of new bikes lasts, and how the user market fares."
Ural is doing its best to remain optimistic that the situation will improve sooner rather than later. In the meantime, it writes, "We pray for peace."