Like all great carmakers, Ferrari has amassed a big catalogue of greatest hits but also had a few inevitable duds along the way. Or at least that's how some people see them. Ironically, many of the least sought after classic Ferraris today were strong sellers when they were new, only to become the butt of jokes and languish at temptingly cheap prices. At least until fairly recently. With all the heat in the market this year for modern performance cars and Ferraris in general, we wanted to check in on unloved models from Maranello and see if they've been gaining steam.
We narrowed it down to five cars. Most of them are four-seaters, and in Ferrari math 2+2 = less money. Many of them were also overshadowed by other, better cars. However, the market hasn't treated them all the same. While all have appreciated since the Ferrari boom years of the mid-2010s, some have kept on climbing this year while others have been a little quieter.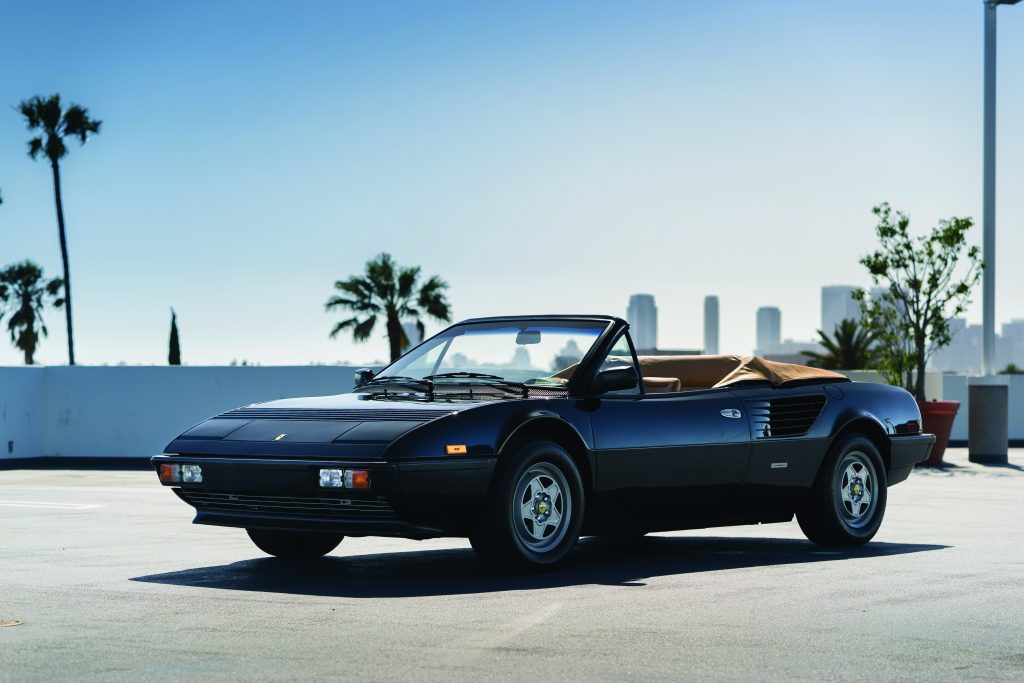 The Mondial is the Ferrari everybody loves to dunk on. It's not great-looking. It's not fast. It has four seats. It's the family man's Ferrari, and family men aren't sexy. We've heard it all. It nevertheless sold very well in period, with about 7000 built over 14 years. The combination of poor image and plentiful supply made Mondials the cheap Ferrari for a long time. Most signs point to them staying that way, but they do seem to be getting less cheap.
The Mondial replaced the Dino 308 GT4 as Ferrari's mid-engine four-seater in 1980. Mondial, the French word for "global," hinted at Ferrari's aim of selling to a larger number of less-affluent buyers. Extra length and width over its predecessor meant extra interior space along with rear seats that weren't laughably tiny. But it was also heavier, and its engine was the same transverse 2927-cc V-8, now fed by Bosch injection instead of Weber carbs as in the Dino—and that was less exciting. Reviewers praised the handling and ergonomics but ragged on the Mondial's straight-line speed. Car and Driver's test car reportedly took almost 9 seconds to get to 60 mph, downright sluggish by Ferrari standards. The looks didn't draw much praise, either. The Mondial is unmistakably a Ferrari from most angles, and it can't have been easy for the guys at Pininfarina to style a mid-engine car with four seats, but let's just say they didn't print many bedroom posters of a Mondial.
You only get one first impression, as they say. That's kind of a shame, because the Mondial only got better throughout its whole production run. A more powerful four-valve version called the Quattrovalvole (QV) arrived in 1983, followed by an available cabriolet in 1984. In 1986, the QV's displacement grew to 3.2 liters for yet more power, while Ferrari updated the interior and added new, larger wheels. Antilock brakes arrived in 1987. In 1989, the Mondial "t" debuted with a new 3.4-liter engine now mounted longitudinally in the chassis to a transverse gearbox. The Mondial t also gained power steering, and it was the first production Ferrari with electronically-controlled adjustable suspension. A very small number were built with a French Valeo semi-automatic gearbox, hinting at the F1-style flappy paddles that arrived a few years later.
Once Mondials became used cars, they got considerably cheaper and have mostly stayed that way. But because Ferrari parts and service costs are expensive no matter what, many of the Mondials still out there have deferred maintenance, gaps in their history, sketchy repairs, etc. Even good ones, however, have remained relatively inexpensive and haven't done much even through the market's very active period of the past 10 years. Condition #2 ("Excellent") values dipped a bit during the Great Recession, then surged 25 percent in 2015 but have been largely flat since.
The Mondial hierarchy is simple enough. Since the cars got better and faster over time, the later models are worth more. Early Mondial 8 coupes currently carry a #2 value of $29,000, while QVs in the same condition carry a value in the low $30k-range and Mondial t's are closer to $40k. Coupes are significantly rarer than cabriolets and command a slight premium.
Buyer interest as measured by our insurance activity is up over the past three years and some exceptional cars have brought some exceptional prices in recent months, including a 17,000-mile Mondial t for $85,575 and a 5800-mile 1986 cabriolet for $60,500. People may be coming around to the Mondial's comfort, usability, good sound and (for a Ferrari) ease of maintenance, but this also may be a case of a rising tide lifting all boats as the Ferrari market in general has gained steam in 2021.
The car that the Mondial replaced—the Dino 308 GT4—represented a lot of firsts for Ferrari. It was the first Ferrari road car with a V-8, the same 3.0-liter unit that went on to power the 308 GTB/GTS and Mondial. It was also the company's first mid-engine 2+2 as well as the first (and only) production Ferrari penned by the masters of the wedge at Bertone. And in 1975, it was the only Ferrari officially available to U.S. customers. Like the other cars on this list, the 308 GT4 is something of a black sheep in the Ferrari family, and this has been reflected in values, which are still in can-I-stretch-the-budget-and-snag-one territory. And, like the Mondial, 308 GT4 prices have been quiet relative to the other cars that wear a prancing horse on their nose.
Ferrari introduced the 308 GT4 in 1973 as a more practical 2+2 stablemate to the successful 246 Dino. And here was the first issue. Like the 246, the 308 GT4 debuted under the Dino sub-brand and on some early (1974–75) cars there wasn't even a Ferrari badge in sight. The 246 has completely overcome the whole "not a real" Ferrari thing, but unlike the 246, the GT4 isn't a drop-dead gorgeous car and it (technically) has four seats.
Ferrari sold about 2800 Dino 308 GT4s, with mild styling revisions along the way. The optional sunroof can add a $2000–$3500 premium, and later cars are worth a few thousand dollars more in the Hagerty Price Guide. The current median condition #2 value for a GT4 is $64,000.
Back in 2015, when prices for every Ferrari (and Dino) were climbing, GT4 values surged as well. They have been mostly stable since, but some pristine cars have sold for well above their price guide values in recent months, including a 1975 model for $76,650 and another lower-mile '75 for $105,000. GT4s are hugely popular with Gen–X enthusiasts. They make up just 31 percent of the collector car market as a whole, but represent 63 percent of buyer interest for GT4s.
The 456 has a big powerful V-12, a top speed of around 190 mph, an available open-gate 6-speed manual, Pininfarina lines and plush Connolly leather. Shaq drove one, and he's cool, right? Regardless, plenty of people dismiss the 456 as just the boring '90s Ferrari. That's mostly down to its (barely existent) rear seats along with the fact that it often came with an automatic, popular at the time but now snubbed by enthusiasts and collectors. This was also before Ferrari offered everything with a flappy paddle F1 gearbox, so the auto in the 456 is an auto through and through. And the styling penned by Pietro Camardella at Pininfarina, while handsome, was also conservative. Although the 456 sold for over $200,000 when it was a new car, it quickly fell down the ladder and became one of the "cheap" Ferraris.
The 456 first came to the States in 1995, available as either the 456 GT (manual) or the 456 GTA (automatic). In 1998 the model was updated with facelifted styling and revised interior as the 456M GT and GTA, with "M" standing for "Modificata." About 3300 examples were built before the 456 was replaced by the 612 Scaglietti in 2004.
Someone looking for a fast, comfortable '90s GT could do a whole lot worse than a 456. Aside from some expensive electrical fixes and the sticky interior plastics endemic to Ferraris of this period, 456s are mostly solid cars if maintained well, and unlike some mid-engine cars, the whole V-12 doesn't need to come out to do a belt service.
As for prices, depreciation bottomed out in the early 2010s, and 456s have mostly been moving up since then. But not all 456s are created equal, and autos are being left behind. Over the last 10 years, #2 values for 6-speed cars have gone up 184–194 percent while automatics have grown 66–85 percent. Depending on condition, a stick can be worth about twice as much as an auto in today's market. That goes along with what we've seen for other late-model manual Ferraris like the 575M or the 360, and given the big premiums for other modern analog performance cars, it wouldn't be surprising to see the gap between 456 GT and 456 GTA keep growing.
The 348 is a classic middle child, a good car stuck between a timeless classic (the 308/328) and a modern masterpiece (the F355). It is, however, getting pricier and stretching beyond cheap Ferrari status.
In 1989 the 348 replaced the 308/328 line that stretched all the way back to 1976, so it had big shoes to fill. The styling borrowed from the 12-cylinder Testarossa with its cheese-grater side intakes, and available body styles included a coupe (348 tb), a targa (348 ts), and a full spider (348 GTS). The 3.4-liter 4-cam V-8 came with 300 hp and was mounted longitudinally in the chassis, with the gearbox mounted transversely. Special models included the US-only Serie Speciale, a limited 100-unit run with more power, wider rear track, shorter final drive, revised grilles, and F40-style seats.
Period reviews for the 348 weren't exactly effusive. Reviewers complained that it was twitchy at the limit, and there were much cheaper Corvettes and high-performance Japanese cars that could match its straight line speed. Motor Trend said of the styling that "it looks quite nice when approached carefully from the right direction, but you wouldn't say it's pretty unless you'd had a couple drinks." The 348 also came out not long before the Acura NSX, which showed everyone that an exotic car didn't have to be finicky and temperamental like, you know, a Ferrari. The F355 that came out for 1995 was an objectively better, faster car that quickly overshadowed its predecessor.
Now that they have made the transition from used exotic to modern collectible, 348s aren't as temptingly cheap as they used to be. Coupes are worth significantly more than targas, which are in turn worth significantly more than spiders. Series Speciales are worth more than all of them, but with just 100 built they don't pop up often. Median 348 values dipped below 40 grand in the early to mid-2010s but have gradually been climbing ever since, and condition #2 values are up 91 percent since the beginning of 2015. Over the past year, they're up 43 percent. So despite their middle child status and despite some potential headaches (engine-out belt services, sticky interior plastics) 348s are finally getting their due. Appreciation has surprisingly kept pace with its ever popular older sibling and its more athletic younger one, but 348s will probably always be worth a little bit less.
The 400/412 carried Ferrari's four-seater front-engine torch from 1976 to 1989, and it has the unenviable distinction of being the first Ferrari sold with an automatic transmission. The GM 3-speed Turbo Hydramatic was blasphemy for purists, but the good-old-American unit had already been used in Rolls-Royces and Jags for years, and in the end about two-thirds of 400/412 buyers chose it over the 5-speed manual. This was a more mature Ferrari, a Ferrari for the cigar lounge rather than the night club.
Introduced at the 1976 Paris Auto Show to replace the 365 GT4, the Ferrari 400 enjoyed a run of about 500 cars before its 4.8-liter V-12 got Bosch fuel injection and it became the 400i, one of which Tom Cruise drives briefly in Rain Man. The 400i ran until 1985, when the engine got a 120-cc bump in displacement and became the 412, which also got different wheels and an upgraded interior. None of these cars were ever officially sold in the US, so any 400/412s on our shores were brought here on an individual basis.
In addition to people turning their nose up at a Ferrari with an automatic and the four-seat discount, the looks aren't doing it any favors, especially compared to the supple curves of '60s Ferrari 2+2s. 400s do look a lot better in person, but quips that they look like an overgrown '80s Accord will probably never stop.
For fast, classic Italian V-12s, these cars are still on the cheap side. Median condition #2 values are up 81 percent over past decade but are still just $38,000, with 400i's a bit less at $35,000 and 412s on top at $48,500. These prices assume two pedals, however, so tack on 40-50 percent for a car with a 5-speed. As for buyer interest, they aren't exactly popular with the kids. Just 7 percent of insurance quotes come from people younger than Gen X, but maybe as they mature they'll start thinking about more mature Ferraris.