As I enumerated in our prior breakdown of the out-of-control collector watch market, there are a stunning amount of parallels between those that like their machines to tick and those who prefer their hobbyist contraptions to roar. Aside from the mutual appreciation for design, engineering, innovation, complexity, and rarity, watch and automotive enthusiasts find parity in sociological cosplay; whether you buy into it or not, there are as much cultural signifiers associated with certain iconic watch models as you might find ingrained into the driver's seat of a Porsche 911, a classic Ford Mustang, or a Series Land Rover. We've both got our pantheon of icons, and occasionally, we can shake hands from across the aisle in mutual appreciation.
The Omega Speedmaster is just such a watch spanning the gap. The best-known and arguably most desirable variant, the Speedmaster Professional, became the first watch worn on the moon in July 1969. The so-called Moonwatch is one of a handful of watches to still hold qualification from NASA for spaceflight, and ostensibly the only watch approved for extravehicular activity (EVA)—though there have been a number of watches spotted on the wrists of spacewalking astronauts over the decades. Owing to that historical importance, timeless design, and impossible versatility, it's said there's space for a Speedy in every watch collection.
Although Omega ceaselessly capitalizes on the Speedmaster's extraterrestrial cred in both special editions and routine anniversary announcements, the legendary chronograph has deeper roots in motorsport. Omega launched the Speedmaster in 1957, positioning its new upsized chronograph as a tool for the racer and the rallyist. Racers like Willy Mairesse and Walter Rohrl sported Speedys in-period, and while the necessity for a mechanical chronograph had long since evaporated by the time he took the track, Omega teamed up with Michael Schumacher for a run of co-branded special editions.
So, it's no surprise you'll spot a Speedy on the wrist of many drivers, engineers, designers, and general gearheads. Want one? We bet you do. One problem—the cheapest way into a new Speedmaster Professional is $6,400, and clean used examples bottom out around $4,500 at the time of this writing. A number of less desirable and mechanically finicky Speedy variants can be had for less than $3,500, but that's still a rather dear price to pay if you just want the aesthetics and timekeeping function of the Speedy without any of the pomp and circumstance.
How about $260?
In a move that shocked just about everyone, at least in the watch world, Swatch and Omega co-revealed a collaboration collection of watches. With Omega's blessing—or maybe Papa Swatch's outright insistence, considering Omega is part of the greater Swatch Group—Swatch translated the Speedmaster Professional into a 1:1 dimensional copy, only now hewn from Swatch's proprietary BioCeramic material—fancy plastic, if we're being honest—in place of the "true" Speedmaster's usual steel or precious metal.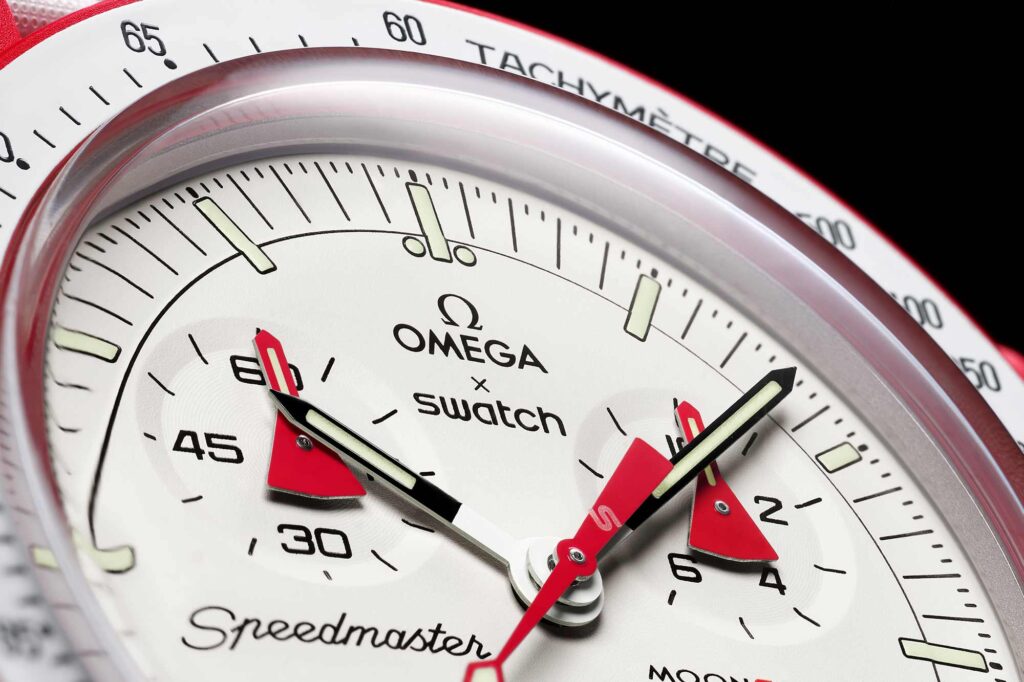 The mechanical guts are similarly simplified. In place of the original Speedy Pro's complex handwound mechanical movement, a cheap-'n-cheerful battery-powered quartz heart ticks noisily under the caseback. Also, as this is Swatch we're talking about, the majority of the eleven celestial-themed watches under the collection visually explode off the wrist in a selection of vibrant colors, a level of expressiveness not afforded in the somewhat austere playbook of the traditional Speedmaster.
All this, for the aforementioned $260 buy-in.
These aren't just a stylistic nod to Omega, either—the watches all carry an "Omega x Swatch" co-branding sign at 12 o'clock, with some cheeky "MoonSwatch" script close to the 4 o'clock marker. As far as "official" replicas go, it's as close to the real-deal as you can get, especially if you nab either the "Mission to Mercury" or "Mission to Moon" Omega x Swatch MoonSwatches, as these are near dead-on visual approximations of the $6,400 Omega Speedmaster both in case and dial color.
The automotive industry is no stranger to badge engineering efforts or, more specifically, to bringing expensive designs downmarket—Mercedes-AMG CLA anyone? Yet this strange sort of straightforward co-branding is rare. The closest comparison we can think of is the Porsche 914, 924, and the 912E. Porsche crest, Porsche bones, Volkswagen engine, Audi pricing. The 914 even foreshadowed the Omega x Swatch tag by conspicuously wearing a "VW-Porsche" badge on the rear deck-lid.
For a more modern context, imagine Porsche releasing a softer, VW-built 911 with "Porsche x VW" badging, scratchy cloth seats, a six-speed auto, funky colors, and a VW EA888 2.0T from a GTI under the rear decklid. Well, now wait a minute—don't tempt us with a good time.
It's too soon to tell what unseen effects will come from this collaboration. Some Speedy purists predictably scream about how this devalues the brand, while other enthusiasts optimistically hope the MoonSwatch acts as the Speedmaster's gateway drug to a new audience (read: young people who grew up getting the time from their smartphones). The 914 and 912E perhaps offer some collector context. For years, they were treated like used cars but, amidst rising values for air-cooled anything, have become collectible—a decent driver will cost more than $35k. Meanwhile those who plonk down six-figures for 930 Turbos seem unbothered by the existence of a similar looking car with VW guts.
One thing is already for certain—the public reaction has been both overwhelming and unexpected. Prior to its forthcoming availability on Swatch's online shop, a limited amount of MoonSwatches were offered this past Saturday at select Swatch stores around the world. People lined up two nights prior, with some stores opening to a line of over 500 people hoping to get one of the hundred or so examples shipped to each store.
So, a little bit of the Speedmaster magic for the every-enthusiast. After Swatch opens up online sales and provides wider availability, we can't wait to spot these brightly colored chronographs at car shows, races, local drives, and, uh, anywhere you'd wear a watch. Pick your favorite variant wisely—or rashly, considering Swatch will offer super-collectors and indecisive buyers a crack at the full set in one box, all for around a third of the price of one Speedmaster Professional.