Like all of us, John Wiley loves cars. Unlike most of us, he also loves math, which is why he's senior data analyst for the Hagerty Valuation Team. He takes a statistics-minded look at the collector car world for Insider.
During the past several months, even as the collector car market has performed well overall, we have been uncertain about the state of the muscle car market. The perception is that muscle cars do best at live auctions, where their bold shapes can attract big crowds. For much of 2020, those events were canceled, postponed, or at a limited capacity. Even in 2021, one of the biggest displays of muscle, the Barrett-Jackson Scottsdale January auction, was postponed until March.
Beyond the immediate concerns for this segment looms a demographic one: Muscle cars are inextricably linked with the Baby Boom, a generation of car collectors that is gradually passing the torch to Gen–Xers and millennials.
To get a sense of the health of this segment, both today and tomorrow, we have to do some heavy lifting to see what the data tell us.
Defining muscle
First, let's define what a muscle car is. Certainly, modern muscle like the Dodge Challenger Hellcat are absolutely true to the ideals of the originals, but for the purposes of this report, we'll focus on the model years of 1963 through 1973. And although we love high-powered sedans and station wagons as much as anyone, we'll limit our discussion here to two-door models.
Even with all that filtering, we're left with a large dataset: The Hagerty Price Guide lists more than 1400 muscle cars for those eleven model years. The makes in the set are American Motors, Buick, Chevrolet, Dodge, Ford, Mercury, Oldsmobile, Plymouth, Pontiac, and Shelby. Models are limited to the 4-4-2, AMX, Barracuda, Camaro, Challenger, Charger, Chevelle, Comet Cyclone, Coronet, Cougar, Cuda, Cutlass, Cyclone, Dart, Duster, Fairlane, Firebird, Gran Torino, GS, Grand Prix, GT350, GT500, GTO, GTX, Impala, Javelin, LeMans, Monte Carlo, Mustang, Nova, Rebel, Riviera, Road Runner, Satellite, SC/Rambler, Skylark, T-37, Talladega, Tempest, Torino, Toronado, Valiant, and Wildcat. The average displacement is 366 cubic inches, and the average horsepower rating is 287.
Muscle cars haven't experienced wild surges in value over the last decade as have other segments, such as German cars; Hagerty's Muscle Car index presently sits just below where it was in 2008, on the eve of the Great Recession. Yet this segment remains one of the most popular in the collector car market. Policy quotes for the model years of the late 1960s through the early 1970s are consistently twice as numerous as model years from 1980 through the present. In terms of total sales, the 1963–1973 model years of the muscle car market are equivalent in dollar terms to the entire Porsche enthusiast vehicle market.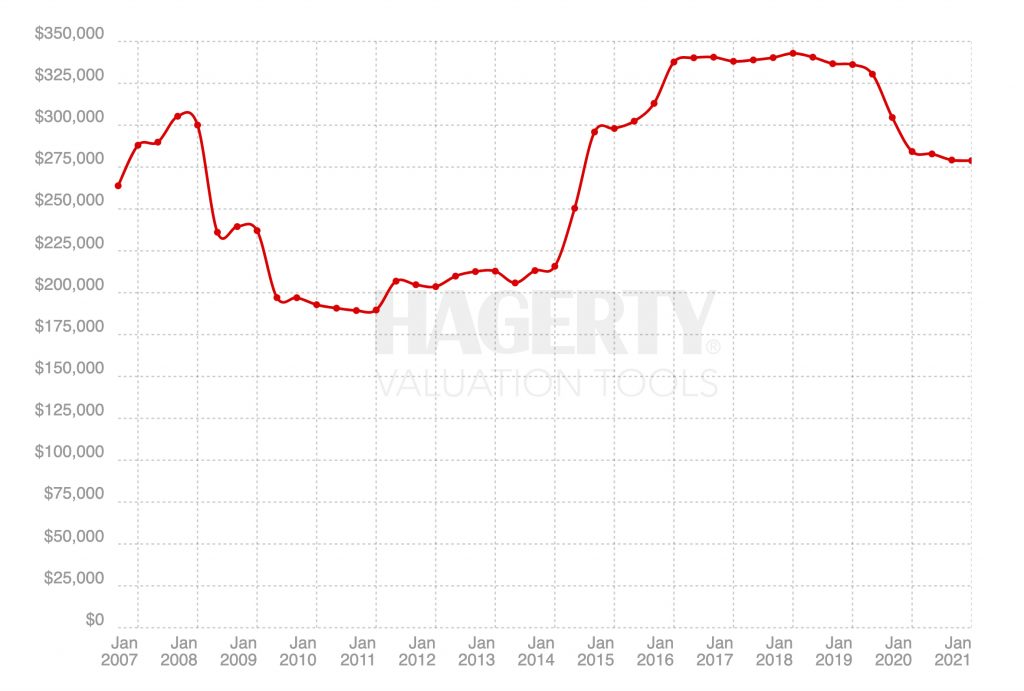 Speeding up, not slowing down
Currently, the average condition 2 value of the muscle cars is $57,000. That represents a decline compared to January 2019, but a small one—just 1.6 percent. This is similar to what we've seen in the rest of the market since the pandemic.
The fact that your GTO is worth pretty much the same as it was last year would be cold comfort if it took forever to sell, so we also want to know the speed with which muscle cars are selling. Typically, thanks to their popularity and relatively plentiful numbers, muscle cars are among the fastest selling collectible vehicles. Early in the pandemic, as in-person auctions were being cancelled left and right, it seemed these sales slowed considerably.
Fortunately, that isn't the case. Despite all of the auction event changes since April 1, 2020, sales of muscle cars actually sped up compared to the prior two years. The number of muscle cars sold increased from 17,358 per year to a rate of 19,621 per year after April 1, an increase of 13 percent.
Note that other segments are accelerating even faster. For modern performance cars, defined here as coupes and convertibles built between 1985 and 2003, sales increased 31 percent over the same period. Credit their popularity on fast-growing online auctions platforms, as well as the ever-increasing clout of the younger buyers who prize these vehicles. Don't take this, however, to mean modern classics are more popular: The sales rate for these vehicles, just over 9,000 per year since April 1, remains less than half that of muscle cars.
Key to all of this is the vastness of the private market. Previously, we've noted that something like seven cars sell privately for every one at auction. For muscle cars in 2020, the disparity was even more dramatic. The share of sales at live auction events nearly halved to 5.5 percent, and the share of online sales crept up to 1.3 percent. In contrast, modern performance cars sell relatively often online: 9 percent of all transactions public and private sales (based on insurance data) are conducted online. In other words, even as the auctions dried up, enthusiasts found ways to buy and sell even more muscle cars via dealers and peer-to-peer transactions.
Within the overall lift in sales, some makes and models saw more gains than others. American Motors lagged behind the pack, and Ford and MOPAR were a bit below average, but the GM brands saw above average increases led by Buick and Oldsmobile. Among popular models, the Mustang, Camaro, and GTO were a bit below average, while the Cuda, GT500, and Firebird were a bit ahead. The interactive data visualization below shows how the rate of sales has changed for many vehicles before and after the pandemic began. Brighter colors reflect a larger percentage change, while the bar's length represents the number of vehicles.
Forever young, forever loud
Longtime readers of Insider won't be surprised to read that younger enthusiasts like vintage cars just as much as the people who were driving them when they were new. This holds particularly true for muscle cars, which consistently rank among the top vehicles Hagerty quotes insurance on for millennials and Gen–Xers.
However, there is some variation among the generations for the most popular makes. According to their share of insurance policy quotes, Gen–X likes Chevrolet more than the other generations, while Boomers like MOPARs more than most. Millennials match Boomers for the order of preferences but notably quote Shelbys the least—almost as infrequently as AMC. Of course, that says more about the cost of Shelbys (average condition 3 value $219,792 vs. $21,688 for AMC) than their desirability.
Looking at the most popular models, based on the share of policy quotes, millennials quote Mustangs more often than Boomers. Gen–X likes Camaros along with Chevelles and Novas more than the other generations. Meanwhile, Boomers go to the GTO more often.
While the health of the muscle car market was questionable without the usual big live in-person auction events where they star, private market numbers, and a (slowly) growing online auction presence show the market has picked up since April of 2020. That increase in pace of sales doesn't quite match more modern performance cars, but it remains a larger segment. Also, while some makes and models within the group lag, the market's core is performing well.
Most important, the segment benefits from a broad base of enthusiasts of all ages. The fact that muscle cars don't trade as frequently via online auctions as do modern classics says more about the focus of the most popular platforms than it does about the staying power of muscle car buyers. In any event, the many channels used for buying and selling muscle cars, and their broad appeal, show the segment is more than pulling its weight in the enthusiast vehicle market.