Seasoned car enthusiasts are a tricky bunch to excite. When you've spent your whole life futzing around high-profile automobiles, attending shows, participating in auctions, and going out of your way to experience or even just catch a glimpse of the best cars that the world has to offer, you can become jaded. If the mere sight of a real-deal Boss 429 just isn't enough to put that child-like grin on your face anymore, this is a clear sign it's time to spend at least an hour (or five) deep in Boulder, Colorado's Shelby American Collection (SAC). A spin around SAC is sure to inspire awe with its unparalleled collection of historically significant and stunningly valuable automotive jewels, all sleeping in an unassuming 10,000 sq. ft. building sharing a cul-de-sac with a prep school and two HVAC companies.
The Cobra Lineage
The museum's seemingly claustrophobic floorplan is, in reality, perfectly laid out. We suggest you start facing the north wall, where you will meet the Cobra's March of Progress display in the metal.
1953 AC Ace 01: It all starts with the innocent little AC Ace, a tube-framed, two-seat roadster offering between 75 and 90 hp following its debut in 1953, a stark contrast to the later V-8 Cobras. The Collection's example wears VIN 001, likely giving it a significant valuation bump over our current Concours number of $421,000.
1957 AC Bristol: Parked immediately to the Ace's port-side is a 1957 AC Bristol. Starting in 1956, AC tossed the WWI-era 2.0-liter six-cylinder found in the base Ace to make way for a new Bristol-sourced inline-six of the same displacement, based on the powerplant found in much newer and more advanced BMW 328. This swap boosted power to a beefier 120 hp and, in today's market, tacks an extra $80,000 of value on top of its predecessor.
1962 Cobra (CSX2000): Car three against the lineage lineup is known as CSX2000 for "Carroll Shelby Experimental 2000." It is the only prototype Cobra AND the first unit that AC Cars ever modified (with direct input from Carrol Shelby) and shipped to the US to receive a hi-po Ford heart. AC's improvements included a limited-slip rear end from Salisbury, inboard rear disc brakes, thicker-wall main chassis tubes, reinforced suspension, and "a general beefing-up through-out," according to AC.
Shelby tested the car himself in England, using a 221-ci V-8 from the contemporary Ford Fairlane before shipping the rolling chassis to the US for completion. Upon arrival at Shelby's one-bay garage rental at Dean Moon's speed shop in Santa Fe Springs, CA, CSX2000 was the recipient of one of the first examples of Ford's 260-ci V-8. CSX2000 made its first public appearance at the 1962 New York Auto Show, where it wore a coat of pearl yellow paint that took full advantage of the show's fluorescent lighting. It wound up being Shelby's only factory demonstration vehicle, and was infamously resprayed a number of different hues to convince both the press and customers that the production line was pushing out more cars than they actually were at that point.
Despite CSX2000's seemingly priceless nature, we have some semblance of how much this would be worth if it were to re-enter the market. We say re-enter, as this blue slice of automotive history sold for $13.75 million at RM Sotheby's 2016 Monterey sale. In 2022's superheated market, it'd probably be safe to tack on a few million for good measure.
After Shelby's first Cobra, the lineup concludes with a delectable selection of 289 and 427-powered Cobras, which, at present values of $1.4 and $1.95 million, would be highly notable on their own if they were housed in any other collection.
The Ken Miles Cars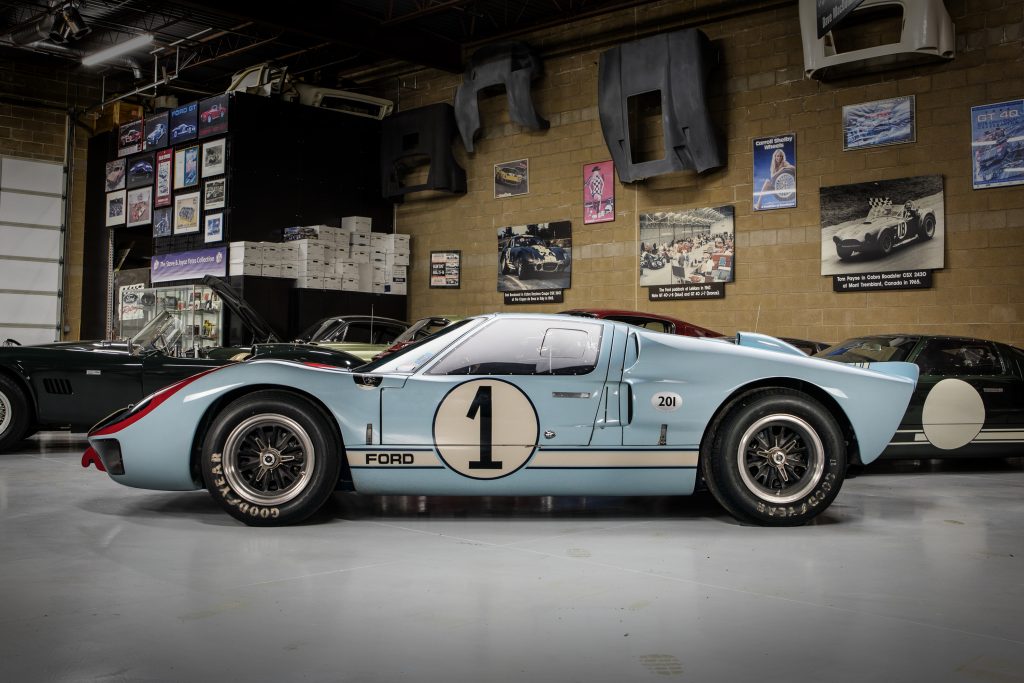 Ford GT40 Mark II (P/1015): One of the crown jewels of the SAC has to be GT40P/1015, the car that Ken Miles piloted along with Denny Hulme for the legendary (and staged) 1-2-3 finish in the first of four-consecutive overall wins at Le Mans for the GT40. It is presented in the blue/red number 1 livery that has twice been immortalized; first during the race in '66 and for a whole new generation as the poster and star car in 2019's Ford v. Ferrari.
Cobra CSX2431: The Shelby American Collection is also home to Shelby Factory Team Cobra CSX2431, colloquially referred to as "Miles' Car." CSX2431 was the first factory Cobra used in the United Road Racing Championship (USRRC), and, except for Bob Johnson's 2nd in class run at Pensacola, it was exclusively raced by Ken Miles. From June 1964 through May of 1965, Miles piloted the #98 Cobra as a development vehicle for the Cobra team cars and Daytona Coupes. During that span, they took six checkered flags, two second-place finishes, a fourth, and one DNF in ten races on their way to a USRRC Manufacturers' Championship.
2020 Ford GT: A lone 2020 Ford GT Mark II parked by itself in the frontal lobby area serves as a fitting bookend to your excursion. This specific GT was originally commissioned as a tribute to the Ken Miles Mark II. Following its inspiration, the car wears powder blue paint with white, red, and black accents, contrasted by a set of the requisite racing roundels.
Other Race Cars
While he's got a section unto himself, Ken Miles isn't the only motorsport maestro honored in the SAC. Toss a wrench toward the assorted collection of race cars, and it'll likely bounce off something campaigned by AJ Foyt, Bruce McLaren, Bob Bondurant, Dan Gurney, and Dick Thompson, among others.
Ford GT40 MK II (P/1016): The GT40s involved in Ford's famed 1-2-3 finish at the 1966 running of Le Mans were Miles' (and Hulme's) blue and red #1 car, the black and white #2 car of McLaren, and Chris Amon (found in this "non"-collection) that was handed the win on an eight-meter technicality, and this gold and red beauty that was driven to bronze by Ronnie Bucknum and Dick Hutcherson. #5 now resides at the Shelby American Collection, parked directly next to the Miles GT40 that pulled back from its commanding lead at the behest of Blue Oval executives.
Ford GT MK IV: After the Mark IIs swept the podium in 1966, Ford returned to Le Mans the following year with the Mark IV J-Car. Ford built these Mark IV GT40s to defend its crown against the Ferrari 330 P4 prepped by the Italian automaker after the embarrassment that they suffered at Ford's hand in 1966. When the Mark IV completed the second-straight upset of Ferrari, it became the first vehicle ever built and designed entirely in the U.S. to outright win at Le Mans. Along with its unrivaled Mark II collection, the SAC is home to a pair of Mark IVs, making it one of the only places in the world where you can see two Mark IVs in the same collection.
J-4: This was the first Mark IV ever built (a total of six were completed in 1967), a car which wears the J-4 label. J-4 debuted at Sebring on April Fool's Day in 1967, with Bruce McLaren and some no-name schlub named Mario Andretti at the helm. They pedaled the 500-hp 427-ci beast to first place that day in Florida. Following the McLaren/Andretti triumph, J-4 was tagged to stay in the US, where it was retained for Daytona testing while a quartet of other Mark IVs were sent to France for a rematch against Ferrari.
J-7: After Sebring, Andretti didn't stay stateside with his championship J-4. He was shipped to the Circuit de la Sarthe in short order, where he helmed the SAC's Bronze Mark IV (J-7) to a track record time, during which he was clocked at 213 MPH on the Mulsanne straight. Unfortunately, Andretti crashed out at 3:35 am and retired the car early, but the checkered flag eventually fell to Gurney and Foyt in the red and white J-5 Mark IV GT40, clinching back-to-back titles for the Americans.
Following the Mark IV's Le Mans victory, Henry Ford II (The Deuce) decided that his company didn't have anything else to prove, and the endurance program was shuddered. Under fresh engine displacement regulations for the 1968 season, privateers extended the GT program's win streak to four, using 5.0-liter Mark I GT40s draped in the iconic Gulf livery.
Ford GT40 (1074): One of the most interesting of those Gulf GT40s can be found at the Shelby American Collection. 1074 is listed as a rebuild of a car that originally went by M. 10003, but is actually believed to be M. 10002, the car that Paul Hawkins and David Hobbs used to win Monza. After the rebuild, its full ownership history is set in stone, with a particular highlight coming in 1970 when it was acquired by Steve McQueen's Solar Productions. Needing something that could keep pace with McQueen's Porsche 917K during filming, the production team of Le Mans chopped off 1074's roof at the base of the A-pillars, and a $4.5-7.8-million camera car was born. After five months of shooting, the car and its severed roof went back into private hands. Through a rapid succession of new owners, it resided in Chicago, England (where it was reunited with its top), and back to America with owners in Arizona and New York before landing in Belgium with a host of other high-value Fords/Shelbys that were squirreled away as investments. It resurfaced in 1983 when it was bought and traded in a matter of three days by a collector in Wisconsin. After changing hands a couple more times, it finally found a home in the late, great Larry H. Miller's extensive collection. 1074 and many of the SAC's most storied cars are on display curtesy of the Miller Family Automotive Foundation.
1964 Cobra Daytona Coupe (CSX2299): Following the 1963 racing season, Carroll and his team realized that they would need a more aerodynamic profile if they were to keep up with the slippery Ferrari 250 GTO. Pete Brock penned a design that would become the only US-built FIA GT World Champion in history. Of the six coupes minted, SAC's CSX2299 was second out the shop doors, and is seen as most successful of the entire batch. Out of ten starts in 1964 and 1965, CSX2299 took first place in the GT class four times, including a win at Le Mans in the hands of Gurney and Bondurant, at Daytona with Jo Schlesser and Hal Keck, and at Sebring with a Bondurant/Schlesser pairing. Three more of those races resulted in second-place finishes, including a strong show at Reims when it ran 6 hours with one con-rod removed. In total, Daytona Coupe CSX2299 set lap records in five of those ten races.
1964 FIA Cobra Roadster #21: Another car that would headline any Mecum sale is SAC's unrestored 1964 FIA Cobra Roadster. Phil Hill, Bob Bondurant, Roy Salvadori, Sir John Whitmore, Jack Sears and others scored five 1st Place FIA wins in #21. In 2012, it was also the Pebble Beach Concours D'Elegance winner – 1st in Class and 1st overall for Post-War Preservation. This car teamed up with the Daytona Coupe above to take a whopping 60-percent of the points in that '65 Championship season.
Ford GT40 Prototype Racing Coupe (GT/103): This is the earliest known GT40 chassis in existence. Originally campaigned in 1964 by Ford to lackluster results, the third and fourth GT40 prototypes were sent west to Carroll Shelby for further tuning and prep. Under Shelby American, GT/103 went followed its four 1964 DNFs with a Miles and Lloyd Ruby victory at the kickoff race of the 1965 season at Daytona. Shelby's tweaks led to further success, including second and third-place finishes at Sebring and Monza, respectively, in the hands of Miles and McLaren. Its fourth Shelby race resulted in another DNF at the Nürburgring, after which it was retired from factory work and sold to Bill Wonder, who continued to race 103 until 1970.
The Mustangs
The sheer volume of significant and extremely valuable Cobras and GT40s on display at the Shelby American Collection means that examples of Carroll's bread-and-butter hot-rod Mustangs must be supremely unique to earn a space on the floorplan. Luckily, the museum curators have gone to great lengths to bring their customers a corral of Ponies that are just as inspiring as the adjacent smattering of Le Mans legends.
1965 Shelby GT350 R (SFM5R535): Depending on who you ask, this is one of 34 to 37 Competition/R model GT350s built until the R badge went mainstream with the flat-plane S550 GT350. To create the R model, Shelby and Co. bolstered the stock 289-ci V8 with a Holley four-barrel carb, high-rise aluminum intake manifold, oil cooler, and Cyclone Tri-Y headers. Power boosted to over the 350 HP mark compared to the street GT350's 306-hp. To handle this extra twist, traction bars, an upgraded diff, and unique front-end suspension pick-up points were also part of the package. To keep weight as low as possible, Rs-to-be were shipped to California without side or rear windows, heaters, defrosters, headliners, insulation, or even upholstery. All told, the finished product was a full 75 lbs. easier on the scale than the "regular" GT350. Finally, all Rs featured a specialized gauge cluster, a four-point roll cage, an aluminum-case Borg Warner T-10M four-speed manual transmission, and an upfitted 34-gallon fuel tank. Our insurance data currently pegs a #1 Concours-condition R at $1.05 million, but, at $3.85 million, a member of the '65 R family holds the distinction of "most expensive Mustang ever sold."
1966 Shelby GT350S (SFM6S051): Shelby American built a single GT350 prototype with a Paxton Supercharger – hence the "S" – and the only place that you can see it is at the SAC. What makes this exceptional piece of Shelby history even sweeter is the fact that it was given to the museum, free of charge, by the estate of Joyce and Steve Yates of Nashville, Indiana.
1967 Shelby GT500: 1967 was the first year where Shelby buyers had a choice between the original small-block GT350 and a the new big-block GT500. When the model year started, the first 99 cars with 1967 VINs were GT350s, and as the SAC's 1967 was the 100th off the line, this made it the first GT500 ever produced. Once assembled, this stripe-less Shelby went into the field of public relations. It was featured in the February 1967 issues of Car and Driver and Road & Track; then, then later was the March 1967 cover vehicle for Sports Car Graphic. Motor Trend also eventually got their hands on it for their April 1967 spread. It then settled down with the engineering department, even moving from sunny California to Michigan when Shelby production was relocated late in the summer of 1967. In 1969, it was part of a lot of six engineering vehicles that were sold in bulk to Courtesy Ford of Littleton, CO, in March of 1969. In 1979, it was purchased by a sixteen-year-old visionary named Eric Johnson, who still owns the car today, loaning his sweet slice of Ford/Shelby/Mustang history to the SAC.
Bonus Round: Other Favorites
1963 Ford Falcon Sedan Delivery: Even wearing classic Guardsman Blue over Wimbledon White suit, the panel-side Delivery Falcon in the southeast corner sticks out like a sore (but very, very cool) thumb in the Shelby American Collection. Originally owned by Pete Brock, you'll find a full-race version of the Cobra-spec 289 under that front hood. Not cool enough for you? Shelby American used this Falcon to tow their race cars to the track and deliver customer orders, later  starring opposite Ronald Reagan (his final acting gig), Lee Marvin, and Angie Dickinson in the 1964 movie Killers.
Shelby Factory Team Cobra 289 Comp Roadster (CSX2002): The first Cobra race car is prominently displayed next to the Falcon on its original tow trailer, making it one of the best displays in the room. CSX2002 started racing for Shelby American in October of 1962, when it was campaigned by Billy Krause, Dan Gurney, Ken Miles, and Pete Brock before Dave MacDonald earned the car's first checkered flag at the Tucson SCCA National in March of 1963. As stated above, Shelby ended up winning the World Manufacturer's Championship in 1965, and it all started with this car.
The Drag Corner: Sitting opposite of the Cobra lineage/GT40 section on the floorplan is a couple of quarter-mile specialists that only the hardest of hard-core Ford fanatics (or those unfortunate enough to line up next to one at the strip) have ever seen in person. In 1963, Shelby crafted six "Dragonsnake" drag racers that boasted a 380-hp version of the venerable 289 V-8. SAC'S CSX2019, as it is known, was the first factory competition Dragonsnake, the original Shelby PR car, and the only one with the original "as raced" factory paint. Like the Gulf GT40 and the Falcon, this Dragonsnake has a connection to Hollywood royalty; it was featured in the 1964 Elvis Presley movie Viva Las Vegas.
Rapid Fire GTs: On top of everything above, any visit to the Shelby American Collection will allow you to feast your eyes on GT40 Prototype Racing Roadster GT/108, the first of four roadsters built. This was the car that Ken Miles and Carroll Shelby used to demonstrate their capabilities to Ford board members on the tarmac of LAX, including the ride that Shelby gave Henry Ford II that made up one of the most memorable scenes in Ford v. Ferrari. Adjacent to the drag cars, just before you get to see the new GT tribute to Miles' LeMans GT40 is the collection's other pair of modern Ford GTs. The first of them is a delivery-mile, four-option Midnight Blue 2006 Ford GT (up 24% in value in the last year!) that still has plastic on the seats. Beautifully complimenting that first-gen GT is the collection's other example of its successor. This 2017 GT is more traditional in its Liquid Blue/White stripe/Carbon Fiber wheel presentation.
Your Chance to Join the Shelby Owner's Club:
If you somehow made it this far without getting distracted, shopping for flights to Denver (the Collection is just 45 short minutes from DIA), there is one more factory 1-of-1 Shelby that we want to spotlight, and it can be yours, even if your name isn't Craig Jackson! Every year, the non-profit Shelby American Collection raises money by raffling off a new Shelby Mustang, and this year's prize is truly special! For 2022, Ford is offering a Heritage Edition GT500 in honor of the model's 55th anniversary. The '22 SAC raffle car takes the Heritage Edition to the next level. It features the white over Brittany Blue motif of its Heritage brethren, but through their connections at the Blue Oval, the Shelby American Collection got the Flat Rock Assembly Plant to add some GT350R-style red accents to its $10k painted Over-the-Top stripes, creating a one-of-a-kind Shelby. Next, they checked option boxes for the desirable Tech Pack and the "Golden Ticket" Carbon Fiber Track Pack to create the ultimate Mustang. The winner of the 2022 raffle will also receive $25,000 cash to help offset taxes, and they will be enrolled in the GT500 Track Attack experience at Ford's Racing School at Charlotte Motor Speedway. For a limited time, Hagerty readers can get 25% more entries when they use promo code HAGERTY25.
The Shelby American Collection was founded in 1996. It is open to the public on Saturdays from 10:00 AM to 4:00 PM. Adult admission is $5.00 and everyone 12 or younger gets in for free.