Very few things remain unaffected by the topsy-turvy events from 2020-2022. Almost immediately from the onset of the pandemic, the collector car auction world evolved dramatically, and we're still seeing impact from those changes today.
Front and center is the rapid rise of online-only auctions, which has continued even as in-person auctions return in full force. Yet this flattening—or perhaps call it expansion—of the collector car marketplace has also been apparent within the in-person auction scene: we're seeing more auction venues, new participants, and an expanded variety of ways to engage buyers with sellers.
Some auctions have gone from a fully-live format to a hybrid, such as Gooding & Company's Scottsdale auction. Other auction companies, like RM Sotheby's, have filled gaps in the traditional auction calendar with online-only- and single-vehicle sales, such as for Michael Schumacher's Ferrari F2003-GA and, of course, the record-setting 1955 Mercedes-Benz 300 SLR Uhlenhaut Coupe.
All of which brings us to Rétromobile. Of course, the auctions around the Paris' massive annual classic car show are nothing new. However, whereas in the past we might have turned our attention to them only after the dust had cleared from the January auctions, the flattening of our world demands that we think about them before Scottsdale even kicks off.
Artcurial, the longtime title auction of the Rétromobile show in Paris, was formerly known as Poulain Le Fur. It's still represented by many-time Le Mans driver Hervé Poulain as lead auctioneer, but is now backed by an experienced team led by Matthieu Lamoure, with a record of finding extraordinary, long-hidden, consignments. This year they've outdone themselves by consigning a 1964 Ferrari 250 LM, s/n 5901, which promises to be another collector car market milestone.
There hasn't been a 250 LM at auction since s/n 6105 at RM's 2015 Monterey auction which sold for $17,600,000. Artcurial's example has race history, but only as the NART spare car for Daytona in 1966; usually that's a negative, but it is (according to Artcurial's description and an as-yet incomplete Ferrari Classiche inspection) completely original, including its engine, gearbox and body. That is surpassingly rare for a competition car. It has been restored by specialists DK Engineering in the UK.
Its subsequent history with collectors driving it on the street substantiates after the fact Ferrari's 1965 Le Mans contention that it was a "road car modified for racing" like a 250 GTO or 250 SWB … with the engine relocated. Yeah, right, Enzo. In reality, il Commmendatore's assertions failed to convince the FIA that the mid-engined car was merely an evolution of its aforementioned front-engined predecessors, forcing it to run in the prototype class. As was the fashion for Ferrari in this era, the 250 LM won Le Mans anyway.
In addition to this ultra-rare Ferrari, Artcurial has other choice consignments:
Three ex-Bart Rosman cars all offered without reserve;
1951 Ferrari 340 America Barchetta s/n 0120A (€5-8 million, $5.42-8.68 million)
1931 Bugatti Type 43 Grand Sport s/n 43302 (€1.2-1.8 million, $1.3-1.95 million)
1929 Bugatti Type 35C s/n 4920, 4th place at Monaco in 1929 (the first Monaco GP) driven by Georges Philippe de Rothschild (€2.5-3.5 million, $2.7-4 million)
A Benetton-Renault B195 driven by Michael Schumacher in a Driver's and Constructors' Championship-winning season (€2-3 million, $2.17-3.25 million)
If ambitions are less pecuniary, a 1970 Porsche 911 ST 2.3 Rally car (€1-1.4 million, $1.08-1.52 million)
Where does Rétromobile's rise, and the general flattening of the auction world, leave similarly-timed Scottsdale? Well, one of the granddaddies of collector car events, Barrett-Jackson, has always been there and remains on the scene. Scottsdale also holds on to the distinction of being the only collector car event that revolves totally, completely, and unapologetically around auctions and commercial transactions. Every other premier multiple-auction week—Rétromobile, Pebble Beach, Monaco, Amelia Island—hangs its hat on associated car shows, concours and historic races.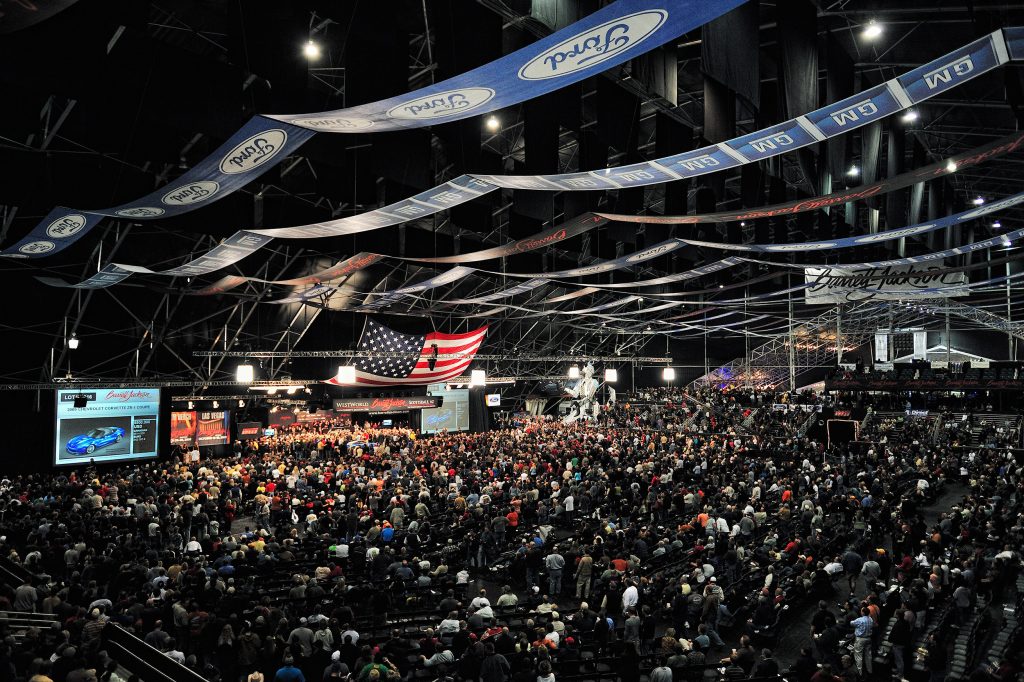 There was a time when Scottsdale attracted everyone of note in the collector car auction world. Kruse was here (in various locations); Drew and Josephine Alcazar created Russo and Steele after leaving B-J in 2002; RM (before it allied with Sotheby's) took up residence at the Arizona Biltmore in 2000; Gooding located at Scottsdale's Fashion Square in 2008; then Bonhams at the Westin Kierland in 2012; and finally Worldwide in 2017. That's not to mention the Silver auctions at Fountain Hills and Fort McDowell and Scott Brandt's MotoExotica auction at the Dealer Auction of the Southwest.
Scottsdale was collector car auction-central for years, consistently offering 2,500 to near-3,000 lots across its various auction blocks. Its peak was 2020, on the eve of the pandemic, when 3,600 lots crossed five different live auction blocks. After a year's hiatus in 2021, Scottsdale returned in 2022 with five live auctions but a much-reduced consignment of 2,152 lots, down 40 percent from 2020. In 2022, there were 23 lots bid to $1 million or more. Hammer bids totaled $40,835,000. In contrast, in 2019 there were 31 lots bid to $1 million or more with hammer bids of $85,270,000.
Today Scottsdale is but three auctions: Barrett-Jackson, RM Sotheby's and Bonhams. Gooding & Company, which last year previewed cars at the Scottsdale Airport for an online auction, is bypassing Scottsdale entirely and going straight to Rétromobile for a display before its two-day Amelia Island auction in March.
That's not say there aren't important cars in Scottsdale, but it isn't the same as a few years ago, when the Copper State auctions concentrated important, significant cars in the same vein as Amelia and Pebble Beach.
The docket's makeup is different, too. Barrett-Jackson will focus on its usual mix of American muscle and restomods, but the eclectic mix we'd become accustomed to elsewhere has thinned. RM Arizona, for instance, has only three lots built before World War II, and Bonhams Scottsdale has seven pre-war cars (counting a "continuation" Invicta and a Pur Sang 8C 2300 Monza). In contrast, Bonhams' Rétromobile sale at Grand Palais Éphémère has 17.
Ferraris are another consistent benchmark among auctions, a good indicator of how the auction companies perceive interest and prospective activity. In this regard, too, the relative positioning of Scottsdale and Paris is apparent. Bonhams will offer six Ferraris in Scottsdale; in Paris Bonhams has 19 on its docket. RM Sotheby's has nine Ferraris at Scottsdale, 14 in Paris. And, of course, there's Artcurial, which in addition to its premier consignment, has 22 more Ferraris. ​
The only high-dollar segment where Scottsdale achieves something like parity this year is in late model, limited-production supercars. That reflects the liquidity and market attraction of these limited-production halo cars in the American market, where newer supercars, particularly of the more analog '90s-2000s, have proven to be a healthy emerging segment.
There are other regional distinctions: Race cars are much more readily used, maintained and better understood in Europe, so the selection is much stronger in Paris than in Scottsdale. On the other hand, in Europe a muscle car, restomod, custom, or hot rod is a hard sell accomplished only at a discount to comparable U.S. prices. In Scottsdale, the preview tents at Barrett-Jackson are full of them and they are avidly sought as trophies by B-J bidders.
All these shifts show an auction map that continues to be in flux, and the results come the final hammers will likely cause yet more evolution. After a long period of relative continuity, the last few years remind us that change is the only constant.