In many respects, the Ferrari Bubble of the 1980s marked the birth of the modern collector car market. It also nearly killed it. The spectacular rise and subsequent crash in Ferrari values within less than ten years minted millionaires and, just as quickly, drove many to ruin.
As we navigate today's heated market, Hagerty Insider wondered what we might learn by re-examining the collector car market's most notorious bubble.
We asked automotive historian Ken Gross to interview those who were there—dealers, enthusiasts, market experts, and others who rode the wave and saw it crash. What fed it? Why did it all come to an end? Should we have known better then? Do we really know better now?
And could it all happen again?
---
I had never thought of ever owning a Ferrari. They were just too expensive. But in 1980, I was at a Morgan Club event, and a guy drove up in a Ferrari 250 GT Lusso. The sleek, sexy red berlinetta idled provocatively, four exhaust pipes throatily purring. I was gobsmacked. I immediately sold my Morgan, my Ford woody, and my four motorcycles, and began looking for a Ferrari. After road testing several '60s-era V-12 models, I decided the Lusso wasn't fast enough.
I had to have a 275 GTB.
Only I couldn't afford one. I needed a second mortgage on my house (and I had to buy my then-wife a lynx coat as a devil's bargain). Ferrari broker Marc Tauber sold me the GTB. As its price was nearly a quarter of the value of my house, I asked him, "Is there anything that could make the value of this car go down?"
"Nothing short of an entire social collapse," he replied.
I kept the GTB for eight years and I drove the wheels off it. It was the best car I had ever owned. Divorce forced its sale in 1989, and I received a check for 20 times what I'd paid.
I wasn't that prescient. That's the way the Ferrari market was in the late 1980s.
And then it crashed.
The remarkable run-up in Ferrari values marked the point when old cars became, for better and for worse, "assets"—stuff people valued because they were valuable. The subsequent crash set the classic car market back for years, and brought ruin to more than a few buyers and sellers. It was, most of all, a wild ride—a red streak in time that those of us who lived through it will never forget and those who didn't can scarcely believe.
For the benefit of both groups—and maybe also the next generation of investors who think they've found a "can't miss" asset—let's look back at the bubble.
---
1980–1987: Momentum builds
Marc Tauber (Ferrari broker): The first Ferrari I ever bought for resale was a $14,000 365 2+2 with 10,000 miles, in 1977. There wasn't a Ferrari market then. There were buyers and sellers, and there were great cars that enthusiasts wanted.
Bernard "Buzz" Boback (Ferrari enthusiast): We bought five Ferrari Daytonas in 1979-1980, three Spiders and two coupes. The most I ever paid for one was 150 grand, and that was 17063, a 1200-mile car. That price was the world back then.  We loved the cars. 
Shinichi Ekko (journalist, automotive historian, consultant, and founder of Maserati Club of Japan): The oil crisis of late 1973 had shattered the high-performance car market around the world.
Phil Tegtmeier (sales Manager, Algar Ferrari): In the early 1980s, [new] Ferraris were tainted with mechanical issues. The cars were underpowered. We had to work hard to sell each car. We actually had to sell the cars. The Magnum, P.I. TV show helped raise awareness for the brand and added to the mystique, but it wasn't easy. People talked about Ferraris, but they didn't buy them.
Marc Tauber: Then, by '84-'85, there was something in the air.
Steve Ahlgrim (former general manager of FAF Motorcars, Ferrari columnist for Sports Car Market): We were seeing Ferrari raising prices because of inflation. The dollar against the lira was changing, so the cars went up. In 1979, a Ferrari 308 GTS was $29,000. By the time we got into 1982, it was $53,000. By the time the 328 appeared, the same car was $80K. If anyone had a used Ferrari, the value of their car was being dragged up by the new cars. It looked like these older cars were great investments.
Jim Weed (service manager at FAF Motorcars from 1986-91, editor of Ferrari Market Letter): By 1984-85, Enzo was getting up there in age. The sentiment was that when Enzo passes away, all of these cars are going to be worth a whole lot more. A lot of people jumped into the market because of that.
Marc Tauber: On Monday, October 19, 1987, the stock market took a terrible dump. In just one day. There was panic—the Dow fell by 22 percent and no one had seen anything like it. People got very nervous about the stock market. They decided they wanted hard assets.
Bill Rothermel (Journalist and concours announcer): Don't forget the huge infusion of Japanese buyers…
Daniil Manaenkov (economic forecaster at the University of Michigan): The Plaza Accord, signed in 1985, aimed at depreciating the value of the dollar relative to other major currencies, including the yen. The yen strengthened by a lot, leading Japanese export/GDP growth to slow sharply. As a result, the Bank of Japan cut rates. The Japanese stock market bubble then got going.
Shinichi Ekko: A manga called "Wolf of the Circuit," which was serialized in the million-selling magazine Shonen Jump from around 1974 to 1978, featured cars like the Ferrari 512 BB, the Lamborghini Countach, and the De Tomaso Pantera. It was a source of enthusiasm for supercars throughout Japan.
Rick Carey (collector car auction analyst and writer): The Japanese collectors weren't necessarily speculators. They were guys who had these vast sums of money, liquidity, and put it to use buying cars.
Jim Weed: They overpaid for a few cars and that got some attention. To a certain extent it helped fuel the speculation.
Marc Tauber: So, the next thing you know, people were investing and speculating on cars, and it became international. What fueled that market, for the first time, was that it really became about money.
---
1988–1990: Living in a bubble
Dave Olimpi (exotic car broker, formerly sales manager at Algar Ferrari in Philadelphia): I remember being at the Rick Cole auction in 1988 in Monterey. A Ferrari 250 P – the first big time Ferrari race car – went across the block and it sold for $3 million. Something was happening.
Steve Ahlgrim: People said that when Enzo died [in August 1988], this would happen. But people always want to have a reason for doing something. You've got to be irrational to pay $30,000 extra for a car, so you rationalize that.
Jim Weed: People were buying a car one month, then selling it the next month for quite a bit more. But then you couldn't turn right around and buy a car equal to the one you just sold without paying a lot more.
Mark Smith (classic car dealer and collector (deceased)): In early 1988, I did a deal for [a customer]. He wanted to spend $100,000 on a Ferrari. Marc Tauber had an alloy, 6-carb, outside filler cap, torque tube, long nose GTB with a factory roll bar, one of three. Eighteen months later, I made a deal with Vanderveldt from Holland and sold the car for $1MM! In just a year and a half, it had increased ten times its original price.
Dave Olimpi: It was happening that quickly. It was like a stock market on fire, and you were an options trader. You couldn't keep up with it.
Marc Tauber: You'd be selling it to Switzerland, but before it got on the boat, the Swiss guy would sell it to someone in Japan, and it was like musical chairs. Everybody made a profit.
Cris Vandagriff (president of Hollywood Sports Cars, speaking to The Los Angeles Times in 1993): By the time you drive most new cars off the lot, they're already depreciating. But Ferrari buyers were scarcely out on the street before they were being offered as much as triple the sticker price… We were giving away a million dollars a year.
Henry Pearman (collector, founder of Eagle E-Types in the UK): It was really just a whirlwind of 24 months with a huge appetite for high-profile cars from people in mainly the financial sector, who didn't really know anything about cars.
Bernard "Buzz" Boback (Ferrari enthusiast): We formed a corporation to (corner) the market. With Phil [Tegtmeier's] help, we were able to accumulate a large number of them. None of our cars had over 5000 miles. It was crazy the way prices went up. We didn't have to advertise. In those days, if you had a Daytona, people knew about it. We sold them in the late 1980s, just in time, before the market went down.
When that happened, it burned a lot of people.
---
1990: It all comes down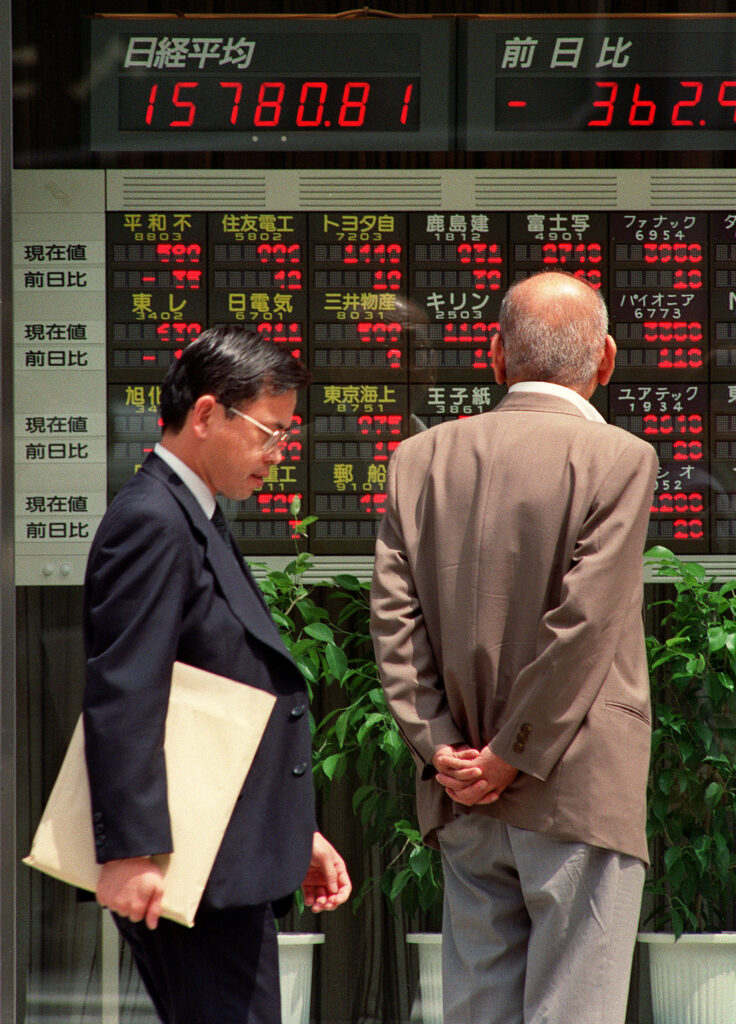 Phil Tegtmeier: Ferraris had become more of a commodity in a synthetic market created by some very capitalistic people. The whole picture was so typical of the mindset of people in that time—and it wasn't just cars. It was real estate, shoes, watches, etc. Bottom line, the word greed fits in here somewhere.
Bruce Meyer (collector): I had friends who said, "I want to buy a Ferrari; what should I buy?" They were not car people. They just wanted in on the game. I said, stop. This isn't for you. They had no idea what they were doing.
Steve Ahlgrim: There was a story about a group of New Jersey dentists who mortgaged their dental practices to buy Ferraris—that's the kind of tulip scandal craziness that was going on in that era.
Rick Carey: Some time around 1989–90, somebody, somewhere in the auction world must have realized that they hadn't sold a car to an end-user collector in about two years. I mean, it was like Bitcoin. Nobody was using the cars, they were just trading them around, always expecting them to cost more money.
Mike Sheehan (Ferrari dealer and authority, speaking to Road & Track in February 1994): In 1985, everyone involved in the collectible-car market was an enthusiast. In 1989, they were all speculators. There are only so many enthusiasts who can afford $1 million for a car. The market finally ran out of end-users.
Dave Olimpi: When I went to Pebble Beach in August of 1990, I noticed these trains of golf carts, without golfers. They were all Japanese men, and that was the year they were there to buy Pebble Beach. I thought, "I think these guys are late."
Daniil Manaenkov: The Bank of Japan was raising rates aggressively to cool off the country's stock market. [In 1990] it crashed.
Shinichi Ekko: The enormous gains from property price increases that had been flowing into classic exotic cars disappeared all at once. Prominent [Japanese] collectors began to sell off their collections at dump prices.
Mark Smith: Banking was in a crisis. The Savings & Loans crisis hit, and people were leveraged to the hilt. By early 1990, it was like somebody turned off the switch. And the only people who disagreed were the ones who hadn't admitted it yet.
Steve Ahlgrim: At Barrett-Jackson in 1990, the cars that would jump out of the showroom were not selling. I told the guys at the dealership, "It's over."
Jim Weed: A lot of people had borrowed money against the cars at basically no money down. But all of the sudden a $200,000 car was a $100,000 car. Then the bank says, "Hey, we're kind of under-leveraged here. You need to come up with the difference." And some people couldn't come up with the money. So then there were true fire sales with people saying, "I really need to get whatever I can out of this car."
Rick Carey: Now you had too many cars on the market. And the buyers who had been soaking up the inventory to make short-term trades and flips, they weren't buying. By 1991 nobody knew what a car was worth, because they hadn't sold a car to anyone who used it or collected it for two years.
Mark Smith: I remember a fellow in Philadelphia who turned down $1,100,000 for his 275 GTB 4-cam at the peak of the market. He waited and waited, he kept wanting more money, and he then rode the market down. He finally sold the car for $350,000 because he wanted a down payment for a yacht.
Ed Waterman, (dealer, collector): In June 1990 I was offered a 365 GTC/4 for $140,000. I figured, "I know that they're going down and I know that it's over, but I think I can get in and out in time." I turned down an offer of $175,000 in early January 1991. That was the last offer I got.
For over a year, I saw the prices going down, down, down. The last thing I thought about before falling asleep and the first thing I thought about when I woke up in the morning was that damn car. In December, 1991 I got an offer for $75,000. I took it and guess what? I didn't feel bad anymore.
Steve Ahlgrim: I paid $160K for a 246 GTS Dino. I ended up getting out of it for $60,000, and I had to take five cars in trade in order to do that. We had a 365 GTC/4 that I bought for $195K that we got out of for $95,000. It was a bloodbath.
Phil Tegtmeier: One client came to me wanting an F40. I told him the only one we could possibly get was over $1M and that I really don't think it's a good idea, but he replied "if you won't get it, I'll go somewhere else." I called the other dealer, and they wanted $250,000 with the balance due when the car was shipped. The client needed me to sell some of his cars to come up with the $250K and a $50K deposit, plus get him financing for the remaining $700K. So now he has a $700K lease on a car with a $390K-$400K list price.
A week before the car came in, he said the car was to be delivered directly to his home in New Jersey. They knocked down a wall and put it in his den, under a huge chandelier. Six months later, he was bankrupt. (Vintage car dealer) Eddie Karam bought the car from the leasing company for about $400K. The whole picture was so typical of the mindset of people in that time.
---
1991–early 2000s: The recovery
Henry Pearman: I'm still dressing my wounds from 1989-90.
Rick Carey: When I started Auto Market Journal in 1991, the market had gone to hell and nobody wanted to be told about it. It was depressing, like owning real estate in a valley somewhere when the Corps of Engineers comes along and says we're going to build a dam and flood your home. And at that point everybody was underwater.
Dave Olimpi: By the time 1994 rolled around, I was on the startup team for Ferrari of Washington (FOW). Ferrari was putting rebates and zero interest lease payments on these cars that we'd never had before. The 348 had a $10,000 rebate on it, and (there was) a $30K rebate on 512s. Cars that had sold for double list price three or four years ago, were now on rebates.
Mark Smith: It took a solid 15 years to come back; some cars took 20 years. Everything has leveled to some degree—250 GTOs were further away from a hit because they were always blue chip cars. Cal Spiders attracted a cult type ownership.
Shinichi Ekko: The Japanese market has regained its liveliness. In particular, rare models, such as limited editions, have significant demand. There is also a growing interest in smaller production models such as Pagani and Koenigsegg. However, I feel that there is not so much enthusiasm for classic cars. Unfortunately, the cars that used to come to Japan are now being sold overseas.
Data Dive: Was the bubble all that bad?
No doubt, Ferrari values took a dive in the early Nineties and heavily leveraged collectors got burned. Zoom out, though, and the bubble was merely a blip in Ferrari's march to the top of the classic car market. — John Wiley
2022: Could it happen again?
Jim Weed: Could it happen again? No, I don't believe so.
Bill Rothermel: It already has happened again. Don't forget Hemi Mopars…[in the early 2000s]. Certainly, not the extreme prices of Ferraris, but all just the same.
Dutch Mandel (formerly editor of AutoWeek, now with Sirius XM, Cars & Culture): In some cases, it is happening again. Look at secondary prices for something as "pedestrian" as Ford Bronco launch editions, GMC Hummers, and even Rivian R1Ts. If you have people willing to pay extraordinary prices for something that becomes commoditized, the cycle will repeat.
Jim Weed: The difference [now] is that people pay cash for their cars. There are not a lot of loans out like there were in 1990. There was a ramp up [in the Ferrari market] running in the 2010s until 2014, and when it stopped...nobody was knocking on collectors' doors asking for the difference. So, we never saw the selloff that we saw in 1990.
Rick Carey: Today's investing environment is different. Non-fungible tokens (NFTs), "meme stocks," and crypto-currencies have achieved the mind-share of Ferraris in the 1980s. They attract uninformed speculative liquidity—and don't have to be maintained, insured, or garaged.
Dave Kinney (publisher, Hagerty Price Guide): When someone tells you, "This time it's different," it's because they think it can't happen. They are both right and wrong. Wrong, because it can happen, and right because it's never the same threat unless the threat is just plain greed.
---