An appearance on the silver screen is a surefire way for a car's value to increase. But how does box office success enhance the sale price? That's exactly what the Hagerty Valuation Team set out to discover as they analysed 60 different movie and TV car sales worth over $37 million.
On average, screen star cars fetched 410 percent more than their 'ordinary' equivalents, but to make it into our top ten, they needed to make a mark up of more than 500 percent. Amazingly, that means that some of the world's best-known cars haven't even made the cut. Cars from the James Bond series just missed out in 11th place, while Ferris Bueller's Day Off was 13th and Back to the Future was 15th. Read on to find out which films gave cars the most star power.
See the other categories from The Hagerty Power List 2022
• The Hagerty Power List 2022: Musicians
• The Hagerty Power List 2022: Movie stars
• The Hagerty Power List 2022: Royalty
• The Hagerty Power List 2022: Drivers
• The Hagerty Power List 2022: Notable and notorious
• About The Hagerty Power List
10. Fast and Furious
With no less than nine movies in the Fast and Furious franchise and literal fleets of starring cars, it's no wonder that seven FF cars have come up for sale, netting an average increase of 515 percent between them. Four of those sold in 2022 alone with a 1995 Mitsubishi Eclipse driven by Paul Walker in the first film showing the biggest gains. Mecum auctions sold the lurid green action car number 35 for $170,500 – a gain of 2,114 percent compared to an equivalent non-furious Eclipse. The highest price ever fetched for a Fast and Furious star car, however, goes to the 1994 Toyota Supra driven by Walker in both the 2001 The Fast and the Furious and 2 Fast 2 Furious in 2003. It sold for $550,000 (£394,237), representing a movie margin of 784 percent.
9. Batman
Batmobiles fetch big bucks, something that's demonstrated clearly by the average 570 percent delta on Bruce Wayne wagons. However, it's worth noting that almost all of that gain is down to the sale of the original 1966 George Barris Batmobile. Sold for $4.62 million (£2.91m) at the Barrett-Jackson West World Auction in 2013, Hagerty's statisticians calculate that it fetched 25,928 per cent more than the Lincoln on which it was based would have done at the time.
8. Ghostbusters
Who you gonna call if you want to see a spooky 577 percent gain on a 1959 Cadillac? Ghostbusters, of course! At the 2010 Barret-Jackson auction in Scottsdale, one of three original Ecto 1 wagons bought by Universal Studios and autographed by the cast sold for $88,000 (£53,900).
7. The Thomas Crown Affair
The Thomas Crown Affair is the first of two films where McQueen's magic touch sends prices soaring. In this case, the average increase is 602 percent from the sale of a Meyers Manx buggy and a Rolls-Royce Silver Shadow coupé with bodywork by Mulliner Park Ward. At Bonham's 2006 San Francisco sale, bids for the Roller rose to £36,715 (around $63,957) – a delta of 371 percent – and in 2020 the Myers made $435,444 at Bonham's Amelia Island – a 640 percent McQueen mark up.
6. Herbie
Volkswagen Beetle prices go bananas when you throw Herbie into the mix. At Barrett-Jackson's Palm Beach sale in 2018, a 1963 VW that featured in 1972's Herbie Goes Bananas fetched $128,700 – 609 percent more than the average bug would have achieved – even though the car wasn't quite original. It was upgraded to Herbie Goes to Monte Carlo spec, which sounds rather more glamorous than "5916 oil squirting car" as it was designated by Disney.
5. Rain Man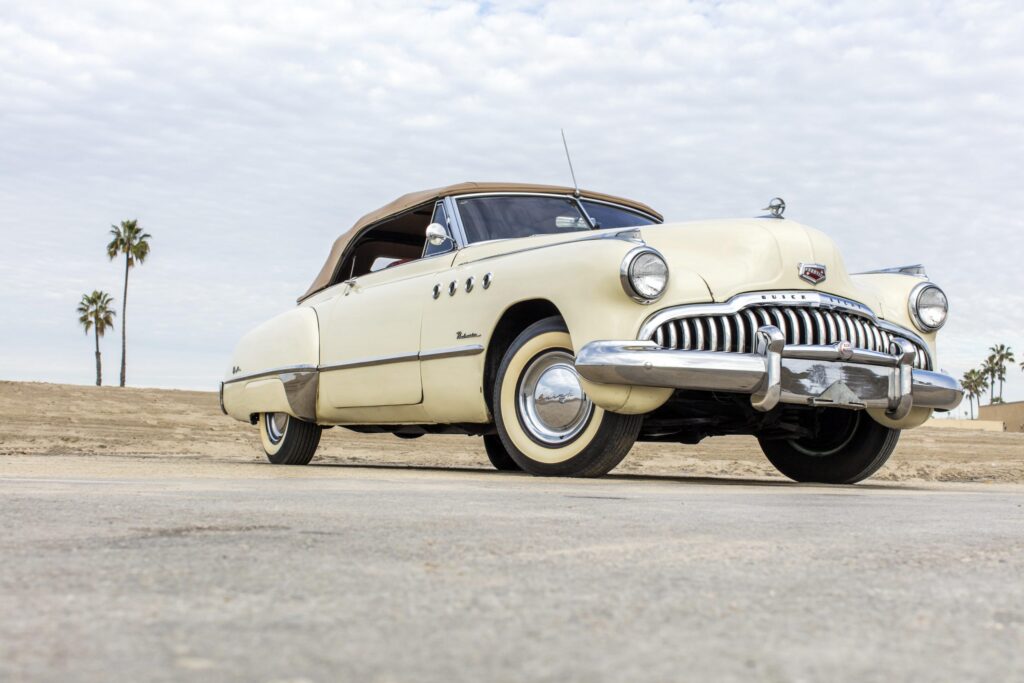 "I'm an excellent driver," declares Dustin Hoffman as Raymond "Rain Man" Babbitt when he takes the wheel of his father's prized 1949 Buick Roadmaster alongside his brother Charlie (Tom Cruise). That may well be true, but when Hoffman sent one of two examples used in the 1988 film to auction at Bonham's Scottsdale in January 2022 it had barely been driven in three decades. "The Buick's been in storage too long. It should be driven, enjoyed, and cherished," he said. Given that the Roadmaster not only had "third billing" in Rain Man, according to director Barry Levinson, but that Hoffman kept it for 34 years, it's no wonder that it went on to achieve a price of $335,000 – a 631 percent delta.
4. Wayne's World
It was definitely party time at the Barrett-Jackson Scottsdale auction in January 2022, as the 1976 AMC Pacer from Wayne's World hit a truly excellent price of $71,500 – a staggering 1,053 percent more than a provenance-free Pacer would have fetched. That's one serious Mirth Mobile margin.
3. Smokey and the Bandit
It's not just Sherriff Buford T Justice who's been chasing the Bandit's 1978 Pontiac Firebird. In fact, there have been four sales of Bandit 'birds since 2009. As a result, the average price is 1,544 percent higher than for a Firebird unhandled by Burt Reynolds. Bandit Firebirds have flown since that first sale when a buyer bagged one for £34,798 (around $43,000) and the latest price achieved (at Barrett-Jackson Scottsdale in 2022) was $495,000.
2. Risky Business
"Porsche. There is no substitute." Tom Cruise quoting the German sports car maker's ad line in 1983's Risky Business guaranteed the 928 cult status, shortly before it fell off a pier and drowned in Lake Michigan, forcing Cruise's Joel to find a way to earn money for repairs fast. In the film he boasts of making $8,000 in a single night, but that's nothing compared to how much one of the 1979 hero cars earned at Barrett-Jackson, Houston in September 2021. The hammer price was an extraordinary $1.9 million – up by 4,759 percent compared to a standard 928 of the era.
1. Bullitt
Given that everything the King of Cool ever touched commands a hefty premium, it's no surprise to see Bullitt take the top spot. While we might love it to be the VW Beetle that's seen so many times in the 1968 movie's legendary car chase, it is, of course, Steve McQueen's Mustang that sets the record for the movie car with the most magnificent margin. At Mecum Auctions Kissimmee sale in 2020, one of two Highland Green 1968 Ford Mustang Fastbacks featured in the film's most famous scene was sold for $3.74 million. That's a delta of 15,952 percent compared to a car untouched by the King of Cool.
The Hagerty Valuation Team says:
It is no surprise that Bullitt topped this list. The 1968 Highland Green Ford Mustang that Mecum sold in January 2020 for $3.74m (£2.8m) had absolutely everything going for it: the hero car in one of the most famous car chases in movie history with watertight provenance (a letter from Steve McQueen asking to buy 'his' car back) and the wonderful story of a family who had kept it locked away in a garage for decades. The difference between this value and Hagerty's 'standard' price of $22,000 made a massive delta of nearly 16,000 percent.
See the other categories from The Hagerty Power List 2022
• The Hagerty Power List 2022: Musicians
• The Hagerty Power List 2022: Movie stars
• The Hagerty Power List 2022: Royalty
• The Hagerty Power List 2022: Drivers
• The Hagerty Power List 2022: Notable and notorious
• About The Hagerty Power List