Our latest quarterly update to the Hagerty Price Guide has wrapped. After parsing a rich swath of large auctions and individual reference sales, the data proved the volatile collector market still has gains—and gaps—to explore. Some rising stars in this latest refresh illustrated a rubber band effect in full swing: with the average prices of more popular collector cars still riding sky-high, some enthusiasts and savvy investors turn to parallel alternatives, inflating values of models that weren't exactly hot-ticket items prior to the pricing surge of their more popular siblings.
Let's look at the most noteworthy gainers of this edition of the Price Guide.
1990 Nissan Skyline GT-R Nismo, N1 (R32) — +94%, +100%
Surprise! A JDM superstar leads this update's gainers, with the R32-generation GT-R Nismo up 94 percent and the enigmatic GT-R N1 showing a cool 100 percent growth. Skyline GT-Rs of any generation remain white-hot, but values of the 1989-1994 R32s are on a particular tear, returning an 18 percent rise on average.
"We're talking a market re-priced weekly right now," said Price Guide Editor Greg Ingold. As the standard R32 rises, the rare variants rocket: the homologation-focused Nismo and N1s are some of the most sought-after JDM cars trading hands behind the scenes, Ingold explains. "We observed a concours-quality Nismo sell for $330,000 recently, and on the same weekend it was listed. My sources tell me this sale is legit, and not an outlier."
As of this update, a standard R32 GT-R sells for an average of $65,000 in Condition #3 (Good), $100,000 in Condition #2 (Excellent), and $160,000 for Condition #1 (Concours). Making the leap to the Nismo lands you in a whole different bracket, with the 560-unit homologation special commanding $190,000 for an example in Condition #2 and a gut-busting $320,000 in Condition #1, a spike from $96,300 and $159,000, respectively.
The N1 is another exotic animal entirely. Only 245 R32 N1s were built, further delineated into standard N1, V Spec N1, and V Spec II N1. The V Spec II N1 is the rarest of the bunch with just 63 units produced, and consequently the most valuable with a 170-percent price increase; a Condition #3 V Spec II N1 sits pretty at $200,000 (up from $92,700), requiring a wild $540,000 (up from $271,000) to score one ready for the concours green.
1966-1969 Alfa Romeo Duetto Spider — +40%
It's a bit odd to see such a collector staple as the cutesy Alfa Romeo Spider as the second-highest gainer of this update, but the curvaceous first-generation Duetto soared 40 percent since April. Stranger still is the Duetto's value plotline since the beginning of this year; after a three percent decrease across the board in January, April's update nudged average prices up 8.6 percent. That's in-line with—or even under—the pressurized collector market, but 40 percent since April? What, did everyone suddenly discover the romantic merits of Alfa's iconic barchetta?
Not really. "Likely, the market had been ready to spend as much on a Duetto, but the right car(s) hadn't appeared on the market yet," explained Manager of Valuation Analytics John Wiley. "The flat price guide values reflected that scarcity of excellent cars available." A bevy of excellent cars—including one with 50-years of ownership history—recently went up for sale, commanding requisitely strong prices and correcting our data thusly.
Now, those wishing to breathe that aire libre can expect to say ciao to $59,900 for a Duetto in Condition #3, or $125,000 if a #1-Condition concours-level Spider is what they're after.
1966-1967 Dodge Charger 440 — +36%
This one came as a bit of a surprise, but we can explain. Certain iterations of the first-generation Dodge Charger are up an impressive 36 percent in the latest update after showing zero growth in the market since the beginning of the year. That prior stagnation is perfectly understandable, as the first-generation Charger is profoundly less popular than the second and third generations.
With the muscle car market launching nearly as hard as values for Japanese collector cars, however, some increase-by-association was expected. Then, we have the 30- to 40- percent increase in values for second-gen big-block Chargers since late 2021, and a recent sale record broken for a Hemi Charger Daytona. So, Chargers are hot, hot, hot—and first-gens have been comparatively cheap, cheap, cheap. As a result, Charger fans are getting while the getting is good—if it's not already too late.
The main winner is the 1967 Charger with the iconic 440-ci V-8, seeing Condition #3 pricing leap from $27,800 to $38,900 this month, the latter amount swapping neatly with the prior value for a Condition #2 440 Charger, which now sits at $54,500.
1986-1995 Suzuki Samurai — +34%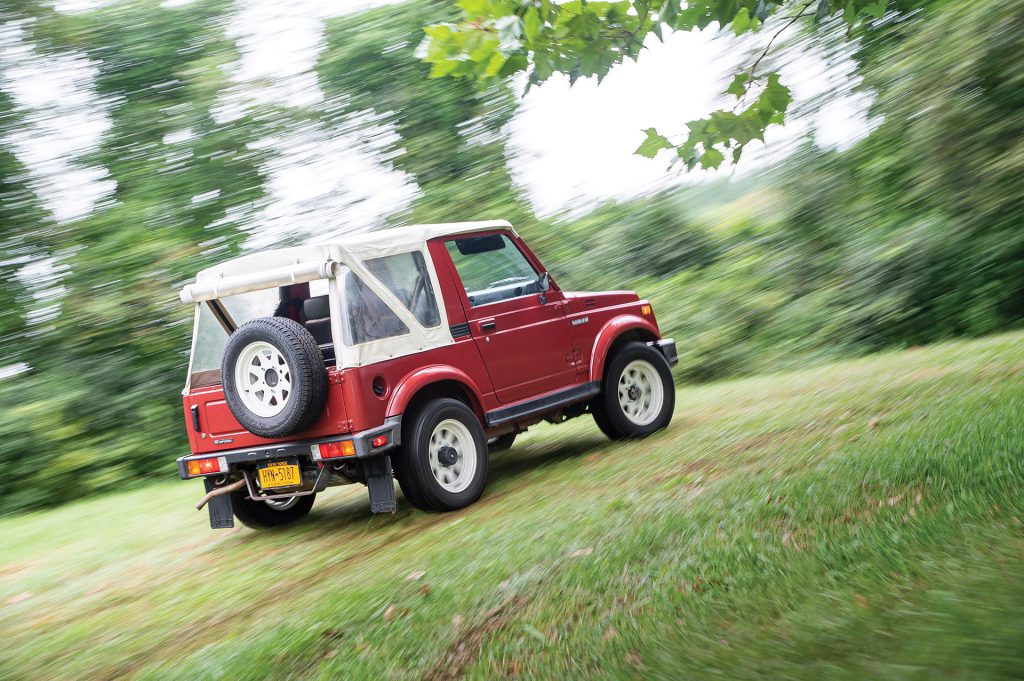 The Suzuki Samurai, a member of our 2022 Bull Market list, has come home to roost. 34 percent seems relatively huge when discussing valuation—and in most cases it is—but the spunky Samurai is still quite a steal, even after the boost. A 1988 Samurai in Condition #3 moved from an average of $7,200 in April to $8,500 in this update. For a Condition #2 example of this king-size Power Wheels, what was $15,100 is now $17,100. Condition #1 didn't budge an inch.
As to what's causing this jump, it's likely a combination of standard Japanese car market growth mixed with segment newcomers who are looking for something different to compliment the other clean classics in the garage, and it seems the tiny Suzuki has done well to shake off its cheerleader vibe.
1977-1981 Pontiac Firebird Trans Am Special Edition — +34%
It seems Smokey and the Bandit still cashes heavy nostalgia checks for the collector car crowd, with multiple big sales of Burt-Reynolds-adjacent black-and-gold screamin' chickens raising the floor for the rest of the field. Everyone cracks at least a small smile when they see Pontiac's peacocking muscle car, so it's no surprise they're willing to pay, too.
Sticking with the iconic Special Edition, you can expect to pay $63,100 for a 1977 in Condition #3 (up from $48,500), $97,500 for a Trans Am in Condition #2 (up from $75,000), and a Smokey-beating $144,000 for one ready for the big screen (up from $103,000). That's a lot of Coors.