The recent talk of softening prices and a cooling market, although important, misses out on the overriding story of 2022's collector car market: unprecedented growth. Auctions on practically every platform and for every kind of vehicle smashed expectations these past 12 months. Records broke, then broke again in a matter of weeks. We even saw the overall world auction record not just broken, but shattered by nearly a factor of three. It was a fitting capstone to a wild year.
Overall, Hagerty has recorded roughly $3.5B in collector cars sold via North American auctions in 2022, with approximately $1.8B of that number sold at live auctions. A sizable chunk of that comes from 2022's ten most expensive cars.
One note: these are just confirmed public auction prices—there were several sales of high-dollar rides that did not have publicly-disclosed figures. Among the most prominent of these were two sales in Monterey: a McLaren F1 sold by RM Sotheby's via a "sealed bid" auction (these are eight-figure cars almost regardless of condition) and a 1958 Maserati 450S race car that changed hands at an undisclosed price after hammering not sold at a $6.9M high bid (it had a $9M-$11M estimate).
1954 Ferrari 375 America Vignale Cabriolet
Sold for $7,595,000 at RM Sotheby's Monterey
"Unique" is a word that gets thrown around a little too much in the car hobby, but in this case we're looking at a true one-off. Ferrari introduced the 375 America in 1953. Powered by the monster 4.5-liter Lambredi V-12 from the 375 MM race car, it was exclusive even by 1950s Ferrari standards, with just a dozen built. Pinin Farina did the coupe bodywork for eight of them, while Vignale built three more coupes plus a cabriolet. This car is that single cabriolet.
Sold for $7,815,000 at RM Sotheby's Monterey
Most of Ferrari's greatest cars and biggest victories were powered by V-12 engines, but Ferrari has also had plenty of success with tens, eights, sixes, and even fours. In the middle part of the 1950s, a string of four-cylinder sports cars included race-winners like the 500 Mondial and 750 Monza. The last series of four-cylinder racing Ferraris was the 500 TR, a 2.0-liter sports racer that was the first to bear the "Testa Rossa" name. In 1957, Ferrari modified the platform to comply with the FIA's new Appendix C regulations, and dubbed it the 500 TRC.
This one is one of just 19 500 TRCs built, and it racked up three class wins in 1957 before retiring at Le Mans with a busted water pump. It also raced at the Bahamas Speed Week, then in 1958 ran at the 12 Hours of Sebring where it broke again. It came into its own, however, on the East Coast racing scene, winning the 1958 and 1959 SCCA E-Modified championships.
1960 Ferrari 250 GT SWB Berlinetta Competizione
Sold for £7,763,500 ($8,991,686) at Gooding & Co. London
Raced in a time when Ferrari was utterly dominating international sports car racing, this yellow berlinetta started out life as an entry for Luigi Chinetti's legendary North American Racing Team (NART) for Le Mans in 1960. It finished fifth overall and second in class behind, naturally, another 250 GT SWB. After it returned to the factory along with another, damaged SWB, it was restamped with another chassis number, repainted and sold on to a French privateer who ran it at Goodwood. It was vintage raced through the 1990s and finally restored in 2013. One of 46 alloy-bodied competition cars, it was the star of Gooding & Co.'s London auction this year.
1924 Hispano-Suiza H6C Tulipwood Torpedo by Neiuport-Astra
Sold for $9,2450,000 at RM Sotheby's Monterey
High-end car auctions are full of lots of expensive metal, but how about some expensive wood? The history of this mahogany masterpiece known as the "Tulipwood Torpedo" is as interesting as the car is stunning. French apéritif heir André Dubonnet, who also happened to be a World War I flying ace, Olympic bobsledder, and racing driver, commissioned the car to further enable his lust for speed.
Taking inspiration from aircraft design, he bought an 8-liter H6C chassis from Hispano-Suiza near Paris and took it to nearby airplane manufacturer Nieuport-Astra, who laid on several layers of mahogany strips, secured them together with thousands of aluminum rivets, and varnished the breathtaking final shape. Dubonnet then drove it to fifth overall at the punishing Targa Florio in Sicily. It wears an older restoration today and, remarkably, still has most of its original wood coachwork, save for a piece of the tail that was damaged by a German bomb in World War II.
1937 Mercedes-Benz 540K Special Roadster by Sindelfingen
Sold for $9,905,000 at RM Sotheby's Monterey
The 500K/540K is one of the rarest, best and most valuable models in Mercedes-Benz's long list of smash-hits. We don't usually see more than four or five trade hands per year, so when a full dozen showed up at Monterey, we wondered if it would be too much of a good thing. Apparently not. Ten of the twelve 500/540Ks on offer met reserve, and nine of them brought seven-figure prices.
This one was by far the most expensive. One of just three surviving long-tail, covered-spare "Special Roadsters" by Sindelfingen (Mercedes' in-house coachbuilder), it's a car fit for a king—literally—it sold new to Mohammed Zahir Shah, Afghanistan's last monarch.
1937 Bugatti Type 57SC Atalante
Sold for $10,3450,000 at Gooding & Co. Pebble Beach
Lighter, quicker, and more sophisticated than the already successful Type 57, the Type 57SC (S for surbaissé, or lowered, and C for compresseur, referencing its supercharger) is one of the most desirable Bugatti platforms, and Jean Bugatti's Atalante coachwork is particularly striking. This one is reportedly one of four Type 57Ss with factory-installed superchargers, and just two of those were Atalantes.
It sold at the same auction nine years ago for $8.745M but has had its engine rebuilt since then. It was the second-highest sale at the 2022 Monterey auctions.
1937 Talbot-Lago T150-C-SS Teardrop Coupe
Sold for $13,425,000 at Gooding & Co. Amelia Island
At the Amelia Island auctions this year, nearly 300 cars sold for a total of $127.7M. This one car amounts to over 10 percent of that total. It is also the most valuable French automobile ever sold at auction. And no wonder. I mean, just look at it.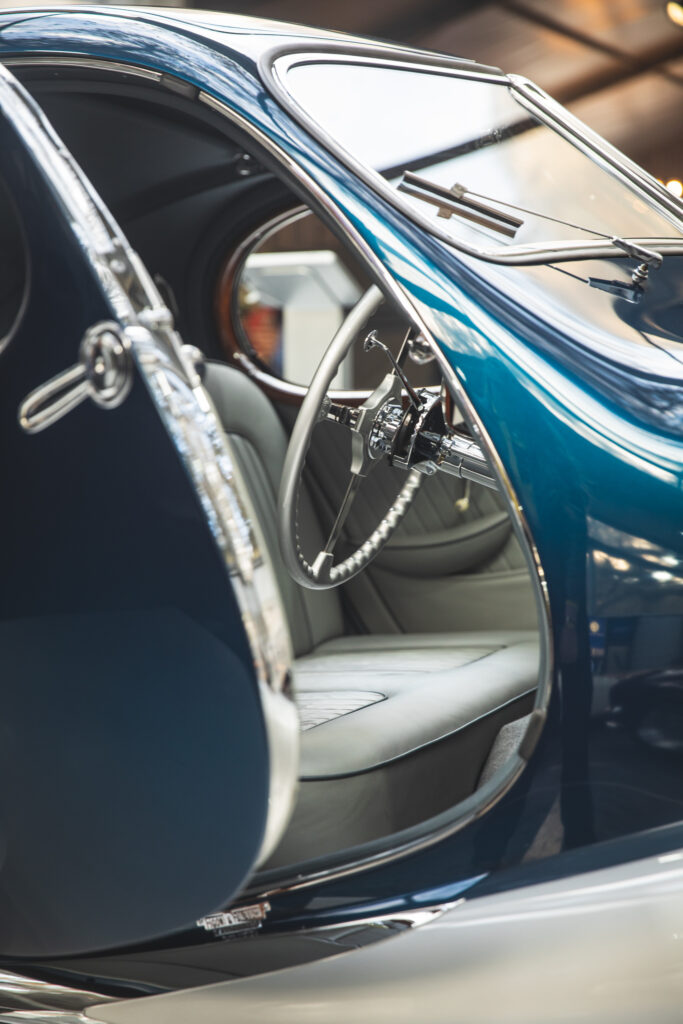 The Teardrop Coupe body (aka Goutte d'Eau if you're feeling fancy) is a masterpiece of Art Deco style, and was the work of Figoni et Falaschi, arguably France's most famous coachbuilder. But it also combines that style with then-cutting edge performance from a twin-cam, hemi-head six and state-of-the-art front suspension. Then, there's rarity. A total of just 16 Teardrops were made, and no two are exactly a like. Just two were built with full enclosed front fenders, and this is the only one that has all its original, Figoni & Falaschi-formed body.
Sold for 14,630,000 CHF ($14,873,327) at Sotheby's Luxury Week Geneva
For fans of a certain age, the sight of Michael Schumacher in a bright red, Marlboro-liveried Ferrari and the sound of a shrieking V-10 gets us right in the feels. Schumi's ride from the 2003 season sold at auction this year, not at a car sale but at the glitzy Sotheby's Luxury Week in Geneva. The event featured a wealth of jewelry, watches, collectible handbags, and even a collection of Fabergé pieces, but only one Ferrari.
The '03 season was right in the thick of Ferrari's five-year sweep of the Drivers' and Constructors' Championships from 2000-04. Not ready until the fifth round of the season in Spain, the new F2003-GA (named for late Fiat boss Gianni Agnelli) had a solid debut, with Schumacher taking pole and the checkered flag in this car, Chassis 229. He did the same thing the next round in Austria, then followed up with a podium in Monaco, a win in Canada, fifth at the European GP, and third in France.
He also wheeled 229 to a hat trick (pole, fastest lap, victory) at Monza in front of the home crowd, then won the U.S. GP. His eighth place finish at the final round in Japan gave the German great his sixth title, breaking Fangio's five-championship record. No wonder this is the most expensive modern F1 car ever sold.
1955 Ferrari 410 Sport Spider by Scaglietti
Sold for $22,005,000 at RM Sotheby's Monterey
The most expensive car in a week stuffed with expensive cars (nearly 150 seven- or eight-figure vehicles crossed an auction block at Monterey '22), this Ferrari 410 Sport Spider boasts one hell of a résumé and hosted a rolodex of famous drivers behind its steering wheel. In early 1955, Ferrari was still a small-batch specialist carmaker. Not yet a household name in the States, the house of the Prancing Horse was only shipping a few cars our way per year for wealthy owners and talented drivers.
One of two 410 Sports built with a then-new, long-block 4954-cc V-12 (the largest engine yet built by Maranello) and with twin-plug ignition, Chassis 0598 was a works entry at the 1000 KM of Buenos Aires with Juan Manuel Fangio and Eugenio Castellotti driving. Then, after finding a new home California, a young Carroll Shelby drove it, racked up eight wins. Of this car, he quipped to the Los Angeles Times: "nothing can touch this Ferrari if it runs." Phil Hill, Richie Ginther, Chuck Daigh, Jo Bonnier and Masten Gregory all had a turn in the monster Ferrari in period. In a week of great cars, this one stood out as exceptional, and sold for more than twice as much as anything else in Monterey this year.
1955 Mercedes-Benz 300 SLR Uhlenhaut Coupe
Sold for €135,000,000 ($142,000,000) by RM Sotheby's at the Mercedes-Benz Museum in Stuttgart
Prior to May of this year, the world auction record for an automobile was a $48.4M Ferrari 250 GTO sold in 2018. That's a lot of money, and while this year had all the conditions of enabling a new record sale, there weren't too many people who figured nine-figures for an automobile was in the cards. Then, we broke the news that Mercedes-Benz had sold a 300 SLR coupe, one of two ever built and a car many thought would never leave the company's collection. The proceeds reportedly went to a new Mercedes charity that will "provide educational and research scholarships in the areas of environmental science and decarbonization for young people." RM Sotheby's, on behalf of Mercedes-Benz, brought a handful of carefully selected collectors who were rich enough to write the check and satisfied Mercedes-Benz's own strict criteria.
Not to be confused with a downright pedestrian 300SL, the eight-cylinder 300SLR was a dominant force in international sports car racing before one of them launched into the crowd at the 1955 Le Mans race and Mercedes promptly pulled the plug on motorsports for the next three decades. Mercedes built just two hardtop versions, known as "Uhlenhaut Coupes" since head of the test department Rudolf Uhlenhaut used one as a company car. In addition to its rarity, technical sophistication, racing pedigree and sheer beauty, there's also the fact that Mercedes tends to hold onto its racing greats and never sell them on, so this was one of those once-in-a-generation kind of sales.