For a solid year and a half, the collector car market bounced off the limiter at every shift toward the top. Now, with October's small dip in the Hagerty Market Rating, are we experiencing overrun on the way down from top gear? While we'll need more Price Guide cycles before we make a hard declaration, we always keep our eyes peeled for other potential indicators within the collector world. To wit, the steady tick-tock of decline in some segments of the collector watch market—one that shares many parallels to our collector car realm—may offer a look into what's ahead for our beloved rides.
There's no two ways about it—the timepiece market is trending downward. But there's more behind the watch market's red ink than the gale-force economic headwinds sweeping over the horizon that some predict. The knee-jerk analysis is somewhat grim; according to WatchCharts, the index tracking sixty of the most popular new-ish luxury watches plummeted 19.6 percent over the last six months, landing at a pitiful 1.3 percent growth compared to last Halloween.
Spooky. That said, if you've held one of the watches tracked by the index since October 2020, congrats! You're still up an average of 37 percent. Like the slight dip in the collector car market rating, this is a short descending stroll from a peak of unprecedented growth. It's only truly bad news for those who bought at or close to the top.
A quick sniff of WatchChart's biggest six-month losers reveals a roster of semi-volume mainstays. A pair of Audemars Piguet (AP) Royal Oaks sit at the top two slots of shame, with a 27 percent decline for both. The rest of the top ten dippers constitute a potpourri of bling from AP, Vacheron Constantin, Patek Philippe, and—of course—Rolex.
Patek, AP, and Rolex interest us the most at the moment, considering popular pieces from these brands form the best baseline for analysis. Think of this horological triumvirate as the Ferrari, Porsche, and Mercedes of the collector car world, in no particular order.
Average asking prices for Patek's—indisputably the most historically revered watchmaker extant— sport watches are down 17.1 percent in the past six months, trailed by AP's 16.4 percent deficit. Rolex, arguably the most popular luxury watch brand on the planet, leads the decline at 19 percent.
This sounds like alarming stuff for those who make a living from the watch trade, but calmer waters lie beneath surface turbulence. Indexes like WatchCharts and Subdial50 almost exclusively track sports watches that are, in most cases, still in production. Sure, new sports watches are absolutely the hottest slice of the wrist pie, but that's like using premiums paid for new Ferraris and Porsche 911s as a barometer for classic muscle cars or restomodded Land Crusiers. It doesn't equate.
"The watch market isn't one large homogenous blob of wristwatches," explains Jonathon Burford, VP and Senior Watch Specialist at Sotheby's. "You cannot extrapolate from only from one segment of watch. The market is extremely multidimensional." Back in September—a period of market decline, according to WatchCharts—Sotheby's offered a salmon-dialed Patek 5970 at one of its jewelry and watch auctions with a pre-sale estimate between $120,000 and $200,000. It sold for $1.3 million.
As we've demonstrated ad nauseam, an outlier sale hardly defines a market, but this blockbuster sale is part of a greater trend at the upper tier of watch collecting. "People are still trophy hunting at the top of the market," Burford says. "Exceptional things sell exceptionally well because you might not have another opportunity to get that watch anytime soon."
According to Burford, we're seeing a dip primarily in transaction volume at most levels. "It's not necessarily a correction, it's just that the dynamics of the market might be changing a bit. The rarest, the best, and the most extraordinary things are still getting the best prices. Watches where you can say, 'No, don't worry, I can wait and see how the market shakes out.'"
Emerging from this value eruption, Burford notes that major collectors are increasingly more discerning when it comes to the big pieces. They're waiting for the right watch with a combination of provenance, condition, and documentation before jumping in. The popular semi-production sports watches tracked by some of the market indexes don't follow this path; unlike Sotheby's one-of-five $1.3M Patek 5970, supply of the brand's ultra-desirable Nautilus dive watch increases every year.
Patek maintains a cap on annual production, but the figure at the bottom of the Nautilus' balance sheet continues to grow. Even in the claustrophobic and artificially regulated world of the luxury watch, supply will eventually start to settle-up with demand. Not entirely, of course, but values will continue to tranquilize.
This is part of a greater, multifaceted issue. Burford estimates that some of the softening values for certain variants of the AP Royal Oak is due to expected tapering from the earlier value boost from the Royal Oak's 50th anniversary in 2022. When a popular brand or model hits a milestone, auction houses, collectors, and watchmakers are quick to capitalize. Campaigns, focused auctions, and special edition releases leads to a predictable and usually temporary spike in exposure, interest, and values.
Just like cars, increasing watch values tend to worm rare watches from the woodwork. So, when the bid button is hottest, you can expect some collection liquidation and increased supply, inevitably leading to some sort of value decline. But, no one seems to tell dealers this; as realized transactional prices drop, some hungry dealers who were making quick and thick cash at the peak of the watch market continue to list watches at near-peak prices.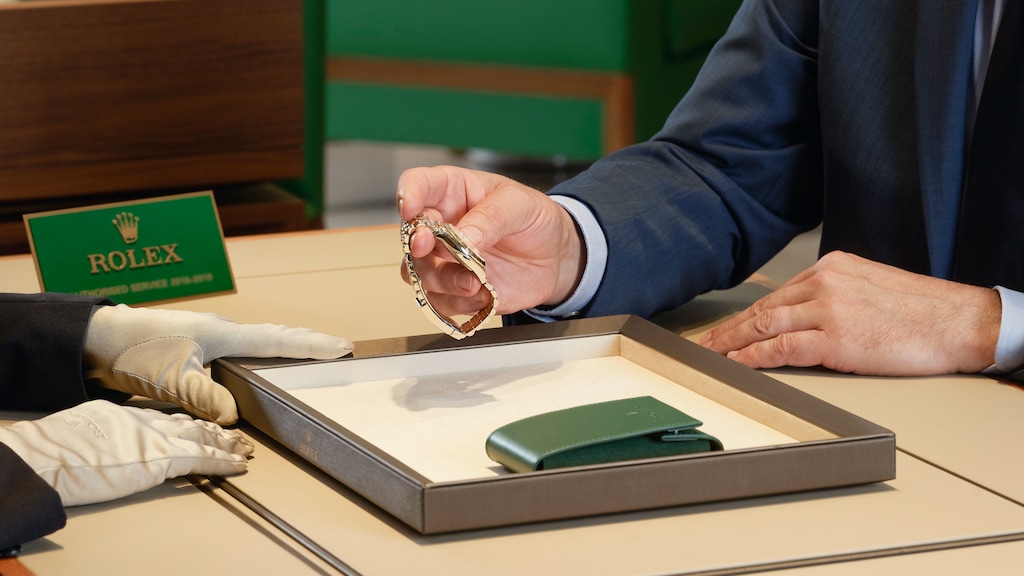 "Reality is coming back into the market," says Burford. "The idea that every watch is an investment is not going to hold fast. A lot of these watches are still in production, and the volume is increasing." And, again, by historical standards, the watch market is still cruising at unprecedented levels; prices are returning to some sort of normality, but the clockwork cat is out of the bag. The pandemic minted too many new-to-the-hobby watch enthusiasts and collectors to ever bring numbers back down to where they were four years ago and beyond.
For the automotive enthusiast, collector, and dealer, the shifting sands of haute horologie isn't quite a klaxon alarm, but it's an excellent word of caution. If a significant market dip arrives in the near future, it might not be at the hands of economic downturn—it could just be a settling out from the market's recent exuberance.