General Motors' Square Body trucks hold a special place in the hearts of Chevrolet and GMC fans. Although pickups dominated the market, adventurous customers without the need for a traditional truck bed could opt for the enclosed Blazer or Jimmy.
Even today, Square Bodies are attractive and utilitarian, with plenty of creature comforts for the era, but they don't stray far from their original purpose: to do work. They remain one of the last "Goldilocks" trucks—juuuuust right—from a time before manufacturers started tossing in more and more options, sending us down the slippery slope that has brought us to today's luxury trucks, which rival the best-appointed luxury cars. Square Body days were simpler days, when there was no "sport" in the utility vehicle; it was just a utility vehicle and everybody was OK with that.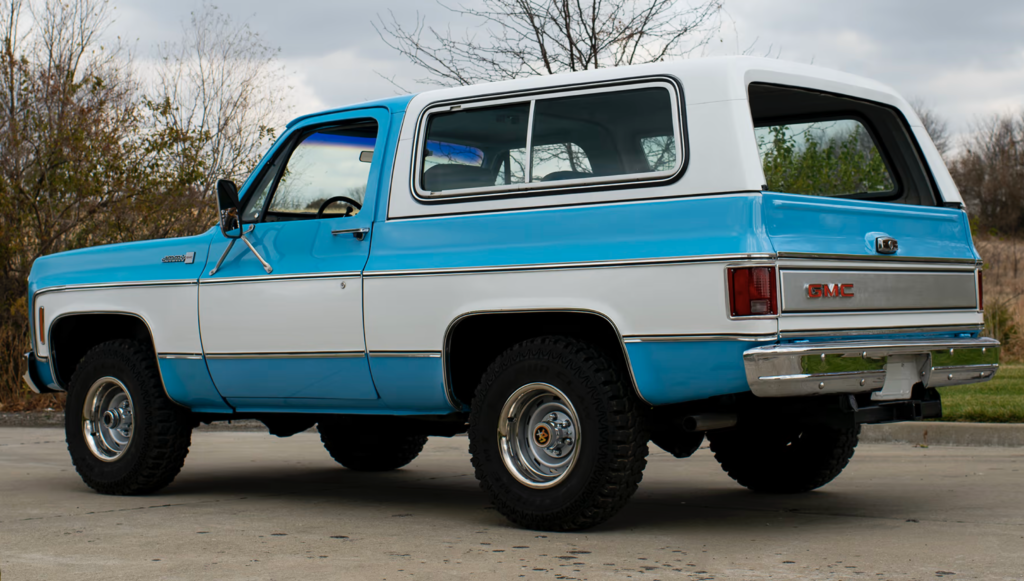 So OK, in fact, that GM kept the style alive for an astonishing 18 years, from 1973 to 1991. The pickup line transitioned to the GMT400 platform in 1988, but the Suburban and Blazer/Jimmy held out.
When introduced, the Blazer came in two configurations: rear-wheel-drive and four-wheel-drive. For nomenclature, GM used the same C/K system as it had on its previous generation of trucks: C for 2WD and K for 4WD. Though they were based on C10/K10 half-ton trucks, in sales material, GM adopted C5/K5 monikers for the Blazer and Jimmy. Through 1975, a fully removable fiberglass roof was offered. For the rest of production, the trucks featured a permanent top over the front seats and a removable rear section. Power came from a variety of engines, from the base 6-cylinder to a 400-cubic-inch small-block V-8.
A face lift came in 1981, and the trucks got even more square, highlighted by slab sides and a flatter hood, with a revised headlight configuration. Big changes came again in 1982, when a 6.2-liter diesel engine was added. After that model year, the 2WD C5 was discontinued. In 1987, throttle body fuel injection (TBI) debuted, and in 1989, the trucks were given their final front-end styling change.
Subtle differences do exist between the Chevy/GMC versions. Like their shared models today, GMC's Jimmy was slightly more upscale (very relative in the truck world of this time) than Chevy's Blazer. Trim levels varied as well, with utilitarian offerings like the Sierra and Custom Deluxe on one end, and the more comfortable trims like the High Sierra and Silverado on the other. In terms of today's values, there isn't a huge gap between trim levels. Disparity does exist, however, between the brands: Despite being a bit more decked out, the Jimmy lags slightly behind the Blazer in pricing. Gen X is the strongest demographic for both the Chevy and GMC, with the cohort accounting for more than 40 percent of the quotes for these trucks. Millennials make up the second biggest group, hovering around 30 percent of the quotes coming in.
As with any other Square Body GM truck, living with a Square Body Blazer comes with some perks and perils. They are robust overall, and most came with a small-block Chevy engine, so the reliability is high, and the difficulty of repair low. Later TBI trucks work well, but the system is pretty low tech, and if you plan to modify a TBI-equipped truck, it is generally much easier to rip out the system and go with a carburetor or a more modern EFI system. The tried-and-true TH350 transmission was standard on earlier trucks and got swapped out for the 700R4 overdrive unit in the 1980s. These had a few teething problems, but nothing that hasn't already been addressed by now.
On 4×4 trucks, those built through the late 1970s got a full-time 4×4 transfer case, which wasn't universally loved. Many of those earlier Blazers and Jimmys have had their transfer cases swapped out for a part-time unit, a perfectly acceptable swap in the eyes of most. Finally, watch for rust. Rocker panels and floor boards easily fall victim to rot, especially if nudged on by a leaky seal for the removable top on early models. Rust can also occur around the rear wheel well on the inside of the trucks, so be sure to inspect these areas.
Upgrades also bring on their own set of problems. Because Blazers and Jimmys share so much with the pickups, heavier-duty axles bolt right in, and while that is not a problem on its own, the fact that these are usually accompanied by lift kits and big tires puts extra strain on the truck. Without proper reinforcement to the frame at the steering box, a lifted Blazer with larger tires can eventually stress-crack the frame, so be wary of a truck with mods that lacks this critical upgrade.
The market for these trucks exploded around the same time as the Bronco market did. However, in comparison, Blazers and Jimmys have remained less expensive than their Ford rival. But this is sort of like grading on a curve—early Broncos are just plain expensive, so a $60,000 Blazer seems like a more affordable option. But $60,000–$70,000 is about where the top of the market lives for these trucks now, and anything that would make for a good driver is in the area of $20,000. There used to be a bit of a gap in value between the '73–80 trucks and the '81–91 models, with the later trucks being a bit more affordable. That gap has closed somewhat. Even the diesel-powered trucks have crept up in value. Any way you cut it, these are expensive trucks, and that's just in stock form. Well-executed custom work can easily push into the six-figure range. That said, we haven't seen a cottage industry of high-end builders latch onto these trucks the way they have with first-gen Broncos. But that could just be a matter of time.
The bottom line? Second-gen Blazers and Jimmy have solidified themselves as serious collector trucks. It wasn't that long ago these were just used trucks. Now they're highly coveted machines caught up in the classic truck craze, so get yours while the gettin's good.