The Arizona auctions have concluded, with more than $260M in cars changing hands. The top sale was, surprisingly, a 111-year old Simplex, which you can read about here. For the highlights from the week, read below.
Scottsdale hasn't quite felt like Scottsdale in recent years. The 2020 event was, for many of us, the last large gathering completely unaffected by COVID, but Barrett-Jackson had to postpone its 2021 sale amidst a surge in the virus and held its 2022 event under the shadow of the Omicron variant.
This year, then, marks an opportunity to return to normalcy. At least, the version of normalcy that includes massive tents hawking everything from reclining chairs to 1950s pickups with modern Corvette suspensions.
Scottsdale is, as in any normal year, an important barometer for the market, particularly for muscle cars and restomods, which Barrett-Jackson sells by the bushel.
Speaking of those muscle cars, Hagerty's Muscle Car Index had its strongest gains in 2022. Don't be fooled, January 2023 was the first drop in two years.
We'll be updating this blog throughout the week with analysis and charts as cars cross the block. Meantime, here's what we know going in:
While the numbers aren't all in yet, it appears that Mecum had its biggest Kissimmee ever in terms of consignments, sales totals, and average price. Sell-through rate was down, though, indicating a wider gap between buyer and seller expectations. Also, despite some massive and even record-breaking prices for significant vehicles and the rarest/highest-spec/best documented muscle cars, lesser vehicles further down the price ladder achieved mixed results.
Outside of Barrett's mega sale, things in Scottsdale are a bit smaller than in the past. Gooding & Company isn't holding an auction at all. Neither is Worldwide. A few of the companies that have held Scottsdale auctions in the past aren't around anymore. In 2020 there were eight Arizona auctions. In 2023 there are four. And while there will be no shortage of high-priced metal, it seems some of the top-tier automobiles are going to other venues, such as Rétromobile.
At Barrett-Jackson, we've noticed more and more modifieds, hot rods and restomods over the past several years, and this year they look to still be moving in that direction. That partly reflects Barrett's savviness in finding segments to dominate, but it's also a sign of how tastes are evolving as new and in many cases younger buyers enter the market.
Speaking of the market, it's at a somewhat odd place. The last Hagerty Market Rating, released on the eve of the Kissimmee auction, indicated things are cooling but still incredibly hot. We've also seen signs of a separation between high-net-worth and mainstream collectors, who are affected differently by inflation. Scottsdale attracts plenty of folks from both camps and will be a good place to see how they're behaving in 2023.
Monday, January 23rd
12:00 PM:
It begins. The first cars have sold at Barrett-Jackson yet Monday bares no resemblance to the million-dollar cars to cross the block later in the week - it's all a slow dance of building anticipation and demand with the hopes another record auction emerges. It's easy to forget that Mecum's Kissimmee auction has already sold $224m of cars this month and set multiple records, though. Easy to forget by anyone except Barrett-Jackson who aims to take back the "King of January" crown - James Hewitt, Senior Data Analyst
Tuesday, January 24th
With just four auctions this year, which is down from eight in 2020, I'm wondering if Barrett-Jackson will be the only auction in a couple of years. At one time, they were the only auction in town. However, fewer auctions can be a good thing. Auction companies can be more selective about what they offer at live auctions, and bidders can focus on cars that matter. Online auctions can serve the vehicles that didn't find space at a live auction. - John Wiley - Manager of Valuation Analytics
Wednesday, January 25th
To John's point above, in the Valley of the Sun, Barrett-Jackson is so well known it is already the generic term for "collector car auction." Almost 100 percent of the time, if a front desk clerk, an airport or restaurant worker, Uber driver or any random resident asks "what brings you to Phoenix?" and you answer "the collector car auctions" the response is something along the lines of "you mean Barrett-Jackson?" Followed by a personal story of their recent attendance or desire to go. Barrett's reach and brand power in the auction space is second to none around these parts. They may have evolved away from the traditional mix of older and newer antique and classic cars into lots of restomods with the others mixed in, but it's a formula that works for them, and they are to be applauded for it. —Dave Kinney, publisher, Hagerty Price Guide
We've written about live auction demographics before, along with online auction demographics, but let's look at who's consigned vehicles for the auctions this week. Note that this is the combination of auction run lists and Hagerty policies, so it does not represent every auction vehicle. Acknowledging that it is still a good sample, we see Boomers (1946-1964) with the majority of consignments at 56%, followed by Gen-X (1965-1981) with 32%, then Pre-Boomers (1920-1945) with 8%, and finally Millennials with 4%. As for values, the share of values is close to the share of vehicles, except it skews older, with Boomers and Pre-Boomers consigning a greater share of the value at 61% and 10%, respectively. While Gen-X and Millennials have a smaller share of the value at 25% and 4%, respectively. - John Wiley
Two full days out from Bonhams' Scottsdale sale at the Westin Kierland, attendance is better than I've seen at this venue. The normally easy to find parking space was gone by 11:30 am. (In fairness, things thinned a bit after noon.) I'm not going to say it's wall-to-wall potential bidders, but I'm impressed at the draw this far out from the sale. Does this mean records will be set on Friday? That's tough to say, but things are definitely looking positive. —Dave Kinney
3:30 PM: Looking for a sign used car prices are returning back to Earth? This 2004 BMW 645ci was bought for $23,100 at the 2022 Scottsdale auction. After 2k miles it took a 19% hit to only sell for $18,700 this time. — James Hewitt, Senior Data Analyst
8:00 PM: Barrett-Jackson has concluded their third day. We're far from the big money changing hands yet, though. The average sale price is expected to triple from its current $32k to over $90k. If future performance follows the past (as all stock traders should disagree with) we could be in for another record year.
— James Hewitt, Senior Data Analyst
Thursday, January 26, 8 am: RM Sotheby's joins Barrett-Jackson in the auction fray today. Its preview, like Bonhams', was bustling, with a lot of excitement around its 1969 Corvette ZL1. Barrett-Jackson, meanwhile, has jumped with both feet into restomod consignments and, as a consequence, is probably the best gathering of custom cars outside of Autorama or SEMA. It, too, felt unusually busy. –Greg Ingold, editor, Hagerty Price Guide
9:08 AM: "Double your money in two years, come one come all to prosperous lands of Arizona!" Just make sure you pick a custom 1980s car rather than gold as your investment... This 1988 Chevrolet Monte Carlo SS custom was purchased for $11,000 at the 2020 Scottsdale auctions and sold again this week for $25,300, a 130% return. Same story with this 1987 GMC 1500 truck purchased for $17,050 at Mecum's 2018 Los Angeles auction - it sold for $33k, a 94% return, this week. In fact, more than half of modified vehicles auctioned so far that we have a previous sale price for have sold for a gain. — James Hewitt, Senior Data Analyst
1:53 PM: I've noticed an interesting development on a few modified GM vehicles at B-J: a few owners are advertising their highly-modified cars as having the build sheets and Protect-O-Plate with the car. On a car with irreversible upgrades, when do those factors stop mattering? Is it brilliant marketing on the owner's part to tap into that ingrained desire to pay more for a documented car, or just throwing something at the wall to see what sticks?–Greg Ingold, editor, Hagerty Price Guide
1:56 PM: The two big Healeys at Bonhams' reasonably crowded second day are attracting unusual attention; there seems to be at least two or three groups of people investigating the cars. The cars have been started three times now, while most other cars haven't been started at all.—Conner Golden, features editor
2:11 PM: It's noon at Barrett-Jackson and this is the crowd in the auction room. Reminder, it's only Thursday… this is a Friday-sized crowd:
—Greg Ingold, editor, Hagerty Price Guide
11:43 AM: Some sellers aren't walking away happy. 57% of vehicles sold at Barrett this year that we tracked being bought from a 2021 or more recent auction have sold for a loss. Take a look this chart showing the first and second sales and the bright red of cars sold at a loss. While you're at it - the gain on the Cuda and Coronet might impress you.
— James Hewitt, Senior Data Analyst
2:10 PM: RM is underway. A Ferrari 288 GTO owners manual and factory literature hammered sold at $4500, which is more than I sold my last Miata for. —Andrew Newton, senior auction editor
2:57 PM: The big cars are likely going to sell big — $1m cars going for $1.4m. The middle sales will be more of a struggle, but there's still demand. —Dave Kinney, publisher, Hagerty Price Guide
3:00 PM: RM seems to be moving pretty quickly and a fair number of cars are selling under estimate. Still early, though. First miss was a red on red Lexus LFA, hammered at a $660k no-sale. That's under its #4 value in the Hagerty Price Guide, but its estimate was just $700k. —Andrew Newton, senior auction editor
3:16 PM: A $3,575 1970 AMC Javelin was turned into a $77,000 Javelin by AZ AMC Restorations in Phoenix, AZ. But how much did the restoration cost? — James Hewitt, Senior Data Analyst
3:27 PM: RM's Elkhart Collection sale in October 2020 was one of the most anticipated gauges of the COVID market at the time; would it flop or not? It quickly became evident it was the start of the "those prices are insane" COVID classic car boom. If today's sale is any sign, that boom might be slowing for some of the cars purchased during the unparalleled Elkhart frenzy. This Talbot-Lago sold for $173k there and sold for $89k today. — James Hewitt, Senior Data Analyst
4:01 PM: RM's $3.36 million 1967 Ferrari 275 GTB/4 is its strongest sale thus far—we're still a few lots from some of the sale's biggest stuff. Even compared to the handful of other seven-figure sales today, the silver Ferrari attracted the most attention from the crowd. We last saw this car sell at Bonhams back in 2016 for around 22% less than RM's result. — John Wiley
4:29 PM: RM's $660k no sale of the LFA is the second lowest high bid for an LFA since a $650k high bid (and sale) in May of 2021. Next lowest? Oct 2020 - $400k, thanks to the massive jump in values between 2020 to 2021.
— James Hewitt, Senior Data Analyst
4:38 PM: The star 1969 Chevrolet Corvette ZL1 sold for $3.14m, right on Hagerty Price Guide's value for the condition. This is a record for a C3, and third most expensive Corvette—ever—after the record-holding C2 L88s sold in 2013 and 2014, respectively.
4:51 PM: It's interesting that one of the standout sales at RM is an extraordinary Corvette, and that it wasn't at Barrett-Jackson. It's an important sale for values of early C3 Vettes; this is a 1-of-1 moment, and the chances of buying one again is pretty slim. — Dave Kinney
5:04 PM: How shocking is it to see a C3 Corvette sell for $3M? This chart will help you visualize it. Stunning. — James Hewitt, Senior Data Analyst
5:24 PM: A pair of ultra-rare Speed Yellow 964's, a 1993 Porsche 911 Turbo S "Lightweight" and a 1994 Porsche 911 Turbo S X85 "Flat-Nose", gave us a good chance to reflect on how the classic car market has changed in recent years. Based on these two sales, it appears the market has backed away from its peak last year. These two cars were first offered to together today at RM's 2018 Amelia auction. In 2018, the 1994 "Flat-Nose" sold for $654,000 and then sold today for $830,000, a 27-percent increase. On the contrary, the 1993 "Lightweight" went unsold in 2018 with a high bid of $860,000, later selling on Bring a Trailer for $975,000 in February 2022, near the peak of the market. Today, the 1993 "Lightweight" sold for $962,000, a loss of $13,000 in less than a year after its last sale. — Adam Wilcox, Data Analyst
6:17 PM: An ode to the extent of the data we have at Hagerty: RM's 1971 Iso Grifo sold for $31,006 25 years ago at Brooks 1998 Nurburgring auction in Germany. A far cry from the $533,000 it sold for today. — James Hewitt
7:17 PM: Analog supercars get a lot of love, and RM's 1999 Diablo VT Roadster did very well. It sold for the 3- Hagerty Price Guide value on Bring a Trailer in 2019 and now sold for the current 2+ price guide value. There is much stronger demand for these Diablos today than even only three years ago. — James Hewitt
7:57 PM: RM has wrapped their 2023 Arizona auction. The results were strong, but how the estimates compared to prices shows expectations need to soften and explosive growth might be over: more lots were bid to over the high estimate in 2022 than bid to over the low estimate in 2023. Only 26% of RM's lots hammered above the low estimate and only 6% hammered over the high estimate today. Just one year ago 70% of RM's lots hammered over the low estimate and 31% hammered over the high estimate. — James Hewitt
9:15 PM: Barrett-Jackson completed its fourth of seven days with $46.3 million in total sales and an average price of $45,415 for 1,019 lots. All of which are improvements from 2022, with total sales of $20.7 million and an average price of $34,414 for 601 lots. Results from the big tent show Barrett-Jackson is benefitting from the return of big crowds and more consignments. — John Wiley
Friday, January 27, 10:45 am: Bonhams' first lot of the day, a 1968 Piaggio Vespa 150 Super with a Sidecar sold for $41,440 - a record for a Vespa Scooter. –Adam Wilcox
11:02 AM: It's difficult to compare to RM's larger sale space, but Bonhams' tent is packed to the walls.
11:40 AM: Mid-century American staples seem to be somewhat unpredictable at Bonhams. While the 1949 Dodge Wayfarer sold right in estimate range, both the Chrysler Imperial Newport and Cadillac Series 62 landed just short of their low estimates. Meanwhile, the 1953 Buick Super sold over high estimate, as did the rare Chrysler Ghia Special. — Conner Golden
11:55 AM: On the subject of the Ghia Chryslers, it's been a great season for 'em. All three of Bonhams' examples sold within or over the estimate range, as did RM's sole 1953 Special. Earlier this month, Mecum's $770,000 Ghia-bodied Chrysler ST Special blasted past the $600,000 high estimate at Kissimmee. The only flat spot in the group was Mecum's $484,000 1957 Dual-Ghia that undercut the $600,000 low estimate. It appears concerns over flooding this rather niche market are assuaged. — Conner Golden
12:08 PM: Even for a Friday, attendance at Barrett-Jackson is huge. Front to back of the building is crawling with people and it's not even noon yet, although a tiny fraction are bidders. Celebrity-connected cars seem to be getting the most attention. — Andrew Newton
12:27 PM: The sale price of Bonham's first vehicle lot, a no-reserve 1968 Vespa scooter (the only non-car in their car auction) at $41,440 was higher than 50% of the vehicles sold at Barrett-Jackson so far. That's an expensive scooter. — James Hewitt
12:46 PM: Yesterday we noted in our nightly recap 53% of repeat sales involving vehicles bought at auction after August 2020 (the approximate start of the pandemic classic car boom) and auctioned again this week sold for a loss through Thursday. This is disappointing sellers but allows buyers to enter a market they previously might have been priced out of. If you are in the market for a 1933 Ford 5-Widnow Hot Rod, this one just sold today for 30% less than at Bonhams 2021 Monterey auction. A savings of $36k.— James Hewitt
12:52 PM: Bonhams' $1.58m 1965 Ferrari 275 GTS was its first seven-figure sale, though the car fell just short of its $1.65m low estimate. A few lots earlier, the 2010 Maybach 57 Zeppelin surprised with a $246,400 final sale against the $200,000 high estimate — curiously claiming $45,000 more than RM's similarly depreciated but more recognizable 2008 Rolls-Royce Phantom Drophead. — Conner Golden
1:10 PM: Who says Pre-War cars don't excite anymore? Bonhams' 1912 Simplex 50HP blew by its $3.5m high estimate in just a few rounds of bidding, and remained robust up to the $4m waterline. A new bidder arrived at $4.2m and a back-and-forth volley pushed the 10-liter beauty to its $4.85m finish and the current 2023 Scottsdale record. This was the most active bidding I've seen thus far in Scottsdale this year, to say nothing of the excited crowd that oscillated between gasps, applause, and cheers. Nice to see a Brass-Era car command such attention. — Conner Golden
1:33 PM: A $4M LaFerrari supercar was expected to be the highest sale of the week, but how fitting a car from 1912 knocks it from the top spot and is now in the top 10 highest prices paid for a 1920s or older car at auction. History will always hold value but modern supercars might just be a fad of the day... — James Hewitt
2:38 PM: As Bonhams' sale continues, we're seeing some of the cars in the lower- and middle-ground of the market land within their ascribed estimate range, but it's some of the seven-figure sales that are falling a bit short or landing right at the bottom of expectations. Sales like the $1.053m Porsche Carrera GT (low est. $1.1m), $1.57m 1953 Siata 208S (low est. $1.5m) and the $2.07m 1958 BMW 507 (low est. $2.1m) show estimates at the upper end might still be a smidge inflated—but then again, there's that stellar Simplex. There are still a handful of (expected) seven-figure cars to go, so we'll see if things pick-up at the top end. — Conner Golden
2:56 PM: Auction room check at Barrett-Jackson. The room is packed and shoulder to shoulder in some spots. Speaking with some staff, even they are impressed with attendance all week. Tomorrow is expected to be bonkers. And, don't think you're going to go outside to get a reprieve either. It's 2:56 local time on a Friday and there's nearly a Saturday-night-sized crowd congregated in the AZ sun. — Greg Ingold
3:33 PM: Another Elkhart sale was flipped for a loss. A 1959 Austin-Healey 'Bugeye' Sprite was bought at the October 2020 Elkhart sale for $33,600. It then was offered at Mecum Monterey 2021 but didn't sell with a $30,000 high bid. Today, the owner let it go for $21,280 - a 37-percent loss in just over two years. — Adam Wilcox
3:49 PM: After its strong $3.8m finish, a gaggle of attendees rushed from the Bonhams tent to see the Maserati MC12 Corsa loudly maneuver through the parking lot. It sounded predictably spectacular. — Conner Golden
4:01 PM: Along with that affordable Bugeye, Bonhams' 1912 Maxwell Special Touring offered a lot of Brass-Era car for relatively little money—at least in Scottsdale terms—at the final $28,000 sale price. Like most of the cars selling for under six-figures, this sale price was right in the estimate range of $25,000 - $30,000. — Conner Golden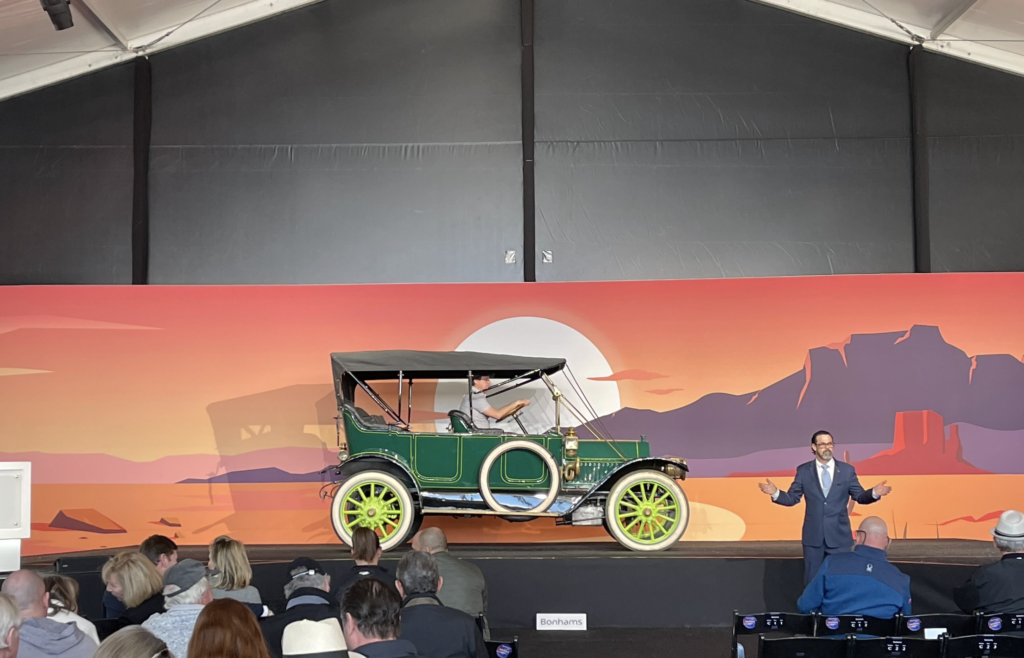 4:48 PM: Those that are looking for the affordable segment of the classic car market to return have hope. Of the vehicles at Scottsdale this week that were bought since August 2020 and sold for less than $25k at Arizona this year so far, 73% (16/22) were sold for a loss. — James Hewitt
7:04 PM: The Corvette is one of the most popular collector cars in the world, and this 1961 283cid/270hp model was clearly extra popular. It sold for nearly quadruple its condition appropriate value and $133k over the current Hagerty Price Guide #1 value (which is already up 54% in the last two years)— James Hewitt
Saturday, January 28, 10:49 AM: With RM Sotheby's and Bonhams' sales concluded, Barrett-Jackson and MAG are the only two left on the schedule. But don't expect a lull in impressive sales; Saturday is typically Barrett-Jackson's largest day in Scottsdale, with last year's Saturday event drawing $92.4 million from 316 vehicles. Make sure you're caught up with with all the action in Scottsdale so far by checking out our detailed Thursday and Friday recaps before today kicks off in full-swing. — Conner Golden
12:23 PM: It's going to be a big one. Foot traffic has increased noticeably over the past hour outside, and inside saw a big jump in spectators around 10:30 this morning. — Greg Ingold
12:48 PM: Rick Cary asked in the comments below for some numbers on hammer price vs estimated high and low bids, and here a is a look at just how many of the estimates fell short of the bids. Ask your questions in the comments below and we'll provide the data.
— James Hewitt
1:55 PM: Barrett-Jackson has completed 80% of their auction yet this has only been the build up to the coveted prime time lots. The average sale price could increase another 50% if it continues to mirror 2022.
— James Hewitt
2:35 PM: Think Bring a Trailer always brings the highest prices? Not in this case. Barrett-Jackson's Arizona auction has long been the king of selling custom collector vehicles, and with that honor comes high prices. This 1974 Ford Bronco was sold on Bring a Trailer in October 2022, only three months ago, for $140k. It sold for $220k today, a 57% return. — James Hewitt
6:08 PM: Barrett's 1969 Ford Mustang Boss 429 sold for $605,000, a massive 59% over the Hagerty Price Guide #1 value. Even more shocking, it sold for $216,000 at Mecum's 2015 Houston sale. You would think that increase is explained by a rising market? False. The #1 price guide value at the time of the Houston sale was $17k more than today... Or it was restored in between the sales? False. It is an unrestored car with full history. This one has me scratching my head. — James Hewitt
6:21 PM: The head scratching continues, and it's all around muscle cars. The Boss 429 above and this 1970 Plymouth Superbird (both cars in the Hagerty Muscle Car Index) are unbelievable. This Superbird sold at Barrett-Jackson Scottsdale 2021 for $176k. Now it sells for $401k. 128% return and sold for double the #2 value. That can't be explained by market movement or calculated risk. That's explained by top American muscle resonating with the wallets more than ever, as seen in the Muscle Car Index. That recent drop? Not a concern for those buying.
— James Hewitt
6:26 PM: Mixed results for celebrity-connected cars. Rod Stewart's 2001 Ferrari 550 Barchetta just sold. Someone thought it was sexy, to the tune of $374,000, but that is barely more than its #4 value. Contrast that to yesterday, when someone judged Simon Cowell's 1970 Triumph Spitfire to be worth $84,700. It has tasteful upgrades and a decent restoration, but that's over triple the Spitfire's #1 value. — Andrew Newton
7:15 PM: Of the cars sold at Barrett-Jackson today that we have tracked at auction in the past, 72% were sold for either break even or a profit. That's a good ratio on the surface, but when looking at the loses the theme is clear. Every single one of the losses except one was bought at auction in 2022. The pandemic boom is over, folks. — James Hewitt
7:28 PM: The single car in the loss group that was not bought in 2022 is one of the most stunning repeat sale stats I have ever seen. For those into numbers, "I lost 50%" means very different things if the starting price is $1M or $10k; losing $500k and losing $5k. To have this 1939 Mercedes-Benz 540K represent both the largest percent loss (for a car unchanged since the first sale) AND the largest dollar return on any repeat sale at Scottsdale this year means big money. The car was bought for $1.485M in 2016 and sold for $533k today. To have the worst % also line up with the worst by $ is stunning. — James Hewitt
7:40 PM: Barrett-Jackson auctions 2024 Ford Mustang GT vin 001 to benefit the JDRF for the sizable amount of $490,000 to great excitement in the auction room. — Greg Ingold
8:51 PM: A 1965 Porsche 911 set up for racing with FIA compliance but wearing a livery inspired by the 1971 Porsche 917/20 "Pink Pig" sold for $145,200. The condition 3 value for an unmodified '65 911 is $150,000. Not every modified car, nor every Porsche outlaw, sell for unbelievable sums. Would you drive or race it as is or take it straight to the paint shop? Leave your comment below. — John Wiley
9:29 PM: Cumulative profits of trackable repeat sales briefly passed $10M then dropped to $9.85M, thanks to some large wins like a Miura P400 SV selling for a $2.59M bump. $3.95M in losses have been taken, and the losses were largely negating the profits in the middle 50% of the auction week.
— James Hewitt