We Cold War winners like to think communism and cars go together like ammonia and bleach. Yugo, anyone? Remember the Trabant? How about those Russian ZAZes? Or the VAZes? All pretty bad, sure, but there aren't any universal truths in the auto business, are there? There was the ZIL-117, a Siberia-sized 6300-pound V8 sedan that showed the Soviets could make luxury cars if they felt like it. There was also the cheap and cheerful Fiat 124-based Lada, which sold quite well in Western Europe. There were even Eastern Bloc sports cars like the Škoda 110R or the Melkus RS 1000. The most interesting cars to ever peek out from behind the Iron Curtain, however, have got to be Czechoslovakia's weird, wonderful, hemi-powered and hoagie-shaped Tatras.
One of them, a 1969 Tatra 603, sold this week for $43,050. Tatras are a rare sight anywhere, and especially over on our side of the Atlantic, but our highlight car this week is going back home—almost. The winning bidder lives in Romania.
Commie quips aside, calling these Czech wonders communist cars is only telling part of the story. Their basic design goes back to before World War II.
Although it is best known for its large trucks today, Tatra is actually one of the oldest continually operating automotive manufacturers in the world, starting in 1850 and making its first motorcar in 1897, although the Tatra name (from the Tatra mountain range near the factory) wasn't adopted until 1919. The combo of backbone chassis and air-cooled engine became a Tatra hallmark after World War I, but the 1930s is when this company from Kopřivnice caused a sensation.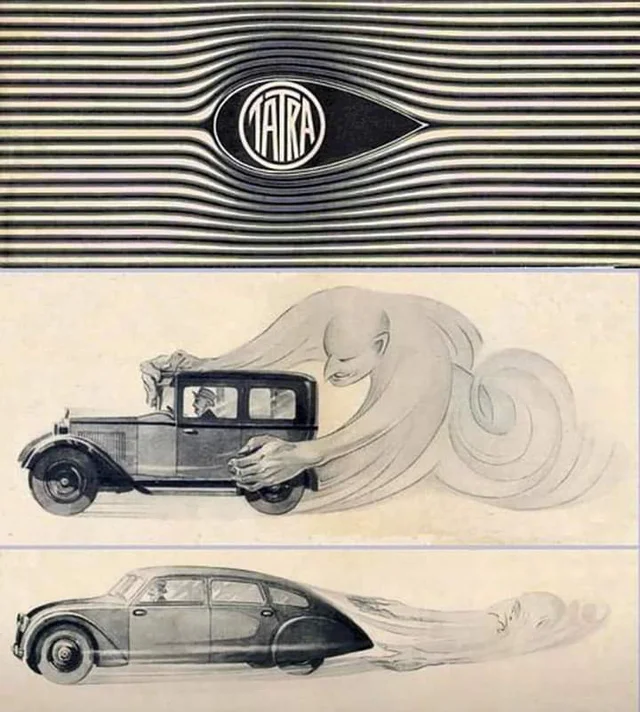 At a time when many cars on the road still looked like fancy bricks with running boards and fenders slapped on, Tatra embraced aerodynamics. The Tatra 77 debuted in 1934, with a slippery shape from zeppelin designer Paul Jaray underpinned by a brilliant design from Tatra's ace Austrian engineer Hans Ledwinka and German Erich Übelacker. Not only was it one of the first truly aerodynamic production cars, it also featured a rear-mounted, magnesium air-cooled V-8 made with hemispherical combustion chambers and dry sump lubrication, fully independent suspension, a 4-speed transaxle, and a spacious interior with flat floor. Tatra expanded the concept to the cheaper four-cylinder T97 in 1936.
Ledwinka also regularly met with fellow Austrian automotive wizard Ferdinand Porsche during this period, when, as characterized by Porsche, "sometimes Ledwinka looked over my shoulder and sometimes I looked over his." Adolf Hitler had also ridden in Tatras during the 1930s, and the Führer, keen on cars, apparently liked them a lot. So when Porsche and Volkswagen came out with the KdF-Wagen (aka the Beetle), a people's car so similar in look and concept to the T97, Ledwinka and Tatra were more than a little miffed. Tatra sued, but the Nazi invasion of Czechoslovakia quickly put the kibosh on that, and the matter wasn't settled until the 1960s.
With the 1938 Munich Agreement, Tatra's hometown was occupied by the Germans and auto production swiftly turned to fueling the Nazi war machine. Legend has it, though, that enough officers fatally crashed the rear-heavy, swing-arm-suspension Tatras they'd commandeered that the Wehrmacht banned German soldiers from driving them.
Then there was a big war, the Allies won, and Tatra's factory was nationalized in 1945 a few years before the Communist Party came to power in Czechoslovakia. Tatra built a small family car called the Tatraplan for a few years, but the state decided that Tatra should focus on truck production while cars would be for Škoda over in Prague. Luxury cars would be imported from the USSR. Tatra, again, was miffed, and worked on a grand successor to the original 1930s 77 and 87 in secret. This proved a wise decision that enabled Tatra to have the last laugh. As the Soviet luxury cars coming to Czechoslovakia were both long-delayed and disappointing, Tatra wound up getting the green light to build its luxury car. Since the designers had gotten a head start, it was soon ready, and the Tatra 603 came out in 1956.
A continuation of the streamlined sedans from the 1930s, the 603 has the familiar aerodynamic shape and layout a rear-mounted air-cooled hemi V-8, this time a 2.5-liter overhead valve unit. In case starting it with a key felt a little too decadent, each 603 came with a good-old-fashioned hand crank. Other little quirks included a column-shift synchronized four-speed manual transmission, split rear window, and on early cars a three-headlight setup that has the central one turn with the front axle. The spare tire is also located underneath the frunk and accessed via a lever, which drops it down below the front bumper for easy access. The 603 even came with a gas heater located under the front seat, which definitely doesn't sound dangerous at all.
Even though the basic concept behind it was two decades old, the 603 was a magnificently designed if a bit eccentric thing that looked like a large sedan of the future, the kind of future people loved to dream about in the '50s. Yank the wheels off of it and it looks like it could soar right onto the pages of one of these "world of tomorrow" type books where people fly to work and wear funny jumpsuits.
But this was no people's car. Tatra built the 603 by hand, and you had to be either a party boss or industry bigwig to get one. Indeed it was very popular with communist heavy-hitters, and not just in Europe. Fidel Castro had one, too. Fast, quiet, spacious, comfortable, and relatively fuel-efficient, it was built in three basic series until 1975. The 2-603 of 1962 added a four-headlight nose and different dash, while power brakes arrived in 1966. A third generation arrived in 1968 with a mild facelift. Since Tatra urged owners to bring their cars back to the factory for overhauls and updates, however, cars with earlier styling and equipment are extremely rare. About 20,000 were built in total. A Vignale-designed 613 model brought sharp '70s edges to the Tatra lineup in 1973, and this model kept on going until 1996, when the Tatra 700 debuted. In 1999, though, Tatra ended car production to focus on trucks.
Our Sale of the Week is a 1969 second-series model, purchased by the seller out of Canada in 2015. It has gotten some professional restoration work including significant body repairs and replacement doors, but it isn't a concours queen and there are flaws. The parking brake doesn't work, for one. Neither does that sketchy gas heater under the seat, but maybe that's a good thing!
Just judging by the photos, it looks to be in about #3+ (good but not excellent) condition. Which puts its sale price right in line with the car's value in the Hagerty Price Guide and in the range of what other solid 603s have sold for recently. The earlier, grander T77s and T87s are solidly six-figure cars, but clean 603s have sold in the $40K range and rougher ones have sold in the 20s.
And when you consider just how uniquely cool these cars are, $20-$50K isn't a bad value. How many cars out there are hemi V-8 four-speeds like a muscle car, rear-engined and air-cooled like a Porsche, styled like they're science fiction, and screwed together by communists? I can only think of one.