Regardless of if you blanche at the idea of having a battery bigger than an Interstate in your car, the era of the collectible electric car is quietly humming over the horizon. Even at the time of this writing, there are already a handful of low-production electric hypercars that appear purpose built for the holo-projected AR catalogue of RM Sotheby's 2040 Monterey sale. Honestly, that future might be closer than we think; we've already noted the healthy growth in values of the first-gen Tesla Roadster. And, if you were to take stock in Cars and Bids' recent six-figure sale of a new Rivian R1T, it looks like the collectible e-truck market is off to a rich start.
Yes, it seems some early adopter valued cold cash over some fun with their new quad-motor supertruck. The included Monroney window sticker denotes this particular 2022 R1T Launch Edition carried an original MSRP of $76,075 as equipped; when the digital dust cleared from the bidder's block, the final sale price of $142,500 after fees came just $10,000 shy of doubling the original investment.
There's no word on how many of the R1T's 103 miles were put on before or after delivery, but we're impressed with the seller's fortitude in the face of 835 hp and 908 lb-ft of insta-torques. During my time behind the wheel prior to the public release of the R1T, the engineers in attendance apologized that I wasn't getting the full accelerative experience; as equipped, I was told "my" R1T was capable of a 0-60 mph scuffle somewhere in the mid-three second range. On gravel. With all-terrains. Carrying around 1,500 pounds of camping crapola. With three people in tow. Had I not been so burdened, they assured me merging speed on tarmac would arrive in three-seconds flat.
Of course, there's far more to the shocking (har, har) R1T than mad performance figures. In this ongoing volt-crazed EV arms race, a 2.0-second 0-60 mph will soon be prosaic; where the R1T shines is in its cleverness and its stunning cohesiveness. It's an electric supertruck that accelerates like a 911 Turbo, off-roads like a Wrangler, handles like a Cayenne, rides like an E-Class, and coddles like a Land Rover.
In time, I'm sure the collector market will recognize the significance of the Rivian R1T as one of the earliest supertrucks, following in-step with the preceding Ram 1500 TRX, the current GMC Hummer EV, and the forthcoming Ford F-150 Raptor R. Beyond that, it's one of the only EVs to instigate enough voracious demand as to match Tesla. Watch this space for future auction stardom.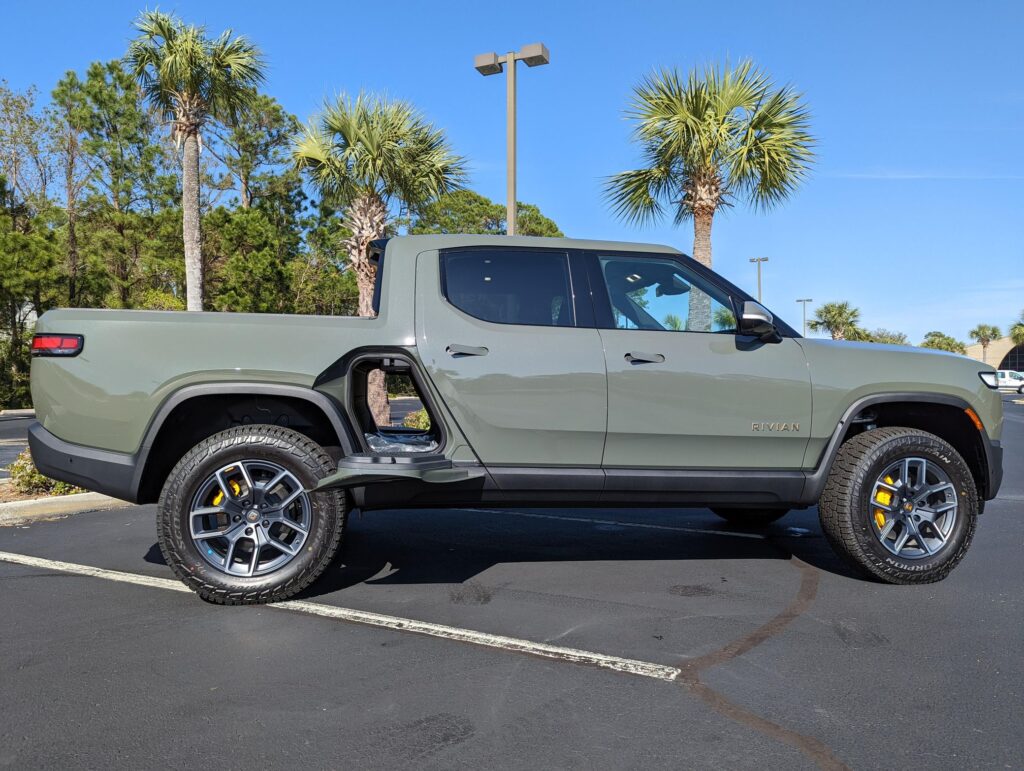 I'm afraid that for now, this premium paid for the R1T simply boils down to good old-fashioned supply and demand. The virtual line for an R1T build slot stretches thrice around the Tesla Gigafactoy, so it's no surprise there are enough moneyed would-be customers willing to skip the line for a price.
Heck, this isn't even the first Rivian we've seen come to the open market. InsideEVs documented a trio of R1Ts to hit the market, with the first two selling through private party platforms for a coincidental $139,000. Patience might be a virtue, but a heavy crypto wallet and a crippling case of EarlyAdoptitis is a potent combo. We'll keep an eye on the Rivian market as production ramps up.