Monterey Car Week is shaping up to be the biggest gathering of high-dollar auction cars since before the pandemic. It's exciting stuff, but this glamorous week of buying and selling will also be a test of the top of the market, for the kind of seven- and sometimes eight-figure cars that don't usually pop up on Bring a Trailer. Compared to years past, we didn't see many such cars crossing the block for much of last year or this, but there will be dozens in Monterey this August.
Many of this year's Monterey highlights are famous race cars. We've covered in detail the 1970 Porsche 917K, the two Ford GT40s, the ex-Mark Donohue Camaro, and the historic Jags and Astons from the Paul Andrews collection, but there are oh so many more than that. Here are just 12 of the million-dollar track stars crossing the block on the Monterey Peninsula this year.
1986 March 86C Indy Car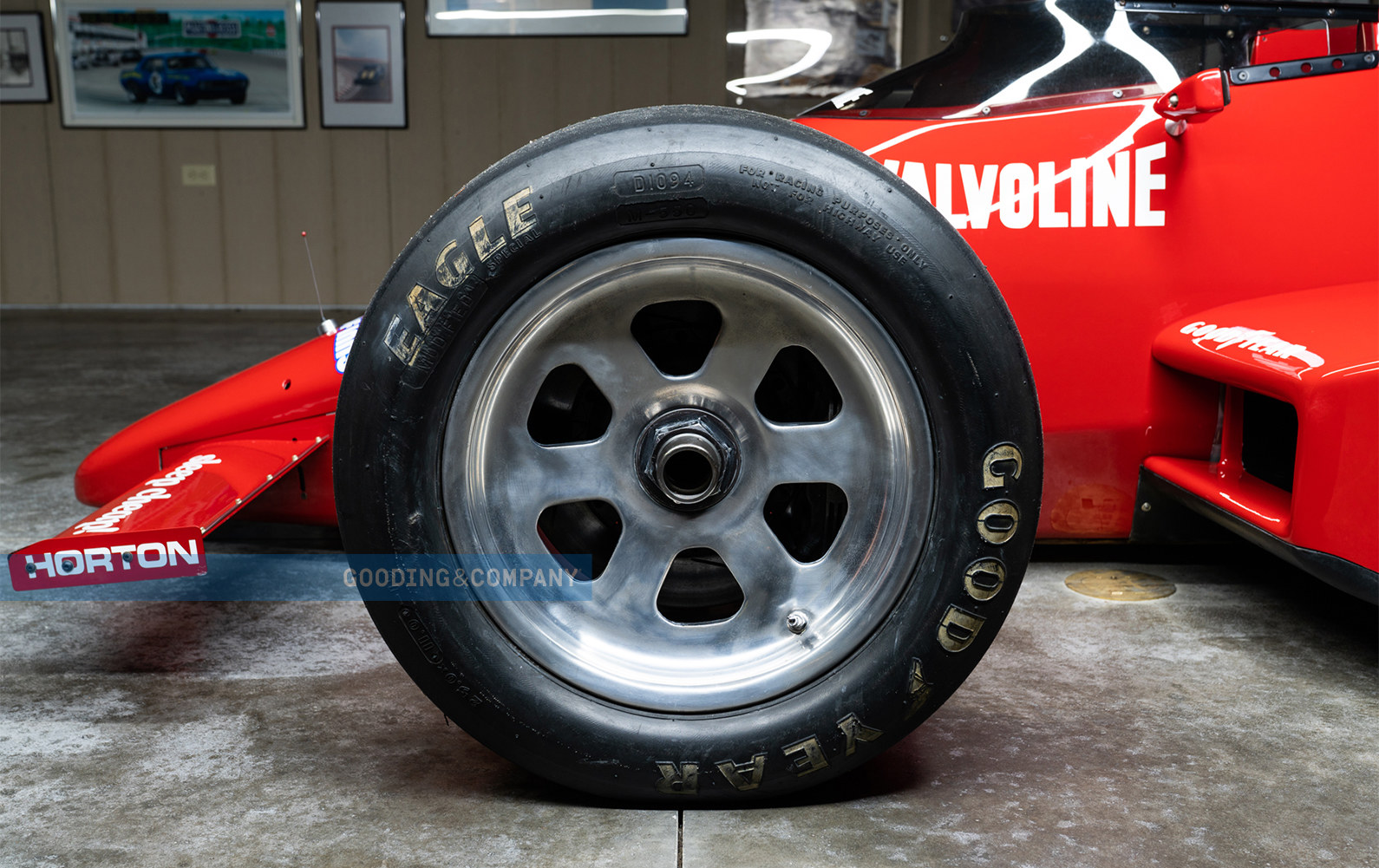 Estimate: $1,500,000–$2,000,000
Every year a field of 33 cars starts the Indy 500 but, the 500 being a car race and all, only one of them wins. Naturally, a first place finish at the "Greatest Spectacle in Racing" means each winning car is both a piece of history and very collectible. Indy winners don't often hit the auction market: Alexander Rossi's 2016 car sold for $1,1275,00 three years ago, and the Miller that won the race in 1931 sold for $2,120,000 back in 2011.
This year in Pebble Beach, Gooding & Company is offering the March 86C that took the checkered flag in 1986. Designed by the great Adrian Newey and driven by Bobby Rahal, the car started from the inside of the second row and Rahal slipped into the lead after a late in the race caution, then held on to the end. The March has had only one private owner since new and has appeared in museums, on concours lawns, and at the Goodwood Festival of Speed three times. It was also bid to $1.55M in Monterey seven years ago but remained unsold.
1974 Alfa Romeo Tipo 33 TT 12
Estimate: $1,700,000–$2,200,000
Starting in 1967, the Tipo 33 was Alfa Romeo's main platform for international sports-car racing. Over the next decade its engine grew from a 2.0-liter V-8 to a 3.0-liter flat-12 and its appearance changed dramatically. In 1975, after years of trying, Alfa finally won the World Championship for Makes and it was the TT 12 (Telaio Tubolare, or "tubular chassis") version of the Tipo 33 that brought home the title.
This Tipo 33 offered by Bonhams won at Spa, Zeltweg, and Watkins Glen that season with the famous Derek Bell and Henri Pescarolo behind the wheel, scoring a slew of valuable points. It sold directly from Autodelta (Alfa's competition department) in 1980 to its only private owner, and today it even comes with a spare engine. We last saw it at Pebble Beach in 2017, when it hammered not sold at a $1.8M high bid.
1974 Porsche 911 Carrera RSR 3.0 IROC
Estimate: $1,800,000–$2,100,000
The International Race of Champions (IROC) was created as an all-star racing series that pitted great drivers from F1, Indy, and NASCAR against each other. IROC was mostly associated with Camaros and even became something of a household name thanks to the mullet-era muscle car that is the IROC-Z, but at first the IROC series used Porsches.
One of 15 Carrera RSRs built for the series, this 911 was Emerson Fittipaldi's mount for the first IROC race at Riverside. The F1 World Champ put it on pole but didn't finish, and the Porsche soon sold to a privateer who raced it regularly into the late 1970s. In 1979 it took a trip down south and sold to Pablo Escobar (yes, that Pablo Escobar), who had it fitted with 935-style slantnose bodywork, raced it a few times, and sold it to another Colombian racer. It came back to the states in the 1990s and was restored in 2010 to its original IROC specs. It sold in Monterey nine years ago for $927,500, but Porsche race cars have only gotten more valuable since then.
Estimate: $2,500,000–$3,000,000
As the 1970s progressed, Porsche built increasingly potent racers based on the 911 that fought not only for class wins at events like Le Mans or Sebring but occasionally competed for overall wins ahead of factory prototypes. One was the 934, which was more closely related to Porsche road cars and built for the FIA's Group 4 class (there's a 934 up for grabs in Pebble Beach this year, by the way). The other was the 935, which shared very little with road-going 911s and was more of a silhouette racer for the FIA's Group 5 "Special Production Car" class.
Part of Porsche's success with these cars was that it was able to sell them to customers, so there were always several 935s in the field. Several of those private teams also began to develop their own, improved versions of the 935, and the most famous hailed from Kremer Racing out of Cologne. Its 935 "K3" featured Kevlar composite bodywork, a special rear wing, a lightened chassis, bigger brakes, and an air-to-air intercooler for the twin-turbo 3.2-liter flat-six, which could pump out up to 800 bhp in qualifying trim. A K3 even won Le Mans overall in 1979.
This 935 was used by the famous Interscope Racing Team from 1981 to '82. It finished fourth in its debut race at Road Atlanta in 1981, finished second there the following year, and appeared at Sebring, Riverside, Laguna Seca, Suzuka, and Daytona in period. Restored in 2003, it is one of just two 935 K3s appearing at the Monterey auctions this year.
1981 Ferrari 512 BB/LM
Estimate: $3,000,000–$3,500,000
The 512 BB/LM was never quite a match for the Porsche 935, but if you were a Ferrari racer in the late 1970s or early 1980s it was your weapon of choice. The most famous of these Boxer racers were campaigned by Luigi Chinetti's legendary North American Racing team (NART) and this car was the NART entry at Le Mans in 1981 and 1982. After a DNF in 1981 it finished ninth in 1982 after running as high as third overall. NART ceased operations later the same year, making this car something of a bookend for one of racing's most famous outfits.
1961 Aston Martin DB4 GT
Estimate: $3,400,000–$3,800,000
Shorter, lighter, and more powerful than the standard DB4, the DB4 GT was intended to take on the Ferrari 250 GTs on track. Aston Martin built just 75 of them, and only 30 came in left-hand drive. This one, chassis #DB4GT/0154/L, sold new in this lovely Goodwood Green over red leather to Georges Filipinetti, owner of the famous racing team Scuderia Filipinetti.
He didn't keep it long, but the next owner did. He drove it regularly in hill climbs and slaloms in Switzerland and racked up nearly 100,000 km (62,000 miles) over the next three decades. It then got intermittent restoration work in the 1990s, 2000s, and early 2010s.
1955 Porsche 550 Spyder
Estimate: $3,800,000–$4,200,000
The 550 Spyder was the very first purpose-built Porsche competition car, and it was a great start. Although Porsche built just 90 examples from 1953 to '56, the model racked up class victories in races all over the world and occasionally fought for overall victory against much larger and more powerful cars.
This 550 sold new on the West Coast and has extensive SCCA race history all over the U.S. from 1956 to '59. After it was damaged in a garage fire in 1965 and separated from its original engine, the consignor bought it in 1983 and subsequently restored it.
1957 Maserati 200Si
Gooding & Co., Lot #46
Estimate: $4,000,000–$5,000,000
Part of Maserati's series of four-cylinder racers during the 1950s, the 200Si ("i" for Internazionale) got larger brakes and a few more horsepower than the 200S that it replaced, plus a five-speed gearbox. This 200Si sold new through Carroll Shelby's agency in Dallas to its first private owner and raced in Florida with some success until a connecting rod failed in 1958. The engine went back to Modena for a rebuild, but the owner started racing a Porsche instead and the Maserati went to the back of the garage. In the late 1970s, though, the car got a new lease on life in vintage racing and now sports a more powerful 2.5-liter engine under its Fantuzzi bodywork.
1953 Ferrari 166 MM Spider Series II by Vignale
Estimate: $4,000,000–$5,000,000
Named after the Mille Miglia road race, the 166 MM is an important part of Ferrari's early success. The company built 47 of these cars, powered by a 2.0-liter Colombo V-12 and mostly bodied by Touring. This Spider, though, is one of six cars bodied by Vignale and the 10th of 13 Series II 166 MMs. It raced at its namesake—the Mille Miglia—in 1954, and throughout Italy in period. It was also the first Ferrari bought by Edoardo Lualdi-Gabardi, who went on to race 250 TdFs, SWBs and GTOs. Its most interesting owner, though, was the German treasure hunter who bought it in 1961, fit it with a soft top, and took it with him to South Africa to use as his daily driver in Pretoria for four years.
The Ferrari was restored in the 1990s and went back to Italy for the Mille Miglia Storica in 1999. At the same event in 1999, however, the car was stolen outside of a hotel in Brescia. It didn't reappear until seven years later, mostly in pieces, during a police bust of an organized crime ring. It was re-restored in 2009, and Ferrari Classiche built and stamped a new engine, gearbox, and rear differential for it.
1968 Porsche 911 R
Estimate: $4,500,000–$5,500,000
Arguably the ultimate classic 911, the 911 R is both extremely rare (20 production models, plus four prototypes) and incredibly light. At less than 1800 pounds, it's the lightest 911 ever.
The brainchild of Porsche's racing director, 29-year-old Ferdinand Piëch, the 911 R used the familiar formula of less weight plus more power. Piëch's engineers put the standard 911 S road car on a serious diet by replacing all removable body panels with fiberglass, fitting a plastic rear window, and gutting the interior. The standard 160-hp 911 engine was also ditched in favor of the 210-hp engine from the Porsche 906 race car, and wider-than-standard Fuchs wheels were fitted.
Due to costs, Porsche decided not to pursue the 911 R program further and the FIA refused to homologate the 911 R as a production car, so 911 Rs were forced to race in the prototype classes against quicker and more purpose-built cars, including Porsche's own 906 and 910.
This 911 R, chassis #11899006R, sold in France in period and ran several rallies there. After being damaged during practice for the Rallye de Rouen in 1968, it was separated from its engine and gearbox but subsequently repaired and had a different drivetrain fitted. In 1971 it sold to Thierry Sabine, founder of the Paris-Dakar Rally, and he kept it until 1980. A later owner started restoring it in the 1980s but work progressed slowly, and finally in 2015 it was reunited with its original engine. A real-deal 911 R hasn't come to auction in many years, so we'll be keeping a close eye on this one.
1983 Porsche 956
Estimate: $4,500,000–$6,000,000
The Porsche 956 and 962 were some of the most successful racing cars of the 1980s. Between them they won the 24 Hours of Le Mans six times and took numerous championships on both sides of the Atlantic. A 956 also held the outright lap record at the Nürburgring Nordschleife for 35 years.
This one, chassis #956-110, won both the 1983 Brands Hatch 1000 km and the 1983 Can-Am race at Road Atlanta. It also had podium finishes at Imola, Mugello, and Silverstone. At Le Mans in 1983, it worked its way up to third place before the fuel pump gave out. After another DNF at Le Mans in 1984 it never raced again, but we saw it at the Porsche 70th Anniversary auction in Atlanta three years ago, when it was a no-sale at a $3.5M high bid.
1958 Ferrari 250 GT LWB TdF
Estimate: $5,750,000–$6,500,000
One of the most successful (and valuable) classic Ferrari gran turismos, the 250 GT TdF got its name from the "Tour de France Automobile," a race that Ferrari won five times in the 1950s (and eight more times after that). This car, chassis #1031 GT, is represented by RM Sotheby's as the 52nd of 72 cars built. Originally ordered in Giulietta Blue (an Alfa Romeo color) with a red stripe over Havana brown upholstery, it sold new to French industrialist and racer Jacques Peron.
Peron wanted his new Ferrari to be a little bit more special than the rest, and specified a hotter 250 TR-spec engine as well as a hinged engine cover for easier roadside repairs, a handbrake mounted on the transmission tunnel for easier standing starts on hill climbs, room for two spare wheels for endurance racing, an ammeter in place of a clock, and an altimeter. Peron also really wanted the car in time for the 1958 Tour de France race. Pressed for time, Ferrari delivered the car having declined or ignored many of his requests, including that hotter engine. Peron was, understandably, not pleased. He drove 1031 GT to a fourth-place finish but sold it soon thereafter. It was in the U.S. by the late 1960s and sold privately in 2014 to the present owner, who had it restored and showed it at the Pebble Beach Concours d'Elegance in 2016.