Of the more than 10 million Mustangs Ford has produced in the last six decades, the vast majority have been affordable and remain so to this day. And thank goodness for that. Mustangs are the lifeblood of the collector car hobby precisely because they're genuinely cool and genuinely attainable. They're consistently among the most popular cars we get calls about insuring, and it comes from collectors of all ages—millennials love 'em as much as baby boomers do. They're also highly sought after by collectors abroad.
However, in the same way you can find thousand-dollar pairs of blue jeans, there are some truly expensive ponies out there. Here are the most valuable Mustangs from each generation, per the latest edition of the Hagerty Price Guide.
First Generation (1965–73): 1969–70 Boss Mustang 429
#2 (Excellent) condition average value: $259,000
Let's start by acknowledging the omission here: The most valuable Mustang from the first generation—or any generation, for that matter—is the 1965 Shelby GT350R, which currently has an average condition #2 value of $898,000. But let's also acknowledge that the 'Stangs turned out by Carroll Shelby's outfit are a whole other ball of wax, with their own legend and lore.
What the Boss 429 illustrates is that Mustangs are to be taken seriously in their own right. That was the general idea behind the car back in 1969. By that point, the pony car craze that Ford had started with its 289-powered compact had spun wonderfully out of control, to the effect that every Detroit automaker was exploring how big a V-8 it could offer in its small two-door model. To re-assert dominance—and meet homologation rules for NASCAR—Ford stuffed its beastly 429 V-8, replete with aluminum heads, into 1360 Mustangs in 1969 and 1970.
The Boss 429 option brought a near 40 percent surcharge over the more streetable Boss 302, meaning those who bought them in era needed relatively deep pockets and a one-track mind. Nevertheless, a young street racer who bought one new and held onto it would now find it has matured into a nice retirement nest egg. One brought to auction earlier this year (pictured) sold for $385,000.
Second Generation (1974–78): 1976–78 Mustang II Cobra II
#2 (Excellent) condition average value: $31,900
"Wasn't the '70s a drag, you know?" So observed John Lennon in an interview just hours before his death. Considering the drop off in performance and coolness from the Boss above to the peak Mustang from the following generation, it's hard to disagree with him. Yet the Mustang II was—in its way—ambitious. Whereas other manufacturers allowed their muscle cars to slowly fade through the Me Decade with progressively weaker engines and bigger fenders, Ford attempted to reinvent the Mustang as a smaller, more accessible car and, in so doing, bring it back to its roots. Kind of like punk rock. Of course, the Mustang II isn't exactly Sid Vicious, which is why even well-preserved examples of the most powerful version, the Cobra II, can be had for used-car money. That said, Mustang IIs are appreciating faster on a percentage basis than any other car on this list. Perhaps collectors living through the 2020s—which, if we're being honest, have also been a drag so far—finally appreciate these miniature Mustangs.
Third Generation (1979–93): 1993 5.0 SVT Cobra R
#2 (Excellent) condition average value: $93,900
We're on the record as calling the SVT Cobra 5.0 a poster child for rising values of 1990s cars. And why shouldn't they be? The Special Vehicles Team's take on the 5.0 was both a fitting swan song for the Fox-body and a foreshadowing of the absurdly capable special-edition Mustangs sold today. The SVT-version of Ford's famous mighty mouse got an aggressive camshaft and special cylinder heads, lifting output to 235 hp and 280 lb-ft of torque. Since by this point Mustangs were as much about handling as straight-line speed, the Cobra also got seventeen-inch wheels (a big deal in '93) and four-wheel disc brakes The race-ready Cobra R ditched the rear seats, radio, and A/C while adding larger brakes, engine oil cooler, power steering cooler, and Koni shocks and struts.
Fox-body Mustangs have been appreciating across the board in recent years, thanks largely to the fact that the people who grew up with them, Gen–Xers, are now the prime movers on the collector car market. Due to the R's extras and rarity—just 107 were built—it's at the head of the pack.
Fourth Generation (1994–04): 2000 Cobra R
#2 (Excellent) condition average value: $53,200
One of the secrets to the Mustang's success over the decades has been its engineers' unerring ability to do more with less. The fourth-gen Cobra is a prime example. By the year 2000, state-of-the-art sports cars from Japan and Germany bristled with turbocharged engines and sophisticated chassis electronics. Even the Mustang's crosstown rivals, the Chevrolet Camaro and Pontiac Firebird, were benefiting from some trickle-down updates courtesy of the C5 Corvette. In contrast, Mustang partisans at Ford had weathered an attempt to replace the car with a front-driver by updating the Fox-body platform on a tight budget.
It's hard to imagine anything that shared origins with a '70s Fairmont keeping up with contemporaries like the Mark IV Toyota Supra, yet the Cobra R does and then some. Thanks to a 385-hp, 5.4-liter V-8 and a serious diet, the car hits 60 mph in well under 5 seconds. It also acquits itself well on a race track, courtesy its beefed-up Bilstein dampers and independent rear suspension. Those credentials hold up even today, making this most-valuable of SN-95-chassis Mustangs something of a performance bargain, to boot.
Fifth Generation (2004–2014): 2013–2014 Shelby GT500 convertible*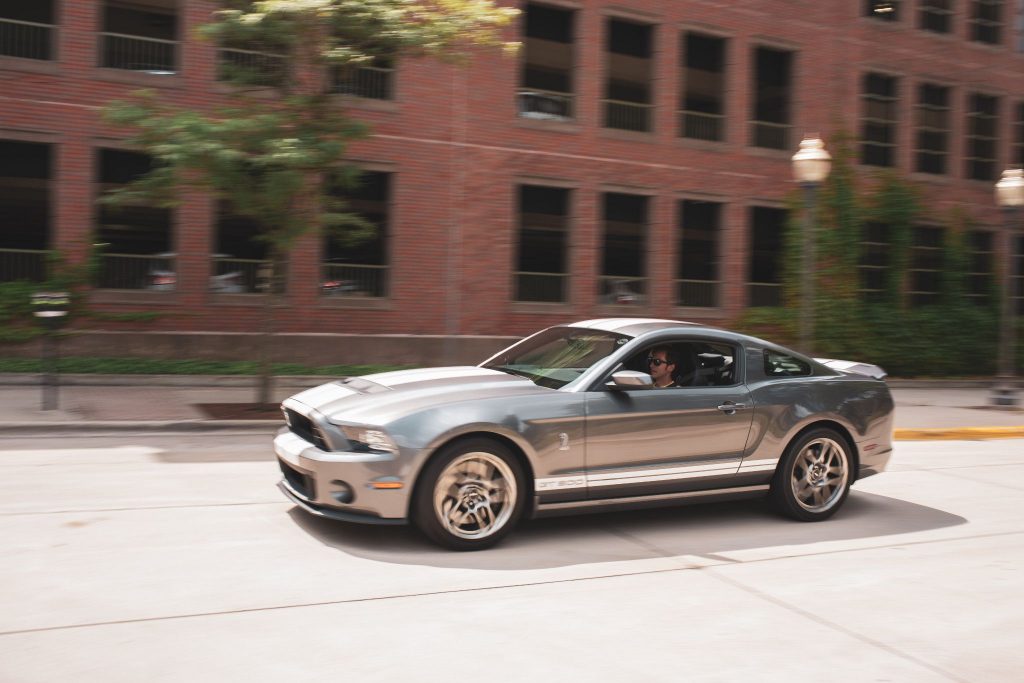 #2 (Excellent) condition average value: $76,200
With apologies to Hellcat lovers, it was really this supercharged Mustang that hurtled us into the gonzo era of muscle car performance. Its 500-hp V-8 is the prime attraction—those who want a true track focus can find that in spades in the contemporary Boss 302. The GT500 is all about the cacophony of supercharger whine, exhaust, and tortured rubber. No wonder, then, collectors are willing to pay a premium to be able to put the top down and hear more of that wonderful noise. The convertibles, on average, bring some $7000 more than the coupes.
*We included this Shelby on our list in recognition of the fact that the modern GT500 is a Ford effort, through and through. In the interest of splitting hairs, we didn't include the GT500 Super Snake, which benefits from a bevy of Shelby American-developed aftermarket upgrades and is, as such, worth a bit more.