It's nearly August, and that means the 2022 Monterey auctions are right around the corner. Headlines prominently featuring the word "million" will soon describe the sale of historically significant race cars, coachbuilt classics, major collections and top-flight automobiles worthy of any concours.
Further down the price ladder, though, resides a rich group of consignments that includes everything from prewar greats to modern exotics. These cars still aren't cheap: early estimates suggest the average sale price at Monterey will fall between $306,000 and $502,000. Just the same, we thought we'd highlight ten of the more interesting cars likely to fall beneath the quarter million dollar mark.
Broad Arrow Auctions*
Estimate: $150,000 – $175,000
Think what you will about Elon's tweets or the electrification of cars in general, Tesla's massive place in automotive history is already cemented. More than any other carmaker, Telsa sparked the massive EV shift through which we're currently living, and Tesla has proven more than any other company that an electric car can be cool.
The first-gen (2008-12) Tesla Roadster was the company's opening act as well as the first production EV using lithium-ion battery cells. It's fast, and, thanks to the brilliant extruded- and bonded-aluminum chassis borrowed from the Lotus Elise, thrilling to drive.
This first-year example shows just 928 miles and is one of only about 2,500 total Roadsters built. That not one, but two of these pioneering EV sports cars (RM Sotheby's is offering another red Roadster) have found their way to the Monterey auctions is further proof that they're coming into their own as collector cars.
RM Sotheby's
Estimate: $200,000 – $275,000
While Cord is frequently the company remembered for pioneering front-wheel drive, the Ruxton was the first American production sedan to utilize the configuration, allowing for a far lower ride height and easier entry compared to other domestic cars of the 1920s and '30s. Unlike Cord, though, Ruxton did not survive the Great Depression. Only about 96 Ruxtons were built, of which 19 still exist, according to RM Sotheby's. Aside from their front-drive layout, the Ruxton's signature feature is the flamboyant multi-band paint scheme by designer Joseph Urban.
This one is represented as the first production Ruxton sedan, if the term "production" can even apply to such a rare, short-lived automobile. It was restored in the 1970s, and more recently was a $410,000 no-sale at Bonhams Scottsdale in 2016 and a $235,000 no-sale at Gooding & Company's (online) Scottsdale sale last year.
Broad Arrow Auctions
Estimate: $200,000 – $250,000
The company that eventually renamed itself Jaguar in 1945 first started out as the Swallow Sidecar Company back in the early '20s, building sidecars and automobile bodies. Swallow Sidecar Co-founder William Lyons soon began selling his own fully-assembled cars using engines and chassis from the Standard Motor Company, and his first major model was the SS 1. Like its later feline-badged descendants, the SS 1 was praised for its style and value. Both a fixed head coupe and an open tourer were offered. Power comes from a 2.5-liter side-valve six.
The one on offer in Monterey is "judged to be among the finest SS 1 extant" and with only 148 SS 1s built from 1932-36, precious few remain. First sold in the UK, it made its way to Australia in 1935 and spent most of its life Down Under, where it received a $355,000 AUD (about $250,000USD) restoration. It has enjoyed life as a tour, rally, and concours car since.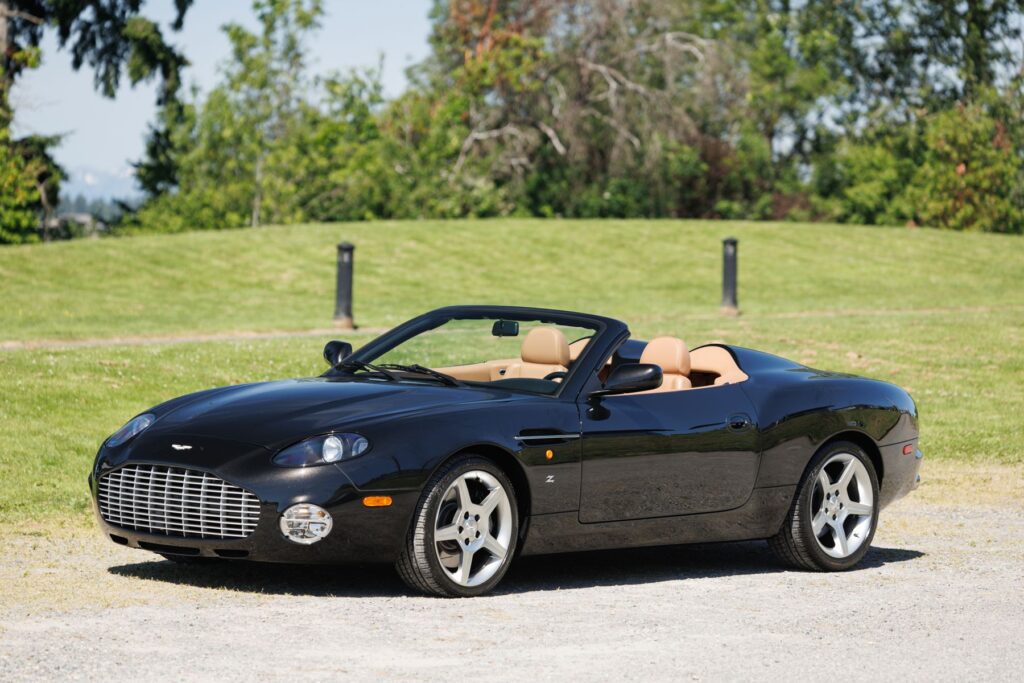 Gooding & Company
Estimate: $250,000 – $300,000
Aston Martin and Carrozzeria Zagato have accomplished a lot together over the past 60-plus years. The DB AR1 is just one of their low-production collaborations, but it's particularly memorable. It couples the chassis, 420-hp V-12, and 6-speed manual from the DB7 Vantage with one of Zagato's most striking shapes to date. That wasn't an easy feat for the Italian coachbuilder, since the DB7 was already such a sexy car.
Aimed exclusively at the American market, the DB AR1 ("America Roadster 1") came without weather protection, but nobody was driving these things to work, anyway. Just 99 were sold to the public and this one is number 76, finished in special order Ferrari Nero Daytona paint over Light Tan leather. It shows just 3,186 miles and it last sold for $236,500 at Gooding's Geared Online auction last spring.
Bonhams
Estimate: N/A
Alfa Romeo's Giulia Sprint coupe, styled by Giorgetto Giugiaro at Bertone, debuted in 1963. Initially available with a 1570-cc version of Alfa's eager twin-cam, the engine grew to 1779cc (sold as the "1750") and finally to 1926cc (sold as the "2000") in 1971. Elegant, usable and quick, all GTVs are excellent driver's cars, but the 2000 GTV is the most developed and offers more low-end grunt thanks to its extra displacement.
This GTV sold new in Houston to former racing driver Manfredo Lippmann, who reportedly used it to tour the US on his honeymoon before joining his collection in Guatemala. It later sold to its second owner in Nevada and was shown at the Imperial Palace Auto Collection and Museum in Las Vegas and the Shanghai Auto Museum in China. It is represented as mostly original, and the 26,009 miles showing are believed to be accurate.
2012 Mercedes-Benz C63 AMG Black Series
Broad Arrow Auctions
Estimate: $125,000 – $150,000
Introduced in 2011, the C63 AMG Black Series was the fourth car to get the "Black" label, which denotes a top shelf, top-performing AMG. The standard C63 AMG's 6.2-liter V8 got a lighter crank and connecting rods as well as forged pistons from the SLS to bump power from 450 to 510 horsepower in the Black Series. Coilover suspension improves handling over the standard car as well, and the flared fenders give away the significantly widened track front and rear.
This 9,655-mile Black Series is optioned with the Aerodynamics Package that includes front splitter and adjustable rear spoiler. These and other options brought the original sticker to $118,025. The car also has a Stage 3 Weistec supercharger that reportedly boosts that bellowing bent-eight to about 800hp.
Generally, limited-production track-oriented models do well as collector cars, and we've already seen pre-merger AMGs (Mercedes purchased a controlling interest in AMG in 1999) selling for increasingly large prices over the last several years. As a result, seeing a later Black Series show up in Monterey with a hefty estimate doesn't come as a huge surprise.
Gooding & Co.
Estimate: $100,000 – $130,000
Sydney Allard's rarely pretty but always potent combo of lightweight English chassis and body with thumping American V8s resulted in some of the quickest cars of the early 1950s. The J2 and J2X were the raciest and most famous, but Allard built some larger and slightly more luxurious models as well. One such vehicle was the "K," built in three series from 1946-54. Slightly larger and more practical than a J2, it features similar styling and was likewise intended to be a road car that could occasionally be raced. Like all Allards, they sported a variety of engines, ranging from Ford/Mercury flatheads to 331 Cadillacs.
This K2, however, sports another popular choice from the period – Chrysler's Firepower Hemi (along with an upgraded Muncie 4-speed). Represented as one of just 19 built and one of just 18 exported to the US, it last sold at the RM Sotheby's Monterey sale six years ago for $137,500.
Broad Arrow Auctions
Estimate: $125,000 – $150,000
Banking on its continued success at Le Mans, Audi introduced its first supercar – the R8 – in late 2006 for the 2007 model year. Built on the same platform as the Lamborghini Gallardo, the R8 initially came with a 4.2-liter V8 and either a 6-speed single-clutch automated manual or a true 6-speed stick with a pleasing aluminum open gate shifter. Upon its debut, Car and Driver gushed at the R8's "ballet-dancer balance and grace" as well as "telepathic steering" that "makes every driver a hero."
This R8 is represented as one of just 240 cars sent to the US for 2008, the car's first year stateside. Fitted with the desirable 6-speed manual, it was purchased new by Juan Pablo Montoya of Formula 1, Indy 500 and endurance racing fame. Montoya drove it about 1,000 miles before selling it on, and it now shows 4,936 miles.
Modern, mid-engine, stick-shift exotic cars are in high demand. R8 prices are higher than they used to be, but seeing a prime-condition early example like this one in Monterey is something new. If it sells well, it will be something of a coming out for R8s as serious modern collector cars.
RM Sotheby's
Estimate: $150,000 – $180,000
The R33-generation Skyline GT-R is JDM royalty, and while not especially rare, Midnight Purple is one of the most desirable colors. This one has the added benefit of being both a low-mile car (1,590 km, or 988 miles) and completely stock, a rare feat for these tuner favorites.
RM Sotheby's had a home-run result with $235,200 for another Midnight Purple R33 in Monterey last year, and is surely looking for a repeat in 2022 with this even cleaner car. Skyline prices have continued their parabolic trajectory since last year's auction, so we'll have our eyes on this one to see if the trend continues.
1950 Delahaye 180 Transformable Cabriolet by Franay
RM Sotheby's
Estimate: $200,000 – $250,000
Fit for a king, literally, this Delahaye was ordered new and specially bodied by French coachbuilder Franay for King Mohammed V of Morocco who, as the New York Times once reported, enjoyed driving cars "at breakneck pace on the excellent roads with which the French had endowed his country." Being a longer, more luxurious 180-chassis Delahaye, however, this car reportedly mostly spent its life as a parade vehicle.
After the king passed in 1961, his son, Hassan II, inherited the Delahaye. It wasn't long before the car left Africa, though, and passed through the hands of several American collectors. It came into current ownership about three decades ago and currently wears an older cosmetic restoration.
*Disclaimer: Hagerty has entered into a joint venture with Broad Arrow Group as of January, 10, 2022.