It all started with an innocent analogy. Hagerty Price Guide editor Greg Ingold was extolling to editor Kyle Smith the virtues of the limited run of LT4-powered Camaros that Street Legal Performance helped build for Chevy in 1997. Knowing that Smith has knowledge of 1960s GM performance, Ingold loosely equated SLP's effort to the Yenko Camaros from back in the day. The conversation snowballed from there.
The two took to Slack, our internal messaging system, and asked fellow editors what cars we felt were modern equivalents of old classics. This banter-driven search to find common threads between an older and newer vehicles yielded some answers you might expect, as well as a few that stretch logic, and the definition of "classic," just a little. This list is the result of our fun and non-exhaustive quest—let us know your pairings in the comments.
First-generation Yenko Camaro and 1997 Camaro SS LT4
Believe it or not, these cars are far more similar than meets the eye. Yenko came to fame by doing what GM wouldn't: installing the powerful L72-code 427 into the first-generation Camaro (1969 would use the COPO program to have the swaps done at GM). So what does this iconic early Camaro have to do with a fourth gen?
Like Yenko in the 1960s, Street Legal Performance (SLP) was closely affiliated with GM, but independently upgrading F-bodies for sale through GM dealer networks. The similarities don't stop there though. SLP happened to take delivery of a number of leftover LT4 engines from the Corvette program. What do you do with a bunch of small blocks? Naturally, you'd swap them into something, and that's just what SLP did. So 29 Firebirds and 106 30th Anniversary Edition Camaros got the transplant. This would be the most powerful fourth-generation Camaro you could order from your dealer, and that's before you consider the SLP-prepped LT4's 330 horsepower is rumored to be conservative. —Greg Ingold, Hagerty Price Guide editor
Chevelle SS 396 and Honda Civic Type R
Hear me out: door count aside, they're both hot-rodded versions of their company's mid-size platforms. It doesn't end there: the once-ubiquitous Chevelle and still-everywhere Civic can carry four comfortably, sport clean, handsome designs (I'm considering the current-gen Civic), and the performance versions are incredibly capable relative to their competition. If you look at each in their moment rather than as an American classic vs. a Japanese hot hatch, they're going after similar targets. There's no comparison as to which sounds better, though. —Eddy Eckart, senior editor
Ford Mustang II and Ford Mustang Mach-E
Many Mustang fans saw the Mustang II's move to Pinto architecture as a step backward. It turned out it was the right car for the time, selling in huge numbers just when consumers wanted an efficient model with some Mustang style. Likewise, the move to broaden the Mustang brand into an EV crossover was controversial and still has Mustang die-hards in a tizzy. However, the buying public doesn't seem to mind, as they're snapping up the sporty four-door and enjoying EV power and efficiency. —Brandan Gillogly, senior editor (It remains to be seen whether Ford will make a Mach-E King Cobra—Ed.)
Volkswagen Rabbit Pickup and Ford Maverick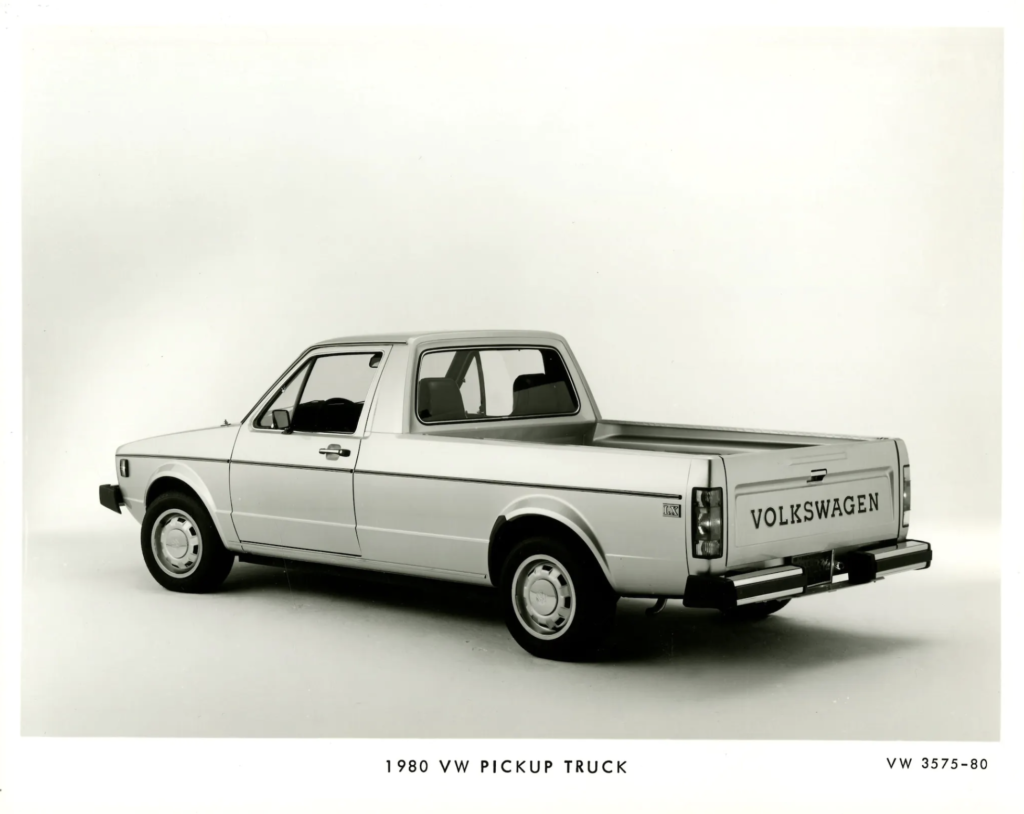 The Ford Maverick is a new take on the pickup form factor that shrinks the footprint, offers an incredibly efficient front-wheel-drive layout, and is built from a platform better known for the cars it supports. Sound familiar? Volkswagen did the same thing with the Rabbit for the U.S. back in the late '70s. It was charming, if a little chintzy at times—a few descriptors that may or may not be appropriate for the Maverick as well! —Nathan Petroelje, editor
Duesenberg Model SJ and Koenigsegg CC850
Born from engineers who felt they could do it better than anyone else, Duesenberg and Koenigsegg own the cutting edge of their respective eras. Their exclusivity and use of advanced technology means these cars were and likely will forever be out of the reach of the common enthusiast, but their successful niche implementation of tech innovations helps advance the entire industry. Four-wheel hydraulic brakes were at the forefront in 1929 when Fred and Augie Duesenberg put them into production, and a Koenigsegg-style single speed transmission that works for every speed from 1mph to 250mph might just be something that becomes standard on passenger cars one day. —Kyle Smith, editor
Volkswagen Beetle and Toyota Prius
The Beetle was known for its counterculture appeal that was grounded in the ideal of efficiency. It also looked different, had a different drivetrain, and seemed ubiquitous in the mid 20th century. The Prius captured all of those things for a new era. —John Wiley, manager of valuation analytics
Volvo 122 and Hyundai Elantra
We're all going out on limbs with these comparisons, but I'll test the breaking point of the outer reaches by saying the Hyundai Elantra is the new Volvo 122. Ignoring the 122's coupe and wagon variants for a moment, both machines are humble sedans with fantastic design. And if you compare each to models that preceded them (for the Volvo, that'd be the PV444/544; for the Elantra, that'd be any other Elantra) the styling departure is downright revolutionary. —Stefan Lombard, editor
1970 Dodge Challenger R/T Hemi, 2023 Ram 1500 TRX and 1970 Ford Mustang Boss 429, 2023 Ford F-150 Raptor R
While on the surface these two pairings may seem odd, these four vehicles all share a no-limits attitude and capture a high point in a changing industry. I also expect most of those trucks will get driven just like those apex muscle cars of 1970, which means a lower survival rate. —John Wiley, manager of valuation analytics
Yenko Stinger and Porsche Cayman GT4
The conversation started with a Yenko reference, and because Kyle is a noted Corvair aficionado, it couldn't help but take a turn to the Yenko Stinger—Ed.
There are of course the obvious similarities: the flat six mounted behind the seats, purposely stripped interiors, and a focus on outright speed and an engaging and driving experience above all else. The two also stand in the shadows of their more famous siblings. Yenko might be best known for Camaros and Novas, but he started with SCCA D-production competition with the second-generation Corvair as the base car. Similarly, ask someone about Porsche, and they're more likely to mention the 911 than the Cayman, even though there's an argument to be made for the smaller Porsche. Both of these track rats will abuse you with stiff suspension, quick steering, and road noise. You'll love every minute if driving experience is what you are after, though. —Kyle Smith, editor