We like to talk about changes large and small here at Insider. Wondering questions aloud and then asking our valuation team what the data show is a regular part of our weekly conversations. Everyone knows about the industry-wide gains over the last two years, but that got us asking: What about the biggest gains from the last 10?
We took a look at the Hagerty Hundred—the weighted average of the #2 (Excellent) condition values for the 100 most insured vehicles in the Hagerty Price Guide and identified the top five increases from 2012-2022. The surprise? They are all German. The reason? Gen X. As their buying power has grown over the course of the last decade, they've made their impact known by influencing the appreciation of everything from '90s Japanese classics, to IROC Camaros, but the Gen X crowd's longstanding affinity for German marques is particularly apparent in the rise of the models below.
Looking at demographic evidence, Gen-Xers lead or match Boomers in ownership of four of the five cars, which is a flip-flop of Hagerty's overall demographics. Boomers only hold sway, unsurprisingly, in ownership of the oldest car in the bunch, the 1968–71 BMW 2800CS.
No matter your age, once upon a time—in 2012—you could snag one of these five German classics for less than $20,000. Two of them, in fact, could have been yours for under $10K. Coveted upon their release, these high-performance luxury rides all had to become "used cars" at some point, and despite their powerful engines and plush interiors, it took some time for enthusiasts to catch on to their collectability.
No longer. The values of the five Autobahn brutes below—listed from lowest to highest percentage increase—have soared. Every single one has an average #2 value at least six times higher than it was in 2012.
If you own one, rejoice. If you don't, you may have to admire from afar.
#2 (Excellent) value on January 1, 2012: $9143
#2 (Excellent) value on July 1, 2022: $57,143
Increase: 525 percent
The smoothed-over styling of the Mercedes-Benz W126 S-Class signaled a newfound focus on aerodynamics. Fuel efficient for its time, the 560SEC was powered by a 5.6-liter, eight-cylinder engine that produced 238 horsepower. The two-door coupe's safety and protection were unparalleled; a driver airbag was offered through most of the model run, and a passenger-side airbag was introduced in 1989. These Benzes were dirt cheap for so long that it didn't take much to see a dramatic percentage increase in their values, but regardless of where they started, a 525-percent jump to almost $60K is significant. Especially if you've dreamed of owning one.
#2 (Excellent) value on January 1, 2012: $12,600
#2 (Excellent) value on July 1, 2022: $96,700
Increase: 667 percent
With a 0–60 time of 6.5 seconds and a top speed of 148 mph, the first-generation BMW M5 was the fastest production sedan in the world when it was built. It's also among the rarest modern BMW models in the world, with a total of 2,191 M5s produced—1,340 of which were shipped to North America. Power was delivered from a 3.5-liter DOHC inline six rated at 256 hp and 243 lb-ft of torque, mated to five-speed manual transmission. Although no longer considered quite the bahnstormer as suggested by journalists back in the day, it still provides a glimpse of the folks behind the fabled M badge building their identity. Since all North American M5s were painted Jet Black, they weren't exactly flashy, but they have become highly coveted. Perhaps too coveted for some, as their values have leaped 667 percent in 10 years.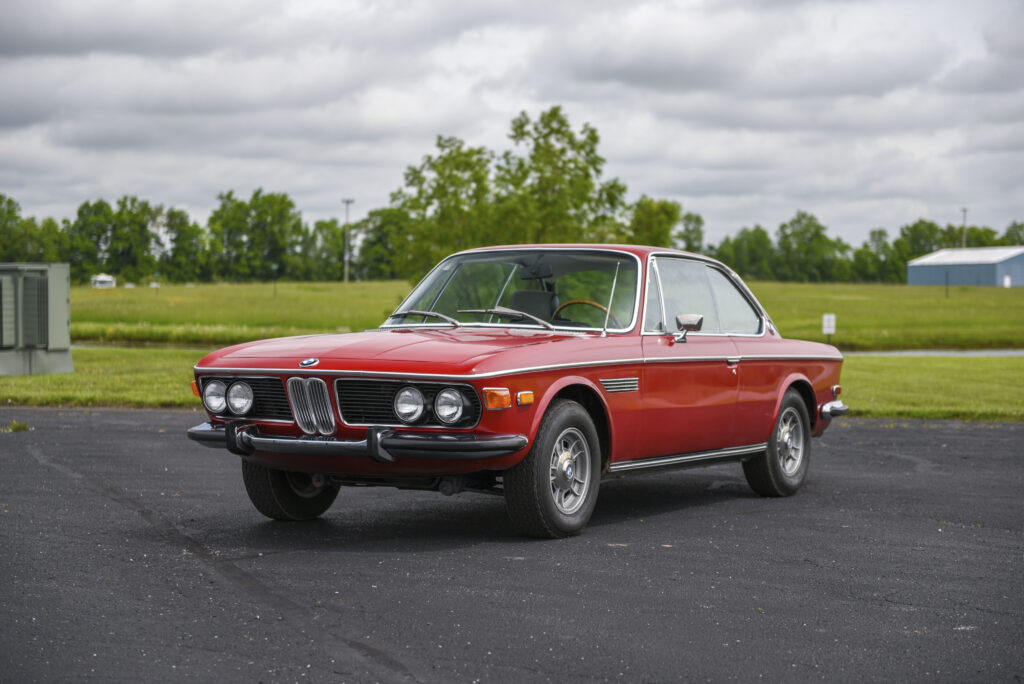 #2 (Excellent) value on January 1, 2012: $15,325
#2 (Excellent) value on July 1, 2022: $121,000
Increase: 690 percent
Decades older than the other German cars on this list, the BMW 2800CS may have taken a bit longer to reach nose-bleed status, but its lofty valuation perch isn't any less deserved. Three years after the "New Class" 2000CS coupe debuted in 1965, the model received a longer nose, restyled front-end treatment (which became the BMW standard for years), and a 170-hp, 2.8-liter six to replace its previous four-cylinder mill. Appreciation lagged behind the massive gains of the more desirable 3.0CS/CSi and 3.0 CSL, but as enthusiasts were priced out of those cars, their attention turned to the 2800CS. That "substitution effect" has propelled values from $15K to $121K in the last 10 years.
#2 (Excellent) value on January 1, 2012: $7825
#2 (Excellent) value on July 1, 2022: $64,200
Increase: 720 percent
The Mercedes-Benz 500E (later switched to E500) was the high-performance W124. It was produced with the help of Porsche, which was tasked with redesigning the chassis to fit the 5.0-liter V-8 engine used in the Mercedes-Benz SL and also assemble the four-door sedan. Looking much like any other W124, the wolf in sheep's clothing 500E's 315-hp engine could launch the car from 0–100 kph (62 mph) in 6.1 seconds, and it had a top speed of about 155 mph. While the car could be had for less than $10K in 2012, its value has escalated a whopping 720 percent since. The Porsche connection isn't the sole reason for its current $65K price tag, but it certainly doesn't hurt.
#2 (Excellent) value on January 1, 2012: $17,300
#2 (Excellent) value on July 1, 2022: $159,000
Increase: 819 percent
Tasked with homologating the E30 3 Series for Group A racing in Europe, BMW's Motorsport Division delivered the radically-styled—and now iconic—M3. Featuring a reworked front suspension, BBS wheels, larger tires, larger brakes, and a 2.3-liter S14 four-cylinder engine that delivered 192 horsepower, the M3 offered superb handling and a top speed of 146 mph. The car has always been appreciated, but it didn't appreciate in value as quickly as you might think. Ten years ago, a #2 example could be had for a reasonable $17,300. That amounts to about a 10-percent down payment today. The M3 played a key role in making the "M" badge famous for performance, and it was one of the first modern German cars to see explosive appreciation. If you've always coveted the original M3, we hope you didn't wait to make your move.