Whether you call them "modern classics," "youngtimers," "Radwood cars" or something else, enthusiast automobiles from the late 1980s, 1990s, and early 2000s are having a moment right now. Over the last few years, most enthusiast cars from the Bush-Clinton-Bush era have made the all-important transition from "used" to truly "collectible." Of course, how one defines collectible is up for debate. All cars are collectible to some degree, but what we keep an eye out for is when a car stops depreciating and prices start moving up, spurred on by either a large auction sale, demographic shifts in the hobby, changes in the economy, or some combination of factors.
Those factors all favor the new classics. The folks who took their driving test in the mid-1990s are now in their 40s. The cars themselves are 20-30 years old, and the cruel forces of attrition (rust, wrecks, neglect, etc.) have made once common cars rare and desirable. But most of the headlines and heat in the '90s car market focus on imports: think six-figure Supras, E30 M3 BMWs, and super low-mile Hondas. Meanwhile, two of the biggest names in the business—Mustang and Corvette, to be specific—plod along at middling prices while their peers from Japan and Germany soar. In the 1990s, both of these home-grown automotive heroes offered big and (relatively) powerful V-8 engines, rear-wheel drive, and the conveniences of modern cars. So why are they still cheap even as Honda Civics sell for $50,000 on Bring a Trailer?
Nothing puts this predicament into high relief quite like values for the #2 (Excellent) condition 1995 Miata ($18,300), which is now worth more than a 1995 Corvette coupe, a car with more than double the horsepower and triple the torque. A Mustang coupe in the same condition costs $11,100, on average. Why has appreciation for nearly every performance car from the '90s outpaced both America's sports car and America's pony car? The answer is a mix of subjective preference and hard production numbers.
Looking at the graph above, we can see that values for '90s cars weren't always so varied. Just five years ago, the spread between these favorites from '95 was just $15,000, with the Mazda Miata on bottom and the BMW E36 M3 on top. Today, the spread is over twice as wide at $33,400, with the Ford Mustang GT on bottom and the FD Mazda RX-7 on top.
Over the last 8 years, the median #2 value for C4 Corvettes (1984-96) is up just 3 percent, and exceptions are limited to low-production performance models like the 1996-only Grand Sport (up 18 percent for convertibles, 28 percent for coupes) and the 1988 35th Anniversary model (up 32 percent). Looking at insurance quotes, the quoted value is dead flat over the past five years.
Things don't look any better for the fourth gen (1994-04) Mustang. The median #2 value is down 11 percent over the last eight years, the only exceptions being some gains for SVT Cobras. The quoted value is down 5 percent over the past five years. This stands in stark contrast to Fox-body (1979-93) Mustangs, the median #2 value for which is up 132 percent over the past eight years and for which buyer interest is higher than ever.
Demand for nostalgia…
We've observed before that as younger buyers continue to enter the hobby, they are often drawn to the cars from their youth: the 1980s–2000s. Even so, C4 Corvettes and fourth-gen Mustangs aren't exactly popular with the kids. Demographic data shows that buyer interest for the Mustang only skews 2 percent younger than for the market as a whole, and interest for the Corvette actually skews older. Baby boomers account for 50 percent of the quotes we see for C4s, even though Boomers make up just 38 percent of the market. Meanwhile, half of the quotes we see for Mk IV Toyota Supras and FD RX-7s come from millennials. Different strokes.
…but don't forget about supply
New blood in the market is clearly gravitating toward imports. That's one explanation for why the imports are going up and the domestics are sitting still. Let's also consider production numbers. Chevrolet sold between 20,000 and 24,000 Corvettes every single year from 1990–96. Ford sold anywhere from 29,000 to 63,000 Mustang GTs each year from 1994–99. Japanese automakers, meanwhile, had unfavorable exchange rates to contend with in the '90s and it was hard to price their high-performance cars competitively. The RX-7, for example, went from a $32,500 base price in 1993 to $37,800 in 1995, more than the Corvette's MSRP. It was dropped from North America after that year and fewer than 15,000 RX-7s sold here. The Toyota Supra Turbo ballooned from a $39,900 MSRP in 1993 to over 50 grand by 1996; tough sell for a car with a Toyota badge.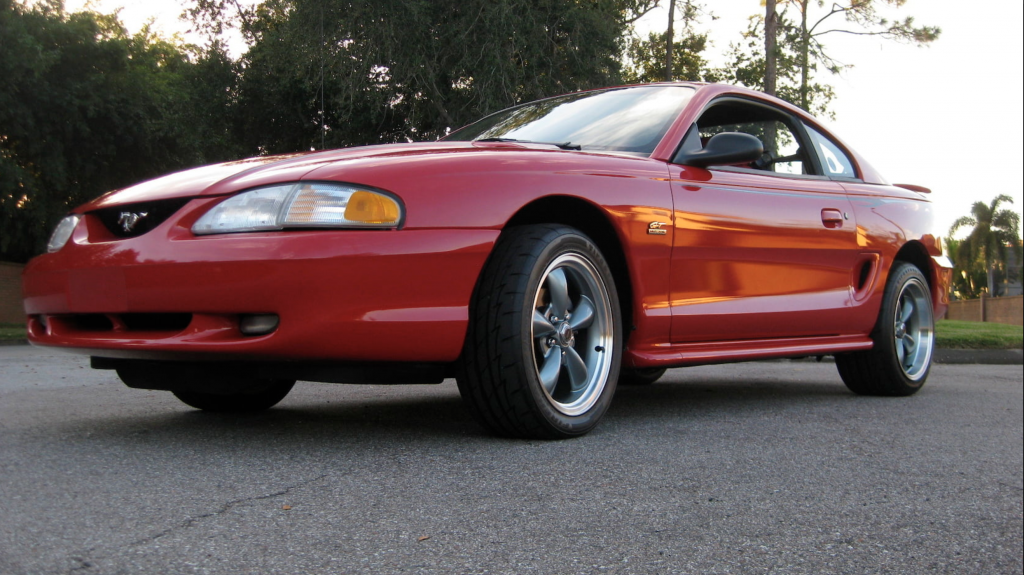 The most MK IV Supras sold in the U.S. in a year was 3400, in 1994. The Miata was, of course, a lot cheaper (original MSRP of around $18,000) and at the dawn of the 1990s was in a class of its own in terms of affordable roadsters, but significantly more Americans bought V-8 Mustangs. Factor in all the tuner cars that got raced, modified, drifted to death, etc., and we're seeing a small number of cars chased by new enthusiasts who entering the market for the first time. The supply of '90s Corvettes and Mustangs, by contrast, is ample.
Japan's golden age was America's grunge era
It's also important to consider the era in which these cars roamed the road. The exotic, tech-heavy designs like the Honda NSX or Mk IV Supra came from those heady days when Japan's bubble economy had yet to burst. But burst it did, and although many of the most exciting cars on sale in America in the 1990s were coming from Japan, this trend didn't last into the New Millennium. Japanese sports cars just weren't as ambitious in the 2000s. Look at an RX-8 compared to a late RX-7, a Mk II Toyota MR2 Turbo compared to a 2000s MR2 Spyder, or a 300ZX Turbo compared to a 350Z. They failed to captivate the Gran Turismo generation in the same way, meaning that the 1990s was something of a golden age for Japanese sports in the same way that the late 1960s was a golden age for American muscle cars.
Speaking of American cars, the 1990s was very much not a golden age for them. Back to Mustangs and Corvettes specifically: their performance was good but not revolutionary, their styling wasn't universally loved, and anyone who has heard the squeaks and rattles of an old C4 can tell you about GM build quality in the '90s. Unlike their Japanese rivals, the fourth gen Mustang and C4 Corvette were supplanted by better, more popular cars. The fifth gen Mustang that came along in 2005 brought old school styling and a significant bump in performance. The C5 Corvette (1997-04), while not the prettiest thing on four wheels, is an objectively better car than the C4 in almost every way. And in today's market, you don't have to stretch the budget too far to get the later models. The median #2 value for a base fourth gen Mustang GT is $11,800. For a 2005-14 Mustang GT it's $17,800. The median #2 value for a base C4 Corvette is $16,400. For a C5 it's $21,300.
There is one American car from the era that isn't so sleepy on the market, and that's the 1993-02 Pontiac Firebird. Its median condition #2 value is up 34 percent over the past eight years, with some special models like SLP Firehawks up over 50 or 60 percent. Remember, though, that the fourth gen Firebird was the final Firebird, and a last hurrah for Pontiac's pony car, which lends credence to our theory that "last of their kind" cars can be especially collectible.
Performance per dollar
This is all a long-winded way of saying that American cars from the Seinfeld years are some of the few choices still out there that truly offer good value for the money, even as just about every other modern collector car that is supposed to be "affordable" only gets more expensive. A C4 Corvette isn't half as good or half as fast as an E36 M3 or a 300ZX Turbo, but at the moment it's half the price. So if the muscle/cash equation is your defining criterion, consider buying American.