This article originally appeared in Hagerty Drivers Club magazine.
A sullen and largely drunk crowd greeted drivers Jim Richards and Mark Skaife as they mounted the podium at the 1992 Tooheys 1000 in Bathurst, Australia. Hours earlier, Denny Hulme, the 1967 Formula 1 world champion, had suffered a heart attack and the New Zealander died at the wheel of his BMW M3. Then, an epic downpour cut short the 1000-kilometer enduro near the end as cars careened into the walls and each other. Richards' and Skaife's leading Nissan Skyline R32 GT-R was one of the crash victims, slotting local favorite Dick Johnson into an apparent win in a Ford.
A Skyline had trounced the locally made Fords and Holdens the year before, so fans were primed to celebrate the return of Aussie pride. Instead, because the Nissan was so far ahead at the red flag, the officials declared it the winner. Boos thundered and beer cans flew. "I thought Australian race fans had a lot more to go than this—this is bloody disgraceful," Richards snarled from the podium. "You're a pack of arseholes!"
As with so many automakers going back to Henry Ford and his "999" oval-track racer of 1902, Nissan had set out to build an engineering marvel to win races and to heap glory upon its name. Calling fans "arseholes" probably wasn't in the brief. But power often provokes more fear and resentment than awe. And, for a brief moment exemplified by the Nissan Skyline R32 GT-R, Japan seemed to have all the guns.
"From the front, it's all puffed guards, fat paws and squinting eyes," marveled Australian motoring writer Ewen Page for Wheels magazine in 1991. "It is, as some would say, one tuff muther." That's because the GT-R had been created to rule what was then the dominant form of international stock-body racing, the FIA Group A class, and it looked the part. "When it rolled onto the tarmac for the first time at a racing meeting," reported the magazine Sports Car International at the time, "fear met imagination with a combustive swirl in the mind of a mechanic, who remarked coolly, 'There it sits—Godzilla.'"
Australians get the credit for the Godzilla nickname, allegedly hated by Nissan's management. It was apt in so many ways, though. The mythical film creature was supposedly a lizard or dinosaur altered by atomic radiation. The Skyline, too, was a freak of science, an undistinguished Japanese recast of a Chevy Monte Carlo that disappeared into the same lab that built the Bionic Man. Unlike most lizards, which have eyes on the sides of their heads, Godzilla's peepers face forward, the better with which to see both adversaries and the future. Godzilla, the car, looked over the horizon with its multitude of computer-controlled performance widgets with jazzy acronyms like ATTESA ETS, Super HICAS, and RB26DETT.
(For a crash course in Skyline-speak, click here.)
And, like Godzilla, the GT-R did its stomping and fire-belching mostly at home. It was a product of Japan's supercharged '80s tech culture and, ultimately, a prisoner there, never officially exported to any market except for the few that dribbled out to Hong Kong, Singapore, Australia, and New Zealand. It won every Group A Japanese Touring Car race, all 29 events, from 1990 to 1993, and won the Bathurst 1000 twice before Australia banned it from its preeminent race. However, in most places outside of Japan, it is an orphan and a curiosity, a stranger wandering in strange lands. Which, of course, makes it incredibly sexy and desirable, especially to the millions in Gen X, Y, and Z who grew up piloting GT-Rs in gaming simulators.
Hagerty added the R32 Nismo Edition pictured here to its collection a few years ago because it is 100 percent a youth car, an object of fixation by multitudes who often couldn't give a wet slap about a Duesenberg, a Shelby Cobra, or other traditional lust magnets.
"You'll be at a cars and coffee event, and a dad will pull up in a brand-new Ferrari with his kid, and the kid will jump out and be like, 'Hey it's a Skyline,' and he doesn't care about the Ferrari."
So said Sean Morris, who runs Toprank Importers in Cypress, California, a shop that specializes in importing, certifying, and selling older Skyline GT-Rs. A number of his customers recently were older collectors who snapped up a GT-R not because they craved one, but just to have one car in a collection of blue-chip classics that their kids are excited about, Morris said. "For guys used to paying a lot more for stuff, $50K, $60K for a car is nothing."
To see if a real R32 GT-R really was all that—as well as to belatedly celebrate the car's 30th anniversary—we shipped the Hagerty collection's gunmetal gray '92 R32 Nismo out to California. We trucked it all the way from Michigan so it could roam mountain roads that echo the coiling ribbons in Japan's Gunma prefecture, where the country's touge driving and drift scene was born. And we sent it to cruise a few cars and coffees to gauge reactions among a jaded lot that is so not easily impressed, accustomed as they are to being flaunted at by L.A.'s legions of climbers, wannabes, and arriviste.
We started by aiming the Skyline up L.A.'s own skyline drive, called Angeles Crest or, on road maps, California State Highway 2. Since the pandemic, a group of hairpin hounds and responsibility avoiders have been meeting informally on Friday mornings in the parking lot of a roadhouse called Newcomb's Ranch, about 30 boisterous miles up. Somewhere along the line, this utterly unplanned gathering acquired the name Good Vibes Breakfast Club, no doubt because everyone needed some good vibes in the depths of pandemic isolation. Despite the name, there's no breakfast—Newcomb's closed in March 2020 and has been put up for sale. The windows remain dark and the diner's mediocre chili is now desperately missed by the knee-draggers and gear jockeys who have made the place a destination for years (though on Fridays somebody usually brings enough doughnuts to go around).
The R32 feels custom-tailored and 3D-printed for underground events like Good Vibes. The flog through the canyons asks everything from the car, from its twin-turbo 2.6-liter inline-six to its all-wheel drive to its electronic rear differential to its four-wheel steering. And the Hagerty R32 answered, with a planted, stable security despite rolling on ancient moaning tires in desperate need of replacement. Once you work up the nerve from the right seat and with the shifter in your inexperienced left hand to tackle corners at sweat-breaking speeds, the GT-R knuckles down and gets to work, eating the asphalt under command of direct if insulated steering and progressive, fade-free brakes. This is no Japanese Monte Carlo.
Once we arrived at Newcomb's, the GT-R handily polished off its second duty of the day: making us look cool. A crowd dressed in fashionable skinny jeans and waxed canvas jackets gravitated toward it like iron filings around a magnet. The exotic Skyline seems small and delicate next to the bulk of Good Vibes' turnout, which is late-model Porsches and BMWs inflated to modern, five-star-crash-rated pudginess.
"Even in LA's unique car market, where even the rarest cars become oversaturated quickly, I still do a double-take when I see an R32—I just can't help it." So said Leo Mayorquin, an L.A. car-scene regular who routinely posts extensive photo galleries of meets under his social media handle, CNC Pics. "It's the old story: Race on Sunday, sell on Monday—then sell again 30 years later to young and old because history remembers how dominant you were."
The name "Project 901," as it was called within Nissan when it all began late in 1984, supposedly had a very simple meaning. It signified "1990s, project number one." Or it meant, "1990s, in which Nissan will be number one." People who claim to be experts disagree. Either way, "it started from humble beginnings," said Morris, who inherited his interest in Japanese automobile arcana from his father, who ran a thriving business exporting Chevy Astro vans and other American cars to Japan. "Take a regular sedan and go racing with it. To a point, it's an underdog kind of story, the underdog punching above its weight and doing well. It was a lot of car for the time."
The task of fulfilling Nissan's ambition to catch and even overtake Honda and Toyota in technology was handed to Naganori Ito, a protégé of the original Skyline chief engineer, Shinichiro Sakurai, who had become ill and could no longer work on the project. Going back to the 1960s, "The Skyline was Mr. Sakurai's car and I thought it would end with Mr. Sakurai," Ito said years later in an interview translated from Japanese. "That is what I thought, so I never wanted to take over. Once Mr. Sakurai fell ill, however, someone had to."
As an engineer with Prince Motors, which merged with Nissan in 1966, Sakurai had been present at the rebirth of the Japanese auto industry as something other than the builders of postwar utilitarian mules. Prince itself was a descendant of the Nakajima Aircraft Company, which had built fighters and bombers during the war, so from the frumpy Prince Skyline in its early days down to the R32, the DNA is laced with the best of Japanese vanguard engineering.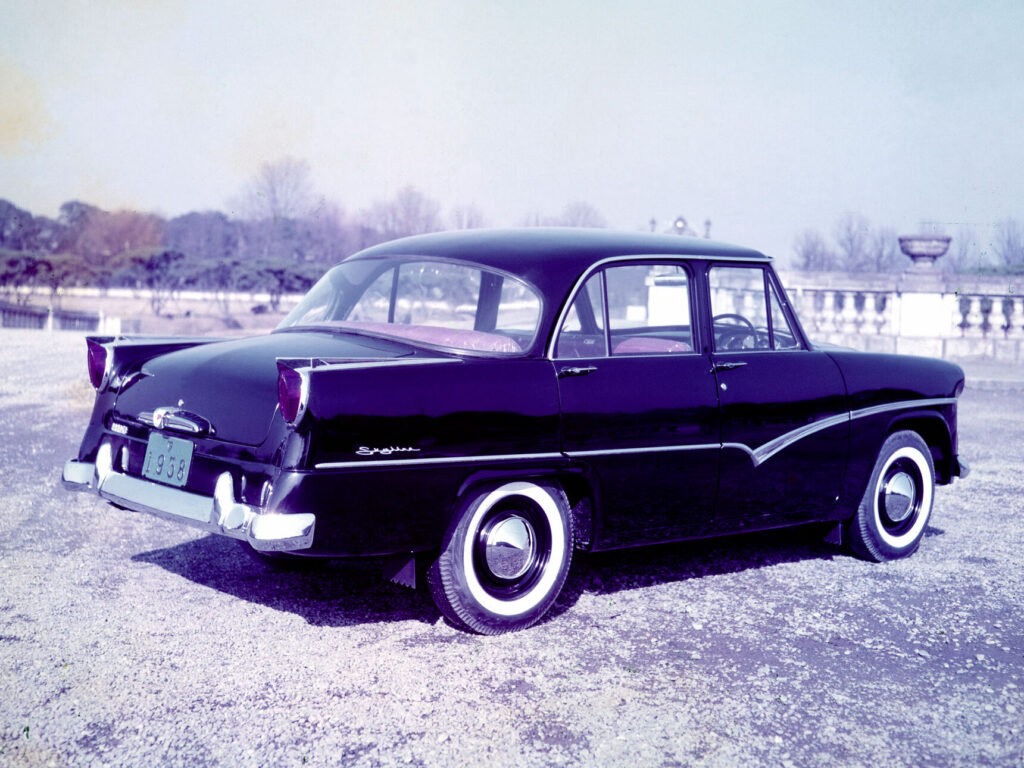 Eager to grow its domestic industry quickly, Japan blatantly got out the tracing paper. The first Prince Skyline in 1957 looked like a '56 Plymouth that had shrunk in the wash, down to little chrome tailfins tacked to the rear haunches. As the '60s dawned, the country looked increasingly to Europe in design with the hiring of Italian stylists such as Giugiaro, Pininfarina, and Bertone, as well as in engineering, with the embrace of smaller, higher-revving engines, overhead cams, and sidedraft carburetors. Sakurai's time at Prince and then Nissan was heavily influenced by the worldwide craze for motor racing. The freshly completed Suzuka Circuit hosted the first Japanese Grand Prix for sports cars in 1963. Sakurai entered the following year with a Skyline sedan into which he had squeezed a six-cylinder in place of the stock 1500-cc four, and the seed was planted for the Skyline epoch.
As it was merging with Nissan, Prince introduced the Skyline 2000GT which took its cue from the Pontiac GTO by offering the company's largest engine at the time, a 1990-cc overhead-cam inline-six from the bigger Gloria, in the more compact Skyline body. The third-gen C10 "Hakosuka" and fourth-gen C110 "Kenmeri" Skylines of 1968 and 1972, respectively, especially the 160-hp GT-R versions, are as rare today as they are hugely collectible as the earliest GT-Rs. Some have gaveled at auctions for over $200,000. Yet, even greater things were to come.
"We thought about what was expected of a Skyline," recalled Ito of his earliest planning sessions on the R32. "Historically, there were many Skylines along the way. We faced different situations. Some wanted the rear seats to be more spacious—the dealer would say that it was not as spacious as the [Toyota] Mark II and they were troubled by it, so we would make the car bigger. Then someone would say that it was bigger and heavier now and did not run as well. Turn it back into a Skyline, they would say."
When Ito took over, Skyline sales were down and Japan had just yielded to international pressure to revalue its currency, causing prices to soar overseas and sales to drop. Thus, development money was tight and export sales were off the table as the new car was expected to be way too expensive for pay-by-the-pound America. Even so, Ito wanted to hit it out of the park with a Skyline that would stun everyone.
"We wanted to surpass the highest-performing cars of Europe. In order to do so, we were going to make the vehicle smaller and give it the most up-to-date body," said Ito. Racing would be back on the agenda, which meant more power and a better chassis to deliver it. Which led Ito and his team to consider driving all four wheels.
"A normal four-wheel drive has the problem of understeering, I knew that," said Ito. "Also, there was no record of a car with a four-wheel drive performing well on the circuit. The Porsche 959 was a four-wheel drive, but it was not doing well. Rally cars need to be four-wheel drive, but for circuit races, there just was no record of a vehicle with a four-wheel drive having done well."
Another problem: Racing regulations restricted Nissan's choice of tires. Out of the box, the R32 GT-R came with 225/50R-16 Bridgestone Potenza R71s, or less than 9 inches of tread at each corner of the 3400-pound car—roughly the same size tires as Honda fit to its 2010 Accord sedans. To get around the problem of the car's small feet, Nissan needed to draft the front axle for duty, but without destroying the car's handling. The solution was computers.
ATTESA ETS is a ridiculously long but very Japanese acronym that stands for "Advanced Total Traction Engineering System for All Terrain," referring to its all-wheel-drive system, and "Electronic Torque Split" the name of the car's rear differential, a sort of robotic Posi-Traction. The short brief is that the GT-R is rear-drive with the ability to vary torque left to right as needed, until the computer senses the need for torque up front. It deduces that from the readings of three electronic accelerometers, which are basically wired-up pendulums that swing back and forth as the car accelerates, brakes, and builds lateral g-forces in corners. A hydraulic pump above the front differential provides pressure to squeeze a wet-clutch pack at the back of the transmission that diverts torque to a prop shaft going forward.
Deciding exactly when you want the front axle to come alive is the black art of all-wheel-drive tuning. Too much and you make understeer, or the tendency of a car to plow straight ahead even though the wheel is turned. Not a racer's friend. Nissan thus tuned the system to engage the front axle only for straight-line stability and wet-weather traction.
To further reduce understeer, the R32 runs a hydraulically operated rear-steering system called Super HICAS, or High Capacity Actively Controlled Steering, which at speed toes the rear tires a few degrees in phase with the fronts for sharper steering response. At slow speeds, it turns the rears in the opposite direction of the fronts for a tighter turn radius, a welcome feature in Japan's densely packed cities. However, many R32 GT-R owners strip off the HICAS system, says Morris, because its extra hydraulic fittings and ball joints don't age well, and they don't like the somewhat rubbery feeling of the rear end doing its own thing in corners. We did not find that to be the case (though we wouldn't swear on a stack of Bibles that the system was actually working on our GT-R).
A small gauge on the GT-R's dash tells you how much torque the front axle is receiving. Most of the time it remained at a disappointing zero, even when we were doing our best impersonation of the late Ken Block—which, granted, isn't very good. Morris explained that Nissan understood that you actually want less torque up front when trying to turn, because torque just causes the wheels to go straight. If we could get the GT-R on a wet or snowy surface—no easy feat in sun-drenched L.A.—or look down during hard accelerations, we would see the needle twitching, though the R32's now-ancient system operates with a certain on-off quality.
Ito explained that ATTESA was only in the R&D phase at Nissan when he decided to grab it for the production R32. The developers worried that the untested system wouldn't hold up to customer pummeling, so they resisted using it. "If things did not work out, all the departments were afraid that they would be blamed and they tried to avoid going forward. But I said, 'Let's give it a try,' and I would take responsibility if things did not go well," he recalled. "Whenever you try something new, you need resolve." The compromise was to tune the system so that it only sent modest torque forward and operated only when necessary, to prolong its durability. As Nissan became more comfortable with ATTESA, successive R33, R34, and the U.S.-bound R35 generations of the GT-R became more sophisticated.
In contrast, the iron-block RB26DETT inline-six engine (the D stands for dual overhead camshafts, the E for electronic fuel injection, and the TT for twin turbo) is way overbuilt, with hefty crank journals and piston oil squirters for cooling. And way oversquare in true racing fashion, its 86-millimeter bore dwarfing its 73.7-millimeter stroke, meaning the torque is kind of thin until about 3000 rpm. Once the lightweight ceramic turbine wheels spin up—each compressor feeds three cylinders a max of 8 to 9 psi through a lovely array of individual throttle bodies—it's a gripping ride to the 8000-rpm redline as the ultra-smooth inline-six whooshes out a turbine-like whine. The Japanese have been in love with the inline-six since the 1940s, and we love them for it.
Let's not overstate it, however. Magazines at the time pinned the 60-mph sprint for a stock R32 at about 5.5 seconds. On the mountain roads, the R32 feels quick, but a new four-cylinder rental Mustang would spank it in the quarter-mile. Hey, things are supposed to be better after 30 years. Back in the day, Japanese automakers held themselves to a voluntary power limit of 280 PS, or 276 horsepower. So that's what a stock GT-R makes—as far as you know. Most experts agree that R32 GT-Rs rolled out of the plant with around 300 horses, and tuners have since doubled that figure without major surgery to the engine. But monster R32 builds aside, the GT-R isn't about drag-strip times, it's about balance. It's a crouched bushido warrior rolling on the balls of his feet, and those guys are plenty dangerous if not particularly beefy.
Nissan provided plenty of fodder for future Skyline nerds to chew over, spinning out low-volume variants of the R32 with subtle differences such as the Nismo (no ABS), N1 and N1 V-spec (different turbos, wheels, brakes, and body kit), of which there were versions 1 and 2 (wider tires). For the roughly $100,000 you would pay for the car pictured on these pages, which is a 1992 Nissan Skyline GT-R R32 Nismo purchased in Florida a few years ago, you can buy all manner of machines built in the intervening three decades that will kick its ass six ways from Sunday. They will have modern safety gear and be serviceable with parts available at your local dealership, and they will be easy to register and smog (Toprank charges $10,000 to California-certify a GT-R).
But they will not be Godzilla, King of the Monsters.
***
This article first appeared in Hagerty Drivers Club magazine. Click here to subscribe and join the club.