This story originally ran in the November-December, 2020 issue of Hagerty Drivers Club magazine.
Sometime in the late 1930s, kids began building cars from basically nothing, machines one step removed from jalopies but made to go as fast as they could for as little money as possible. Most often this was accomplished through youthful ingenuity, burgeoning fabrication skills, and a keen sense of which junkyard parts to snag. The result was an entirely new, individually tailored automotive genre: the American Hot Rod.
Until the 1960s, especially in Southern California, hot-rodding was the hotbed of innovation. For too long, however, hot rods were viewed by many as loud, troublemaking race cars for grease monkeys, ne'er-do-wells, and hoodlums. Thankfully, there has always been an equally vocal group of diehard hot-rod folks working to protect the movement's legacy. One of them is collector Bruce Meyer, who refused to quit until he finally got a hot-rod class on the lawn at Pebble Beach, in 1997. That single act of recognition not only helped to make being a hoodlum socially acceptable, it led to a limelight that encouraged the discovery and proper restoration of more significant period-built hot rods.
It's these original hot rods of the 1940s and '50s that often prove to be the most valuable, especially if they were famous in their day—Hot Rod magazine cover cars, important show winners, cars built by big names, dry-lake record-setters, etc. Famous examples include Meyer's Doane Spencer–built '32 Ford highboy—arguably the most significant of all hot rods—and the '29 Ford roadster built by Dick Flint. These are six- and seven-figure machines that sit at the top of the heap. But they aren't alone up there. By the early 2000s, historic hot rods (and cars emulating them) started showing up at auctions and bringing eye-opening prices. It was no shock to those in the know, who had long been quietly padding their European sports car collections with significant rods.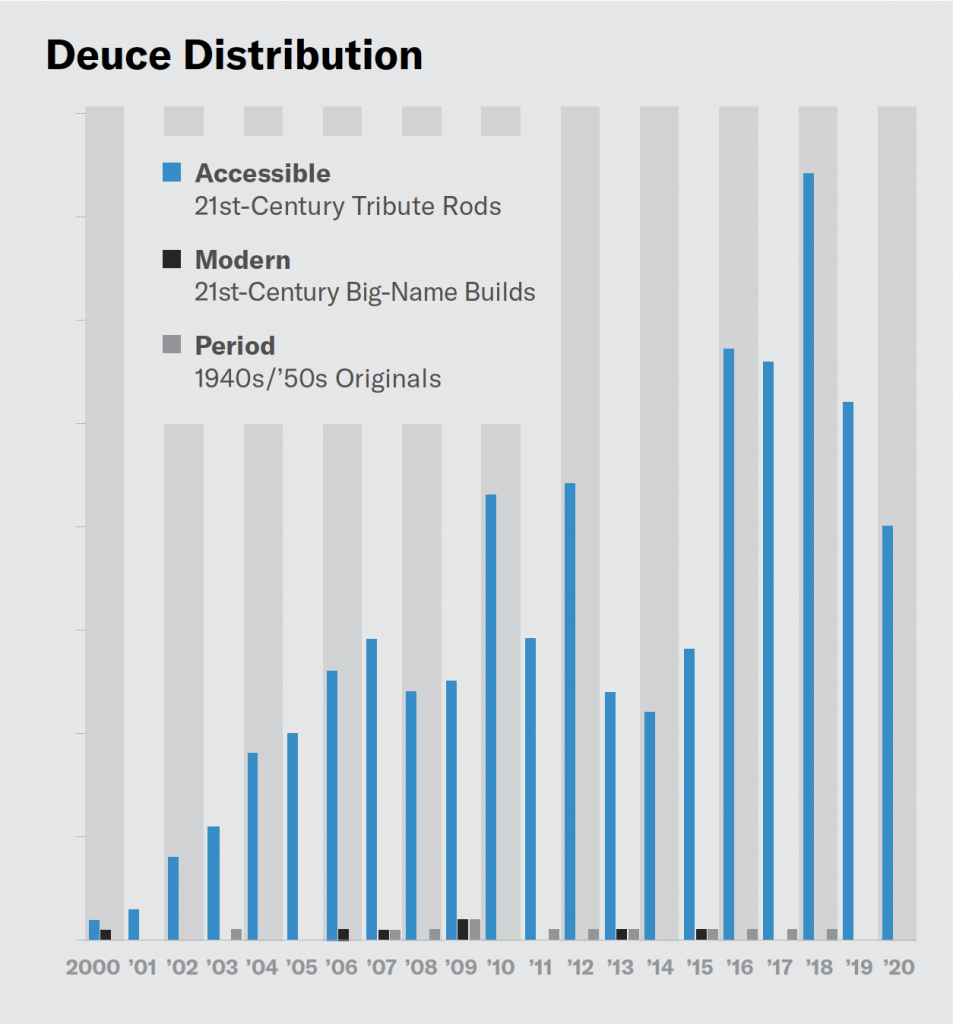 Predictably, as the market has matured, buyers have, too. The supply is finite, and informed buyers know what they want, so fresh-to-market, well-documented period cars do well; cars that are lesser known or less significant often bounce around the auction circuit looking for their forever home.
Depending on what era strikes your fancy, there are historic hot rods that speak not only to the period in which they were built but to those who remember them. Take ZZ Top's '33 Ford "Eliminator" coupe, which introduced the MTV generation to hot-rodding in the 1980s. Or take any number of Boyd Coddington, Chip Foose, or Roy Brizio machines that followed. As with vintage builds, a big name attached to a car is hard to replace. In many cases, a new build from the likes of Brizio can easily be worth more than a period-built car from an unknown builder.
There are caveats, however. As highly individualized machines, not every hot rod has an audience beyond its builder. Nor does it necessarily stand the test of time. Alloy-encrusted cars of the 1980s and '90s "Billet Era" haven't held up as well as most vintage rods have, for example.
Worth noting are the thousands of '32 Ford roadsters built in the modern era using new reproduction frames with new bodies, often fiberglass rather than steel, bolted to them. Their values rarely exceed the cost to build them, so it's easy to find a "new" '32 Ford with coilover shocks, a modern V-8, and an automatic transmission for under $30K. Even a new high-end build that brings well into six figures often falls far short of the build cost.
Regardless of market price, there is an incredibly high intrinsic value in any cool hot rod, whether it's a famous period piece with Pebble provenance or one built by a dedicated father-son team and a Speedway Motors catalog. After all, that's what hot-rodding is about—crafting something unlike any other car on the road. These days, it's also about honoring this once-tiny underground movement started by kids who just wanted to go fast on the cheap. It really did change our world for the better, and you can't put a price on that.