The collector car market is clearly having a moment. Consider that in early 2019 you could have bought a nice Nissan 300ZX for a bit more than $20,000; today that car is worth nearly $50k. More or less the same story holds true across a variety of price ranges and segments—unprecedented growth in a short time. Much ink has been spilled about what's driving this appreciation, from pandemic-fueled boredom to the emergence of online auctions to the simple fact that in 2022 certain people will pay wild sums for anything (Bored Ape NFT, anyone?). There's also been plenty of speculation about when this party might end and how bad the hangover could be.
Yet this focus on the present belies what is for most car collectors a more significant story: Values have been generally marching upward, albeit at a much more gradual pace, for more than 20 years. Even major economic crises have presented little more than speed bumps. Auctions tanked during the Great Recession in 2009, but were again setting sales records by 2011 (for context, the stock market didn't hit pre-recession highs until 2013, and new-car sales didn't fully recover until 2014). The Hagerty Price Guide tells the same story. More than 3,000 cars—some 10 percent of what the guide covers—have never declined in value from one release to another.
The cars we're looking at here take that a step further. They have been actively increasing in value longer than any others. Come pandemic or recession, these vehicles have continued to appreciate every time we check on them for a price guide update.
Mind you, most of these cars have not experienced surges anything like what we've observed for that 300ZX. Which brings us to the next overlooked story: Most classic cars—and most classic car collectors—are not about turning big profits. The goal for most of us is simply to buy something, enjoy it for some time, and then be able to pass it on to the next caretaker without losing our shirts. If there's a small surplus to plow into the next toy, all the better. Safe to say, that will continue to be an achievable goal even when our current moment eventually comes to an end.
Now, the vehicles with the longest win streaks:
2001 Jeep Cherokee (up since September 2014)
The Jeep Cherokee had a spectacular run as a new car—2.5 million sold over the course of more than 15 years on the market. It lasted through three companies (AMC, Chrysler, then DaimlerChrysler), and essentially created the compact SUV segment that dominates sales charts to this day. Its design, overseen by the great Dick Teague, is a timeless distillation of the truck aesthetic that sits right up there with the original Range Rover.
Makes sense, then, that the Cherokee also has staying power as a collectible vehicle. Examples from its final year of production, in particular, have been steadily picking up steam since 2014. Appreciation accelerated starting in 2020 (something we predicted) and continued straight through the dark days of the pandemic. Look for one with Jeep's torquey, impossible-to-kill 4.0-liter and, better yet, a stick shift.
1967–1974 MG Midget MkIII (up since September 2016)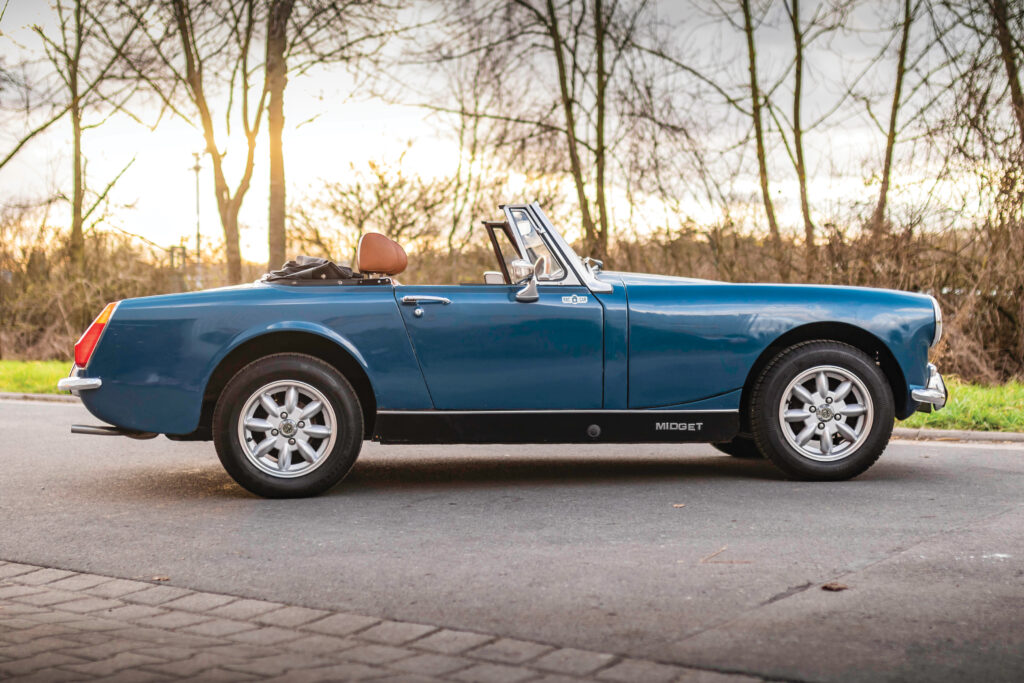 The Midget MKIII, introduced in the middle of 1966, was a throwback even when it was new. As MG's entry-level sports car, it lacked "amenities" such as a synchronized first gear. Deep into the muscle car era, its detuned Mini Cooper S motor made 65 hp. None of that mattered to enthusiasts then—MG sold more than 100,000 MkIIIs in the United States—nor does it today. Midget prices have been creeping up since 2016. Expect that to continue in large part because younger collectors dig them: nearly 60 percent of the people calling Hagerty for a quote on insurance for a Midget are Gen–Xers, Millennials, and Gen–Zers.
1986–1995 Suzuki Samurai (Up since May 2016)
You're either the sort of person who gets the Suzuki Samurai or you're the sort who asks questions like, "Is 63-hp enough to get me up a hill?" and "Is it even safe?" We're with the loons in the former category. Editor at large Aaron Robinson took one through Utah's Canyon country in 2020, and then we named this cutest of utes to our 2022 Bull Market list.
The Samurai has a lot going for it—and not just the Tonka-truck-meets-anime styling. With its short wheelbase, light weight, and a five-speed manual, it's the sort of slow car you can drive at full tilt in everyday traffic, the local constabulary non-the-wiser to all the fun you're having. And simply by virtue of being a 1980s Japanese vehicle and a vintage SUV, it sits in the center of the "stuff younger enthusiasts dig" venn diagram. In other words, don't be surprised if the little Samurai—which edged close to $17k in our latest price guid update—keeps on climbing.
1969–1972 Alfa Romeo GT 1300 Junior Zagato (Up since January 2019)
Whereas many of the cars on this list have been making the slow transition from common used car to collectible, this Alfa was always destined to be part of the classic club. Just over a thousand were built, and although its mechanically close to the massed-produced GT Junior on which its based, the body comes from famous coach builder Zagato. And, hey, it's Italian and born in the 1960s. Given those credentials, one might wonder how they were ever affordable. My guess: The styling. With its sharp creases and Kamm tail, the 1300 Junior Zagato looks more like a Radwood-era car than a 1960s classic. Nevertheless, this Alfa has been slowly but surely creeping upward since 2014, and has recorded uninterrupted gains—with no flat periods—in every price guide update since 2019.
1999–2001 Nissan Skyline GT–R V-spec (Up since May 2019)
Disclaimer: We haven't been following these as long as we have the other cars on this list. Reliable price guide data on the R34 goes back to just 2019—right around the time the drip of examples coming into the United States on show-and-display titles turned into a trickle. Ah, but what a run it's been. Values for these GT-Rs—arguably the most coveted of the JDM "forbidden fruit" from the past few decades—have been increasing dramatically with each price guide update and even from one sale to the next. Don't be surprised if that happens again this week, as Mecum is offering an R34 associated with Paul Walker at its Monterey auction.