The previous Bid is Right contest is wrapped and alas—we were not the winner of that devastatingly pretty 1974 Alfa Romeo by way of Alfaholics. The comment section buzzed about as heartily the car's bombastic 2.1-liter four-pot; that little Amalfi athlete attracted guesses that ranged as low as $78,000 and as sky-high as $400,000. Not a bad spread, but as evidenced by the expanse of numbers hurled at the preceding contest's 1998 Toyota Corolla, it seems like the cheaper the car, the trickier the guessing. So, in the spirit of sadism, this week's contest focuses on a 1994 Acura Legend—the perfect affordable oddball Japanese coupe to get the discussion rolling.
It's not on the same level as Saab, but the Legend is a bit of a weird one. While the popular first- and second-generation Acura Legend made sense contextually as the premium Japanese automaker's spearhead against the German's sales bulwark, where the hell does the Legend fit in the collector car pantheon? Not as sporting as stablemates Integra and NSX, not quite as cohesive as early 1990s BMWs, and not as luxurious as a Benz makes this Legend a bit of a nostalgia-only play in 2022.
Eh, we're probably overthinking this. It's a 1990s Japanese coupe with a V-6 and a six-speed manual transmission—that alone catapults it to the status of bona-fide classic. Just ask Ludacris; he's proudly championed the merits of Acura's bygone big-body since his purchase of a 1993 Legend in 1999, moments before he became a household name. A fleet's worth of Ferraris, Maybachs, and Rolls have cycled through Luda's garage, but the '93 Legend remains—now a SEMA-fied restomod from Acura itself after a fender-bender in 2015.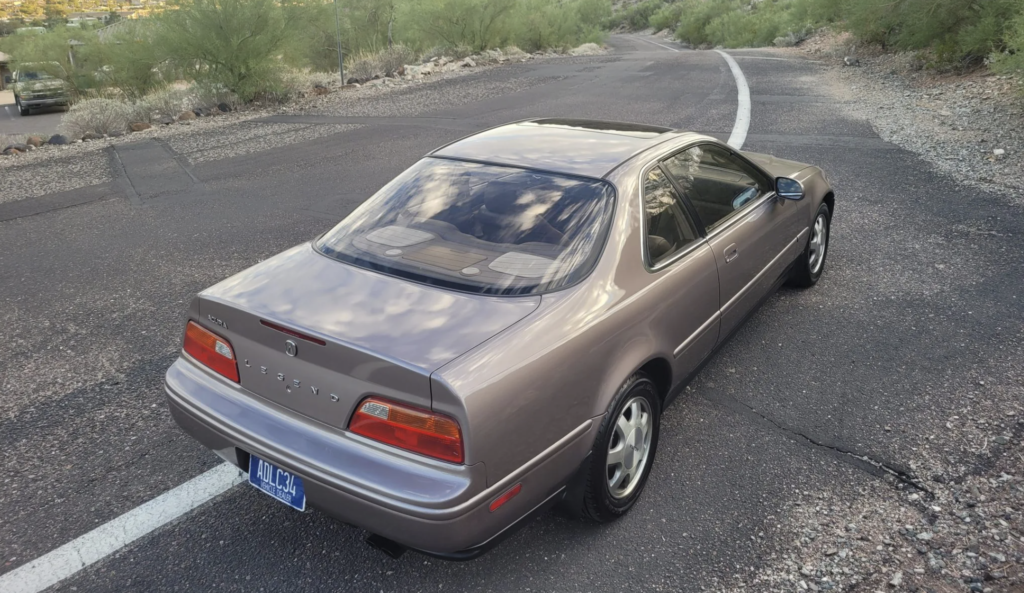 This 1994 Acura Legend coupe is decidedly not as sharp as Luda's updated car, but the coupe's 44,000-mile odometer score is a step up—or, uh, down'—on the rapper's circa 255,000-mile sedan. According to the listing, this car remained with its original Arizona-based owner until sometime earlier this year when it was purchased by the selling party. Like most well-kept desert cars, it's exceptionally devoid of rust, but time spent in the blistering sun and dry environment necessitated some fresh upholstery.
So, how much? That's up for you to decide. We'd suggest your first stop be Hagerty's Valuation tool, but the Legend isn't tracked by our team—yet. Maybe your first move lands you in Bring a Trailer's archives, maybe not. This is our arena, but your game. If you want a shot at the $500 brass ring, throw your best guess as to where the final bid for this clean Acura Legend will land in the comment section below. Closest to the pin without going over takes it all.
Roll out and get guessin'.
House rules:
The commenter who guesses closest to the hammer price without going over wins. (Hammer price excludes auction house fees).
One guess per commenter.
If two people guess the same amount (within a dollar) the earlier guess wins.
Commenters must provide first and last name in addition to email address.
We will close the guessing on Dec 13 2022 at 2:02 pm est.
Your privacy is important to us, and we'll never sell your information. By providing your email you will receive the weekly Insider newsletter, and you can opt out at any time.
You can read the full rules here.