Hagerty's UK team is on the ground for the Goodwood Revival. For more highlights, head over to hagerty.co.uk.
The unexpected stars of the 2021 Bonhams Goodwood Revival Sale were a pair of pre-war Bentleys and an Iso Grifo that had been off the road for nearly 50 years, which sold for more than our Hagerty Price Guide 'concours' value.
Despite needing a significant amount of recommissioning to return to the road, the 1971 Iso Grifo had an extremely interesting history and a fantastic specification. With a single owner from new and under 21,000 on the odometer, it is one of just three later models of the car built in right-hand drive, and one of a handful fitted with a 7.4-Litre 'Can-Am' engine by the factory, as well as other options such as air conditioning and a targa roof. It sold for £345,000 ($476,096), well over its top pre-sale estimate of £250,000 and even exceeding the top Hagerty Price Guide value of £340,000 for a 'concours' example of the standard 7-Litre car.
Similar cars have performed well in recent years—back in 2019, RM Sotheby's sold a 'barn find' 1969 Lamborghini P400S in for £1.24M ($1.59)—and that, too, exceeded our top Hagerty Price Guide 'concours' price. It seems that the value attached to a blank canvas with the right provenance cannot be underestimated.
When compared with their pre-sale estimates, the other two cars that exceeded expectations were both prewar 'W.O.' Bentleys. A 1931 Bentley 4-Litre, fitted with a two-seater body and an eight-litre engine with extensive recent competition history, more than doubled its pre-sale low estimate, selling for £603,000 ($832,133). A 1926 Bentley 3-Litre Tourer, now fitted with a Speed Model engine and once the property of Victor Gauntlet, Chairman of Aston Martin also sold much better than expected. An imposing, usable and visibly well-maintained car, it sold for £230,000($317,397), some £50,000 over top estimate.
But other pre-war racing cars had a harder time. The catalogue's cover stars, an astonishing group of four works 2-Litre low-chassis Lagondas that competed in the 1929 racing season struggled, with only one managing to sell for £178,250 ($245,983), some way short of its lower pre-sale estimate of £200,000. Another contemporary of the WO Bentleys, a Vauxhall 30-98 OE-Type Velox tourer, also fell under its reserve, bidding to £170,000. It seems that the magical allure of the 'Bentley Boys' is still casting its spell; for the remainder of the vintage set, unless with recent race or rally success, the market seems like a challenging environment at the moment.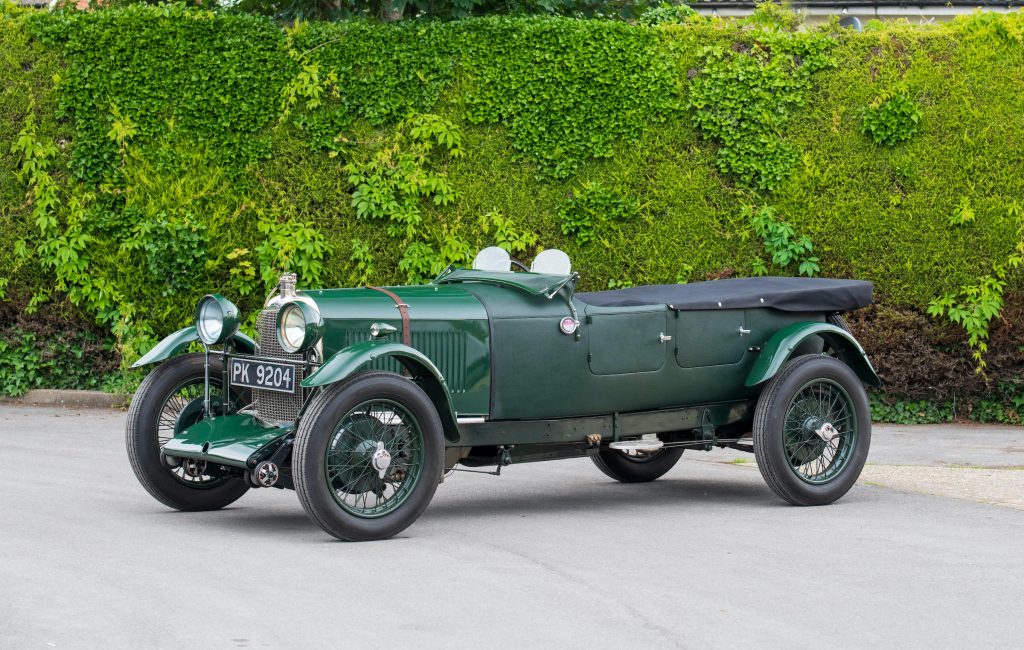 Another star of the pre-sale publicity, a well-known and competitive Jaguar D-Type owned by Valentine Lindsay, also failed to reach its pre-sale estimate of £900,000 to £1.2M, but did find a new owner, for whom it cost £799,000 ($1.1M). For that, it has to be seen as a good buy. Were it an example with no "stories" and period racing history, this could have been worth ten times as much. But the car, although fully assembled by Jaguar in 1956, was then stripped for parts, seemingly to repair another damaged car. The chassis was then built back up into a working car in the 1980s, and later apparently reunited with the original engine. Since then, the car has been constantly improved to a very high level of period specification and very well prepared for historic racing, where it has enjoyed significant success.
Another restoration case didn't fare as well as the Iso Grifo. A Lancia Aurelia B24 Spider America project was offered with an optimistic estimate of £350,000 to £450,000. Up close, the car was a very, very big project for the next owner, and would have required a full rebuild. Even good condition examples struggle to sell at auction—Hagerty's last tracked public auction sale of the model was in 2014—and Price Guide values have been dropping for the last two years . This example, far from the best condition, was a hard sell. Bidding stopping at £255,000 ($351,897).

Modern classics are typically rare at the Revival sale, and this year's offerings were, on average, the oldest we'd seen here in a decade. That said, Bonhams did have one modern star, a 1993 Jaguar XJ220 with just 400 miles from new. Before the sale, Hagerty forecast a high sale for the car and so it proved, selling for £460,000 ($634,794). Of all the public auction sales Hagerty have tracked, this is a record for this model. For context, an XJ220 showing just shy of 7,000 kilometers sold for $472,500 last month in Monterey.
Overall, the auction was a strong one for Bonhams, with the total value of cars sold a shade over £9.98M ($13.77M), a significant increase on the last sale at this event in 2019 where £8.66M of cars changed hands, although it still fell show of the totals for 2012 to 2018. Seventy one percent of the 82 cars that reached the block sold, the best sell-through rate at this particular auction since 2014.
This year's results were undoubtedly helped by the inclusion of the Stan West collection, which started the sale. Stan was a fascinating character; previously having served with the Royal Electrical and Mechanical Engineers, he started a spare parts business called 'VeeWee' in the corner of a Battersea scrapyard in London in 1977 which he grew into GSF Car Parts, one of the country's biggest motor factors. He had a passion for beautiful classic and vintage cars, which he and his in-house mechanic maintained in superb order. When I saw the cars in the flesh at viewing on Friday, the quality was obvious and the bidders agreed: of the 24 cars offered from the collection, all sold (11 with no reserve). Of those, 11 were within estimate and 6 over high estimate.
The Bonhams Goodwood Revival Sale sits in a fascinating position in the British and European auction schedule. Falling later in the season, after Bonhams' typically more flamboyant Goodwood Festival of Speed Sale and their more modest but numerous Beaulieu auction, the Revival catalogue is always an opportunity to find cars that tempt prospective buyers into purchases that they could use the following year, either on the track or on the road. This year has been no different, and I would be very surprised if we did not see a number of the cars sold at this auction back here at Goodwood on track in 2022.