Everybody loves a bargain, whether it's happy hour beers at your local, BOGO at the book store, or a two-fer at your favorite online retailer. Heck, in some jurisdictions, Black Friday has somehow turned into the entire month of November. In this economy, you'll hear few complaints.
There are deals to be found throughout the classic car market as well, and, lucky for us, that includes the performance realm occupied by America's Sports Car. Despite a few eye-watering results in 2023, like the $3.14M record price RM Sotheby's achieved in January for a 1969 ZL-1 convertible, Corvettes have always represented good value for money. After digging into the data from our most recent update to the Hagerty Price Guide, we've determined that these seven Corvettes—one from each generation, excluding today's C8—are the cheapest examples you can buy right now. Unsurprisingly, they hover around base-model territory, but a Corvette is a Corvette, and it's almost impossible to go wrong.
For this exercise, we're focusing on examples in #2 condition (Excellent), which means they drive like new and might even win you a trophy at a regional car show. If there's someone on your "Nice List" this holiday season, now might be the perfect time to shop.
C1 (1953–62)
1956 Convertible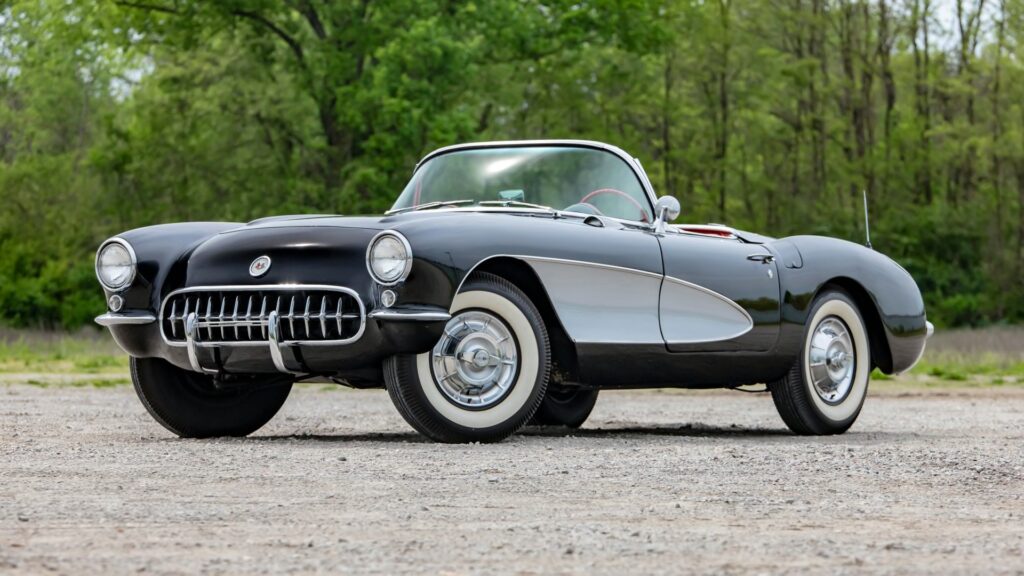 The 1956 Corvette represented a complete overhaul from the models that preceded it, the most notable difference being those gorgeous side coves sometimes set off by two-tone paint. Following the V-8's introduction in 1955, three different 265-cid V-8 configurations were offered in '56, with outputs of 210, 225, and 240 horsepower. The penny saver here is the base car, breathing through a four-barrel carb and putting its adequate power to the back wheels through a three-speed manual transmission. Following a modest rise in prices that began with the onset of the pandemic, prices peaked around April 2022 before settling back to pre-pandemic levels. Today, a car in #2 shape sells for about $70,500. Figure around $60,000 if it's equipped with the Powerglide automatic.
C2 (1963–67)
1964 Convertible
Chevy's 1963 redesign of the Corvette gave us a coupe for the first time, and what a coupe it was; the one-year-only Split-Window Corvette is rightly regarded as one of the most beautiful cars to ever hit the road. The rest of the Corvettes in second-gen lineup were no slouches, either. Open or closed, you can't go wrong. Take the '64 327/250 convertible, for instance. In this configuration, with the optional four-speed manual and single Carter four-barrel, it's sitting at about $64,000, and closer to $51,000 if equipped with the base three-speed manual. It'll never be a match—on the street or the auction block—for its hi-po 327/375 fuelie counterpart ($89,400 for a #2), but you'll hardly care when you're buying million-dollar looks for Silverado money.
C3 (1968–82)
1976 Coupe
The swoopy, pointy, sexy "Shark" Corvette hit the streets in 1968, and though it would trade its chrome bumpers for even more fantastic plastic by 1974, the basic shape soldiered on into the early '80s, by which point more than 542,000 had been produced—roughly equal to total production of C1, C2, and C4 Corvettes combined. While few enthusiasts would ever accuse a '76 Corvette of being potent, a nicely kept 180-hp L48 coupe is a joy to own. They also take us into affordable, sub-$20K territory, with an average sale price of $19,500. That may seem cheap, and prices appear to be leveling off as we end the year, but keep in mind these cars have gained nearly 64 percent in value since 2018, which means that if the best time to buy one was five years ago, then certainly the second-best time is today.
C4 (1984–96)
1986 Coupe
When it arrived, the fourth-gen Corvette was a revelation in every way, a world-class performer underpinned by an all-new chassis, with a funky digital dash to rival the finest Texas Instruments calculator in the land. After debuting with 205 hp, base cars quickly got a bump to 230, and for 1986, a convertible model returned to the lineup following an 11-year absence. It's the '86 coupe we're interested in, however, and at around $17,900, it's the cheapest Corvette of them all. But for how long? The five-year trajectory on these cars has seen them gain 50 percent, and they're still headed up.
C5 (1997–2004)
1997 Coupe
Until mid-2021, fifth-gen Corvettes represented one of the best bang-for-buck ratios in the performance-car world. Today, at an average #2 price of $26,400, they've gained the attention of collectors, but they're still a solid deal. And with 345 horses on tap from that terrific LS1 V-8, a near 50/50 weight balance, and 30 mpg possible on the highway, there is little this Corvette can't do. The '97 model year was coupe-only, and the automatic transmission was standard, so these days it generally means a 10 percent discount. If you prefer two pedals, it's a good way to save yourself some dough. If you prefer the wind in your hair, however, maybe consider our next pick.
C6 (2005–13)
2005 Convertible
Prices have cooled in 2023 on all but the very best '05 Corvettes. Thankfully, a #2 condition car is not the very best, so a convertible at $32,000 is a stellar deal. Especially when you consider the 400-hp LS2 lugging it around. In fact, the kind of performance this car delivers for the price is almost unfair; an '05 Porsche 911 convertible in similar fettle will set you back $55K, for example. There's no intermediate shaft bearing issue to fret over in the Corvette, either. Win-win.
C7 (2014–19)
2014 Stingray Coupe
Before Chevy made the dramatic switch to a mid-engine layout for the C8 Corvette, the seventh-gen car gave enthusiasts everything they could want from a front engine/rear-drive layout. The car featured a 455-hp LT1 V-8 mated to an all-new seven-speed manual gearbox that offered rev-matching, a carbon fiber hood and removable roof panels, plus a more premium interior (finally!) and a full suite of gizmos designed for coddling and convenience. We don't currently feature these in the Hagerty Price Guide, but you can get yourself into one for around $48,600, and when compared to some of the very latest, very snoozy new-car offerings, why wouldn't you?