Some of my receipts from Monterey: $6-a-gallon for regular unleaded, $6 for a can of soda at an auction house, and $7.50 for a hard-boiled egg(!) at the airport. The place 'ain't easy for bargain hunters. What's true for room, board, and fuel during Car Week was doubly true at the auctions this year, which set records for total sales and million-dollar cars. They also confirmed the ascendence of several cars that had, until recently, been the province of budget-conscious enthusiasts—$56k for a Honda Z600, anyone?
Yet even amidst the ritziest auctions and in a red-hot market, there were deals to be had. In fact, roughly a quarter of the cars Hagerty personally inspected sold for less than their condition-appropriate values in our price guide. Many of those would have been less than their price guide values in 2019, before the latest run-up.
What's changed in recent years is not necessarily the amount of money one needs to play in the collector car market but rather, the level of focus and discipline. More than ever, you have to know what you want and what you can do without. It also helps to pay attention to which cars are drawing a crowd and which aren't.
Herewith, some of the more interesting buys at Monterey that brought less than we expected.
1967 VW Beetle
Sold by Gooding & Company for $30,800 (24 percent condition-appropriate Hagerty Price Guide value)
The Beetle has been creeping up value in recent years. Credit Porsche-fueled enthusiasm for air-cooled engines, widespread appreciation for affordable classics during the pandemic, and the relentless march of attrition, which is slowly but surely making the most popular vehicle in history less common.
The Monterey auctions provided evidence of that rise—a '63 Beetle sold by Broad Arrow brought $106,400. Yet they also reminded us that, as with many fast-rising, once attainable classics, there's a wide gap between the best and the rest. To wit, Mecum sold a 1955 Oval Window Beetle for $37,500, and Gooding's 1967 Bug, shown here, got $30,800. Both those cars presented as better-than-average drivers (the Mecum car was a #3+, Gooding's a #2-); they just weren't unrestored, low-miles unicorns like the Broad Arrow Beelte was.
The '67, which crossed the block early in Gooding's sale, struck us as particularly well bought. It's coming off of a recent restoration and is represented as having just three owners. Feels weird to be calling a 30-grand Beetle cheap, but here we are. For about the price of a new GTI, someone got what looks like a nearly-new Beetle.
1956 Rolls-Royce Silver Wraith by James Young
Sold by Bonhams for $42,000 (63 percent below condition-appropriate Hagerty Price Guide value)
Let's be clear that although this car is a bargain, it's probably not the best idea. Even extremely well-maintained old Rolls can be expensive to maintain. This example was…not extremely well maintained. The catalog notes it "will require mechanical recommissioning prior to actively wafting about," and our auction specialists rated it in fair (4+) condition, adding that the catalog photos were—ahem—flattering.
And yet it's such a bargain. One of the rarer, large coachbuilt Rolls-Royces, the car sold for some $60k below our Condition #4 value in our price guide—enough, one thinks, to get wafting again. Plus, this is a left-hand drive example from new and has a nearly modern four-speed Hydramatic transmission (original equipment on later Wraiths). It also helps that even a tired Rolls looks prestigious and expensive.
2001 Pontiac Firebird Trans Am
Sold by Mecum for $11,550 (2 percent below condition-appropriate Hagerty Price Guide value)
Later F-bodies have, by and large, been left behind in the gold rush for modern sports cars. Having grown up in fourth-gens, I must say I kind of get that. The "problem," as I see it, is that whereas the Japanese and European performance cars of the era in many cases represent high water marks for their particular niches, the early 2000s F-bodies live in the shadow of the 1960s and 70s muscle car greats and, just as important, have been dramatically surpassed in performance by the Camaros, Mustangs, and Mopars of the 2010s. (Some day soon, we'll realize we've just lived through the true golden age of muscle, and our Hellcats, GT500s, and ZL1s will appreciate accordingly. But I digress.)
Nevertheless, end-of-run Firebirds remain underrated, just as they were when new. Restomodders regularly swap LS1 V-8s and Tremec 6-speeds into stuff that neither handles as well nor looks as distinctive as this car does out of the box. Meantime, JDM-enthusiasts plow four- to five times as much money into Supras and 300ZXs that were, back in the day, barely any quicker.
This one seems a particularly good score. It had some 85k miles on the odometer and displayed all the usual fourth-gen flaws, like a completely flattened driver's seat and mile-wide panel gaps. But try and find something faster for $11,550.
1928 Ford Model A (Truck) 1/2 Ton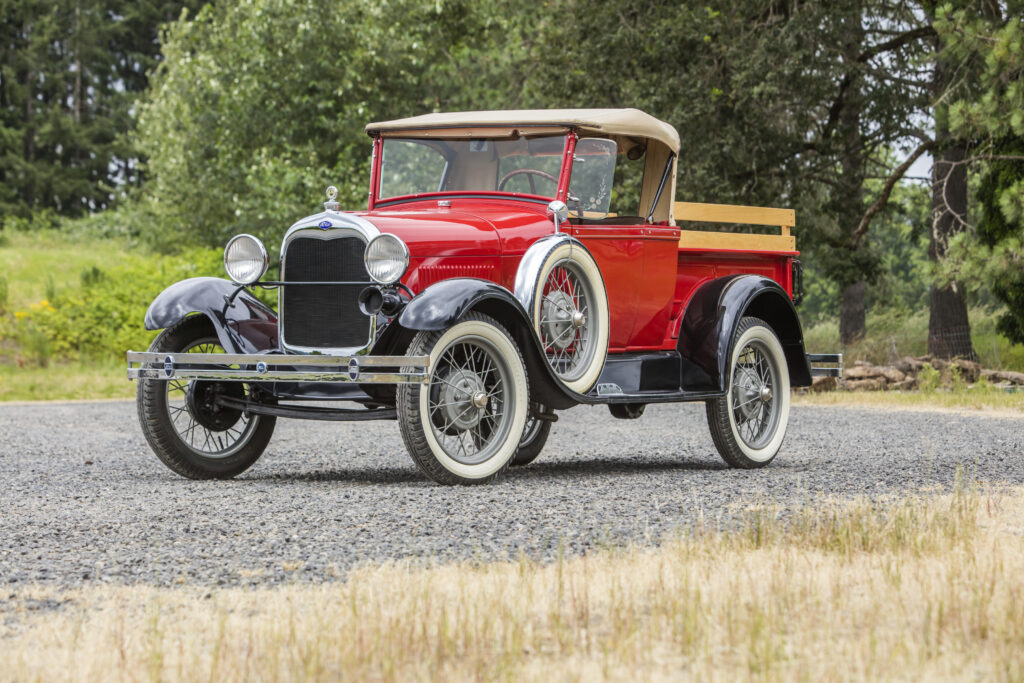 Sold by Bonhams for $20,160 (31 percent below condition-appropriate Hagerty Price Guide value.)
If this year's Monterey auctions put on clear display the ongoing transition toward Gen–X collectors tastes, with 1980s and 1990s exotics breaking our price guide, this Ford shows us what lies on the other side of that—and it's not bad for enthusiasts. Although they have appreciated slightly in recent years, Model As are no longer in the glowing hot center of our hobby. This one, a relatively uncommon pickup. sold for what would have been a good deal even in 2019, not to mention for less than what many 1970s and 1980s trucks go for these days. A Model A is no doubt a more elemental experience than a Radwood ride, but it remains a useable entry-level classic, with modern pedal arrangement and a conventional manual (as opposed to the planetary band-type gearbox on a Model T).