The Ducati 999 is nothing if not controversial. This piece of Italian exotica's vertical headlights cause some to think more of a freight train than a lusty sport bike, it emits the seemingly standard Ducati concerning engine rattles, and it manages to be slower than a contemporary Japanese bike that costs 40% less. Yet somehow it's a piece of art that ignites passion from fans across the world. I know this firsthand—I took my motorcycle test at age 16 on my dad's 999, and I have counted myself as one of the bike's fans ever since.
Beginning with the 916 in 1994 and running through the 996 and 998, Ducati had a run of similarly-designed bikes widely considered among the prettiest modern motorcycles made. When it came time to put pen to paper for the 999, Ducati designers decided to do something radically different and change the design to something never seen before. Surely this fresh take would be a hit and move the brand forward, right?
It didn't unfold that way. The 999 was released in 2003 to mixed reviews thanks to its radical styling. The sleek 998 gave way to the 999's stacked headlights and aero that was more purposeful than pretty. It was built to bring Ducati into the modern era of superbike racing, and fast doesn't always mean beautiful. Still, the 999 remained quintessentially Ducati—a bike that makes you feel as if you're a millionaire with only $20k in the bank.
Superbike DNA coursed through every part of it. The riding experience was everything but comfortable. There was no point in keeping it cool at slow speeds because it'll only be going fast on a track. You don't need mirrors you can actually use, because aero for track. Nothing but full tuck because, well, track. This made it an animal on the street, but that was all okay because, well, Ducati. See the theme?
I have ridden a Ducati 999 on and off for the last 13 years. My dad bought his new in 2005 and for some unknown reason he handed me the keys at 16 to take my license test on and ride to high school. How am I alive? I ask myself that every day before I even ask myself what's for dinner. As a younger rider I can put up with a lot of the stretched uncomfortable position, but having ridden 100+ motorcycles, I can say this is the only one where I never feel fully relaxed unless on a straight road at 45mph with nothing around.
What's it like? First, the experience around town. It's not great.
This bike does not do well in stop and go traffic no matter what. Your butt and legs will get very hot from the underseat exhaust and poor heat management. Aftermarket exhausts or extra heat shields can alleviate this somewhat. The dry clutch is a signature feature of Ducati bikes, but that doesn't mean it's a good thing. The rattle at idle with the clutch pulled in will have you wondering if your bike is broken, and managing the clutch is a bit difficult if you're cruising town. It's very stiff, and will tire out your hand very quickly. I often find myself flexing my fingers to get rid of cramps. Smooth engagement is tough if you don't rev the bike enough—you need to approach "I am a Ducati bro revving my engine at the stoplight" levels if you don't want an unexpected stall. And when that clutch does heat up it will very happily groan and squeal if you run it in the friction zone too long. Those mirrors? You're probably safer turning around backwards for ten seconds.
In retrospect, maybe my dad figured if I could ride a 999, I'd be prepared to handle anything. But there's another side to this bike that he knew about, and no doubt wanted to share.
The 999 sings on the open road. The track-oriented DNA that is a liability in stop-and-go riding transforms into an asset on windy roads and makes it one of the most euphoric sportbikes of its era. When you're tucked behind the screen with your weight on your wrists, two fingers on the clutch and start to roll into the throttle, you can't help but have an ear-to-ear grin. The high-revving V-twin's harmonics make the bike feel alive, and its roar is something between the deep wallop of a V-8 and the eager zing of an inline four. It's even more pronounced with the Termignoni exhaust that came on the 999S and 999R models.
The 999 is the pinnacle of a love and hate motorcycle duality. Visually and experientially, it's captivatingly beautiful and ugly at the same time. It's shockingly fast, but slower than a Suzuki GSX-R from the same year. It's uncomfortable to ride but you'll ever want to get rid of it.
What does it take to buy one today? There are three models with very different values: the 999 Base, 999S, and 999R. Of the base models, the ones you want are the 2005/2006 model years. They got 18 more horsepower—a significant boost for a motorcycle—and the black frame and wheel combination is preferred over the earlier silver. Values are still shockingly low for these, though their depreciation has bottomed. You can get one with roughly 5000 miles for $6500-$8000, up from $5500-$6500 only a couple years ago.
The 999S adds suspension improvements and subtracts some weight while bumping prices up 65-75 percent to $11,000-$15,000 for very good examples. On top of the S' improvements, the 999R features carbon bodywork and extensive strengthening of the engine internals for more power. Good-condition 999Rs can be had for around $16,500, and $27,000 will get you the best of the best. They clearly haven't hit the collector realm yet, as witnessed by a 22-mile base bike selling for only slightly more than $10,000. That said, the market tends to recognize characterful bikes, even if it takes a while. The whole model range has potential, but with the personality and the racing-livery looks to match, the 999R Fila and Xerox models are primed for serious collectible status.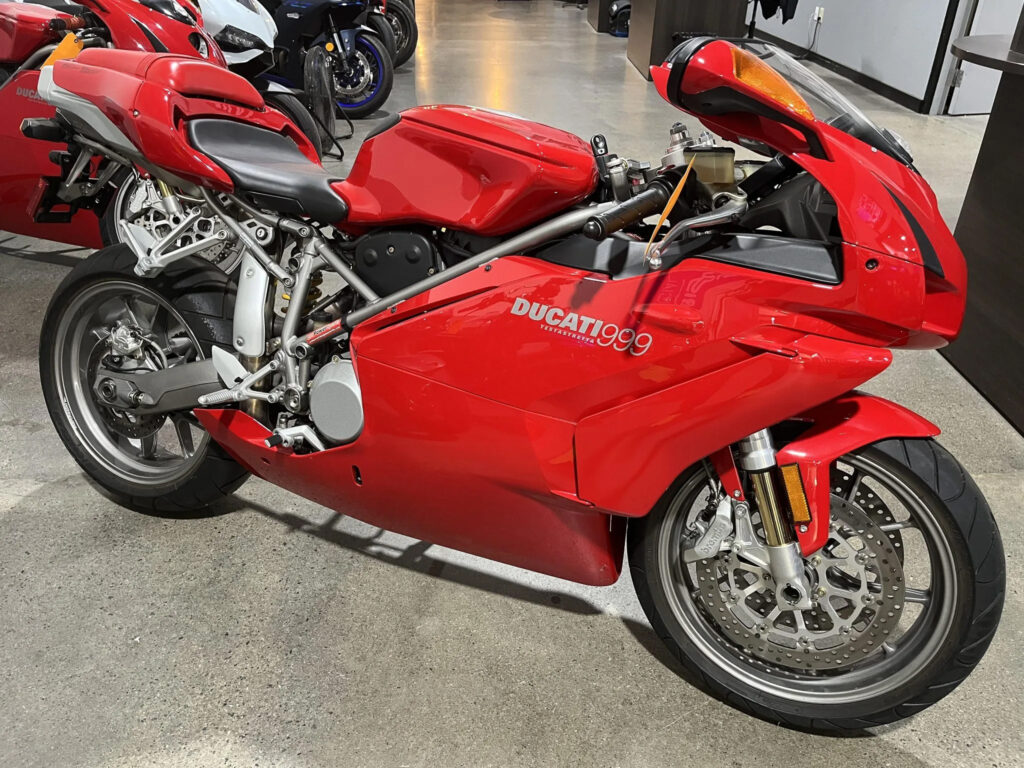 It's important to go into any purchase with eyes wide open—these are raw pieces of machinery that refuse to coddle you. Remember, a Ducati is a Ducati. That lump of aluminum between your legs will overcome any mixed feelings about freight train headlights, or a stat sheet that isn't as strong as a cheaper Japanese bike. If you want a passionate riding experience you won't forget, it's hard to go wrong with the 999.