The styling excesses of the 1950s couldn't last forever, and there's one vehicle that deserves credit for ushering in the new era of mid-century modernism. The fourth-generation Lincoln Continental was a hit from day one, remained inspirational at the bottom of its depreciation curve, and has rightfully earned its status as a collectible sensation. Whether you prefer Ford's "center-opening doors" or the enthusiast vernacular, there's no doubt that Continentals are adored by many and prized by the few who own them.
1961
Available as a sedan or as a convertible with a one-touch, power-operated top, the unibody Continental was larger than a Thunderbird but significantly smaller than Cadillacs (10.6 inches longer) and Chrysler Imperials (15.4 inches longer) of the era. So small, in fact, that the 430-cubic-inch MEL V-8 engine needed only 300 hp fed by a two-barrel Carter carburetor to keep pace with its competition. The Continental's relatively trim dimensions, curved side glass, and restrained engineering was beautifully mirrored by its understated sheetmetal.
As Ford stylist John Najjar said, "The Continental should be like an elegant lady in a simple black dress, with her jewelry nothing more than an uncomplicated diamond necklace."
Attention to detail and quality construction (with a trend-setting 2-year or 24,000 mile warranty!) ensured strong sales: Ford sold 21,560 units, 2857 of which were convertibles, in the initial year of production. Even the critics knew they were experiencing something special; the Industrial Designers Society of America (IDSA) awarded the Continental the bronze medal in 1961 for its enlightened design. As expected with luxury cars of this era, the list of standard equipment was impressive: power windows, power door locks, transistorized AM radio, power steering, power brakes, and seat padding proclaimed to "provide almost three times the amount of cushioning used on other fine cars."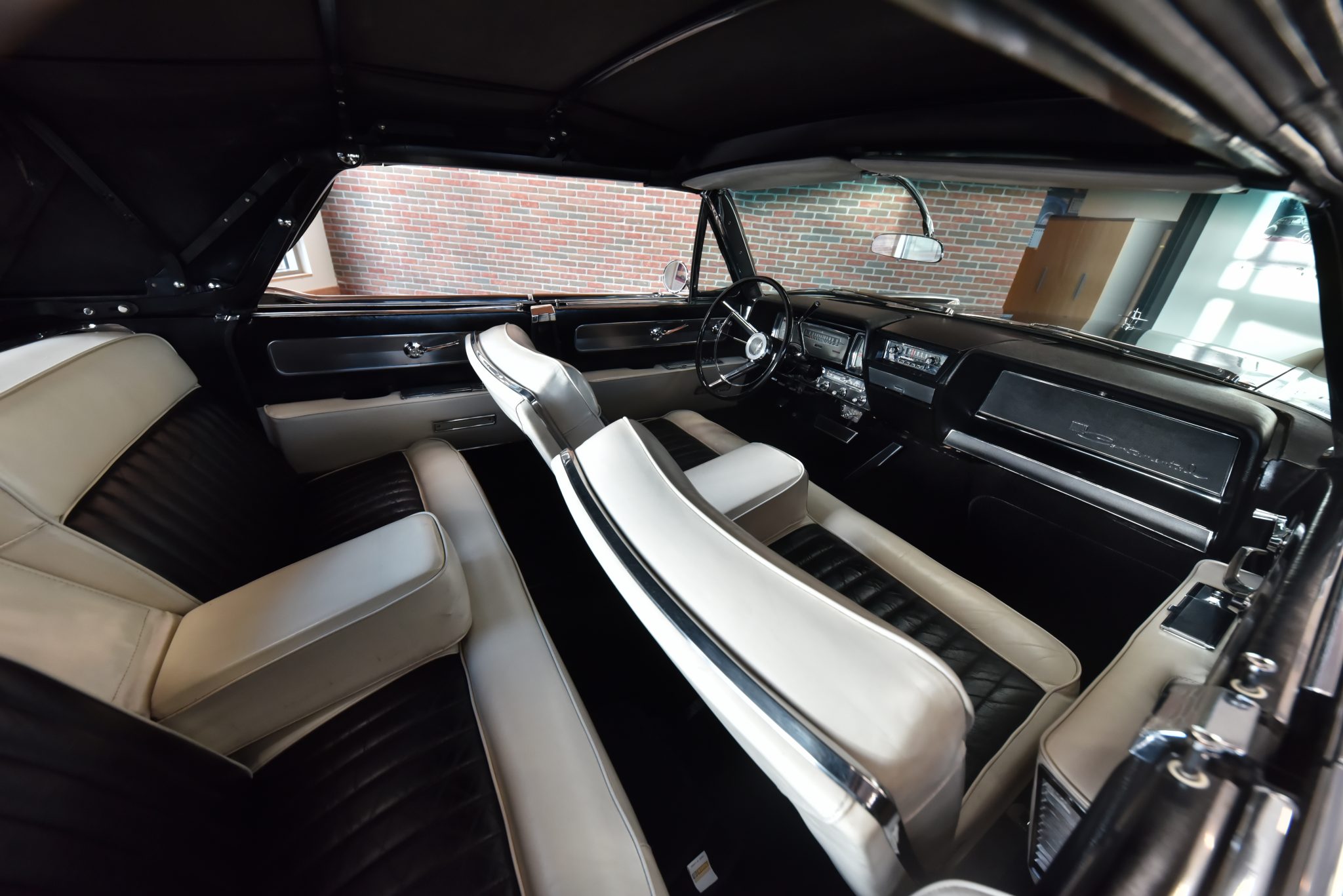 Options were limited but offered a high degree of customization. While air conditioning was a popular choice (with a 65 percent take rate), less-obvious luxuries such as a six-way power bench seat, tinted glass, limited-slip differential, and speed control were available. Polished walnut trim was available for those who disliked the standard machined aluminum on the doors and dashboard. Interior fabric choices were plentiful: two shades of broadcloth (beige or gray), all-vinyl chairs (standard on the convertible), leather with nylon fabric inserts, or full-leather seating. Exterior paint choices numbered a grand 21.
1962
The Continental moved distantly away from the Thunderbird from whence its design came thanks to a new front bumper and a honeycomb-influenced grille. The end result visually lifted the front end higher than '61's bullet-nosed design, mostly because the headlights sat 1 inch higher off the ground. The Continental grew modestly larger, with .6 inches added to its overall length. The rear end received a new chrome fascia with larger, rectangular textures in its background. Convertibles wore a redesigned top with flatter, wider bows for a taut look that, when raised, hewed closer to the sedan's profile.
Interior changes were minimal but still noteworthy, as the steering column was raised 3/4 inches to increase driver comfort. A new range of nylon Empire or Rosetta cloth inserts (with leather trim) were optional for those who didn't want the broadcloth or the leather. A new power decklid release was available for hardtops. Power vent windows and a 60 amp alternator appeared on the options list, as well, and all Continentals received a self-sealing oil dipstick added to the engine. While the changes were appreciated, the 1962 model likely owed its higher sales numbers to the buying public's awareness and love for this new design: 27,849 sedans and 3212 convertibles were sold.
1963
Aside from the redesigned front and rear grille treatments, the '63 Continental looked remarkably similar to the '62. This was by design, as promotional material suggested there was "no change for the sake of change," thus ensuring the car was "always in style while you [were] driving it" and "worth more when you [sold] it." More significant changes hid under the skin; revised pistons with a slightly higher compression ratio (10.1:1 vs. 10.0:1), a new exhaust system, and a four-barrel carburetor added 20 horsepower under the Continental's front-hinged hood. Last year's optional alternator was now standard.
A revised dashboard provided roughly 2 inches more knee-room for the front passenger, and there was a similar improvement in rear seat legroom. While the wheelbase didn't change, the second-row roominess could be attributed to a .3-inch increase in overall length. Sales literature suggests that a re-contoured trunk lid created "room for an additional two suiter case," but the outward changes are so slight they are invisible to the untrained eye.
Other changes included a single-piece instrument panel pad (to enhance safety), added sound insulation, rubber-isolated steering system, rear-passenger heat ducts, revised HVAC controls, relocated power antenna, and front brake drums made of aluminum for superior heat dissipation. An especially noteworthy option for this year was the available AM/FM radio (AM radio came standard).
Sales continued to increase: 28,095 sedans and 3138 convertibles meant Lincoln had a bona fide hit on its hands.
1964
Unlike the previous two years, the 1964 Continental's larger size—thanks to a 3-inch increase in wheelbase—made a distinct impression. Especially for rear-seat passengers, who enjoyed easier access via larger doors and 4 inches more legroom once inside. Curved side-glass was jettisoned for more upright glazing and the rear window allowed more light inside. A similar theme continued at the rear to offer more cargo space (15 percent extra over 1963) thanks to a revised rear-end design. A reworked front fascia complemented the other exterior changes, but, all told, the incremental nature of improvements made the '64 model only barely distinguishable from Continentals of previous years—and that's a good thing.
A new dashboard greeted the driver, a single sweep from end-to-end with four HVAC dusts for more efficient performance. (Ford let the then-new Mustang take the Continental's twin-cowl design.) A new option was 40/20/40 split bench seating with a center storage console and fold-down armrest. An automatic parking-brake release became standard, and revised gauges, interior lighting, and a larger glovebox also graced the interior. New leather was available in ten different colors, while cloth was available in three fabrics and ten total shades: Versailles cloth (one color), Versailles damask (three) and a fabric with the Continental star logo (six). Naturally, no fewer than 18 exterior colors were available to offset the interior configurations.
New and noteworthy options for 1964 include a heavy-duty spring/damper package, a shorter 3.11:1 final-drive ratio, front/rear lap belts, a locking gas cap and decorative license-plate frames. The Continental was only getting better, and sales proved it: 32,969 sedans and 3328 convertibles rolled off the assembly line.
1965
A significantly revised front end arrived for '65: A more upright, conventional grille shape and fender-mounted signal lights marked a significant departure from the original. Ribbed taillights were the most significant change at the rear. Standard front disc brakes ensured the new coachwork was safer in an emergency maneuver. More people than ever joined the Continental club, as 36,824 sedans and 3356 convertibles changed hands this year.
Interior changes were modest: a revised instrument cluster, new transmission selector indicator, a new radio and steering wheel, and a window lock switch so passengers couldn't be childish with their power windows. Walnut wood trim was now a no-cost option. Largo cloth seating came standard alongside optional leather and two different, upgraded fabrics: Moiré and the more traditional wool broadcloth from previous years. Stand-out options for 1965 included an emergency flasher, transistorized ignition, 55 amp alternator (42 amp was standard), and a vinyl top available in five colors.
1966
Until '66, you could say the Continental's exterior changes were generally incremental. While this year's redesigned body may not qualify as radical, it was 4 inches longer and sported more complicated contouring. Curved side glass made a welcome return, and Continental star emblem at the front of each fender made it clear that this was a continuation of a famous vehicle. Taking the 1965 Continental front end to the next level, a significant power dome hood turned into a large styling feature on the front fascia. In a hat-tip to the original design, however, the wraparound front and rear lights were jettisoned to keep the body as clutter-free as possible.
Unlike the original, the Continental was now available in a two-door coupe, alongside the familiar four-door sedan and four-door convertible configurations. The latter now had a glass rear window, while all Continentals benefited from a larger trunk and a new dashboard with strong linear forms and a radical push-button HVAC panel that mimicked the design of the adjacent radio. There were also individual reading lights mounted on the C-pillars for rear passengers of sedans and coupes. Convertibles now boasted two ways to activate the fold-away roof: the traditional in-cabin switch and a new key hole located near the gas-filler door. Most importantly, an enlarged MEL V-8 engine (462 cubic inches) with 20 more horses (340 total) was standard equipment across the board.
Notable options for this year included a Stereo Sonic AM/Tape player with four speakers (AM/FM radio was still available), automatic climate control (manual A/C remained optional), tilt steering wheel, auto-dimming headlights, and a 40/20/40 split bench seating with console (with unique black leather and cloth for sedans and coupes). The 1966 cars continued the tradition of extreme personalization for fixed-roof models. Madrigal cloth came standard, though leather (in 13 colors) was optional. Sedans could be had with leather plus woolen broadcloth, and coupes with Rivard cloth, together spanning eight interior colors.
Customers could choose from a robust selection of 20 colors for their Continental's exterior, making it more likely for each of the 35,809 sedans, 3180 convertibles, 15,766 coupes sold to be a unique creation.
1967
Since '66 was a watershed moment in Continental history, changes remained modest for 1967. The front grille sported a new texture and was slightly recessed relative to the header panel. The Continental-star hood ornament was now spring-loaded, in accordance with federal safety standards. The elongated star emblems on the fenders of 1966 models were removed in favor of a more squared-off version added to each C-pillar, and the rear lights were revised to emulate the textures on the front grille.
Interior changes were modest but thoughtful; Lincoln learned that "most people preferred the headlight control where the wiper control was, so we transposed them." In a nod to extra safety, the lower half of the driver's control panel was redesigned to reduce glare, the steering wheel (and its new padded hub) absorbed energy in a collision, and a seatbelt reminder light was added. The dashboard received a thicker pad, and the brakes now had separate systems for front and rear channels. Interior ventilation was enhanced by a new "Fresh-Flow" system in the door to evacuate stale interior air, and the turn signal was activated by touching, not pressing, the stalk.
New options for 1967 included a four-speaker, Stereo-Sonic System for Continentals with the AM/FM radio, mounted under the dashboard (the AM/tape player retained Stereo-Sonic, per 1966); a new Six-Way Power Seat with Passenger Recliner; "Speed-Actuated" door locks; and front shoulder belts (lap belts came standard). There were 21 exterior colors, three vinyl roof colors, three convertible-top colors, and multiple color choices for the interior Chalfonte fabric (eight colors), leather bench seating (nine) and leather 40/20/40 split bench seating (four). A total of 32,331 sedans, 2276 convertibles, and 11,060 coupes were produced this year—a heartening sign for the Continental nameplate, but an ominous sales slump for the convertible model.
1968
This year might be most remembered by the omission of the convertible from the lineup, but the Continental coupe and sedan added even more safety features that blended in styling from 1965. Wraparound signal lights at all four corners passed muster with federal safety standards. A finely textured grille with rectangular slots lay below the header panel with its integral Continental star (i.e. no more hood ornament) and the rear lights sported a similar level of detail in their metal overlay. A new C-pillar greeted owners of the Continental coupe, with a smaller quarter window for a more luxurious look.
1968 also brought significant interior changes: a revised instrument panel/radio/HVAC controls with wood-tone trim instead of aluminum, and a new steering wheel that was unique to Continental. Front-seat headrests, a remote-controlled right-hand sideview mirror, finned wheel covers, and a defogging rear window joined the options list. Personalized customization continued with the choice of 22 exterior colors, three vinyl roof colors, Chalfonte knit fabric in four colors, brocade Limoges brocade fabric in six, and 10 shades of leather (a range reduced to four when ordering 40/20/40 seats). Only 29,719 sedans and 9415 coupes were sold this year.
1969
For this final year, a new grille was created with a larger center section that offered—according to promotional material—a "subtle Mark III styling flair" to integrate the Continental's look with that of the new Mark Series. While the Mark was a hot seller, the faltering sales of the Continental coupe (9032) and sedan (29,351) meant that this body style's influence was waning. No matter. Another new-for-'69 part was a front bumper with a cooling slot that mimicked the grille's egg-crate texture. At the rear, revised wraparound lights at each corner took their cues from the Continental Mark III.
The best Continental connection, however, was the all-new 460-cu-in V-8 used on all Lincolns. Part of Ford's 385-series engine family, the Continental 460 had 25 more horses than the outgoing MEL (365 total) and a better power-to-weight ratio thanks to a modern, thin-wall casting.
Two noteworthy options arrived for Continental owners seeking even more luxury: a AM/FM Signal-Seeking Stereo Radio with a "Stereo Reception Adapter" mounted atop the transmission tunnel, and the Town Car package. The Town Car was not a unique trim level—that happened in 1971—but an interior-upgrade package. Unlike future vehicles wearing the Town Car moniker, this trim package eschewed ostentatiousness in favor of cleaner lines and a more monochrome demeanor.
The Town Car was noteworthy for leather seating with two long straps on each seat cushion, a stark contrast to the ornate fabrics and diamond-tuft stitching of other Continentals. Each strap had a delicate chrome buckle at each end, for a total of 32 buckles. The door panels repeated the seats' theme. The Town Car also added a unique headliner material and thicker carpets, swapping the Continental's wood-toned door armrests and instrument panel for color-matched vinyl. A total of four colors were offered with the Town Car package (Black, White, Dark Blue, Dark Ivy Gold, Light Ivy Gold) and it was available on either sedan or coupe variants.
Before you buy
Thanks in part to cameos in movies (The Matrix) and TV shows (Entourage), the 1961–69 Continental's significant following has only grown larger in the last 20 years, so finding one for sale in good condition isn't terribly difficult. Ensuring the asking price reflects the vehicle's true condition is more difficult. Since the Continental has a unibody chassis (the body and frame are welded into a single component) your biggest concern will be rust, especially in structural locations like the center post for the door latches. But rust can also lurk in the floor boards, frame rails, the lower portion of the doors, the trunk lid, below the windshield (cowl vent) and rear window—even under the battery.
Be wary of rust repairs, as not all work is created equal: Work that uses fiberglass patch panels or copious amounts of body filler to achieve a smooth surface is not equal to one using proper repair panels made of metal. Confirming that the doors close nicely is a good start (especially on convertibles), but if anything looks out of place, be prepared to walk away from an example that you can't fix.
After assessing the condition of the chassis, evaluate the condition of rubber parts in the suspension, the powertrain, and the body. Parts are available via specialty vendors, though prices are higher than those for your average Ford Mustang or a Tri-Five Chevrolet: Factor in the cost of new weatherstripping, cracked/worn bushings, broken interior bits (many of which are bespoke and not interchangeable with those in other Fords) or worn exterior trim into the vehicle's asking price. Don't forget the age of tires, either: Most tires lose the majority of their performance potential after a decade.
We haven't yet discussed the Continental convertible's unique, complex, and almost mysterious electro-hydraulic top mechanisms, comprised of multiple relays, a bevy of switches, and a handful of electric motors plus the hydraulic system used to operate the top itself. Repairs can be cheap, when the shop is armed with the right knowledge. If not, expect electrical and hydraulic repairs to soar into the thousands. Be warned: the knowledge to perform the repairs well is limited to the precious few. If you're serious about a topless Continental, it's a good idea to talk to convertible guru John Cashmanbeforehand.
Combining the tips above with a test drive and a test of all features (lights, gauges, wipers, power accessories, stereo, HVAC, convertible top, etc.) should yield an accurate assessment of the Continental's condition and equip you with enough information to determine whether the asking price is fair. When in doubt, hire a professional automobile inspector to give you a full report.
One final question must be answered: Is authenticity a concern? The pool of 1961–69 Continentals includes museum-quality examples worthy of the Lincoln & Continental Owner's Club (LCOC), famous high-dollar custom Continental builds, and everything in between. The custom examples may be worth more, but their value can fade over time: A Continental with a small-block V-8 and a four-speed automatic may have impressed people back in the 1990s, but top-tier builds today require the latest crate motors from Ford (or General Motors). While the Continental's styling is timeless, cosmetic modifications may be less so.
Valuation
The 1961–69 Continental's popularity has indeed boosted its value, as its increasing prices have outpaced inflation. The most valuable of this era are the first-year, 1961 cars; from there, values of most configurations drop. While sedans and coupes (across all model years) are usually worth within 5–7 percent of each other, the rare and desirableconvertibles areworth approximately 250 percent more than their hardtop brethren. As of this writing, most #2 (Excellent) values for 1961–69 Continentals are up 6 percent for convertibles and 10 percent for coupes.
Similar increases have occurred for #3 (Good) condition cars and, while most options for coupe/sedan/convertible don't have a significant impact on value, sellers can add a 10 percent premium for Continentals with factory air-conditioning. Today, the median value for a 1963 Continental in #2 (Excellent) condition is $31,350; this time ten years ago that figure sat at $19,700. As mentioned above, these Continentals aren't cheap to restore, so most of the growth comes from examples in better condition; the median #4 (Fair) condition value, which was $8300 10 years ago, has only nudged to $9050 today.
The average price at auction for 1961–69 Continentals (all body styles) over the last 12 months is $49,465. Notable sales in recent memory usually go to the convertibles, especially this 1965 convertible sporting a nut-and-bolt restoration that sold for a shocking $330,000 in January, 2020. A triple-black 1963 convertible sold for $106,700 in December of that same year, while a carefully reconditioned 1966 convertible sold for $110,000 this past September.
Indeed, the number of Hagerty insurance quotes has increased over 21 percent in the past three years, and values for '61–69 Continentals have ticked up 14 percent over the past three years. (This is part of a larger trend, too; quotes are up 20 percent and values 23 percent over the past five years.) Pre-boomers and boomers show relatively weak interest, together accounting for just 27 percent of quotes (4 for pre-boomers and 23 for boomers, a group that represents 40 percent of the market). The big surprise? Half of '61–69 Continental quotes come from Gen Xers, who comprise just 30 percent of the market. Millennials and Gen Z fill in 23 and 5 percent of the quotes, respectively.
The best advice remains simple: Buy the Continental with the features you want most, in the best condition you can afford, with a documented service history if at all possible.
Special thanks to John Lyman for his help in creating this buyer's guide.