We covered the 2021 January auctions extensively here on Insider, but in a sense they aren't actually over yet. While Mecum went full steam ahead with its Kissimmee, Florida auction and many of the Arizona sales took place in modified form in the first month of the year, Barrett-Jackson postponed its weeklong Scottsdale extravaganza until March 20–27.
That was a big absence. The words "Barrett-Jackson" and "Scottsdale" go hand-in-hand for car enthusiasts not just because it was the first major collector car auction in the desert but also because it remains, by a whopping margin, the largest.
The Barrett-Jackson-sized hole in January 2021 auction results isn't hard to spot. Although sell-through rate and average sale price improved, the overall totals, even including Mecum's showing in Kissimmee, were the lowest since 2011.
But, as they say, better late than never. The March edition of Scottsdale already has nearly 1000 vehicles on the consignment list. Moreover, it won't be the only game in town. Since 2019, Mecum has been holding an auction in the west Phoenix city of Glendale. For 2021, it happens to fall the weekend before Barrett-Jackson Scottsdale. In a sense, then, this is almost like Scottsdale 2021, Part II.
There aren't as many headline-making dream cars as there have been at past Scottsdales (back in January we wondered if difficulty attracting consignments, in addition to well-founded COVID concerns, convinced Barrett to postpone). That said, there's plenty of fine cars on offer. Here are the 10 we'll be keeping a close eye on.
Touted as "America's first production supercar" when it debuted in 2000, the Saleen S7 combines a carbon fiber body and spaceframe chassis with a 7.0-liter Ford V-8 and 6-speed manual gearbox. It has all the looks and all the performance of a European exotic, not to mention exclusivity. Sources vary on how many S7s were built, but the number is probably fewer than 100, which makes this home-grown supercar Pagani-level rare.
Rarer and quicker still is the Twin Turbo model, which boosts the Ford Windsor engine to 750 hp and, when new, cost around $555,000. It's already worth more today. One sold at RM Monterey 2015 for $682,000, another at Barrett-Jackson Scottsdale two years ago for $687,500, and one at RM Monterey two years ago for $643,000. More recently, a special S7 LM model (one of seven built) sold for a record $1,205,000 on Bring a Trailer last December.
This Twin Turbo shows 1167 miles (a little over 83 miles a year) and comes from the Steve Todhunter collection, which includes some modern exotics, classic and modern American muscle cars, Paul Walker's CSX1000-series Shelby Cobra, and a couple of motorcycles. The presale estimate on the Saleen is $600,000–$700,000.
The car world lost one of its most interesting personalities, Jerry Wiegert, last year. And while the story of his Vector supercars reads almost like a Hollywood script, the cars themselves hardly see the light of day because they're just that rare. Only a few dozen automobiles ever wore a Vector badge.
The one on offer in Scottsdale comes from the part of the story where Wiegert had been forced out of the company by shady Indonesian investors. Called the M12, it has the outrageous looks of the earlier all-American Vector W8 but underneath is based largely on the Lamborghini Diablo (the Indonesians also owned Lamborghini at the time). Just 14 production M12s were built, and Barrett-Jackson sold this one in Scottsdale last year for $176,000.
Any Ferrari 275 GTB in any condition is a noteworthy car worth a hefty price. This is a matching numbers example with the more powerful 4-cam engine and comes with its original tools. It's a standout at a muscle car-heavy sale like Barrett-Jackson, and unlike most lots at Barrett, this seven-figure blue chip Italian thoroughbred has a reserve.
We haven't seen this one at auction before, but a 275 GTB/4 is currently worth between $1.8M and $2.5M depending on condition and provenance.
Part of NASCAR's brief but glorious aero car era in 1969–70, the Dodge Charger Daytona was the first in NASCAR history to break 200 miles per hour, and it won six races before being replaced by Chrysler's other aero car, the nearly identical Plymouth Road Runner Superbird.
While the Charger Daytona isn't quite as well-known as the Superbird, it was first, it's significantly rarer (503 Daytonas vs. nearly 2000 Superbirds), and it's more valuable. This red-and-white, 440-powered 4-speed car carries a presale estimate of $175,000–$225,000. If you don't feel like rowing your own gears, Barrett-Jackson also has a Daytona, finished in Spring Green, that's equipped with the TorqueFlite 3-speed auto.
2018 Ford GT '67 Heritage Edition
Values for the "new" Ford GTs have come down a bit from their peak in 2019. They're not as fresh, but still desirable, and as a halo model for the Ford brand, they always will be.
Ford has sold several special versions of the GT since it first came out for 2017, including a '66 Heritage Edition, a '67 Heritage Edition, and a '68 Heritage Edition, echoing the Le Mans-winning GT40s of the 1960s. The '67 Heritage Edition, emulates the 1967 Le Mans-winning Mark IV driven by Dan Gurney and A.J. Foyt. This one has covered just 15 miles.
For those who prefer a more subtlety in their barely road legal GTLM race cars, Barrett-Jackson also has a black-on-black 2017 model crossing the block, along with two 2005 GTs.
1973 Porsche 911 Carrera RS 2.7 Touring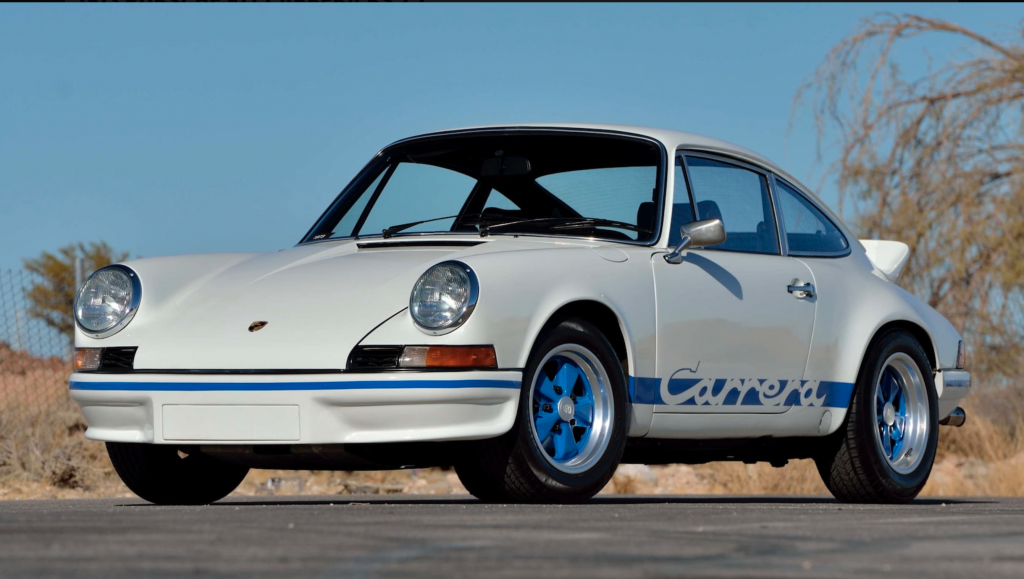 In order to make the 911 more competitive in FIA Group 4 racing, Porsche extensively breathed on its hallmark sports car. The engine grew in displacement and performance, the wheels got wider, and the rear sprouted the signature ducktail rear spoiler. To reduce weight, Porsche used thinner gauge steel for several body panels and stripped the interior.
A total of 500 cars were necessary to homologate this new Carrera RS 2.7 for racing, but the idea of a track-focused 911 for the road resonated with buyers (just as it does today), and Porsche sold nearly 1600 Carrera RS 2.7s. Today they're among the most collectible classic 911s.
Most of the cars sold were the RS 2.7 Touring, which came with a bit more in the way of creature comforts and weighs a little more than the more hardcore Carrera RS 2.7 Lightweight.
This one is a Touring model with an estimate of $400,000–$500,000. It's represented as a Porsche factory restoration, done in Stuttgart, and boasts five owners since new.
You may have already put your deposit down and spec'd out your new Bronco, but this year Barrett-Jackson Scottsdale brings the only chance to buy Bronco VIN 0001. The sale will benefit two appropriately outdoor-themed charities, the National Forest Foundation and Outward Bound. The Bronco up for grabs is a First Edition model that combines the Badlands series mechanicals with the luxurious interior of the Outer Banks series and the blacked-out exterior of the Wildtrak. It also comes with the Sasquatch package.
Barrett-Jackson has done well with first-build auctions for charity in the past, most notably taking in $3M for charity to buy the first production C8 Corvette in Scottsdale last year. There are even more on offer in 2021.
In addition to the Bronco, Barrett-Jackson is offering the very first 2022 Cadillac CT4-V Blackwing and CT5-V Blackckwing, the 2022 GMC Hummer EV Edition VIN 001, the 2021 RAM 1500 TRX Launch Edition VIN 001, and the 2021 Ford Mustang Mach 1 VIN 001.
1967 Chevrolet Corvette L88 Coupe
The ground-pounding race-spec L88 engine was only offered in the Corvette for three years, 1967–69. The 1967 models are considered the most desirable, not only because they're the rarest (just 20 built in '67 compared to 80 in '68 and 116 in '69) but because this was the only year for the L88 on the more attractive C2 body style.
This one ticks the right boxes. It's represented as the only known Sunfire Yellow L88, and has its original engine. It won a Duntov Mark of Excellence award, and an MCACN Concours Gold. It also comes with an NCRS validated tank sticker, the original sales contract, and the original title. It went to Mecum Indy in 2018 but wasn't sold at a $1.7M high bid.
The F12tdf cost well over $600,000 when it was new. A total of 799 examples were built, so by Ferrari standards they aren't exactly rare, but they nevertheless became instant collectibles and these days prices are in the higher six-figure range. Some are even asking over $1M.
This 449-mile car was bought new by Roger Penske, and he reportedly ordered it with $54,912 worth of options. The Penske ownership doesn't necessarily make it worth any more money but it does add some cachet. It has a $900,000–$1,000,000 estimate.
1947 Ford Super Deluxe Custom Woody Wagon
This isn't just any '47 Ford Super Deluxe. Roush modified it in 2014–15 with a modern Ford 302, power steering, 9-inch rear axle with 3.75 gears, ceramic-coated exhaust, 12-volt electrics, 4-wheel power disc brakes, and electric windshield wipers (instead of the original vacuum). However, it still retains the original appearance that makes these cars so neat. Along with a Roush-modified 1958 Edsel Bermuda station wagon, it comes from the personal collection of Edsel Ford II, grandson of Edsel Ford.
We've seen restomods bring big money in recent years—sometimes even more than their stock counterparts. They fare especially well at events like Barrett-Jackson. This one's tasteful upgrades, coming from a name like Roush and from the personal collection of Ford royalty, should push it to big money. We're just curious to see how big.