Are certain car colors worth more than others? The most accurate answer about as clear as mud (or clear as umber if you're a helpless color geek). An unusual color can also be a double-edged sword—perhaps it deserves to be unusual. It all depends on the hue, the car, the era, and the audience.
For the most part, special paint colors fall within one of three categories: There are "Iconic" colors. These are paint mixes instantly recognizable from a specific period or model of car. Picture the idealized representation of a 1955–1957 Ford Thunderbird in your mind. Chances are, it's wearing something like Thunderbird Blue (turquoise), Dusk Rose (a shade of what you just might call pink), or Coral Sand, even though more of the cars were actually painted black and white.
Fast forward a generation, and think about the colors most often found on muscle cars from all domestic manufacturers. AMC had the "Big Bad" colors, hot Mopars shouted with a rainbow of "High Impact" hues, and both GM and Ford cranked out a cadre of cars wearing some seriously fetching shades, even if the sheetmetal under the fresh lacquer was writing checks its engine couldn't cash—like Grabber Blue on a three-speed, six-cylinder Ford Maverick.
Of course, these factory standards are a far cry from today's ongoing "Paint-to-Sample" craze, where any moneyed owner can snip a lock of their award-winning Havapoo puppy's hair and have it immortalized by the in-house paint specialists in Stuttgart, Woking, or Crewe.
A color considered popular when new does not necessarily translate to sustained value in the market, as there is often a span of time when a used enthusiast-focused car is simply viewed as another used car, having not yet made the cultural leap into collectible car status. In fact, odd colors can often keep a car from selling: a few years following the end of production, those soon-to-be iconic colors can look so last year in the eyes of a prospective buyer. Think of unique car colors in the same way you might think of cyclical fashion; in one season, out the next, and then reintroduced as retro-chic a few years on.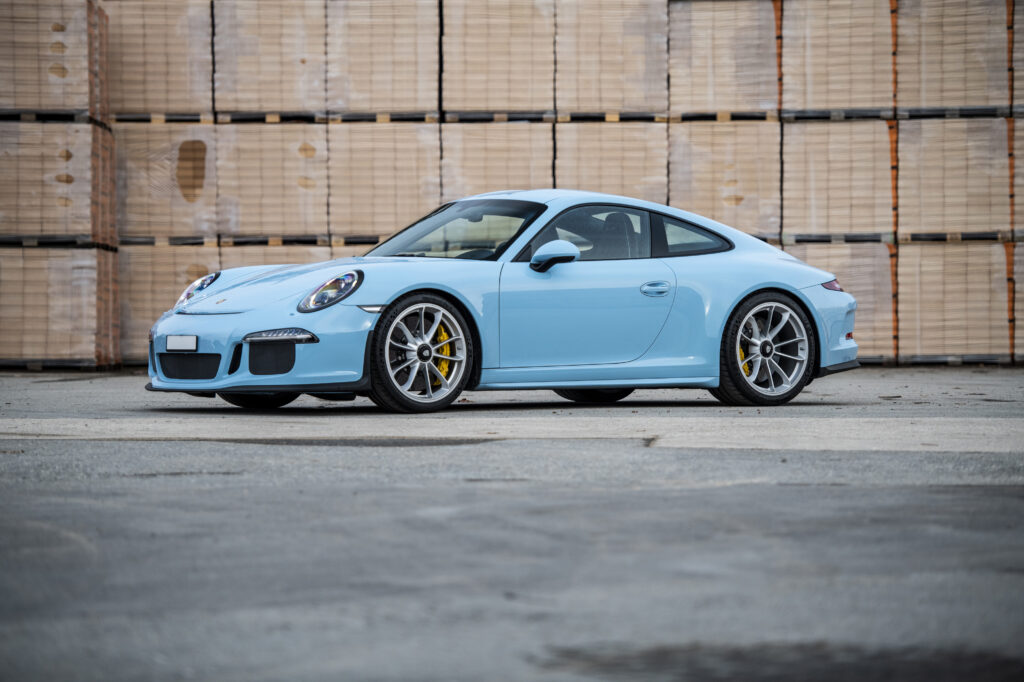 It also depends on the character of the car in question. While the characteristically pastel colors of the Fifties are fun, some would prefer their mid-century Cadillac (or Lincoln, Imperial, or DeSoto) in a white or dark blue hue. Big, meaty muscle cars? I'll take mine in the most look-at-me color possible, as I suspect will the majority of collectors.
Paint-to-sample presents its own challenges. While it's cool to have a car in the same colors as your favorite pair of Levi's, that might not be the next person's choice. Still, special ordering some modern sports cars in historically significant colors from other eras might pay off, especially in the wild Porsche market. At the very least, you're usually able to at least recoup the original cost of the PTS order when you go to sell that one-off Cayman.
In some cars, color is a bigger issue than others. While few hate a Mercedes-Benz in classic silver, there are those who will only have lipstick red. We call these people "original owners." If there is a question surrounding an unusual color, an appraiser can do a market survey and ask dealers, marque-specific club members, and even other owners if they might pay more or less for said paint, and report those findings.
Of course, it's usually a solid practice to ask your appraiser if he or she is colorblind. Plus, it never hurts to recount your reasoning behind that PTS order, including why you immortalized Cuddles the Havapoo on the exterior of your Porsche. Sometimes, the story is better than the color.
---
Dave Kinney is an appraiser and publisher of the Hagerty Price Guide.