We tend to shy away from "top sales" lists on Insider, because they can overlook trends buried deeper in an auction run list. At the 2023 Amelia Island auctions, though, big sales really were the big story. Million-dollar consignments dominated catalogs more than usual here, and they accounted for an outsize share of the auctions' record haul.
The top ten cars here also confirm that the high prices we saw during the pandemic aren't receding just yet—multiple entries sold for higher than their values in the Hagerty Price Guide.
Sold for $2,535,000 (Gooding & Company) | Condition #2 (Excellent)
As we noted in our Amelia recap, this was a tough year for Daytonas, but most of that was for coupes. This convertible, a beautiful, concours-restored example, sold for six percent better than its condition-appropriate value in the Hagerty Price Guide. Further appreciation for pristine Daytona Spiders looks likely: The Condition #2 value has risen 9 percent in the past three years, and the Condition #1 value is up 20 percent. 
Sold for $2,590,000 (RM Sotheby's) | Condition #3+ (Good)
It's not a Ferrari, but A6GCS Maseratis rarely change hands publicly—only six have appeared at auction in North America in the past ten years. Confusingly, some are road cars bodied by Frua and Zagato, but underlining Maserati's origin as a race car builder, others, like this Fantuzzi-bodied example, are race cars. The $2.59M brought here by chassis 2053 is reasonable, given chassis 2087's price of $2.88M set at race car-friendly Rétromobile in 2018.
Sold for $3,085,000 (Gooding & Company) | Condition #2-
This is a well-documented, U.S.-spec F40 with only 1,236 miles and a recently completed major service. The F40 is the most numerous of the Ferrari supercar set, with 1,300 produced (albeit only 213 U.S.-spec cars).Values in the price guide are nonetheless up over 100 percent since 2021. This car's $3.1M price is just less than the $3.3M condition 1 value, which again illustrates that the market for Ferrari supercars remains strong.  
Sold for $3,525,000 (Gooding & Company) | Condition #3-
This was the least expensive among the four MM-type Ferraris that have sold in America in the past five years. However, the price reflects the condition and provenance of this example. Although it ran the Mille Miglia (MM) and the Targa Florio with a privateer, it DNF'd both times. The Vignale body has a small dent in the right front fender and a scuff on the left. There are a few other chips in the paint and two long scratches on the left side but, hey, it's a race car. Lightly-worn seats and light wear to the steering wheel further confirm that in its current condition, it is more suited for competition than concours. That should make it more enjoyable for driving events, especially because this car comes with an entry for the 2023 MM Warm Up in the USA and the 2024 MM in Italy.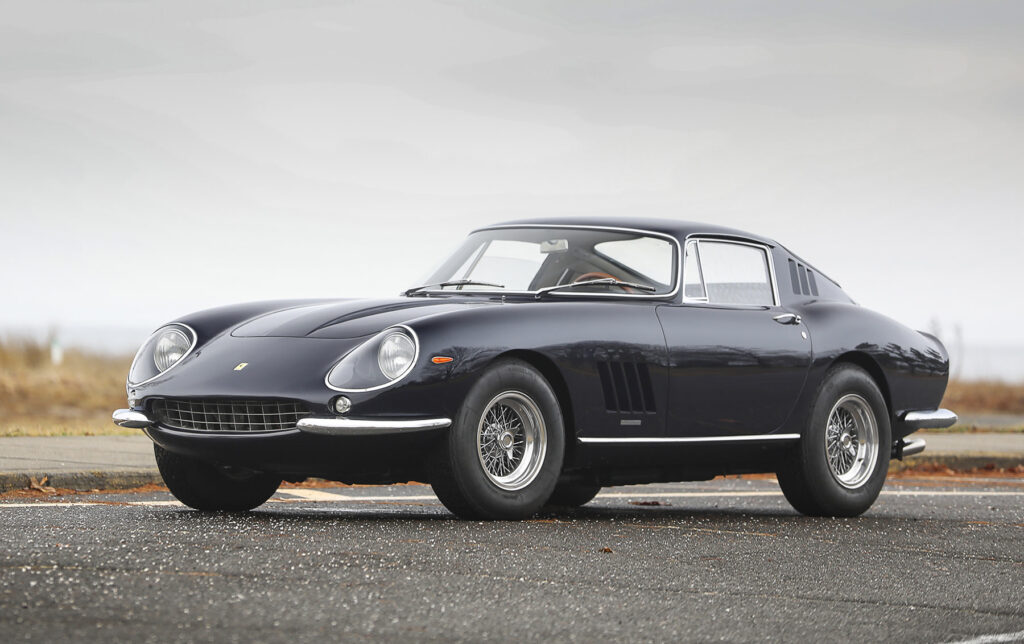 Sold for $3,525,000 (Gooding & Company) | Condition #3+
Modern supercars aren't the only Ferraris that have seen super appreciation: 275 GTB/4s in Concours Condition have appreciated 60 percent in the past three years. This example, going purely by condition, "should" have brought less. The paint is visibly aged, with some scratches, small blisters, and wrinkles in the finish here and there. The driver's seat is heavily worn, but the interior is quite clean and has a nice patina.
The bidders clearly perceived the wear here as originality—not unjustifiably since the car was coming out of 40 years of single-family ownership, showing 10,800 miles, and had been recently serviced. It has already been awarded for its impressive level of preservation and is, indeed, too good to restore. That helped the car sell for just a smidge below the Condition #1 value of $3.6M, which means the market for excellent 275 GTBs remains strong.
Sold for $3,965,000 (RM Sotheby's) | Condition #3+
Another Ferrari that has seen lots of pandemic-era appreciation—50 percent in the past three years—and another confirmation sale here. This 288 GTO is decently maintained, but a handful of dings and chips on the lower front bumper and chips on the lower brake cooling ducts attest to some use. The interior isn't overly worn; however, the red inserts to the seats appear faded. Yet the car sold for almost 25 percent above condition-appropriate value.
Sold for $4,295,000 (RM Sotheby's) | Condition #2-
Duesenbergs are selling well these days, with nearly 81 percent of those auctioned in the past five years finding new homes. This car, which wears an astonishingly well-maintained older restoration, sold for $775K more than it did in 2015. The body and paint is excellent, there are no notable flaws, but there is a small leak at the back of the transmission. Otherwise, the underbody has been kept in excellent condition, and the driver's seat exhibits minimal wear.
Hagerty Price Guide Condition #1 value for this vehicle is up "only" 9 percent in the past three years; however, the $4.3M price achieved here was nearly 94 percent greater than the condition-appropriate value, suggesting Duesenberg Model J values could be headed higher.
Sold for $5,065,000 (RM Sotheby's) | Condition #2
The $5,065,000 final price for this nearly flawless, 834-mile F50 is just below the Condition 1 value of $5.1M—but this F50 it's still the third-most expensive example to sell at auction.
Sold for $5,340,000 (RM Sotheby's) | Condition #2-
Here's another non-Ferrari, but one very much worth mentioning. The Zonda R is one of the most extreme cars of the last 15 years and one of the most capable track cars anywhere (it still has the non-series, production-based Nürburgring record at 6:47 from 2010). Consequently, Pagani is offering owners of the Zonda R and Huayra R a track-based driving experience school in 2023 as part of their Arte in Pista program.
Despite being only the second Zonda to sell at auction in the past several years, the $5.3M price is in the range of similarly-focused cars such as the Bugatti Divo. 
Sold for $18,045,000 (Gooding & Company) | Condition #1-
One of 37 covered headlight SWB Cal Spiders, the most attractive configuration, this car was built for the 1962 New York Auto Show, and it retains its original drivetrain and body. Reportedly the only Cal Spider in Azzurro Metallizzato, one wonders why they weren't all painted this way. It looks fantastic.
The price set an all-time record for Amelia auctions but fell short of the $18.4M paid for the barn-find chassis number 2935GT at Rétromobile in 2015. The market for seven-figure Ferraris was much more buoyant in 2015—add to that the cloud of barn-find dust—and one senses those bidders got carried away. That the market has rebounded for an exceptional 250 SWB Cal Spider is encouraging.