The roster of Monterey Car Week's auctions is traditionally brimmed with a mix of high-end European classics, but we're seeing an ongoing undercurrent within the sea of Ferraris, Jaguars and Porsches. Japanese classics of any caliber and age have always been an oddity at Monterey, but one big-money sale last year bucked the trend and just might have sparked a fire. The final sale of the week, a Midnight Purple, 1995 Skyline GT-R stunned with a very strong and very unexpected $235,200 sale. While we maintain that sale should be regarded as an outlier, those in attendance last year are likely now aware the GT-R is now considered a serious collector-grade car.
The folks running the auction houses paid attention. This year, the number of Skyline GT-Rs has tripled in representation, with every generation present save the ultra-rare 1973 "Kenmeri" GT-R. Most auction companies merely dabbled in these cars previously, and have less experience selling and marketing them, so we're keen to see how things shake out. If the sales go well in Monterey, buying a Skyline GT-R at a high-end auction could be as commonplace as a finding a Porsche 911.
2001 Nissan Skyline GT-R V-Spec II
A car that needs little introduction, the R34 GT-R is easily one of the most desirable cars among younger enthusiasts. Decades of racing virtual R34s in Gran Turismo and watching Paul Walker driving one in 2Fast 2Furious recruited legions of American fans who wanted nothing more than to park one in their garage. Most still have to be patient, as the R34 still falls just short of the 25 year import rule on cars not produced for the US market. Yet, Mecum's set to auction a 2001 R34 GT-R ready for U.S consumption. How is this legal? Well, long before before select R34s qualified for the exclusive Show or Display exemption list, there was MotoRex.
This now-defunct company in the late 1990s and early 2000s specialized in importing Skylines to the U.S with full street legality. Independent crash testing met NHTSA requirements, and cars landing in the U.S were updated to meet U.S safety and emissions standards and, unlike Show or Display, these cars had no usage restrictions. In a turn of events worthy of a book or movie, MotoRex was shut down following a series of financial problems that spiraled out of control. NHTSA revoked the approved import status of the Skyline but luckily for owners who already went through the process, they were allowed to keep their street-legal GT-Rs. When the dust settled, it's estimated that 14 of the cars imported by MotoRex were R34s—including Mecum's GT-R.
Mecum's GT-R's status as a MotoRex import is noteworthy on its own. This is the first time a MotoRex car has hit the auction block, having previously only traded hands in private sales where they reportedly bring huge money. This R34's Paul Walker connection ensures it should bring huge cash, and more. Walker reportedly purchased two cars from MotoRex, but not before the company loaned him this R34 (and others) for an extended test drive. Very extended in this car's case.
The history of this particular car perfectly sums up the business practices that led to MotoRex' demise. According to GTR-Registry, this R34 was sold to a U.S serviceman stationed overseas and subsequently exported to the States. While the car was in the States, the owner reportedly told MotoRex they were considering selling it, so it was quickly loaned to Walker, with the owner none the wiser. During the test drive, the car went to GReddy Performance where it was stuffed full of performance goodies, later appearing at SEMA and in a BF Goodrich marketing campaign, in the process becoming one of the most recognizable R34 GT-Rs in the world at the time.
Despite the addition of thousands of unexpected miles, the original owner decided to keep the car after all, only selling it in the past year to its current owner. For old-school JDM scene people, a shot at buying this car at auction is a once-in-a-lifetime opportunity. We estimate that a standard MotoRex R34 GT-R will set you back anywhere from $200,000 – $700,000, but Mecum estimates the extra provenance of this iconic car elevates it to the $750,000 – $850,000 range. If this turns out to be the case, it would easily make it the most expensive GT-R ever sold at auction.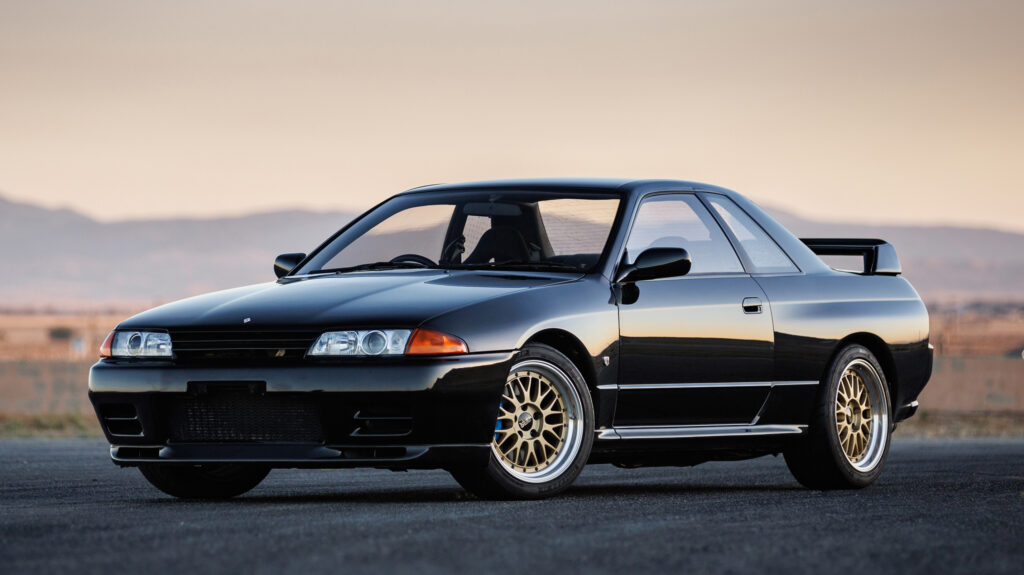 As a side-effect of its capacious appetite for modifications, GT-Rs are rarely seen in an unaltered state. Even this 29,000-kilometer (18,000-mile) example offered by RM Sotheby's couldn't escape the aftermarket. RM notes the car wears an aftermarket exhaust and BBS wheels, but GT-R nerds will also note the presence of a set of Brembo brakes (only offered on the later V-Spec and V-Spec II), FET Sports strut tower brace, Blitz radiator, and possibly a set of aftermarket coilovers. As these are just a collection of bolt-on parts, a fastidious owner could easily reverse this in a weekend—provided you can locate stock parts, of course.
1994 Nissan Skyline GT-R JGTCC-GT1
American enthusiasts might be surprised to learn that Nissan can rightfully be counted amongst the great marques of motorsport alongside the likes of Ferrari, Porsche, and BMW. The feats of the R32 GT-R on the racetrack is nothing short of legendary; It won the both the Australian Touring Car Championship in 1990, 1991, and 1992, and the grueling Bathurst 1000 in 1991 and 1992. In Japan, it swept the Japanese Touring Car Championship (JGTCC), undefeated in the 29 races it entered.
RM Sotheby's is auctioning one of these famous JGTCC monsters for the first time on American soil. Hasemi Motorsport built and campaigned this GT-R in the GT1 class for the 1994 JGTCC season with the famous Masahiro Hasemi piloting the car for all but one race. Wearing extensive carbon fiber body work and a specially built RB26DETT engine built by RENIK, this 450-horsepower monster held its own against the mighty Porsche 962C and Ferrari F40 LM.
Notable wins include the Sendai Highland GT, 24 Hours of Tokachi, and a second-place finish overall in the 1994 driver's championship. The car would be retained by the team until 1996 before entering private hands. Expectations are strong with a high pre-sale estimate of $500,000, but offering it at no reserve is a bold move considering the relative obscurity of JGTCC racing in the U.S. We'll see what happens.
This 1,590-kilometer (988-mile) is about as close to new as it gets. Last year, RM Sotheby's 46,000-kilometer clone of this car shattered expectations with a final price of $235,200. That was clearly an outlier, but RM hopes to recreate the same magic this year.
Last year's sale really caught us by surprise. R33 GT-Rs are often overlooked by GT-R fans, considered by some enthusiasts to be too big and heavy compared to the R32, and lacks the visual aggression offered by the R34. There's less of a pop culture draw as well, despite an appearance in The Fast and The Furious. GT-Rs are hit or miss in the auction space, so if an R33 hits big again, perhaps this is a signal that even the buyers in Monterey have finally warmed up to Japanese cars.
1993 Nissan Skyline GT-R "Top Secret"
Every major Japanese tuning house builds cars based on a core philosophy, and tuner "Top Secret" typically goes for all out speed and power. The infamous high-speed antics of founder Kazuhiko "Smoky" Nagata built quite a reputation for itself in the States, and as such, Top Secret-built cars are highly sought after machines—though only few make their way to the US.
Mecum's Top Secret R32 likely has the attention of most U.S GT-R enthusiasts. The car is heavily upgraded, starting with an 2.8-liter stroked N1-spec engine wearing larger turbochargers, with an HKS suspension and big-brake kit to rein this extra gumption in. Surprisingly, the interior remains fairly standard with the sole addition of a roll cage and a set of custom gauges mounted onto the glovebox.
1971 Nissan Skyline 2000 GT-R Coupe
Rounding out the field is the grandpop of all GT-Rs, the Hakosuka. Like the later R32, the Hakosuka was a motorsports powerhouse, with 50 racing wins in under 3 years of racing. No wonder it's said "The Skyline's only rival is Skyline."
Early Skylines were all 4-doors, making the later coupes like Gooding & Company's Hako far rarer and desirable. The car presents in very stock condition aside from a set of handsome SSR alloy wheels, with an original interior complete with original keys, jack, and spare. These cars do not come up for sale often, and is a necessary piece of any serious GT-R collection.
Are you planning to attend Monterey Car Week? Keep up to date on the latest news and events by subscribing to our special edition newsletter or text Pebble22 to 227588 (CAR LUV) for real-time event updates straight to your phone.