Prewar Mercedes-Benzes, particularly those with unique coachwork and bespoke build attributes, have long had a strong following at concours across the world and Pebble in particular. The Mercedes-Benz 540K represents the pinnacle of that era, and aside from certain one-offs, the 540K Special Roadster sits atop the model line as the most valuable. Out of the 419 540K chassis built, it's believed that only 25 were Special Roadsters. This one-off 540 K Sindelfingen Spezial Roadster offered by Broad Arrow Group* at its Monterey Jet Center auction presents a number of unique elements that further set it apart.
One of the fastest road cars of its day, the 540K sported a Roots-supercharged 5.4-liter straight 8-cylinder engine delivering 180 horsepower and fully independent suspension. Despite carrying its nearly three-ton weight across an enormous but slippery 17-foot long body, the two-seat Special Roadsters were lauded as excellent grand tourers. This example is one of only a few featuring a five speed manual transmission, a rare option even in cars 30 years younger.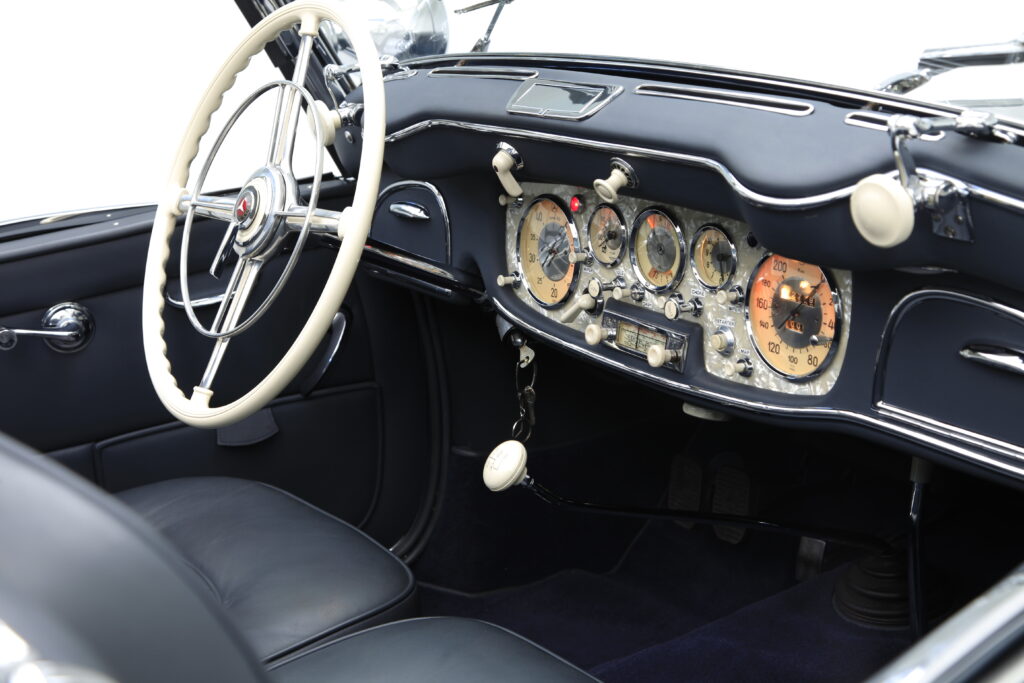 Chassis number 408383 was completed for Rolf Horn in August of 1939. Mr. Horn operated one of Berlin's most exclusive art and interior décor boutiques and is said to have had a major influence in the conception and design of the car. Prominent features not incorporated into other Special Roadsters include cut-down doors, deleted running boards, a more steeply raked windshield, and two rows of louvers on the hood side panels. The most noticeable difference are the fenders, which are French-influenced and almost teardrop-shaped in design. Mr. Horn used the vehicle very little before the onset of World War II, when he took the car off the road.
The car, stored on blocks, was discovered in surprisingly excellent shape in 1946 in the Soviet-occupied portion of Berlin and was used by Soviet diplomats until 1953. It then changed hands to Russian collector Arthur Leshtin, who in the early 60s sold the car to Alf Johansson, a Swede living in Moscow. Never thinking he'd be able to get the car out of the Soviet Union, Johansson nonetheless drove it to the Swedish-Russian border, told the Soviet border guards he was headed home for a vacation, and they let the car through.
Following those notable adventures, it spent years within a few great automotive collections. It has since been inspected by a team from the Mercedes-Benz Classic Center in Germany and, while the stamped motor number on the block was subsequently noted to be from a later date, the major components are all said to be original to one another. This noteworthy example of the 540K took 2nd in class at the 2012 Pebble Beach Concours d'Elegance and followed that up with class wins at Amelia Island and Pinehurst, a Best of Show at Sports Sunday at Mar-a-Lago, a People's Choice award at Hilton Head, and a Judge's Choice at Lake Mirror, among other accolades.
Broad Arrow estimates this 540K to sell between $7,000,000-$8,000,000. Among last of its kind constructed, this owner-commissioned and uniquely designed and optioned 540K Sindelfingen Special Roadster represents a significant example with a compelling history. We look forward to seeing where the hammer falls.
__
*Hagerty has entered into a joint venture with Broad Arrow Group. You can read more about it here.
Are you planning to attend Monterey Car Week? Keep up to date on the latest news and events by subscribing to our special edition newsletter or text Pebble22 to 227588 (CAR LUV) for real-time event updates straight to your phone.