For all the elite aspects of Monterey Car Week—the rare and valuable cars, the wealthy attendees, the top-flight competition at the Concours—it's the sheer eccentricity of the event that makes it worth coming back year after year. You can see people, venues, even wardrobes that you likely won't any other time or place. Naturally, the wonderful weirdness extends to the variety of cars for sale at the auctions. There are always a few vehicles that we seldom see, never see, or never even knew existed.
Here are nine quirky rides that we look forward to sizing up in person.
1948 Patriarca Sport Barchetta
This little red car with a sausage-shaped body and target for a nose was built in Rome by a fellow named Rodolfo Patriarca. While not a household name, Patriarca was a well-known local tuner who serviced racing cars for wealthy clients. In 1948 he, like so many of the so-called "etceterini" in postwar Italy, started building his own cars, borrowing heavily from the Fiat parts bin.
A Patriarca won its class at the Mille Miglia in 1950, and his cars contested the classic Italian road race until 1955, but this car is one of his earliest creations. It has a steel tube frame, aluminum body, Fiat four-cylinder engine, and a 4-speed gearbox. It was also featured on the official book, aka il libro ufficiale, for the 2016 Mille Miglia.
1938 Peugeot 402 Darl'mat Special Coupe by Pourtout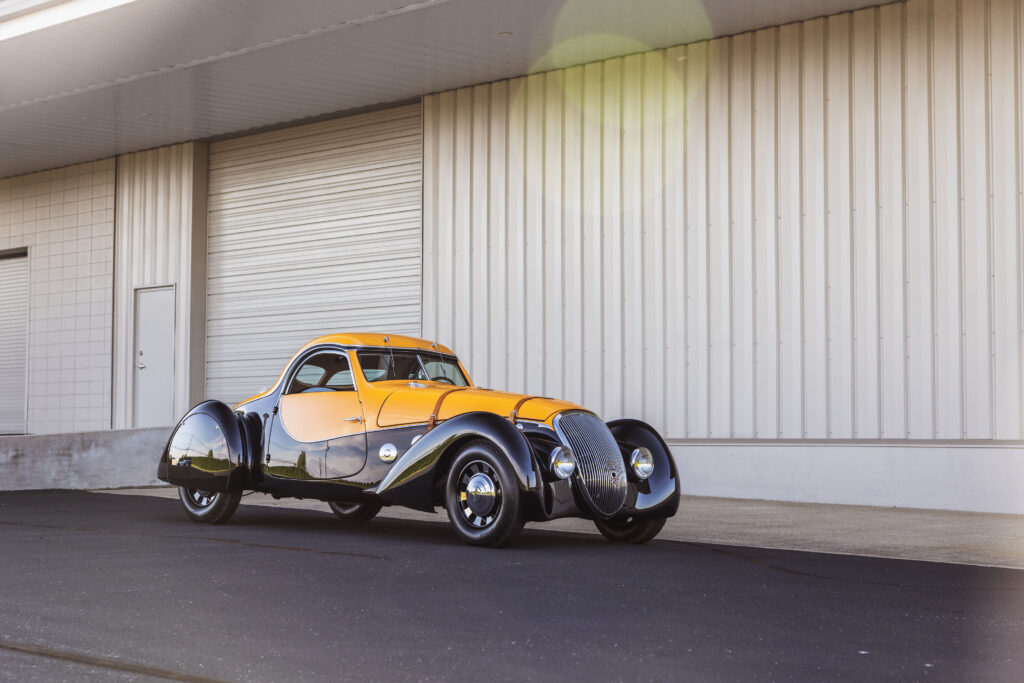 Paris-based Émile Darl'Mat owned one of the world's largest Peugeot sales networks in the 1930s, so he had some pull in the car world. One of only a few dealers able to offer custom coachwork to his clients, he also earned Peugeot's blessing for a limited run of sports cars based on the Peugeot 302 chassis, with the larger 2.0- or 2.1-liter four-cylinder overhead valve engine from the Peugeot 402.
He went to nearby coachbuilder Marcel Pourtout for the bodies and Pourtout's stylist Georges Paulin penned the swooping Art Deco lines. The Darl'Mat was available in roadster, cabriolet or coupe body styles, but the majority of the 105 Darl'Mats built were open cars. Just 20 coupes were built, according to RM Sotheby's, and just six on the 420-series Légère (lightweight) chassis.
Odd or exquisite depending on whom you ask, this one was Émile Darl'Mat's Christmas present given to his race team director. Restored in the 2000s, it has an estimate of $1.1M-$1.5M for its trip across the block in Monterey.
Born of the U.S. auto industry's corporate mishmash during and immediately after the Great Depression, the Graham Hollywood has a somewhat convoluted history. The Graham Brothers brand started out in the truck business in the late teens, but by the end of the 1920s they had sold said business to Dodge. Then, they bought the Paige-Detroit Motor Company, creating Graham-Paige. Graham-Paige stayed afloat through the Depression, but wasn't doing so hot by the end of the 1930s.
Meanwhile another struggling carmaker, Hupp, had acquired the body tooling for the groundbreaking, coffin-nosed Cord 810/812 but couldn't afford to actually build its own Cord-esque car. So Hupp hooked up with Graham-Paige, who would build the car on a contract basis for Hupp as well as produce its own Graham-badged version.
If you're still following, Graham's version was ambitiously dubbed "Hollywood," and it does indeed look like a cleaned up Cord 812. Except two of the Cord's most interesting features – front-drive and pop-up headlights – were gone in favor of rear-drive and fixed beams. Despite some initial enthusiasm, production delays and canceled orders meant that the Hollywood was a flop and production was only a fraction of what was planned. This example last sold at auction in 2016 for $51,700.
1955 Porsche Type 957 "Jadgwagen" Prototype
In the mid-1950s, Porsche tried to snag a German Army contract calling for a light offroader. Ferdinand Porsche had designed the original Kübelwagen during World War II, after all, so this wasn't Porsche's first rodeo.
The resulting Type 597, aka "Jagdwagen" ("hunting car"), certainly looks the part with high ride height, short overhangs, and a simple cockpit layout with selectable four-wheel drive. But underneath it was still a Porsche, with a 1.5-liter air-cooled flat-four and 4-speed manual from the 356 sports car.
In the end, the Jagdwagen simply cost too much to make and the army instead picked the DKW "Munga," which Auto Union built from 1956-68. Porsche shopped the Jagdwagen around to some other foreign militaries and wealthy sportsmen, but in the end just 71 Type 597s were built. The last one of these rough and tumble Porsches we saw at auction was in 2016, when one sold out of the Jerry Seinfeld collection brought $330,000. This one in Monterey, the fifth example built, is estimated to bring a much higher $725,000–$775,000.
1952 Lancia Aurelia B53 Giardinetta by Viotti
The name Lancia usually conjures up images of leaping rally cars, not woodie wagons. And yet here is an old Aurelia clad in wood-paneling. The styling was penned by Giovanni Michelotti while he was working at Carrozzeria Viotti. Viotti is credited with coining the term Giardinetta, which eventually became the Italian byword for a wagon.
Represented as one of 47 examples built and one of just two known to survive, at some point it was reportedly donated to a convent in Sardinia but later left the nuns and was restored in the 1980s. It was shown at Pebble Beach in 2008. Today, it looks ready to hit the Alps with vintage skis and poles affixed to its nifty roof rack.
There's nothing that odd or unusual about a BMW 2002. Hundreds of thousands of 02-series Bimmers were built, and its three-box design is automotive simplicity at its best. Lop the top off of that middle box, however, and you get this funky thing.
Represented as one of 2317 2002s converted by the Stuttgart coachbuilder Karosserie Baur, this Taiga Green Bimmer features a removable roof section that can store in the trunk. Meanwhile, the rear window section is soft cloth that folds down for an almost totally open-air experience. The rear deck of a regular 2002 is already long, but with the top down this one almost looks like a pickup truck in profile. Both these and Bauer's targa conversions of later 3-Series are prized by BMW folks. Gooding sold another Baur 2002 in Amelia Island two years ago for a strong $38,080. This one looks to be in much better condition, hence its $55,000–$65,000 estimate.
1936 Twin Coach Helms Bakery Delivery Truck
From the 1930s through the 1960s, Helms Bakery trucks wafted the smell of fresh bread, pastries and donuts up and down Southern California streets. You couldn't buy Helms products in stores; you had to find one of the distinctive two-tone yellow and blue trucks. In 1969, Helms bread also hitched a ride with Buzz and Neil on the Apollo 11 mission, hence the "First and Finest on the Moon or Your Home" sign on this one.
Built by Twin Coach of Ohio in 1936 (the same year of the first Oscar Mayer Wienermobile), this delivery truck is powered by a Hercules four-cylinder engine and has since been restored to bakery fresh condition.
How much dough will you need for this bread truck? Quite a bit, apparently. RM's presale estimate is $90,000–$110,000.
1960 Chevrolet Corvair Coupe Speciale by Pinin Farina
Pinin Farina (shortened to Pininfarina in 1961) was Ferrari's favorite coachbuilder, and the Italian firm's sleek designs have been draped over Alfa Romeos, Maseratis, Cisitalias, Lancias, even Cadillacs. But a Corvair? Yep, even a Corvair.
GM shipped this one to Pinin Farina requesting a design proposal. PF delivered a sleek coupe displayed at the Paris and Torino Motor Shows, and it even made the March 1961 cover of Road & Track with the simple caption, "Corvair Special by Pininfarina." The shape was later refined twice by Tom Tjaarda, and if you look at it in profile and squint hard enough, this Covair in an Italian suit almost looks like some of the larger Ferraris of the period. Underneath that Italian metal, it's the same Corvair that so got under Ralph Nader's skin, swing-axle suspension and all. With an estimate of $300,000–$500,000, it has a very real chance of being the most expensive Corvair ever sold at auction.
1926 Daimler 45 HP Salon Sabriolet "Star of India" by Barker
We saved the strangest for last. Commissioned new by (deep breath) Major-General His Highness Samrajya Maharajadhiraja Bandresh Shri Maharaja Sir Gulab Singh Ju Deo Bahadur of Rewa, it was outfitted for tiger hunting with all manner of features, some nifty and some whacky. Like many state leaders under the British Raj, the Maharaja of Rewa enjoyed his Rolls-Royces but for this one-off turned to Daimler for the chassis and Barker & Company of London for the coachwork, which is made not from some plebian material like aluminum or steel but sheets of polished German silver. There is just a single door on the passenger's side, and a huge rear seat for the owner. Why would he drive? He had tigers to shoot.
There are also two separate sets of windows, one of clear glass for when the Maharaja was on board, the second of smoked Triplex for when his two wives were with him. Other features include a gradient meter to measure the angle of the terrain during the hunt, running boards for carrying attendants and gunbearers, and horns shaped like boa constrictors. After it was completed, a picture of it appeared in the June 1927 issue of Vanity Fair, with the caption "The Car of an Indian Potentate."
The potentate's rule ended in 1942 over the usual stuff (bribery, stealing state funds), but the Daimler stayed in India until the early 1970s. It's still in largely original condition and reportedly runs and drives but needs some mechanical sorting, and tiger hunting is probably illegal in California, anyway.
Are you planning to attend Monterey Car Week? Keep up to date on the latest news and events by subscribing to our special edition newsletter or text Pebble22 to 227588 (CAR LUV) for real-time event updates straight to your phone.