Is it just us, or does it feel like Monterey Car Week got here in a hurry? Maybe we're just eager to get back to Pebble Beach and enjoy America's greatest gathering of classic cars, but one thing is for sure: when you're looking forward to the auctions as much as the events, you can guess where you are.
The 71st Pebble Beach Concours d'Elegance is just around the corner, and the golf course gathering of amazing cars on August 21 isn't the only place to find jaw-dropping automobiles. There are many more scattered throughout the auction tents in Monterey. Ten of the cars carry low estimates of $7 million or more, and eight have high estimates of $10 million or more.
"The fact that there are eight cars with estimates in the eight-figure range is amazing, even for Monterey, and further confirms that this is the place for the world's top auction cars," says Hagerty auction editor Andrew Newton. "There have been more expensive cars in Monterey before, but the sheer number of vehicles in the high seven- to low eight-figure range means that this will be a significant year for Monterey Car Week."
Regardless of whether you're a buyer, seller, or just an enthusiastic observer, it will be captivating theater. To whet your appetite, here are the 10 highest auction estimates, listed from lowest to highest.
1930 Bentley 4 1/2 Litre Supercharged "Blower" Sports Tourer
Estimate: $7M–$9M
A total of 720 4 1/2 Litre cars were produced between 1927 and '31, but only 50 were equipped with superchargers after leaving Bentley, which remained focused on endurance and staunchly refused to bow to the new trend of adding blowers to increase power. Inspired by the vision of Sir Henry "Tim" Birkin, who thought supercharging was the key to success on the track, this one (chassis #3913/engine #3916) is fitted with an original Amherst Villiers Mk IV supercharger and features Vanden Plas coachwork in its original blue livery. The Bentley was honored with a First in Class award at the 2019 Pebble Beach Concours d'Elegance, and although it hasn't been publicly shown since, there are millions of reasons for its return to Monterey.
1966 Ferrari 275 GTB/C by Scaglietti
Estimate: $7.5M–$9M
The 275 GTB/C, successor to the iconic GTO, was notably the last racing GT model built by Ferrari's competition department. Exclusively sold to and raced by preferred privateer clients, these highly capable berlinettas are now regarded as some of the most powerful GT racers of their era. This 1966 Ferrari 275 GTB/C (chassis #09067) is the ninth of 12 third-series examples built. With coachwork by Scaglietti, it was only minimally raced in period and benefits from a comprehensive three-year restoration that culminated in its appearance at the 2017 Pebble Beach Concours.
1953 Ferrari 375 MM Spider by Scaglietti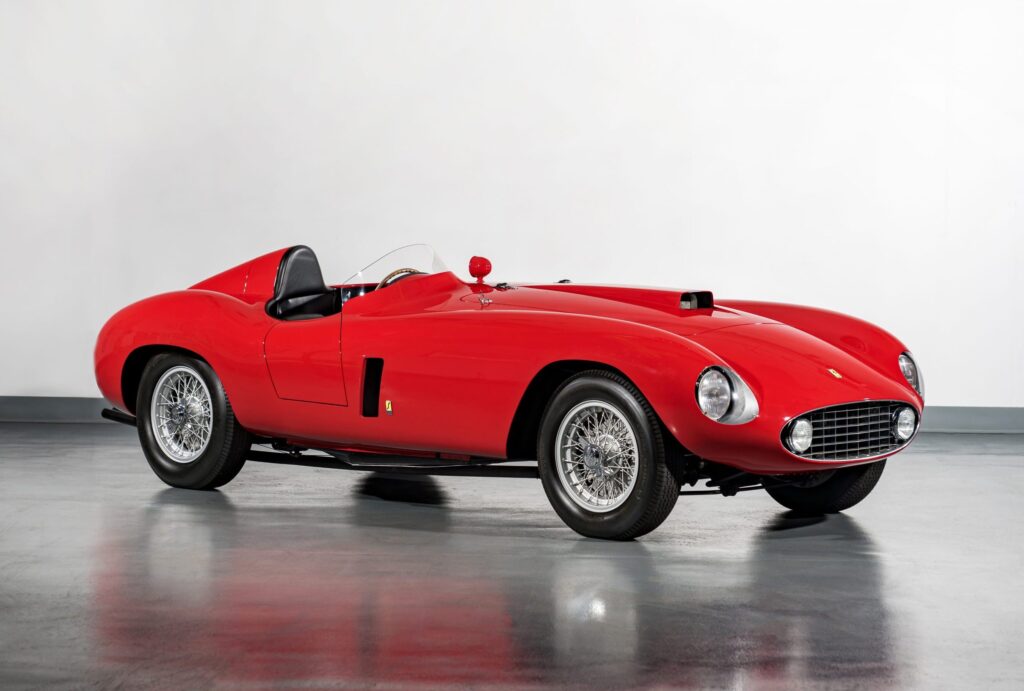 Estimate: $8M–$10M
The fourth of 12 examples originally completed as Pinin Farina Spiders, and the ninth of 26 examples built overall, this numbers-matching, open-cockpit 1953 Ferrari 375 MM (#0366AM) comes from the magnificent collection of the late Oscar Davis. The 375 MM is powered by a 4.5-liter V-12, which was quite attractive to its original owner, Casimiro De Oliveira, who had it delivered to the 12 Hours of Casablanca in December 1953. Oliveira teamed up with reigning two-time Formula One champion Alberto Ascari at Casablanca, and it got off to a great start as Ascari took pole position in qualifying. But Oliveira crashed in practice, and in early 1954, the Ferrari was sent to Maranello for repairs and then on to Scaglietti for new coachwork. It later competed in Portugal, Sweden, and Finland, but didn't find much success. Regardless, any 375 MM would be a star in any collection, and this one could climb into the eight-figure range.
1957 Ferrari 500 TRC Spider by Scaglietti
Estimate: $8M–$10M
Also from the Oscar Davis collection, and also numbers matching (#0706 MDTR), this rare 1957 Ferrari 500 TRC Spider is the 18th of 19 examples built. Widely considered the most beautiful of the Testa Rossa designs, it raced at the 1957 24 Hours of Le Mans (by Richie Ginther and François Picard), and Gaston Andrey made full use of its 2.0-liter Lampredi four-cylinder engine by driving it to 12 overall or class victories en route to winning the 1958 and '59 SCCA E-Modified championships. With its gorgeous design and successful racing resume, the 500 TRC might crack $10M.
1924 Hispano-Suiza H6C "Tulipwood" Torpedo by Nieuport-Astra
Estimate: $8M–$12M
It's OK if you can't look away; this nearly 100-year-old beauty makes it difficult. With its unforgettable lightweight mahogany coachwork, the stunning 1924 Hispano-Suiza H6C "Tulipwood" Torpedo (chassis #11012) is a true work of art. Commissioned and competed by gentleman racer André Dubonnet, it finished sixth in the 1924 Targa Florio and fifth in the 1924 Coppa Florio. Following the car's brief but successful competition career, Dubonnet equipped it for road use by adding flat open fenders, a low windscreen, a small door, headlights, and a large searchlight on the passenger's side. Considered by many to be Hispano-Suiza's most famous automobile, it could reach $12M at the gavel.
1958 Maserati 450S by Fantuzzi
Estimate: $9M–$11M
Another top-of-the-line head turner from the collection of Oscar Davis, this numbers-matching 1958 Maserati 450S is the ninth of 10 built, and it was ordered by none other than Texas speed demon Carroll Shelby, who found success in an earlier 450S and personally delivered this one (#4509) to its new owner. Although Shelby never raced this particular car, it went on to win three SCCA regional races in 1958 and had additional success during the 1959 USAC Road Racing Championship season. Powered by Maserati's 4.5-liter V-8 and still possessing much of its original equipment, it returns to Monterey after appearing in the 2006 Pebble Beach Concours.
1938 Talbot-Lago T150-C SS Teardrop Coupe by Figoni & Falaschi
Estimate: $9M–$11M
There's so much to like about this rare 1938 Talbot-Lago T150-C SS Teardrop Coupe. The Figoni & Falaschi-bodied sports car is one of only 11 New York-style Teardrop Coupes constructed by Talbot-Lago in 1937 and '38. Making it even more exceptional is that it's the sole example known to have been commissioned with racing in mind, and it was driven by Phillipe Régnier de Massa and Norbert-Jean Mahé in the 1939 Le Mans 24 Hours.
After 50 years in East Germany, it was liberated in 1989, and it made its way into the Oscar Davis collection in 2006. After undergoing a mechanical and cosmetic restoration, it made its first public appearance in 68 years at the 2007 Pebble Beach Concours d'Elegance. A one-year-older 1937 Talbot-Lago T150-C SS Teardrop Coupe by Figoni & Falaschi sold for $13.425M at Gooding's and Company's Amelia Island auction just five months ago, making it the most valuable French automobile ever sold at auction. As we wrote then, the "Talbot-Lago T150 CSS unites style, design, performance, eye-appeal, history, and rarity." Will that combination make even more magic at Monterey? We wouldn't be surprised.
1937 Mercedes-Benz 540 K Special Roadster by Sindelfingen
Estimate: $9M–$12M
The rare air continues with this 1937 Mercedes-Benz 540 K Special Roadster by Sindelfingen, which is one only three surviving long-tail, covered-spare Special Roadsters. Originally delivered to King Mohammed Zahir Shah of Afghanistan, it was cosmetically refinished in the 1950s but has never undergone a complete restoration. The 540 K has had only five owners from new, has been driven fewer than 13,000 miles, is mostly original, and this is the first time it has ever been offered at auction. Remarkably, there will be a dozen Mercedes-Benz 500/540Ks crossing the block in Monterey this year, but this is the most desirable of the bunch.
1937 Bugatti Type 57SC Atalante
Estimate: $10M–$12M
Represented as "arguably the finest 1937 Bugatti Type 57SC Atalante in existence," chassis #57523 / engine #23S is one of only 17 built, with a fully documented history since it was delivered new to Alphonse Gandon, a successful wine and liquor merchant in Paris. A sportier version of the Type 57, the "S" stands for surbaissé, or lowered, and the "C" indicates that it is powered by a supercharged 3.3-liter eight-cylinder engine. Lighter, faster, and more technically advanced than the already superb Type 57, the S possesses a four-speed manual transmission, four-wheel cable-operated mechanical drum brakes, a solid front axle with semi-elliptical leaf springs, and a live rear axle with quarter-elliptical leaf springs. Since no two 57S Atalantes are exactly alike, the most unique and noticeable feature of #57523 is its large Scintilla headlamps, which give it a dreamy-eyed appearance.
1955 Ferrari 410 Sport Spider by Scaglietti
Estimate: $25M–$30M
It's not easy for a car to stand out at the Monterey auctions. The other nine on this list would be the stars of just about any other auction. But this 1955 Ferrari 410 Sport Spider by Scaglietti is simply a cut above. One of two Scuderia Ferrari-campaigned 410 Sports equipped with a 375-hp, twin-plug, 4.9-liter Lampredi V-12, this numbers-matching jaw-dropper checks more boxes than UPS.
The 410 S (#0598CM) was driven by legendary Juan Manuel Fangio at the 1956 1000 KM Buenos Aires and also raced in period by legendary drivers Phil Hill, Eugenio Castellotti, Masten Gregory, Richie Ginther, Joakim Bonnier, Bruce Kessler, Jim Rathmann, and Chuck Daigh. That alone would make it as rare as hen's teeth, but here's the pièce de resistance: Carroll Shelby had more driving success in this Ferrari than in any other car, notching eight victories and 10 podium finishes during 1956 and '57. (Shelby later signed the large gas tank, "Mr. Ferrari told me that this was the best Ferrari he ever built.") Although the car likely won't come close to unseating the $48M that the record-holding 1962 Ferrari 250 GTO received at Monterey in 2018, it might speed past its $30M high estimate.