With the last of the snow melting up north, it's time to shut off the heat, open up the garage, and declare that driving season has finally arrived. Once spring has sprung, what better way to enjoy the open road than in a convertible?
We've updated our price guide twice since last winter began, and it should come as no surprise that just about everything fun on four wheels is more expensive that it was a year ago. Values of some traditional "budget" or "underappreciated" collector cars even stretched past what we would consider entry-level territory. Cheap classics are a good thing for the hobby, so this development was somewhat concerning—but fear not. We ran through the data and found a plethora of vehicles that, even in #2 (Excellent, or like-new) condition can still be bought for under $20,000. And because spring is here at least, here are seven convertibles.
Median #2 value: $15,600
Cheap and cheerful motoring is what old British roadsters are all about. This being 2022, though, things aren't quite so cheap even if the cars remain plenty cheerful. Alas, over the past few months, condition #2 values for chrome bumper MGBs and early Sunbeam Alpines slipped past 20 grand, and these days even driver-quality Triumph TR3s and TR4s are in $20k territory. Fortunately, anybody on the hunt for a cheap English two-seater is still spoiled for choice, especially if they're willing to think a little smaller.
Take the Triumph Spitfire, for instance. With the name of a Battle of Britain-winning fighter plane and a shape penned by Giovanni Michelotti, it's cool. With over 300,000 built over 18 years, it's also plentiful, and parts are easy to find. With a clamshell hood and simple engineering, it's easy to work on if (erm, when) it breaks. It's also always more fun to drive a slow car fast, right? Well, you can drive a Spitfire like a bat out of hell in the right lane even as CR-Vs and Subarus breeze by you in the left. And even though median #2 values are up 34 percent over the past two years they're still cheap. Scruffier driver-quality Spitfires can still be had for well under five figures.
Although the Spitfire changed significantly over its nearly two-decade run, #2 values are broadly similar, holding steady in the mid-teens (add a few hundred bucks for a factory hardtop) because each version has its pluses and minuses. Earlier ones with swing axle rear suspension have tricky handling at the limit but they look better. Later ones, meanwhile, have better suspension and more creature comforts but aren't quite as handsome.
Other open-air Brits under $20k include the Lotus-powered Jensen-Healey, Morris Minor 1000 convertible, TVR 280i, and Series II Sunbeam Alpine. The equivalent MG Midget/Austin-Healey Sprite also offers a similar experience to the Spit but commands a few grand less.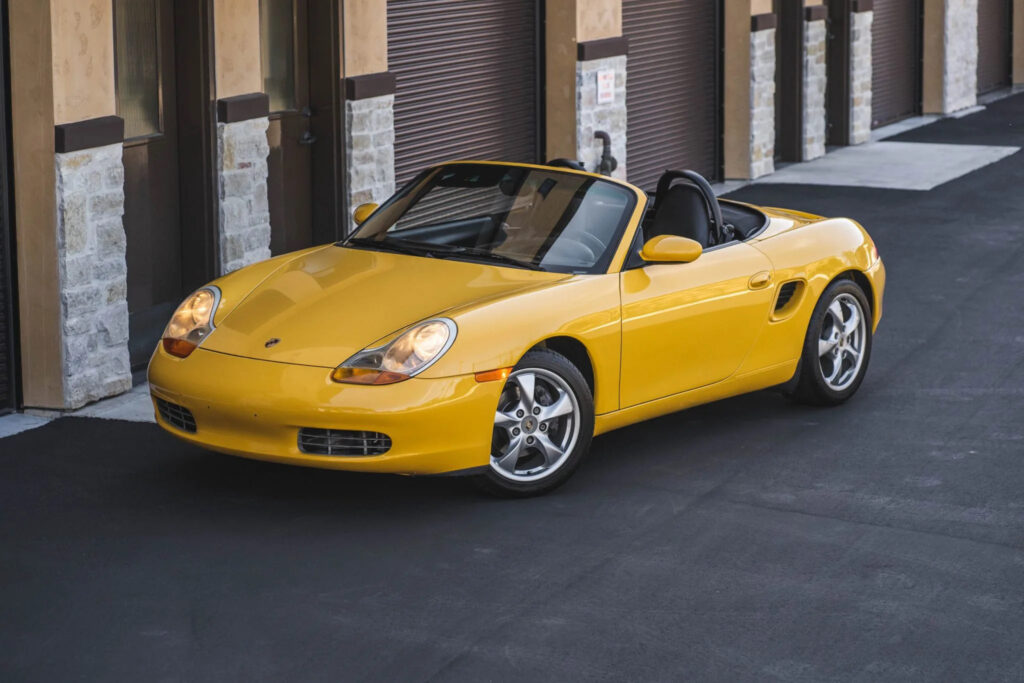 Median #2 value: $18,500
Sadly, there are almost no cheap Porsches anymore. The 996-generation 911s (1999-05) have started to appreciate, 944s have crossed the $20k line, and even four-cylinder 914s carry a #2 value of 40 grand or more. So it seems strange that clean early base model Boxsters, which started at over 40 grand when new, are still so cheap in 2022. Sure, the Boxster isn't the best-looking thing to wear a Porsche crest—and it has been the butt of many a joke—but you could say the exact same thing about the 914, a car that's now twice as expensive as its droptop relative.
Boxsters are well-balanced and fun to drive but still comfortable, and with one trunk in the front and another behind the engine, they're more practical than they look. Their reputation was tarnished by the infamous IMS bearing failure issue, but after two decades any blown engines are unlikely and some cars have had their motors preemptively fixed.
Other sub-$20k German droptops that rubbed shoulders with the Boxster include base model (non-Kompressor) Mercedes-Benz SLKs, early BMW Z3s, and Audi TT Quattro Roadsters. All have their strengths, but the Boxster is the enthusiast's choice. Comparing it to the Benz and the Bimmer, Car and Driver concluded "if there has been a contest going on among BMW, Mercedes-Benz and Porsche to see which German automaker could build the best-performing small roadster...Porsche should be passing out cigars right now."
1985-90 Alfa Romeo Spider Graduate
Median #2 value: $18,400
Even more so than the Spitfire, the original Alfa Spider is one of those cars that just kept factories buzzing for decades. Running from the 1966-94 model years, it's also one of a precious few made-in-Italy two-seaters that an average enthusiast could dream of parking in their garage. That said, #2 values for even the cheaper, later Alfa Spiders have stretched past 20 grand over the past couple of years. In fact, there's only one version left under our magic $20k, and that's the Spider "Graduate."
Named as a nod to the 1967 film in which Dustin Hoffman's most memorable costar (other than Mrs. Robinson, maybe) is his red Duetto Spider, the Spider Graduate was introduced for 1985 as a cheaper entry-level Alfa. It came with steel wheels, manual windows and vinyl seats, but it's powered by the same famously eager 2.0-liter twin-cam four as the better-equipped Quadrifoglio and Veloce models. Same style and same driving experience, just at a tempting discount.
Median #2 value: $15,100
You don't need racing pedigree and a storied badge on the nose to enjoy a top-down drive. You don't even need roads, really. Not if you have a capable rock-hopping 4x4 like the Suzuki Samurai (called the Jimny overseas). An affordable, reliable pint-sized 4x4 with similar dimensions to the original WWII Jeep makes a whole lot of sense, and yet nobody sells anything quite like the original Samurai in the U.S. anymore. That's one reason why we picked the Samurai as one of the car most likely to appreciate in value this year.
And appreciate it has. Median #2 values jumped 22 percent with the latest update of the Hagerty Price Guide, but that number is still just $15,100 (add $1000 for a hardtop). As of this writing, the most expensive Samurai in our price guide is $17,100.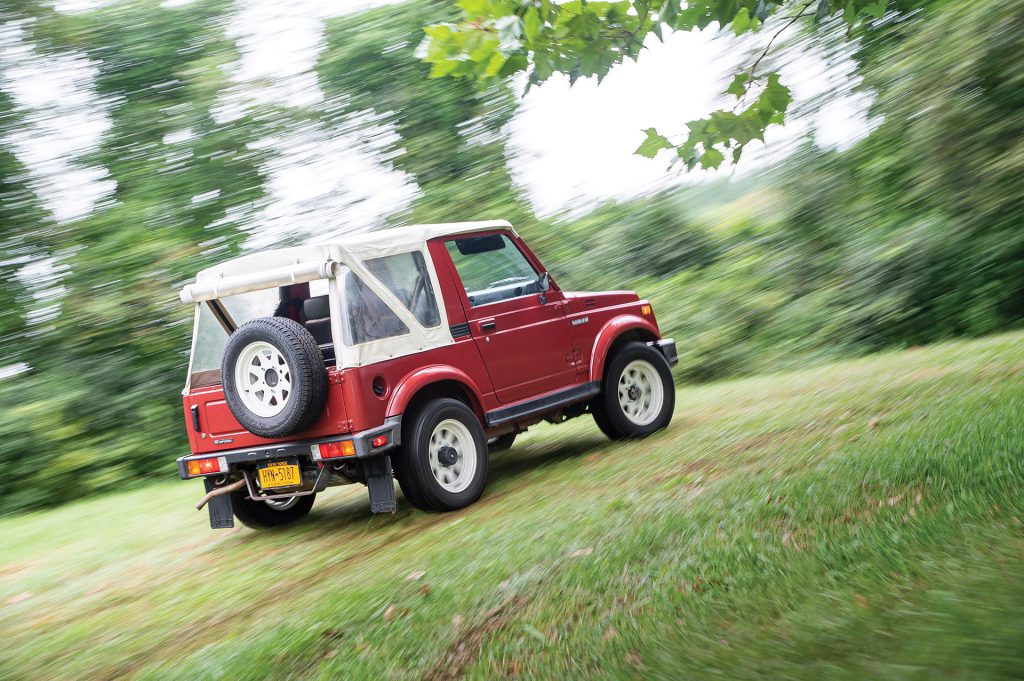 Samurais may have been popular with '90s sorority sisters and surfer dudes, and they may need a tailwind to get a speeding ticket, but they are tough little things. At barely over a ton a Samurai weighs less than almost any sports car on the market today, and with twin live axles on leaf springs and hi-lo transfer case they can hang with the big guys in the rough and tumble. Clean examples are getting hard to find, but they are out there.
1982-85 Buick Riviera Convertible
Median #2 value: $17,650
If the noise of the Triumph and the spine-stressing ride of the Suzuki don't sound appealing, then there are plenty of good-old-fashioned American luxo-cruisers to waft you down the boulevard. Unfortunately, many of the big Cadillacs and Lincolns that come to mind stretch past our budget in #2 condition. But there are others.
Take the Buick Riviera, for example. The sixth gen Riviera shared its E-body platform with the Cadillac Eldorado and Oldsmobile Toronado, and for 1982 Buick introduced a soft top version. It was the first ever Riviera convertible and in fact the first convertible from any GM brand since the '76 Eldorado.
Droptop Rivieras started life as standard coupes then went to ASC in Lansing, Michigan, for an extensive conversion process. The conversion, and the shipping costs, partly explain why they were so expensive; at nearly $24,000, a droptop was $10k more than a base coupe. Riviera convertibles were only available in White or Red Firemist with Claret or Maple interior.
The sixth gen Riviera has the unenviable title of Buick's first front-wheel drive car, but who cars where the power's going when you're on a cruise listening to tunes? Only about 4000 convertible Rivs were built, so if you can't find one that hasn't been trashed or turned into a SLAB, other home-grown under-$20k convertibles include the 1971-75 Pontiac Grand Ville, 1988-91 Buick Reatta, and 1987-93 Cadillac Allante.
2006-10 Pontiac Solstice/Saturn Sky
Median #2 value: $14,800 for Solstice; $18,500 for Solstice GXP; $14,900 for Sky; $18,000 for Sky Redline
The list of American sports cars that don't end in 'vette is, sadly, a short one. GM in particular has always been unease about building two-seaters, scared of buyers straying away from Chevrolet's precious two-seater. And even though Pontiac was supposed to be GM's performance division, its only real sports car was the 2006-10 Solstice.
GM's Miata-fighting four-cylinder drop top isn't perfect. Its 2.4-liter Ecotec four was never designed for track duty and instead came from boring GM front-drivers like the Pontiac G6 and Chevy HHR. Its 5-speed hailed from the Chevy Colorado pickup. The interior is standard 2000s GM: cheap plastic, cheap plastic everywhere. But it is a fun driver for the price, with Road & Track concluding "it's not perfect, but it's a pure, satisfying roadster for 20 grand."
On track, the Solstice won the SCCA Showroom Stock B and Touring 2 championships, and in 2007 the lineup got a higher-performing Solstice GXP model. For only a few grand more, it ditched the 177-hp Ecotec for a new 2.0-liter dual-scroll turbocharged engine with 260hp and 260 lb-ft of torque, and got a limited-slip. Meanwhile, GM jazzed up the ailing Saturn lineup with a reskinned version of the Solstice called the Saturn Sky. Neither lasted long, however, as they were both casualties of GM's Great Recession bankruptcy.
As memories of both Pontiac and Saturn fade, the median #2 values for the Solstice are up 19 percent for the Solstice and 14 percent for the Sky. That's not nothing, but compared to some other formerly "cheap" sports cars it isn't much. And compared to some of the more beloved Japanese roadsters out there, the homegrown Solstice/Sky twins are still a tempting value. Or, you could do the boring, predictable thing and buy a Miata.
1990-98 and 1999-2005 Mazda Miata
Median #2 value: $18,300 for 1990-98; $15,900 for 1999-2005
... and nobody would blame you if you did do the boring, predictable thing and buy a Miata. There's a reason why it's the king of cheap sports cars and why the whole "Miata is always the answer" meme exists.
The story of the Miata and why it's so darn good has been told a million times. The trend of clean ones becoming frustratingly pricy, however, is a somewhat recent phenomenon. A few months ago we bemoaned the end of the cheap Miata. Looking back at #2 values over the past five years, first gen (NA) Miatas are up 118 percent. Second gen (NB) cars are up 83 percent. That a 1994 Miata in #2 condition is worth the same as a 1994 Corvette still has us scratching our heads.
But let's take a deep breath here. A nice NA or NB isn't as cheap as a lot of us feel it should be, but nothing is lately. Doesn't matter if we're talking convertibles or houses. Four-figure Miatas still abound, and even if cars in excellent condition are still nowhere near as cheap as they used to be, anything less than 20 grand for an iconic do-anything roadster that's endlessly fun and endlessly customizable is still a great value in the grand scheme of things.