While plenty of the action at Arizona Auction Week includes European exotics with sewing-machine-like inline-sixes and intricate V-12s, there are hundreds of rowdy muscle cars up for grabs with snorting V-8 engines. Whether your taste favors Ford, GM, or Mopar muscle, there's likely a big-block on the menu that should suit you. Of course, we'll be there watching as many of them cross the stage, but here are five that piqued our interest as we skimmed the listings.
Want to stay up to date on everything happening at Arizona Auction Week? Whether you're attending or just want to stay close to the action from afar, we've got you covered—from auction results to events and everything in between. Sign up for the daily newsletter here.
1970 Chevrolet Yenko Deuce
Hagerty Price Guide #2 (Excellent) condition value: $119,600
While Chevrolet had seen fit to give the 1970 Nova SS a 300hp 350 small-block and a pair of 396 big-blocks, the solid-lifter LT-1 350 was noticeably absent. The potent, 360-hp LT-1 was a successor to the high-revving 302 and was available in Camaro and Corvette, where it produced an additional 10 horsepower, but Chevrolet snubbed the compact Nova. To remedy this, Yenko Chevrolet used the same method of Central Office Production Order that famously got 427 big-blocks installed in Camaros to match the meanest small-block of 1970 with Chevrolet's lightweight Nova to create a fantastic muscle car combination. Yenko only built 175 Novas for 1970, making the Yenko Deuce one of the rarest Chevy muscle cars of the era.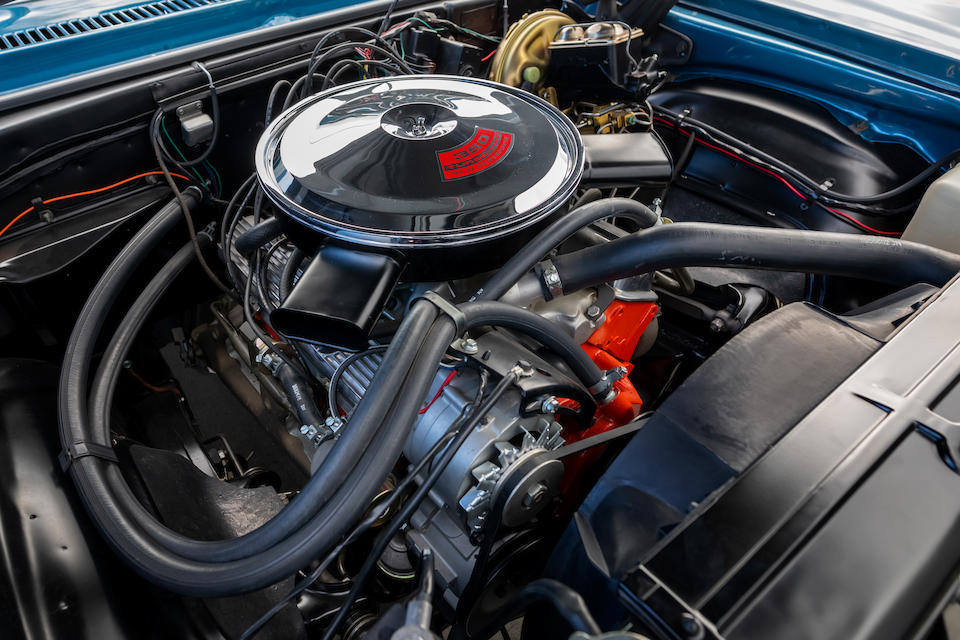 This example offered up by Bonhams is the recent recipient of a full restoration and comes equipped with a four-speed and Hurst shifter.
1970 Plymouth Superbird
HPG #2 value: $415,800
The Mopar wing cars took NASCAR by storm and brought radical, wind tunnel–sculpted bodywork into showrooms. While they may have looked odd, the pointed noses and tall wings helped both the Dodge Charger Daytona and Plymouth Superbird slice through the air and remain stable at speeds exceeding 200 mph on NASCAR's biggest tracks.
This well-preserved Superbird wears a refreshed coat of Tor Red (Plymouth's take on Dodge's Hemi Orange) but the interior and engine bay are all original, owing their fantastic condition to the car's low-mileage condition—it has just over 6000 miles on the odometer. Its 426 Hemi V-8 is just as it was when this beast rolled off the assembly line.
1965 Buick Riviera Gran Sport
HPG #2 value: $81,400
If you prefer your muscle car to be a bit on the understated and luxurious side, may we suggest a Buick Riviera Gran Sport? The first-generation Riviera hit the showroom looking like a concept car with its hidden headlights and sleek, tailored lines. When fitted with the Super Wildcat 425 V-8 and its dual four-barrel carbs, the elegant Riviera was very much a muscle car, churning out 360 hp along with the Nailhead V-8's notorious torque.
Under the hood, a massive air cleaner shrouds the carburetors and keeps up the charade that this is just a luxury cruiser. This well-preserved Gran Sport received a repaint, although it was never fully restored. The car's second owner, who maintained the car for nearly 50 years, seems to have babied it, although we have to imagine the Gran Sport surprised a lot of unsuspecting drivers in its day.
1987 Buick Grand National
HPG #2 value: $52,500
You could argue that Buick's turbocharged V-6 bruiser didn't follow the traditional recipe of a muscle car, but the result was the same. After a decade of underperforming V-8s, enthusiasts were excited to see that fuel injection and boost could offer the performance that automakers could no longer deliver using carburetors and large-displacement V-8s. After a bumpy start, the turbocharged, intercooled Grand National that emerged was a serious performance machine for its era and gave hot rodders a fantastic starting point to create dragstrip machines capable of holding their own against storied muscle-car nameplates that packed twice the displacement.
This Grand National is special as it was the last off the assembly line, spelling the end for not only the Grand National, but for GM's beloved G-body architecture. Assembly line workers signed the car as they built it, and the turbocharger shroud, intake, and alternator all bear signatures and dates in marker. With just 33 miles on the odometer, it's likely one of the best-preserved Grand Nationals in existence, which is saying something as a shocking number of these seem to have been scooped up by collectors with preservation in mind.

1969 Ford Mustang Drag Car
HPG #2 value: N/A
If you're a fan of today's NHRA Pro Stock racing, in which high-revving big-blocks vie for quarter-mile glory, then you've no doubt heard of one of the pioneers in the field, Sam Auxier, Jr. He had a long career in NHRA Pro Stock in a series of Ford entries, often with a 427 SOHC V-8. Prior to that, however, Auxier campaigned this 1969 Mustang Sports Roof powered by a 427 tunnel-port in the AHRA's Ultra Stock class. Contrary to its name, this class wasn't closer to factory stock than the later Pro Stock class were; rather, it allowed for even more modifications. Auxier would launch this Mustang with the wheels up and grab gears en route to 10-second time slips. His successful events in this car include a win over the also-legendary Grumpy Jenkins at the 1968 CARS Magazine meet.
The car was restored to reflect how it looked when it raced in 1969, down to the Mercury script valve covers that were left over from Auxier's days behind the wheel of a Comet. The red-white-and-blue livery follows the Mustang's lines perfectly and the well-executed restoration is the next best thing to a true time capsule of one of Ford's most famous drag racers.