The collector car market can be unpredictable at times, but even among the storylines that have unfolded over the last few years, some trends aren't that surprising. For instance, when one specific model or segment begins to take off in value, similar vehicles tend to follow suit. The 4×4 market is no exception.
Notable examples like the Ford Bronco, Chevy Blazer, and Jeep Wagoneer saw prices soar in the last decade, with their pickup brethren not far behind. Buoyed by its iconic off-road status and a die-hard community that proudly sings the brand's praises while putting its vehicles to good use, Jeep in particular has posted dramatic value increases across its spread of collector models.
After poring over data in Hagerty's latest price guide, which we updated each quarter, we noticed a trove of Jeeps that have more than doubled in value in just the past five years. Here are five examples.
Average five-year price increase: 151 percent
Just Ford and Chevy pickup values were caught up in the wake of Bronco and Blazer prices, the Jeep J-10 from the late '70s and early '80s is riding high on Cherokee and Wagoneer appreciation.
The J-series pickup accompanied the Cherokee and Wagoneer on Jeep's full-size platform that spanned the '60s, '70s, and '80s. What the J-10 lacks in passenger accommodations it makes up in cargo capacity, and the fact that they're a much less common sight than their Big Three counterparts might make these Jeeps more appealing collector pieces. Given comparative sparseness of parts, they may be more difficult to restore than their Ford/Chevy/Dodge contemporaries, but the payoff is apparently worth it.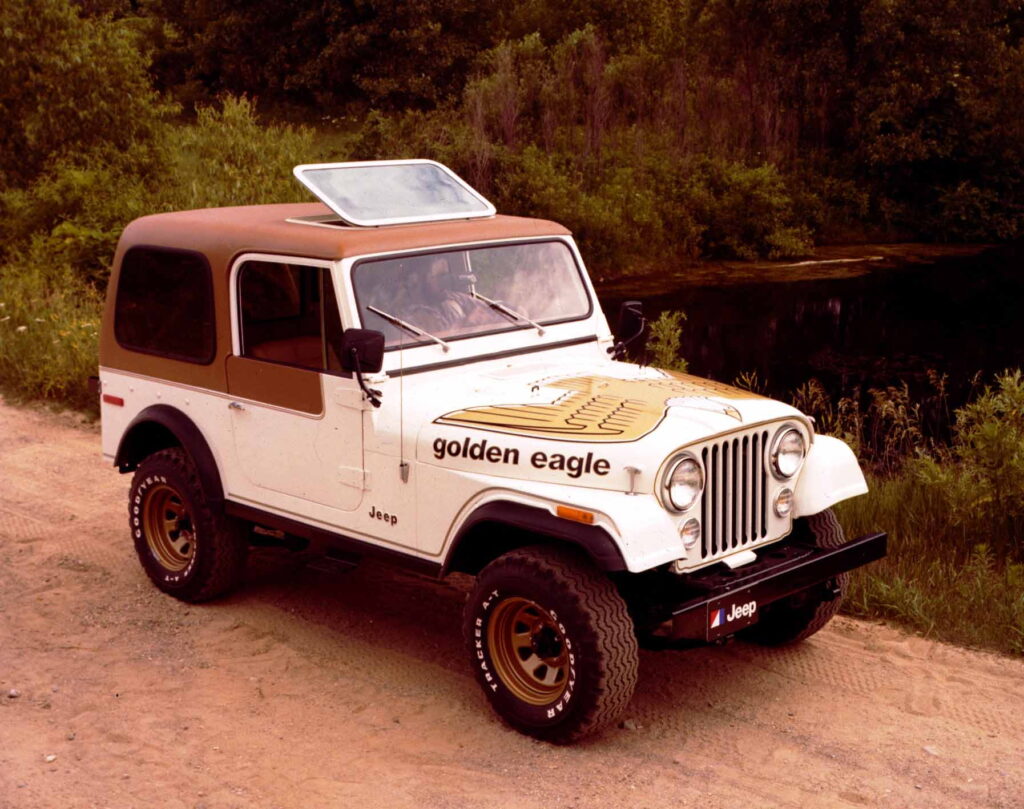 Average five-year price increase: 136 percent
The CJ-7 has a lot to love: It's elegant, simple, and robust, offering top-down off-roading in a classic package. What could possibly make one of the best 4x4s of the late '70s even better?
Hood graphics, of course. Along with a giant hood bird and pinstriping, the CJ-7 Golden Eagle package included an AMC 304-cubic-inch V-8 to the compact 4×4 along with gold highlights on the interior. Available in several colors, including Daisy Duke–approved white and tan, the Golden Eagle could even be paired with the Levi's package for the ultimate late-'70s CJ.
Average five-year price increase: 155 percent
XJ Jeep Cherokees have been popular with off-roaders for decades. They're a trim, maneuverable package with solid axles and a choice of transfer cases beneath seating for five and modest storage capacity. The peppy 190-hp 4.0-liter inline-six from the '90s XJ is perhaps the engine most associated with the model, and though Cherokee values from that era have increased about 130 percent, the 2.1-liter turbodiesel-equipped models from 1984–1987 has them beat, if only in terms of valuation spike.
The indirect-injection four-cylinder used an aluminum block and head and produced a paltry 85 hp and 132 lb-ft of torque. That's the same torque output as the base 2.5-liter four-cylinder and almost 20 percent less power.
I spent years shopping for an XJ and never once came across an available diesel model, so perhaps its rarity is what's driving the price increase. Despite the surge, these hard-to-find models still don't bring the same prices as the late-production XJs from 1997–2001.
Average five-year price increase: 118 percent
Take just about everything that people love about the XJ Cherokee, including its solid axles, sturdy unibody construction, and durable engines, and throw a bed behind the front seats. That's a Jeep Comanche.
It was rather unique in the market as most compact 4×4 trucks had moved to independent front-suspension designs by the mid-'80s. Unfortunately, the Comanche was rather short-lived, especially compared to the Cherokee that it was based on. As a result, it never saw the 1997 refresh that introduced an updated interior, one-piece front-side windows, and better door seals.
However, plenty of factory Cherokee and Grand Cherokee parts fit the Comanche, to say nothing of Jeep's vast aftermarket, so these pickups are a great contender for OEM+ rebuilds and trail vehicles alike.
Average five-year price increase: 168 percent
The TJ Wrangler marked a dramatic shift in the CJ/Wrangler evolution with the move from leaf to coil springs. The Wrangler got a four-link front suspension with a Dana 30 axle along with a four-link rear suspension and Dana 35 axle, just like a Grand Cherokee.
The massively improved ride and handling made the Wrangler a whole lot easier to live with on the street. Meanwhile, off-road performance benefited from the extra articulation, allowing the nimble Jeep to flex over obstacles while keeping its tires planted.
The Wrangler received a mid-cycle refresh in 2003 that added a host of revisions, including an overdrive automatic transmission, interior update, new four-cylinder engine, and long-wheelbase Unlimited model. The now-legendary Rubicon off-road package also debuted that year with a 4:1 low range, selectable front and rear lockers, and Dana 44 axles front and rear. Those later Wranglers, and especially the Unlimited Rubicon, have been the priciest TJ on the market. Collectors priced out of the most desirable of the TJ offerings seem to be shifting to the older models, causing those prices to creep up as well.
***
Is there a trend to spot among all of these fast-climbing Jeeps? Well, they're all 4x4s, and all offered real off-road capability. The current market of high-speed, high-power 4×4 pickups and the highly capable Bronco and Wrangler prove that real off-roaders are still popular. While they're not sports cars or muscle cars, these used 4x4s still represent a vibrant part of the auto enthusiast community and offer the chance for adventure, something that buyers are clearly willing to pay for, new or used.