January is the biggest month on the auction calendar, with both Scottsdale and Kissimmee sales vying for eyes and wallets. That means more Mustangs, Camaros, Corvettes, and Chevelles than you can wrap your head around, plus plenty of Porsches and Ferraris for those who prefer foreign fare.
We love all cars, but with thousands of vehicles crossing an auction block over the next few weeks it tends to be the distinctive and plain weird ones that stand out. Here are 11 of the most interesting ones up for grabs at auction this month.
Mecum Kissimmee
It may look like a tacky '70s kit car, but don't let that deceive you. There are no Beetle bits under here. The product of Consulier Industries, which later became Mosler Automotive, the GTP has an unusual fiberglass and foam monocoque chassis under a carbon fiber/Kevlar body that's as aerodynamic as it is ugly. Behind the driver sits a 2.2-liter, 200-hp turbo four from back when Chrysler and Carroll Shelby were turbocharging K-cars (later versions of the car were renamed "Intruder" and got a GM small-block).
Warren Mosler, the car's builder, planned on making 200 road cars a year at his Florida factory, but its funny looks proved a hard sell. The fact that IMSA banned the car after some major on-track success didn't help matters. According to Mecum, the car above is one of just 83 GTPs built.
Barrett-Jackson Scottsdale
One of the most fun things about this hobby is that no matter much of an insufferable car nerd you become, you will always come across vehicles that you've never heard of. Here's one that had me stumped.
The "LeGene Californian" is a home-built fiberglass sports car built in, you guessed it, California. The '50s California car scene was a golden age for small-batch specials like this, and the LeGene has to rank as one of the most obscure. According to Undiscovered Classics, it was built in San Bernardino by Gene Dodson and his father Lee, and they screwed together six sports cars and six additional bodies. Powered by a Ford Flathead with Offenhauser heads, it was restored in 2009. As for value, an appraisal from 2019 puts this piece of forgotten fiberglass at somewhere between $60-80k, but in Scottsdale this month it will ultimately be up to the bidders, as it's offered at no reserve.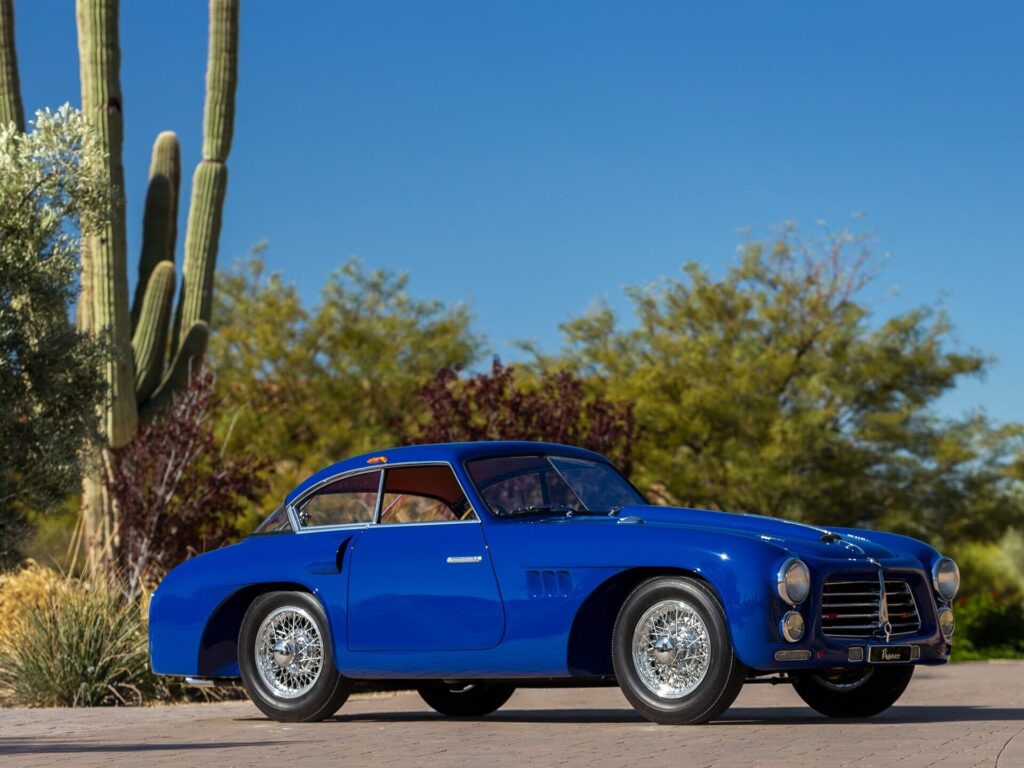 RM Sotheby's Arizona
In 1951, arguably the fastest and most sophisticated car in the world wasn't coming out of the United States, Britain, Germany, or Italy. Nope, it was from fascist Spain, built by a truck and tractor manufacturer.
Pegaso was an offshoot of Empresa Nacional de Autocamiones (ENASA), and although it was mainly an industrial concern, the company's chief engineer was Wilfredo Ricart, formerly of Alfa Romeo, so a sports car wasn't totally out of left field. But that doesn't make it any less impressive. The Z102, aka the "Spanish Ferrari," came with a dry-sump dual overhead cam alloy V-8 and a 5-speed transaxle (with a funky reverse-pattern dogleg 5-speed), which would have been exotic stuff even 40 years later.
The only auction car in Scottsdale this year with an "hecho en España" stamp, this Z-102 is one of just 83 built and one of 11 with in-house Berlinetta coachwork (Saoutchik and Carrozzeria Touring bodied the rest). From the oddly placed creases and scoops to the suicide doors and switchgear symbols that look like runes from a tarot card, it's as delightfully weird as it is an impressive piece of engineering.
1996 Volkswagen Golf Harlequin
Mecum Kissimmee
Looking for a fun, modern classic hatchback but can't decide what color you want? There's two-tone, but how about four-tone? Variety is the spice of life, after all. These fun "Harlequin" VWs started in 1995, when the company did a callback to a 1960s ad showing a multicolored Beetle by releasing a similarly-styled Polo hatchback for the European market. They planned to built about 1000, but ended up selling 3800.
In 1996, VW followed up for the American market with a run of Golf GL five-door hatchbacks built at its Mexico factory, wearing a combo of Pistachio Green, Ginster Yellow, Tornado Red, and Chagall Blue panels. Just 264 of these Golf Harlequins were built and supposedly some of them went back to the dealer for a change back to single-color paint, so there can't be many left. This one would get loads of love at Radwood or Cars & Coffee, but it does have a rather steep estimate at $25-35k.
Mecum Kissimmee
In 1959, Ferrari introduced a little four-banger, essentially a scaled-down version of its Colombo V-12 from the 250 series. Rather than put it into a Ferrari, however, Enzo sold the production rights to the De Nora Group, which in turn spun out a company called ASA (Autocostruzioni Società per Azioni) in Milan to build a car around it. The ASA has a tubular chassis developed by Giotto Bizzarrini and a body penned by Giorgetto Giugiaro when he was working at Bertone.
Despite all those big names, this remains an obscure car. As so often happens with small upstart sports car companies, the ASA was just way too expensive. It may have been a pocket rocket, but this 1.0-liter car cost about 50 percent more than a Corvette. No wonder only about 100 were built.
Mecum Kissimmee
God bless them, the Brits have a way of taking matters into their own hands and turning so-so saloons into wonderful wagons. There's nothing that special about an old XJ6, but this one was converted to "Sport Wagon" configuration by the Predator Car Company in England. There are few other details about this cat with extra cargo room but, like the Golf Harlequin, it has a $25-35k estimate. Uniqueness comes at a cost.
Barrett-Jackson Scottsdale
Largely known for the Pantera, DeTomaso also built a handful of other models, and the Deauville was the only sedan. The Ghia-styled four-door rides on the same chassis as the Maserati Quattroporte III (Alejandro De Tomaso owned Maserati at the time) but is nearly 10 times as rare with just 244 built. And unlike the Maserati, which can suck your bank account dry with service bills, the DeTomaso has a good-old-fashioned Ford 351 Cleveland under the hood.
Bonhams Scottsdale
Officine Specializzate Costruzione Automobili (OSCA) was established in the postwar years by the Maserati brothers. They had sold their shares in Maserati, so they weren't allowed to start another company using their own name. OSCA was mainly a motorsports outfit and was a scourge of small-displacement sports car racing in the '50s, but also sold road cars to pay the bills.
This car is from relatively late in OSCA's history (the company shut down in 1967) and is one of just 21 built with unusual but handsome coupe coachwork by Fissore. It has a 1.6-liter engine, which is actually on the large side for an OSCA. It was a $250k no-sale in Amelia Island last year, but expectations for it are still high: it has a $250-325k estimate for Scottsdale.
1968 Oldsmobile 4-4-2 Convertible "Mod Rod"
Mecum Kissimmee
Known as the "Mod Rod," this funky 4-4-2 was built for Oldsmobile's turntable at the 1968 Chicago Auto Show. Its oh-so-sixties paint fades from orange to yellow to white, but the fun doesn't stop at the paint job. The custom interior is trimmed in a yellow and brown theme you won't find on any other Oldsmobile.
After starring in Chicago, it sold to a North Carolina Oldsmobile-Pontiac dealer, and supposedly his daughter even used it to commute to college at UNC Chapel Hill. It hasn't been driven since 1995, but the value here is in its show car history. The estimate of $100-120k puts it significantly above even the #1 (Concours) value for a regular '68 4-4-2 convertible.
Bonhams Scottsdale
The Intermeccanica Italia is already an obscure Italo-American sports car, but this earlier and visually similar Griffith 600 is even rarer. It came from Long Island carmaker Jack Griffith, who had already built the TVR-based Griffith 200 and 400 after he approached Intermeccanica in Turin for Italian styling flair. With a Plymouth Commando V8, a chassis designed by an Englishman, and bodywork by a Hungarian-born Canadian living in Italy, it was truly an international affair.
Griffith shortly thereafter ran into money troubles, and Intermeccanica went on to build other versions of the design known as the Omega, Torino, and then the Italia. This Griffith, though, is one of just six built and two with a 3-speed TorqueFlite.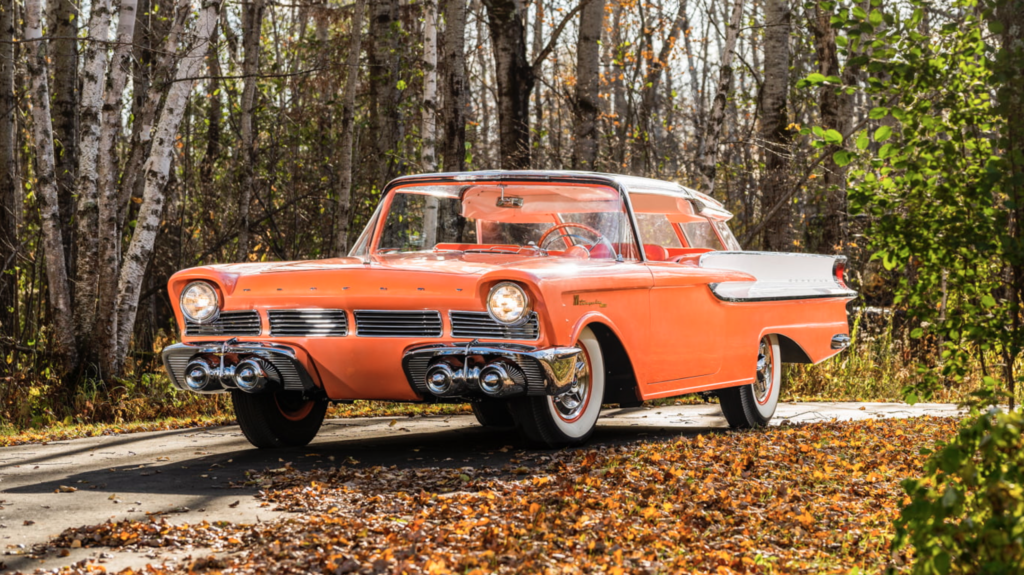 1956 Mercury XM Turnpike Cruiser by Ghia
Mecum Kissimmee
This ain't your grandpa's Turnpike Cruiser. It's called the "XM" but might as well be called the XL, because it was built on a Ford F250 truck chassis. Designed by Mercury and assembled by Ghia, it toured the country on the show circuit in a custom trailer with a turntable and glass paneling. Mercury showed it off at the Cleveland, Detroit and New York auto shows before it was used as the pace car at the Daytona Beach Grand National Race in 1957. After falling into disrepair, the massive Mercury was restored from 2017-22.
Like any good show car, the XM has plenty of party tricks, including exhaust tips poking out of the rear quarter panels, brake lights at the back of the roof and, in an age before T-tops, transparent butterfly roof panels that open with the doors and show off the Space Age interior with four bucket seats and dual center consoles.