Over the years, NASCAR Hall of Fame crew chief and team owner Ray Evernham has amassed a dazzling collection of race cars, production vehicles, and automotive oddities. When Mecum rolls into Indianapolis this May, much of his star-studded collection will be auctioned off in a series of no-reserve gavel-bangers.
This eclectic assortment features 31 cars—everything from a Holman-Moody Torino stocker to a cheetah-print adorned sedan to a chopped 1934 Ford known as the "Chicken Coupe." Some of these vehicles were purchased in pristine condition, while others were immaculately restored by Evernham and his team in Mooresville, North Carolina.
As Evernham's collection expanded, storage space dwindled. Now, the motorsports great faces a rather envious problem: he has run out of square footage at his shop, Big Iron Garage. This sale is an opportunity to reset his collection and free up space for the restoration of more vehicles.
Though the ex-Rainbow Warrior is largely known for his contributions to stock car racing—first as crew chief for Jeff Gordon, then as the team owner responsible for bringing Dodge back to NASCAR—he has a substantial collection of open-wheel racers.
"When I was young, I had no idea about NASCAR," says Evernham in an interview with Mecum. "My dream as a child was to be an IndyCar driver. I have always been infatuated with open wheel cars." Fitting, too, if you consider that prior to his time on the pit box, Evernham cut his teeth on New Jersey bullrings aboard fenderless modified racers. As an overachieving student of history—evident in his participation at the Amelia Island Concours d'Elegance and his long-running AmeriCarna restoration TV show—Evernham's machines are well-researched and executed to period-correct perfection.
Ahead of this motorsports mega-sale, let's take a look at some of the mouthwatering open-wheelers set to roll across the block.
1965 Brawner Hawk Ford 'Dean Van Lines Special' Indy Car
"If there's one car in this group that stands out above all others, it has to be the 1965 Brawner Hawk that driven by Mario Andretti in his rookie year," says Mecum TV analyst John Kraman. Aboard this rear-engine roadster, a young Andretti burst onto the scene in 1965, securing his first IndyCar win, Indianapolis 500 Rookie-of-the-Year honors, and back-to-back series championships (1965, 1966).
After a visit to New Jersey to buy the original chassis, Evernham enlisted Jim McGee—one of the team's original lead mechanics—and Steve Panarites to help reassemble the Dean Van Lines Special as it appeared back in the 1960s. Similarly, the 255-cubic-inch DOHC Ford V-8 was rebuilt by Indy engine wizard Joe Boghosian. Down the original stampings and seals, the career-defining roadster is insanely accurate. "[This car] was probably the most significant Indy Car find and restoration over the last 20-30 years," says Evernham.
1969 Eagle Weslake Ford 'Santa Ana' Indy Car
Dan Gurney, despite a stellar record at Indy, never kissed the bricks as a driver. In his nine-consecutive Indianapolis 500 starts, he finished third three times and second twice. It was in 1969, that the "Big Eagle" came closest to brickyard glory, driving this very car. Alas, it was not to be, as a broken shock was the difference between warm milk and second place. Despite the shortfall, the dark blue roadster dubbed 'Santa Ana' was no stranger to victory lane; Gurney won three races behind the wheel of the Olsonite-sponsored Eagle, including his final Indy Car win at Sonoma.
Like the Brawner Hawk, much of this Eagle's components are original, including the 320-cubic-inch Weslake Ford V-8. Evernham even flew out to California to get Gurney's input on the car during restoration. "It was an honor to get to know Dan Gurney while we were restoring that car and then show him when it was finished," says Everham.
1984 March 84c Cosworth 'Gilmore/Foyt' Indy Car
By the 1980s, A.J. Foyt was in the twilight of his driving career. His adventure as a team owner, on the other hand, was in full swing. (In 1987, Big Tex would enter four cars in the Indianapolis 500.) For the 1984 Indy 500, Foyt attempted to qualify this March open-wheeler but blew the engine two laps into the session. Using his team's resources to full effect, he hopped in then-teammate George Snider's car to reattempt a flying lap. As for the car with the expired powerplant, Foyt's team replaced the Cosworth engine, repainted the body in Calumet Farm colors, and Snider put it in the field.
"We spent a lot of time and money making sure we had what we had," says Evernham, who recently drove the car—now wearing Foyt's Poppy Red livery—in exhibition around the Indianapolis Motor Speedway.
1956 Snowberger Offenhauser 'Federal Engineering Detroit Special' Indy Car
This Offenhauser-powered front-engine roadster is the last car built by former Indianapolis 500 driver and mechanic Russell Snowberger. In its heyday, the car was driven by an impressive roster of drivers, including two-time Indy champ Tony Bettenhausen.
Restored by Joe Fiore, the Snowberger roadster is almost a direct copy of the more famous Kurtis Kraft Indy racers. Perhaps none of Indy's front-engine dinosaurs are as striking as this one, which sports a bright yellow and royal blue Federal Engineering livery.
1958 Lesovsky Offenhauser 'Bowes Seal Fast Special' Champ Car
Another Joe Fiore restoration, this dirt track ringer is so clean that you could eat off it. "It's a beautiful, immaculate car that's really done correctly," says Evernham. "It has probably as much documented history though its years as anything else in the collection."
And for good reason: the history is fascinating. From the 1950s through the 1970s, national-level open-wheel racing split time between dirt and paved surfaces. As racing progressed through that era, teams began to build specialized cars for varying race tracks. This dirt car—featuring a Lesovsky chassis, a 270-cubic-inch Offenhauser DOHC four-cylinder, and Hillborn fuel injection—was engulfed in flames after a crash at Langhorne in 1958. While its driver Johnny Boyd recovered in the hospital, the car was rebuilt and driven by Jud Larson to victory at Phoenix later that year.
Rising from the ashes, if you will.
1947 Kurtis Kraft Offenhauser 'Dimarco' Midget
This stunning example of a 1940s Kurtis Kraft midget was the first collector car purchased by Evernham. Stamped chassis number 1982, the car was constructed at the Kurtis Kraft facility in Glendale and is powered by a 97-cubic-inch Offy. Yet another Joe Fiore restoration, this midget comes replete with a historically accurate single-axle open-trailer.
1975 Kenny Weld Dirt Modified
Kenny Weld, like Evernham in his stock car prime, knew how to finesse a rulebook. Weld was an accomplished designer and fabricator who consistently thought outside the box to achieve speed. This dirt modified built by Weld is no exception. In Evernham's opinion, this car is as important to the East Coast dirt racing scene as was Colin Chapman's rear-engine Lotus/Ford to the future of IndyCar racing. Also a highly accomplished racer, Weld scored 16 wins in the Gremlin-bodied V-8 powered modified.
1981 Edmunds 'Casey Special' Midget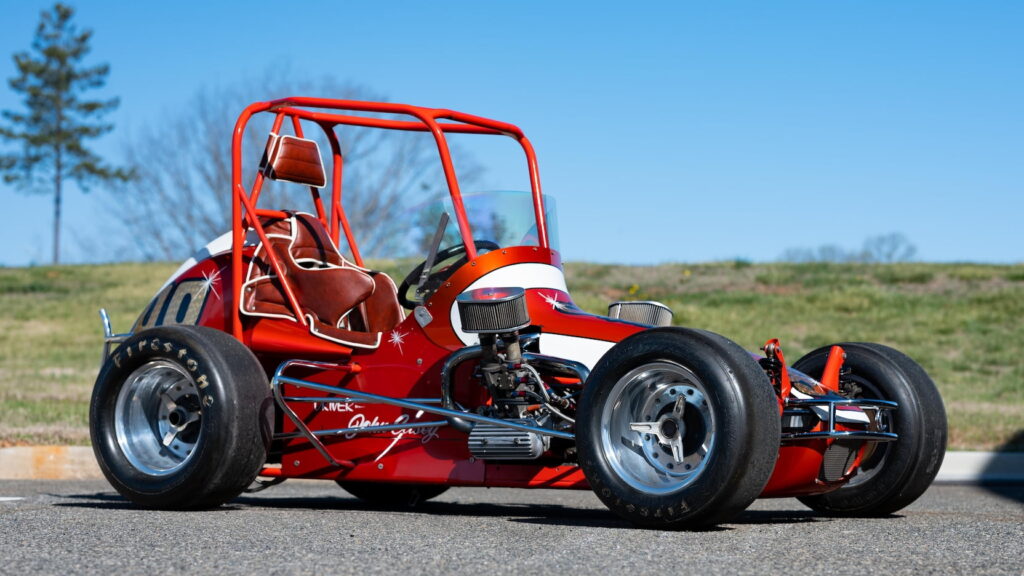 Editorial journeyman Brock Yates has seemingly done it all. It comes as no surprise, then, that the man owned a VW-powered midget. This 1981 Edmunds chassis midget would have been a prime piece back then, featuring the alcohol-injected, air-cooled four-cylinder, hand-operated brakes, and coilovers on all four corners.
1923 Ford Model T 'Queen of Speed' Track Roadster
Unlike many of the other cars in this collection, this Model T racer has vintage and modern provenance. Back in the day, it first raced on California dirt tracks as a primitive sprint car. Then, racer William Roberts took it to 149 mph on the Rosamund lakebed. More recently, though, Evernham's wife Erin Crocker campaigned the T-bucket in the 2015 Race of Gentlemen.
1937 Chevrolet Jerry Cook Modified Replica
In a collection of this majesty, even the few replicas are immaculate. This 1937 Chevy is an exact recreation of the coupe that NASCAR Hall of Fame driver Jerry Cook raced at bullrings along the Eastern seaboard. NASCAR's Modified division is the sanctioning body's oldest series, and Cook was one of its best racers, amassing six championships throughout his esteemed career.