If news of nine-figure record sales and six-figure trucks and SUVs have you feeling that you've missed the opportunity to add to or start your collection, the results from Mecum's recent Indianapolis sale may change your mind. We thought that some of the sales were particularly good buys, and when we asked our valuation experts to compare the sales numbers with current Hagerty values, our suspicions were confirmed.
Despite solid sell-through and an even higher total volume of sales compared to last year, dozens of cars, trucks, and SUVs sold for 25 percent or more under their value in the latest update of Hagerty Price Guide—some as low as one-third of their book value. Mind you, at this very same auction a Dodge Hemi Daytona brought $1.32M—some 70 percent above our price guide value—so we're not quite ready to call this a correction. Consider it more of a reminder that no matter what the collector car market is doing, there's probably a cool car in your price range.
We've picked some of the top bargain buys from Mecum Indy, focusing on the best values under $15,000 and listing them from the smallest to largest percentage difference compared to price guide value. We're sure you'll find something here that you wouldn't mind adding to your collection.
1965 Ford Thunderbird Landau
Sale price: $10,450
#3 (Good) condition value: $15,100
30.8 percent below HPG value
There were literally dozens of low-priced Ford Thunderbirds to be had at Indy, but none proved to be a better bargain than this 1965 model with optional Landau roof. These fourth-generation 'Birds are killer buys even at book value—oodles of mid-century-modern cool and plenty of power for well under $20K.
Following a complete restyle for 1964—which included a longer hood, shorter roofline, and wheel skirts—the '65 Thunderbird added cool sequential taillights and power disc brakes. Interior features included a cockpit-style passenger compartment with bucket seats and Swing-Away steering wheel, and this one has plenty of zip in its 300-horsepower, 390-cubic-inch big-block, which is mated to an automatic transmission. The original buyer chose a tan-over-brown color scheme, which may not have helped the seller at Indianapolis, but someone scored a solid classic for only two-thirds of its Hagerty Price Guide value.
One caveat here is that fixing flaws on this car, which include rust on the chrome and rear quarter panels, is liable to eat up the savings and then some. The economics of restoration are challenging even under the best of circumstances and are particularly tough for American cruisers like this one, which have acres of metal and a relatively low price ceiling. Case in point, our price guide pegs a concours-ready '65 T-Bird at just over $30K. So, our advice to the new owner is to stick to a tight budget on repairs/restorations and simply enjoy their new ride.
1989 Ford Mustang GT
Sale price: $8250
#3 condition value: $12,600
34.5 percent below HPG value
The Fox-body Mustang was practically the mascot of the automotive aftermarket in the 1980s and helped return performance to the masses after the dark ages of the late 1970s. Mustang GTs of that period were popular drag cars and many of them were stripped-down and caged for quarter-mile use. They're still a relatively common sight on the drag strip, but clean examples are much harder to come by. This gray-on-gray GT fastback has less than 90,000 miles on its odometer and is powered by a 5.0-liter Windsor V-8 topped with a Shelby American Automobile Club intake manifold for that perfect day-two look. Even better, it has a five-speed manual transmission. The fact that it was mildly modified may have kept its price down, but its remarkably intact interior and relatively low mileage more than make up for that in our book. It's also a good reminder that even as certain special-edition Fox-body Mustangs fetch six figures, the majority of them remain the affordable performance cars they were built to be.
1957 Willys CJ-5
Sale price: $9900
#3 value: $15,300
35.3 percent below HPG value
Considering what Ford Broncos can go for these days, this four-figure Jeep seems like an eminently intelligent way to break into the vintage SUV club. The CJ-5 marked Jeep's first big step in the evolution away from the flat-fender era. While this restomodded example features a shaved tailgate and flashy red paint, it's still a rough and tumble trail rig underneath. With a modest 70 horsepower from its 134-cubic-inch OHV four-cylinder, this early CJ-5 is a long way from the Wrangler of today, but it would sure make a fun suburban grocery-getter or ranch runabout, as long as you aren't in too much of a hurry.
2004 Mercedes-Benz SLK230 Roadster
Sale price: $6050
#3 value: $10,100
40.1 percent below HPG value
Mercedes' attractive SLK roadster was introduced in 1996 and received rave reviews from media and enthusiasts alike. Initially offered with a range of engines that included 2.0-liter supercharged and normally aspirated inline fours, the U.S. debut saw a supercharged and intercooled 2.3-liter, 192-hp starting with the 1998 model year. A five-speed manual transmission was standard, but the first owner of this one paid up for an automatic. Time has shown these cars to be both thoroughly entertaining and mostly trouble free (with consistent maintenance), so the Indianapolis buyer—who scored the equivalent of $4K off—is probably still smiling.
1993 Chevrolet Corvette
Sale price: $4950
#3 value: $9800
49.5 percent below HPG value
Late-production C4 Corvettes are among the best values in '90s sports cars these days. The LT1 engine, while not as powerful and ubiquitous as its LS1 successor, is still potent and capable of making plenty of reliable power. The C4 suspension isn't too shabby either, and it puts plenty of rubber on the pavement for sure-footed handling. Because it's a Corvette, restoration parts are readily available, and because it's a Chevy, the service parts are reasonably priced. This automatic-equipped C4 coupe wears a polarizing paint job that's an homage to the 1995 Indy Pace Car. The purple, red, and white may have caused some prospective buyers to look elsewhere, but it seems that this was one of the least expensive buys for a solid weekend driver.
2001 Chevrolet Corvette
Sale price: $9900
#3 value: $20,300
51.2 percent below HPG value
The C5 generation of Corvette marked a giant leap in performance, thanks to a totally new chassis and a rear-mounted transmission that moved mass toward the drive axle. Its third-generation small-block engine likewise represented a giant leap—the first pushrod small-block Chevy to ditch the symmetrical port spacing that had been in use since 1955. C5s are also known for being the last Corvettes to use pop-up headlights, although those are gone on this one, replaced by aftermarket pieces that resemble the lights used on the successful C5-R endurance racer. You could spend more swapping an LS V-8 into a project car than this one cost to purchase outright.
1994 Ford F-150 Lightning
Sale price: $9900
#3 value: $21,000
51.9 percent below HPG value
Classic pickups have been among the hottest sectors of the collector car market of late, and the 1994 Ford F-150 Lightning is no exception. Yet as often happens with vehicles crossing the threshold from "used" to "collectible," certain sales lag behind.
This example was reported as a barn find. While the interior certainly looks like it hasn't seen too much mileage, popping the hood reveals that some serious detailing is in order. That may drop it below the standard #3 (Good) valuation of $21,000, but a sale price of less than $10,000 seems like a great buy for a rather low-production version of America's favorite pickup model. And a fun one, at that. Ford's answer to Chevrolet's 454SS was down on torque compared with Chevy's big-block, but the Windsor made up for it by pulling much harder on the top end. While neither of those sporty pickups would hold a candle to their modern counterparts, the Lightning, in particular, was praised for its uncharacteristically responsive handling.
1987 Alfa Romeo Spider Veloce
Sale price: $4400
#4 (Fair) condition value: $10,300
57.3 below HPG value
This is one makes the bargain hunters among us cringe—because someone just got a heck of a deal, and that someone wasn't us. Rated in #4 (Fair) condition but better looking than a lot of 4s out there, this brown-over-tan Alfa Romeo Spider Veloce just came out of a 10-year hibernation. It is powered by a brisk 2.0-liter inline-four with five-speed manual transmission; it has a new convertible top, seat covers, fuel pump, and filter; and it shows only 53,000 miles. Considering that parts are readily available, a buyer with some Alfa knowledge may already be enjoying some top-down cruising. Lucky stiff.
1996 Nissan 300ZX Turbo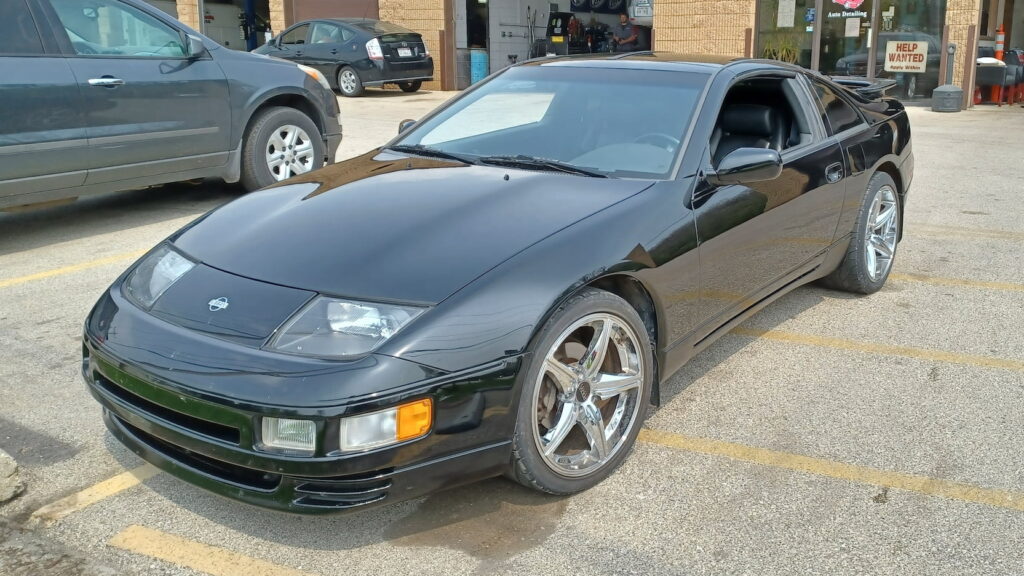 Sale price: $13,200
#3 value: $35,000
62.3 percent below HPG value
We're getting into some rare air now. A '96 Nissan (Z32) 300ZX Turbo—that looks and runs great—for 62.3 percent less than its book value? Yes, please. Sporting a 3.0-liter turbocharged six-cylinder engine and five-speed manual gearbox, this black-over-black T-Top beauty received a recent repaint and new interior. Z32s have a great reputation, and the best examples now change hands for more than $40K. We can only guess the price here was a matter of poor timing: The Z was one of the last lots of the auction's relatively sleepy opening day. Cosmetic modifications—always an eye-of-the-beholder sort of thing—probably didn't help. All the better for its new owner.
1986 Jaguar XJS
Sale price: $4400
#3 value: $13,600
67.6 percent below HPG value
We know, an XJS isn't at the top of the list for most Jaguar enthusiasts—and we've gone on record saying they're fatal attractions—but take a good long look at the photos in the Mecum listing and then try to argue that $4400 isn't an absolute steal for this comfy, classy Jag. Yes, the car's V-12 engine is comparatively more difficult (read: costly) to work on than a six-cylinder version, but in the right hands and at its best, a V-12 is irresistibly silky smooth. And then there's the car's styling: aggressive lines, flying buttresses, squared-off tail, and wire wheels. Take a peek through the windows and check out that clean tan leather interior. Wait a sec, it has an automatic transmission. There's the problem. That must be why it didn't sell for more. (At least, that's what we'll be telling ourselves so we can fall asleep tonight.)