It's the quintessential supercar, a symbol of '80s excess, and an Italian icon. I can't say much about the Lamborghini Countach that hasn't already been said, but it's a car most enthusiasts have dreamed of, driven in a video game, bought a poster of, etc. Everybody wants one of these OG Lambo wedges, but fewer than 2000 were built over 16 years (1974-90). For reference, Lamborghini sold more Huracáns in 2021 alone. No wonder median condition #2 (Excellent) Countach values are up over 350 percent since 2012 and even the most ramshackle examples post sales well into six figures.
The very last live auction on our radar for this year has wrapped up, held at the Bonhams HQ on New Bond St. in London. This £460,000 ($559,728) Countach was the biggest surprise, partly for its sale price, and partly because it sold for so much despite being, well, a bit scruffy.
The prototype Countach became an instant star upon its debut at the Geneva Motor Show in 1971. Marcello Gandini's dramatic, geometric shape and the scissor doors immediately became a part of Lambo DNA. Nobody had seen anything like it. Even ten years later, when this LP400S model was built, a Countach still looked like it came from a sci-fi movie set in the future.
The first major revision of the Countach came with the LP400S. Influenced by a Countach that was specially modified by Dallara and Canadian race team owner Walter Wolf, the LP400S got revised suspension geometry and other mechanical improvements. Its most obvious changes, however, were on the outside, with fiberglass fender flares, wider and newer "phone dial" wheels, Pirelli P7 tires and eventually an optional rear wing big enough for a few people to eat lunch off of. It's this facelifted version that most people think of when they hear the word "Countach." And for you movie buffs, it was a black LP400S that starred (and won the race) in 1981's The Cannonball Run.
The tacked on bits didn't actually make the car any faster and performance from the 4.0-liter V12 engine didn't improve, but in the world of loud, brash supercars sometimes it's more important to look faster than it is to actually be faster. More power finally arrived with the 4.8-liter LP5000S in 1982.
The LP400S that sold this past week was delivered new in Italy, ordered in Blu Acapulco over Senape (mustard) leather, although it is believed to have gotten gray leather instead. It spent some time in California, but was first registered in the UK in 1988 and entered its latest ownership in 1989. Its presentation was honest and up front, but the car is far from great. The fiberglass body pieces appeared dull and one fender flare has a crack. Bonhams also noted that the ventilation, lights and fans might require attention, as well as wear in suspension joints, cracking old tires, light surface rust on the chassis and a clattering noise from the engine at idle, likely from timing chains in need of adjustment.
A car in need of some TLC, then. But the hammer fell way past the £240,000 – £340,000 presale estimate, and the final price is nearly 100 grand more than the LP400S's condition #1 (Concours/best-in-the-world) value in the Hagerty UK Price Guide. Nicer Countaches have sold for less, but these cars aren't common in any condition and, like I said, everybody wants one.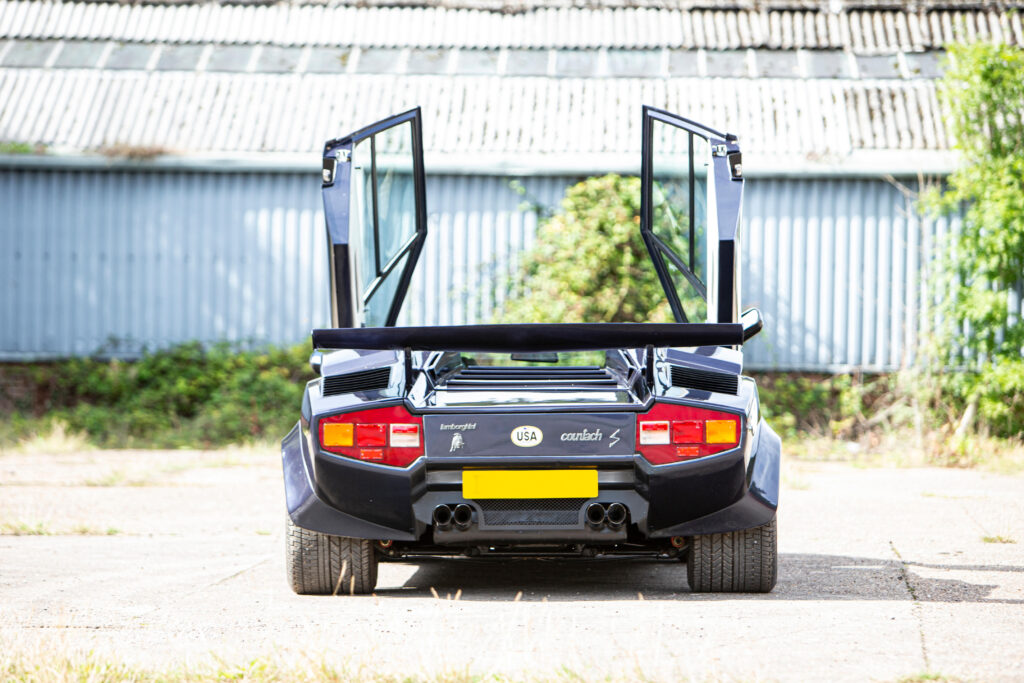 Two other less-than-perfect raging bulls, a 1969 Miura P400 S and a 2001 Diablo VT 6.0 SE, also sold well at this auction, so there were plenty of Lambo-hungry eyes in the room at Bond St. As for the rest of the sale, things were a little more mixed. It was relatively small with fewer than 30 cars, and although six of them sold at bids over their high estimates, eight cars failed to sell despite over half of the auction being no reserve. If this is part of the "cooling off" we've seen in recent weeks and if it continues into the new year is something we'll have to wait until the mega-auctions in January to find out.
Our colleague Chris Sharpe was on hand to provide valuable notes on the condition and presentation of the Bond St cars, something we just can't do from across the pond on a computer screen. We examine some of the most interesting and significant cars from this sale on the pages below.